D5016, 5016, 24016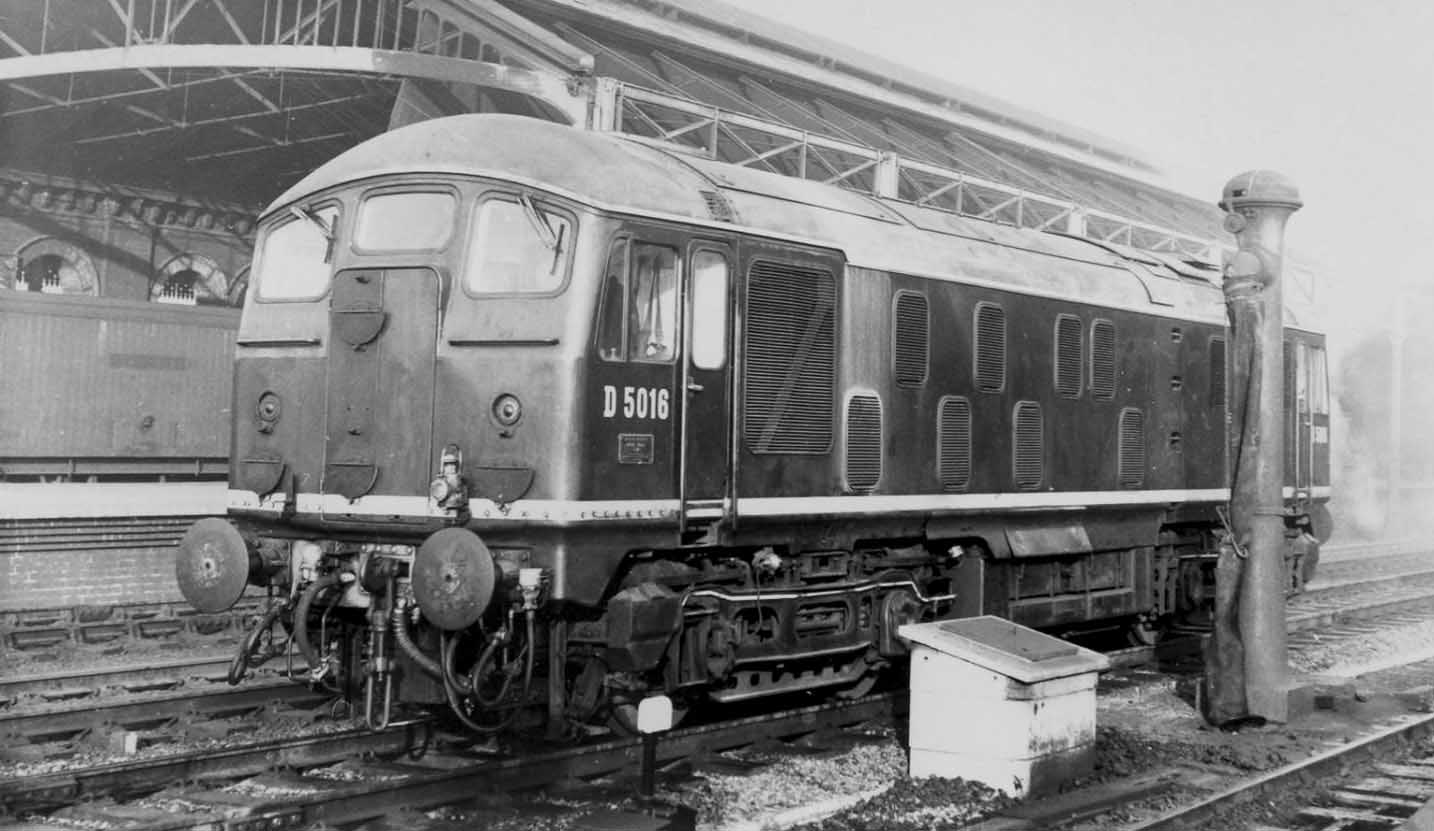 Photographer unknown at this time
D5016 in pretty much 'as delivered' condition including the water stains on the side panels by the radiator, something common to the Sulzer Type 2s. Being one of the first batch this locomotive has the five ventilators on the top row. The cantrail located water filler cover is still in place. The location is at Stafford, with the locomotive heading towards Crewe, the station was prior to its rebuilding with the coming of electrification of the route.
The sixteen year two month career of D5016/24016 included allocations to the London Midland Region, Southern Region and Scottish Region.
Built Derby Locomotive Works.
Delivered with Athermos axleboxes (D5010 - D5019).
Full size fuel & water tanks (retained until withdrawn).
Five upper and four lower air filters on non-BIS side, four upper and four lower on BIS side.
Gangway doors never removed.
Roof modification (above generator/brake cubicle): no raised panels.
Time between last Classified repair and withdrawal: ?? months.
Time between withdrawal & scrapping: 17 months.
Allocations
The frames for D5016 were laid down during the spring of 1959 at Derby Works. D5016 was new to Crewe South (5B) on May 30th 1959. Further transfers were:
June 1959 to Derby (17A) on loan.
June 1959 to Crewe South (5B).
September 1959 to Willesden (1A).
October 1959 to Camden (1B).
April 1960 to Hither Green (73C) on loan.
May 13th 1960 to Camden (1B).
December 1965 to Bletchley (1E).
April 1966 to London Division (D01).
July 1966 to Birmingham Division (D02).
May 1967 to to Stoke Division (D05).
March 1969 to store.
June 1969 - reinstated to Stoke Division (D05).
October 1971 to Polmadie (66A).
March 1972 to Eastfield (65A).
July 7th 1975 stored unserviceable.
August 16th 1975 - withdrawn.
Renumbered April 1974.
After withdrawal 24016 was stored at Cadder Yard until October 1975, moving to Glasgow works until May 2nd 1976 when it moved to Doncaster Works, where it was broken up by January 1977.
Movement: 24015/16/71, 24117 Glasgow Works – Doncaster May 3rd 1976, (behind 26046 at Berwick).
Works Visits
Works visits (records incomplete).
Noted Derby Works February 1960.
Noted Derby Works February 1961.
Noted Derby Works January 1962.
Noted Derby Works October 1964.
Noted Derby Works March 1965.
Noted Eastleigh Works October 1965.
Noted Derby Works September 1971.
Noted Glasgow Works October 1971.
Noted Glasgow Works May 1973.
Noted Glasgow Works June, August & September 1974.
Highlights
1959
Delivered new from Derby during June to Crewe South (5B), D5016 had a very active 1959 being allocated to Crewe South, Derby, Crewe South, Willesden & Camden. The summer timetable saw D5016 initially working between Crewe and Birmingham, including the 7.35pm Holyhead - Birmingham at Crewe, returning with the following morning's 6.30am all stations Birmingham - Crewe. So noted were D5015/16 and D5015/30. The first pair mentioned were involved in working June 9th - 13th's 08.00am Birmingham - Newcastle between Derby and York, returning on the 12.43pm Newcastle - Bristol as far as Derby. On July 29th D5016 worked the 8.25pm Crewe - Birmingham New Street.
D5016 was noted at Crewe on July 19th.
Condition as new: green livery, frame level stripe, full size fuel & water tanks, Athermos axleboxes, two-rung bogie mounted footsteps, ridged sandboxes, 5/4 ventilator arrangement on side without Battery Isolating Switch (BIS).
November 2nd found D5015/16/18/19 taking over some of the local workings out of Euston.
1960
On August 10th D5016 worked the 20.00 Euston - Tring.
Once in a while fame & fortune happened upon the Type 2s, on October 9th it was the turn of D5016 when the down 'Royal Scot' experienced serious difficulties with D222. After a slow departure from Euston and attention at Willesden all was still not well, the Type 4 eventually coming off at Watford being replaced by D5016. The small machine put up a spirited performance, however the glory was brief, Class 5 44712 took over at Bletchley, with 44938 added at Rugby!
1961
On August 19th D5016 was noted at Harrow & Wealdstone.
Photographer unknown at this time
A duty which many of the early members frequently saw was the working of the local services out of Euston. Here D5016 with a layer of dust on her paintwork and a small yellow warning panel pauses at Watford Junction, the steam generator is in use judging by the steam leaking from the coaches. With the suburban services out of Euston planned for electric services eventually, the invasion of diesel multiple units did not occur here, leaving the local commuters (for better or worse) in the hands of the LMS Twins, the Bullied Trio and endless Class 24/40s.
1962
Condition September: green livery with small yellow warning panels, curved upper corners, warning panel partially covers frame level stripe, gangway doors present, full size fuel & water tanks, ridge sided sandboxes, two rung bogie mounted footsteps, all valencing in place, equipped with Athermos axleboxes, retains cantrail water filler cover, engine exhaust in original location.
1962
On the afternoon of November 3rd D5016 was at Euston on empty coaching stock duties.
1963
On the afternoon of October 23rd D5016 was stabled at Camden.
Condition circa 1963: green livery with small yellow warning panels, curved upper corners, frame level stripe only partially covered by warning panel.
1964
On June 12th the 13.37 Euston - Bletchley was worked by D5016 & D327, it is not recorded if both locomotives were working.
On Sunday November 15th D5016, D5018 & D5022 were stabled on Camden shed.
1965
D5016 was noted at Stratford with empty coaching stock on January 24th.
On June 7th D5016 worked the 1Z70 20.20 Belle Vue - Birmingham New Street.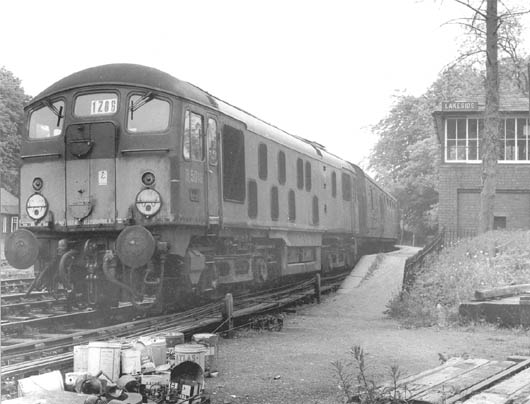 Photograph courtesy Cumbrian Railway Association, (Ref WAR448)

D5016 stands at the head of a return excursion at Lakeside, circa 1965. Hidden behind the locomotive and train are two other trains, one in the hands of D5702 and the other with Black Five 45196. The Windermere Lakeside - Ulverston passenger service ended in September 1938 although the branch continued to see summer extras until September 1965.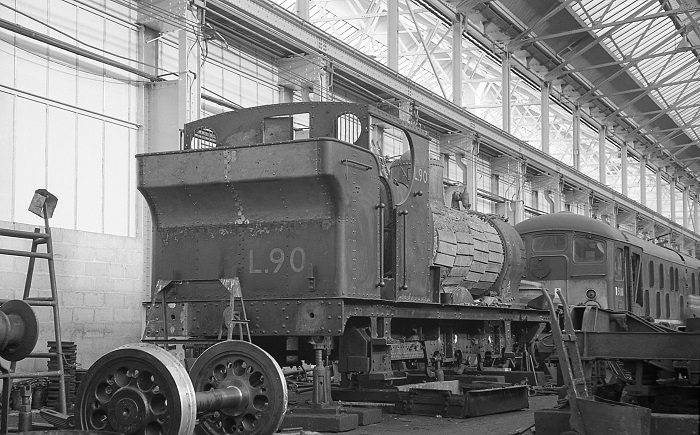 Photograph collection of webmaster
Although London Transport Pannier Tank No.L90 is the primary subject matter in this view, the image also reveals the presence of D5016 undergoing repair at Eastleigh Works on November 6th 1965.
1966
The 'Eight Counties' RCTS railtour of March 26th enjoyed the use of D5016, running from Northampton Castle to Market Harborough & Leicester, changing here to 8F 48467 for a run through the East Midlands/Sheffield environs. EM1 26000 took the train across the Pennines, Jubilee 45596 ran from Godley Jcn to Crewe via Northwich, with E 3093 completing the last leg back to Northampton. After six years of activity at the southern end of the WCML D5016, along with D5017 were transferred to the Birmingham Division (D02) along with a dozen other Type 2s during July.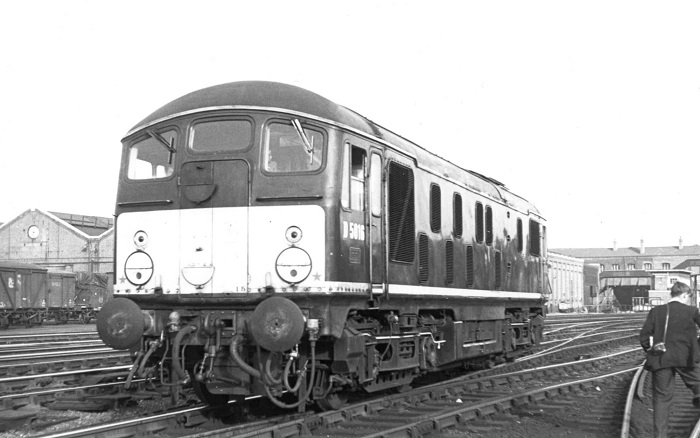 Photograph collection of A Stubbs
A relatively clean D5016 negotiates the trackwork at the entrance to Camden shed, date unknown.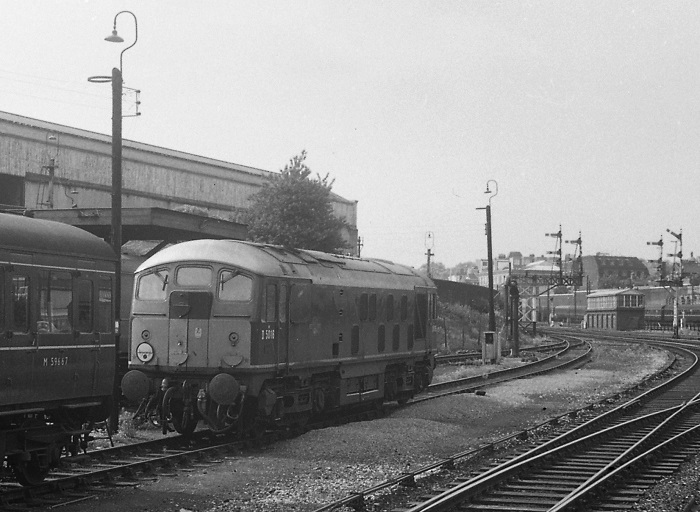 Photograph collection of webmaster / HC Casserley.
D5016 at Marylebone, believed to be sometime in 1966.
1967
After just under a year in the Birmingham area D5016 joined in the mass movement of the LMR machines to the Stoke Division (D05), being transferred there during May.
On the afternoon of November 12th D5016 was at Crewe with a permanent way train.
1968
On the afternoon of February 23rd D5016 was light engine at Crewe.
1969
5016 was put to store between March & June due to a surplus of power. A shortage of locomotives on the Eastern Region and the loss of four Type 2s in a runaway accident at Chester gave this early batch another lease on life, with 5016 being re-instated back to the Stoke Division.
1971
On the afternoon of March 12th 5016 was at Basford Hall with a freight.
On the morning of October 1st 5016 & 5140 were southbound at Basford Hall with a freight and were later stabled at Crewe Diesel depot.
In October the Scottish Region Polmadie depot (66A) became home for 5016 and many of her sisters, being used to retire the few remaining NBL & Clayton locomotives from the fleet. Glasgow Works was visited by 5016 in October.
1972
During the first quarter Polmadie depot closed so 5016 and many others migrated across Glasgow to Eastfield during March.
1975
24016 was withdrawn on August 16th 1975.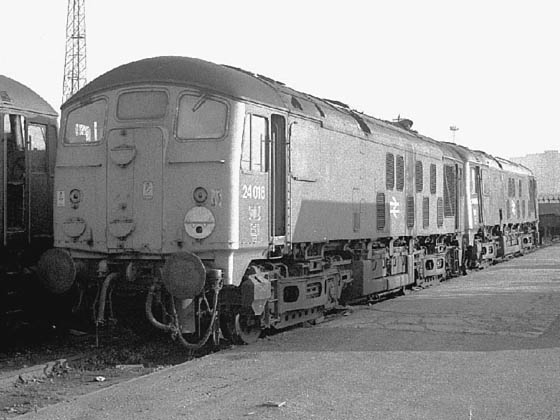 Photograph courtesy Tony Sayer

The summer of 1975 brought massive withdrawals for the Class 24 fleet, being more severe on the LMR than the ScR. Following three months of inactivity 24016 was taken to Glasgow Works for spares removal, where the locomotive was photographed on October 21st 1975. With the locomotive at the end of its working life it has managed to retain several original features including the cabfront gangway doors and the original size fuel & boiler water tanks.

Condition Final: blue/yellow livery, gangway doors present, full size fuel & water tanks, blanking plates fitted, hand/footholds plated over, ridge sided sandboxes, three-rung bogie mounted footsteps, side ventilators 4/4 BIS side, 5/4 non BIS side.

Resources:
Vic Smith - location details.

flk 0322 (1)

Page added February 25th 2000.
Last updated September 24th 2022.

Back to 24015
Forward to 24017