D5023, 5023, 24023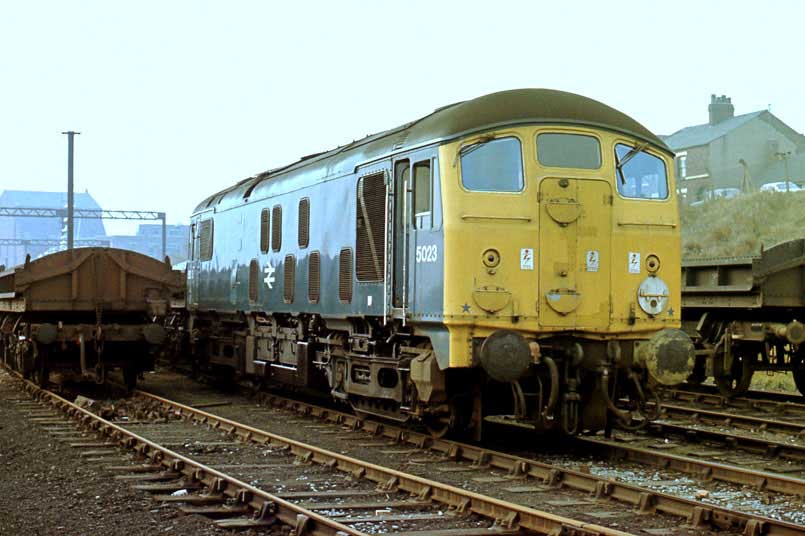 Photograph courtesy Tom Sutch.
5023 at St Helens on October 31st 1973. The locomotive still retains its gangway doors and has a neat row of the electrification flashes across the cab front. Some of the frame level valencing is missing and a smaller water tank has been fitted at some point.
The nineteen year career of D5023/24023 began with eighteen months on the Eastern Region before transferring to the London Midland Region for the rest of its career.
Built Derby Locomotive Works.
Full size fuel & water tanks (shortened water tank added later).
Four upper and four lower air filters on non-BIS side, three upper and four lower on BIS side.
Time between last Classified repair and withdrawal: 36 months.
Time between withdrawal & scrapping: 4 months.
Allocations
The frames for D5023 were laid down during the early summer of 1959 at Derby Works. D5023 was new to Ipswich (32B) on September 25th 1959. Further transfers were:
March 1961 to Watford (1C) on loan, made permanent April 1961.
June 1962 to Willesden (1A).
January 1965 to Camden (1B).
December 1965 to Bescot (2F).
April 1966 to Birmingham Division (D02).
June 1967 to Stoke Division (D05).
March 1972 to Manchester Division (D09).
May 1973 to Longsight.
August 1975 to Crewe.
November 2nd 1977 stored then reinstated the next day back to Crewe.
September 3rd 1978 - withdrawn.
Renumbered March 30th 1974.
24023 was finally withdrawn on September 3rd 1978 (noted on Crewe depot on September 29th) and moved to Doncaster Works with 24073 on October 23rd 1978 as the 05.00 Crewe - Doncaster 9Z10. The end came for 24023 by the end of December 1978.
Works Visits
Works visits (records incomplete).
Noted Derby Works September 1961.
Noted Derby Works February & March 1962 (ex-works).
Noted Derby Works October 1962.
Noted Derby Works January 1963.
Noted Derby Works December 1963.
Noted Derby Works March/April & June 1966.
Noted Derby Works February 1970.
Noted Derby June - August 1975.
Highlights
Of the first thirty Class 24s built at Derby (D5000 - D5029) two received overhauls in the summer of 1975, 24009 at Glasgow and 24023 at Derby. Because of this classified repair late in the life of the Class, 24023 soldiered on for several years after her numerical sisters had gone to the scrapyard. Along with 24073 (which was withdrawn at the same time as 24023), 24023 represented the last of the Derby built Class 24s remaining in service.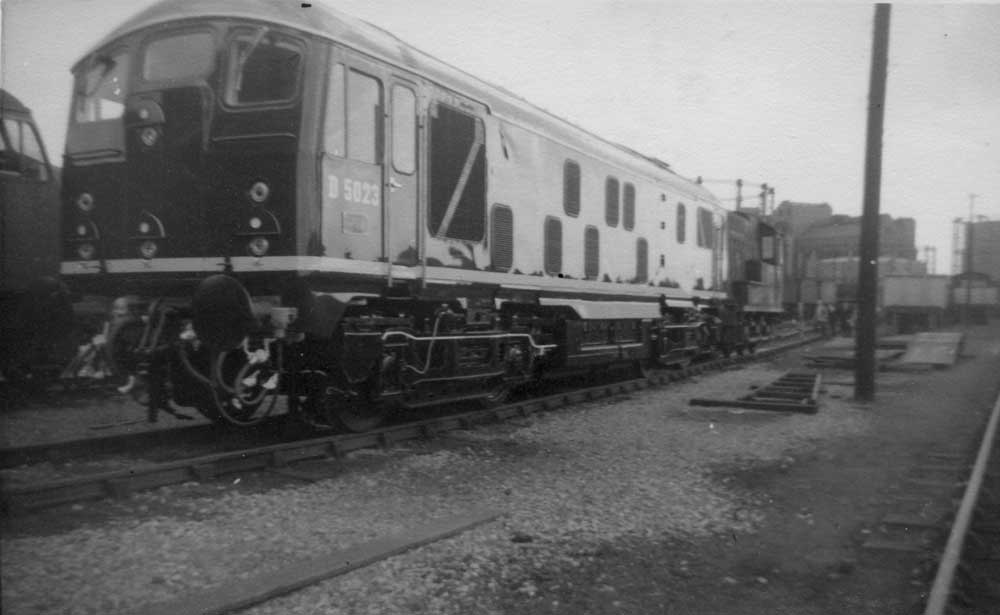 Photograph collection of webmaster.
Its September 1959 as brand new D5023 is shunted in the Works yard. The locomotive sports the two rung footstep on the bogie and the original large fuel/water tanks. In its early years D5023 was a frequent visitor to Derby Works.
1965
On July 10th D5023 & D5080 were noted on the Newhaven Harbour - Glasgow car-sleeper, presumably between Newhaven and the WCML. These were normally English Electric or Peak Type 4 diagrams.
1969
Condition August: green livery with small yellow warning panels, squared upper corners, bottom of warning panel covers frame level stripe, all valencing present, full size fuel tank, shortened water tank, hand/footholds present, boiler room grilles present, ridge sided sandboxes, two-rung bogie mounted footstep, bufferbeam steam pipe connection removed (?), 'D' prefix present.
1975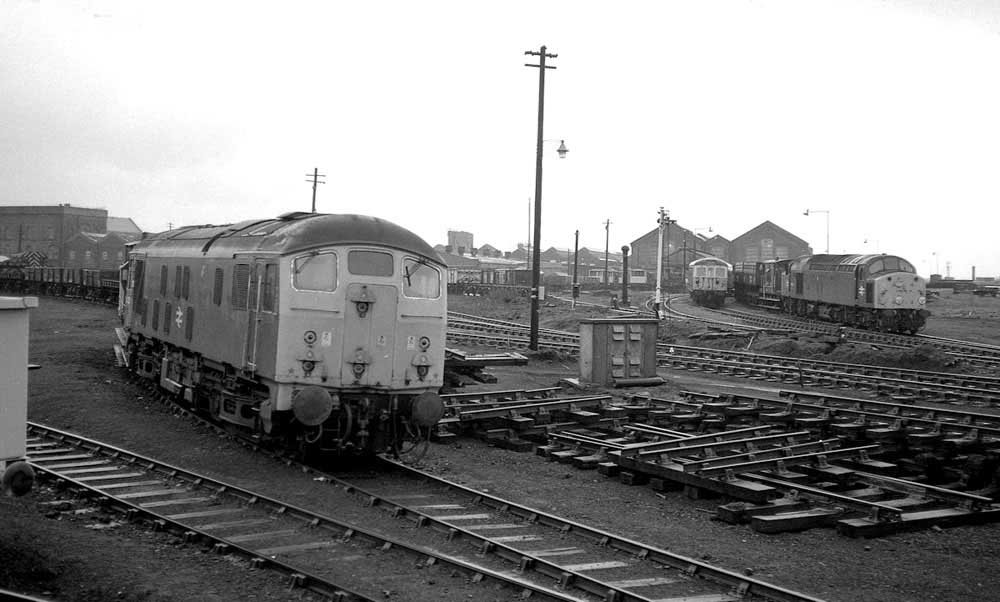 Photograph courtesy Tom Sutch.
Its a damp day at Horwich Works on February 17th 1975 as 24023 & 40032 are surrounded by all that one might expect to see at a railway workshops from this era. In a couple of months 24023 will be at Derby Works for its final classified repair, taking place at a time when many Class 24s were being retired.
Condition March: blue/yellow livery, full size fuel tank, shortened fuel tank, hand/footholds plated over, two-rung bogie mounted footsteps, straight sided sandboxes.
1977
24023 & 24063 worked a late evening Trentham - Shotwick freight on February 17th.
24023 was noted at Birkenhead Mollington Street on March 19th. 24035 & 24023 were noted at St Helens Junction on the evening of March 24th.
24023 & 24035 were noted southbound at Stechford on April 15th with a freight headed for Rugby. 24023 was noted at Gloucester depot on April 30th.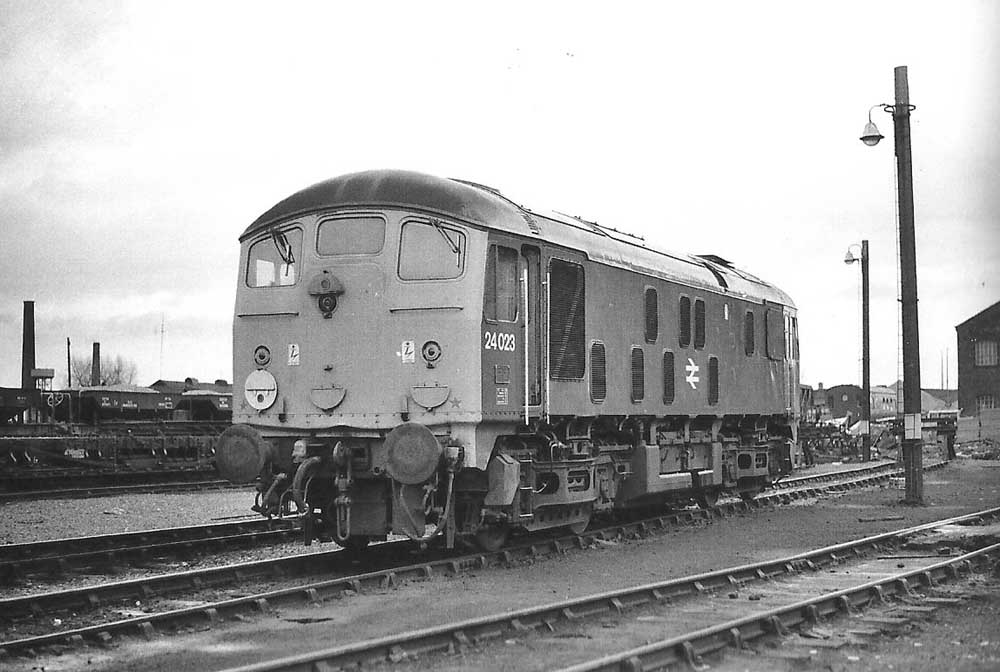 Photograph courtesy Paul Roberts.
24023 stabled at Warrington Arpley on April 25th 1977. In its overhaul at Derby during the summer of 1975 the cab front gangway doors were sheeted over, the steam heat connections on the bufferbeam were removed and three rung footsteps added to the bogies.
The empty stock for a morning relief service from Birmingham New Street to Norwich was brought from Oxley to New Street by 24023 (need date).
On October 17th 24023 was noted at Nuneaton. On October 24th 24023 was noted northbound through Leamington Spa with an engineer's ballast train.
24023 was noted arriving at Stoke on Trent with a freight on December 1st.
1978
24023 & 25161 were noted at Bidston sidings on the afternoon of January 27th with an iron ore working.
On February 2nd 24023 & 24133 worked the morning Cockshute - Oakamoor sand empties.
A Glazebrook - Warrington Arpley freight was worked by 24023 on March 18th.
On April 12th 24023 worked a Llandudno Town (?) - Crewe.
On May 25th 24023 worked the afternoon Stoke-on-Trent to Stafford freight and its return working.
24023 & 24081 were noted on the Shotwick iron ore workings on June 8th & 14th.
During 24023's final summer in service, it was noted on passenger workings on the North Wales mainline. The significant diagram started with the 09.42 Llandudno - Manchester Victoria, then the 13.30 to Llandudno, the 16.42 to Crewe, the 20.30 to Bangor and finally the 22.45 to Llandudno Junction. 24023 worked this diagram on July 6th, 7th (a wet day, the train comprised six coaches), 11th & 12th, on the latter date it was replaced at Crewe by 24063. 24023 was also noted on this diagram on July 31st and August 1st, 2nd & 14th (another wet day.
24023 was finally withdrawn on September 3rd 1978.
Condition final: blue/yellow livery, gangway doors sheeted over, full size fuel tank, shortened fuel tank, blanking plates fitted, hand/footholds plated over, three-rung bogie mounted footsteps, straight sided sandboxes, bufferbeam steam pipe connection removed.
flk 0716
Page added May 10th 2012.
Last updated October 11th 2019.