D5024, 5024, 24024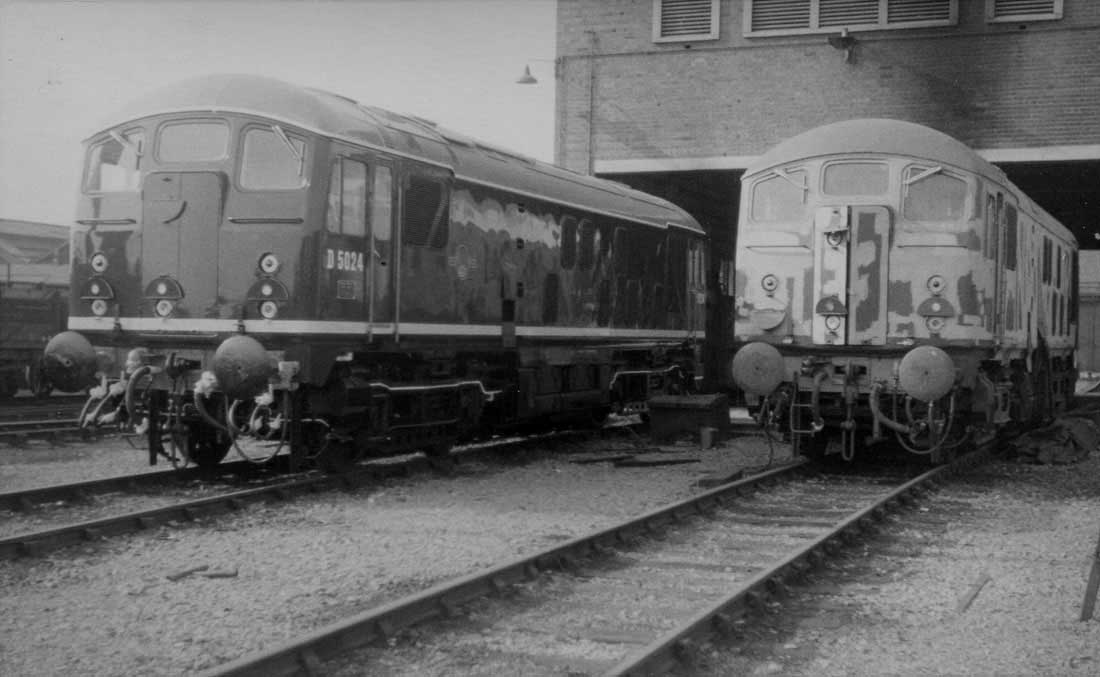 Brand new D5024 in front of the Derby Works Test House, just prior to entering service, dating the picture at the end of September 1959.
The fifteen year ten month career of D5024/24024 saw allocations to Eastern Region and London Midland Region depots.
Built Derby Locomotive Works.
Full size fuel & water tanks (shortened water tank added later).
Four upper and four lower air filters on non-BIS side, three upper and four lower on BIS side.
Gangway doors not removed.
Time between last Classified repair and withdrawal: ?? months.
Time between withdrawal & scrapping:20 months.
Allocations
The frames for D5024 were laid down during the early summer of 1959 at Derby Works. D5024 was new to Ipswich (32B) on October 2nd 1959. Further transfers were:
March 1961 to Stratford (30A).
March 1961 to Willesden (1A) on loan, made permanent June 1961.
December 1965 to Bescot (2F).
April 1966 to Birmingham Division (D02).
August 1967 to Stoke Division (D05).
February 1969 to store (at Chester).
March 1969 - reinstated to Stoke Division.
March 1972 to Manchester Division (D09).
June 1972 to Stoke Division (D05).
October 1972 to Manchester Division (D09).
May 1973 to Longsight.
July 6th 1975 stored serviceable.
August 10th 1975 - withdrawn.
Renumbered February 23rd 1974.
24024 was stored at Reddish from July 1975 until February 15th 1977, when it was moved down to Swindon and broken up there by late April 1977.
Movement: 24005/20/21/24 9X45 04.38 Reddish - Crewe - Banbury - Swindon February 15th 1977.
Works Visits
Works visits (records incomplete).
Noted Derby Works October & November 1961.
Noted Derby Works May & June 1963.
Noted Derby Works September 1964.
Noted Derby Works February & March 1966.
Noted Derby Works March 1969.
Noted Derby Works July 1971.
Highlights
1960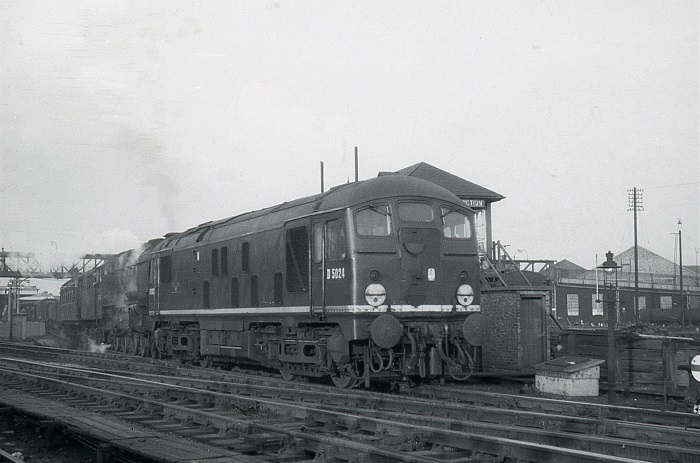 Photograph collection of webmaster.
D5024 & 46106 (headcode 1M28) at the south end of Derby station on November 11th 1961.
1963
In the north despite the harsh weather Polmadie was still putting to good use the locomotives off the Condor, on January 31st D5024 was noted at Ayr.
1970
Condition February: green livery with small yellow warning panels, squared upper corners, full size fuel tank, shortened water tank, boiler room grilles in place, hand/footholds still present, valencing in place, 'D' prefix present.
1972
5024 was the Manchester Victoria banker (T43) on May 8th.
On December 23rd the 10.00 Liverpool - Newcastle failed outside Manchester behind 1576. Class 24 5024 brought the train into Victoria station, with 287 taking the train forward to Leeds, where it was replaced by 77, since the Class 40 could not heat the train. The Peak stayed with the next leg of the diagram, the 15.42 to Liverpool.
1973
5024 was the Manchester Victoria banker (T43) on April 9th, 13th, 26th & 27th.
1974
The six car 16.30 Manchester Victoria - Llandudno failed at Barton Moss on April 19th, 24024 propelled the train to Earlestown, where presumably the passengers were detrained to be picked up by a following service.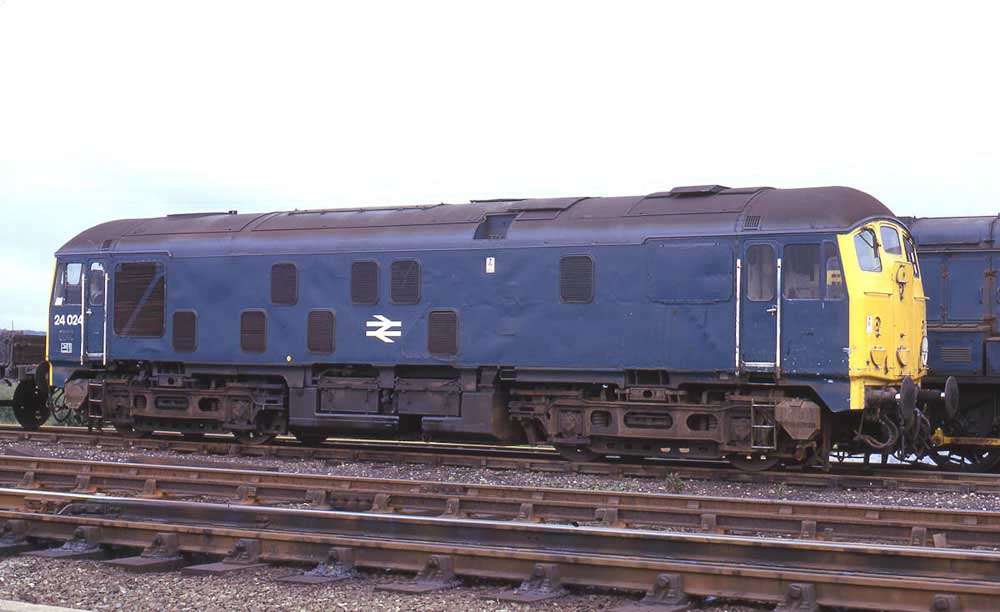 Photograph courtesy Tom Sutch.
Its July 24th 1974 and 24024 is in charge of spoil wagons at Ince Moss.
Condition August: blue/yellow livery, gangway doors still in place, full size fuel tank, shortened water tank, blanking plates fitted, hand/footholds plated over, three-rung bogie mounted footsteps, ridge sided andboxes, some side valencing still present.
1975
On May 23rd 24024 sustained fire damage at Barton Moss whilst working the 6F86 21.55 Brewery Arpley freight.
24024 was withdrawn on August 10th 1975.
flk 1017
Page added July 16th 2016.
Last updated January 18th 2020.