D5032, 5032, 24032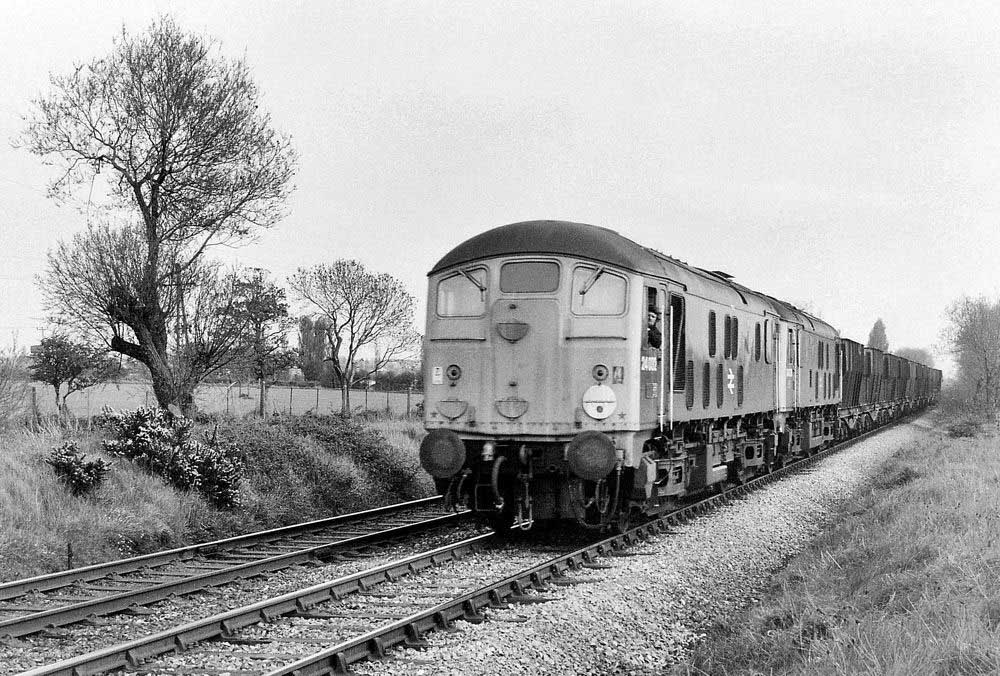 Photograph courtesy David Rapson.
24032 & 24038 at Neston on May 5th 1975. In the driver's seat is Birkenhead driver Colin Woodside.
Built Crewe Locomotive Works.
Full size fuel & water tanks (shortened water tank fitted later).
Four upper and four lower air filters on non-BIS side, three upper and four lower on BIS side.
Boiler water tank removed (1974).
Cab roof ventilators not present at withdrawal (both cab roofs).
Time between last Classified repair and withdrawal: 21 months.
Preserved.
Allocations
The frames for D5032 were laid down during the late spring of 1959 at Crewe Works. D5032 was new to March (31B) on July 29th 1959. Further transfers were:
January 1960 to Stratford (30A).
December 1960 to Willesden (1A) on loan, made permanent January 1961.
December 1965 to Bletchley (1E).
April 1966 to London Division (D01).
November 1966 to Birmingham Division (D02).
August 1967 to Stoke Division (D05).
May 1973 to Crewe.
May 2nd 1976 stored serviceable.
July 17th 1976 - withdrawn.
Renumbered March 2nd 1974.
24032 was stored at Bescot from May 1976 to July 1976. It was sold to T J Thomson, Stockton-on-Tees and moved there pending scrapping. Because of the hot, dry summer 24032 went on hire from August 21st 1976 to the North Yorkshire Moors Railway.
Movement: 24032 Bescot – TJ Thomson, Stockton July 22nd 1976 under its own power.
Works Visits
Works visits (records incomplete).
Noted Derby Works February & June 1961.
Noted Derby Works November 1962.
Noted Derby Works February & June 1963.
Noted Derby Works November 1964 - January 1965.
Noted Derby Works February 1966.
Noted Derby Works February & December 1970.
Noted Derby Works October 1972.
Noted Derby Works August to October 1974 (received blue livery).
1959
D5032 was delivered from Crewe Works during July and allocated to March (31B).
1960
In January D5032 moved to Stratford (30A).
Whitsun Bank holiday found a number of Type 2s visiting Southend with excursions from the north London area, so noted were D5032/38/44/77.
In December D5032 moved across to Willesden (1A), Stratford being able to release batches of the Type 2s due to the delivery of further Brush Type 2s from Loughborough.
1962
On the evening of March 30th D5032 worked an eight coach Euston - Rugby service.
1963
D5032 made a visit to Derby Works during February - had the awesome winter of 1962/63 affected it? D5032 returned for another visit to Derby Works in June.
1964
On April 24th D5032 worked the eight coach 1G61? 16.50 Northampton - Birmingham New Street.
On the afternoon of April 26th D5032 was at Camden.
On August 31st D5032 worked the 07.14 Bletchley - Euston.
On Sunday November 15th D5004, D5006, D5007, D5015, D5032, D5074 & D5080 were stabled at Willesden.
By November D5032 was under repair at Derby Works, staying on Works until January 1965.
1965
On September 7th D5032 worked the 18.05 Broad Street - Tring.
1966
D5032 was noted at Derby Works during February & October D5032.
Condition July: green livery with small yellow warning panels, curved upper corners, gangway doors present, full size fuel & water tanks, blanking plates fitted, hand/footholds plated over, ridge sided sandboxes, three-rung bogie mounted footsteps.
1967
With the southern end of the WCML electrification now complete D5032 was transferred northwards again, this time to the Stoke Division (D05) in August.
On the evening of August 12th D5032 was stabled at Crewe.
On the morning of September 2nd D5032 was stabled at Crewe.
1968
On the afternoon of April 11th D230, D5032, D235 & D1544 were light engines at Crewe.
1969
On the afternoon of April 8th 5032 was northbound at Crewe with a freight.
On the late evening of November 3rd 5032 was at Crewe with an up freight.
1970
5032 was noted at Derby Works in February & December.
A treat for enthusiasts at the London end of the WCML on August 8th was the arrival of Crewe based 5032 & 5040 on a southbound coal train (to Chelsea Basin?). Although once very familiar to this area, by this time they were rarely seen south of Rugby. Their return to the north was very prompt, light engines only.
1971
On the morning of June 11th 5063 & 5032 were noted on a down passenger train (1D01) at Crewe for the Chester Line.
Condition June: green with full yellow ends (yellow ends recently repainted).
1972
5032 was noted at Derby Works during October.
1973
Condition February: green/yellow livery, gangway doors present, full size fuel tank, shortened water tank, blanking plates fitted, hand/footholds plated over, straight sided sandboxes, two-rung bogie mounted footsteps.
On April 27th 5032 & 5145 were diagrammed for the 1K00 03.55 Crewe - Stoke on Trent newspaper train. On joining the mainline at Kidsgrove the regular reversal took place to back the train into the 'Up' mainline platform to allow for the newspaper work to be carried out. Unfortunately after standing a short while in the platform the train was rear-ended by the 8K52 02.20 Ordsall Lane - Cresswell goods train hauled by 5049 & 5042. Although the impact speed was only about 10-12mph 5049 sustained a crushed cab leading to the death of the secondman, who was at the controls.
At about 5pm on July 23rd 5032 was noted passing St Helens Junction on an up freight.
1974
During August green liveried 24032 arrived at Derby Works for its last classified repair, completed during October.
1975
June 22nd saw Rhyl graced with 24032 & 24140 on a special from Tamworth.
24032 was noted at Shotton with a permanent way train on the morning of August 10th.
1976
At about 9.30am on February 14th 24032 + 25304 were at Birkenhead North with iron ore for Shotton.
24032 and another Class 24 were noted northbound through Macclesfield on July 1st.
Attrition slowly claimed the surviving Class 24s, 24032 was stored at Bescot during the first week of May and finally retired on July 17th.
Condition final: blue/yellow livery, gangway doors sheeted over, blanking plates fitted, hand/footholds plated over, full size fuel tank, water tank removed, ridge sided sandboxes, three-rung bogie mounted footsteps, no roof mounted ventilators above cab doors (both cabs).
24032 however would not languish in a rusting scrap line like many of her sisters. Five days after withdrawal the Class 24 travelled from Bescot under its own power having been sold for scrap to T J Thomson of Stockton. En route it hauled 03096 from York to Thornaby before running light to Stockton.
24032 quickly came to the attention of the operating authorities on the North Yorks Moors Railway - the dry hot summer of 1976 had seen their steam locomotives sidelined due to the danger of lineside fires. 08212 had been hired but suffered a seized traction motor and bent coupling rod, following this a diesel multiple unit was hired. Negotiations between the Managing Director of TJ Thomson and the NYMR, later followed by approval from the BRB allowed 24032 to begin a one year term on the NYMR. It was necessary to remove the BR symbol and the '24' from the number in order to allow its operation. It was immediately pressed into service, soon running 1,000 miles a month, since its last repair at Derby it had only run 45,000 miles. It quickly became a favourite with the operating authorities, particularly for its use on engineering trains, where it was obviously far superior at handling the tasks formerly carried out by the smaller shunters. By the beginning of September D5032 had received a repaint.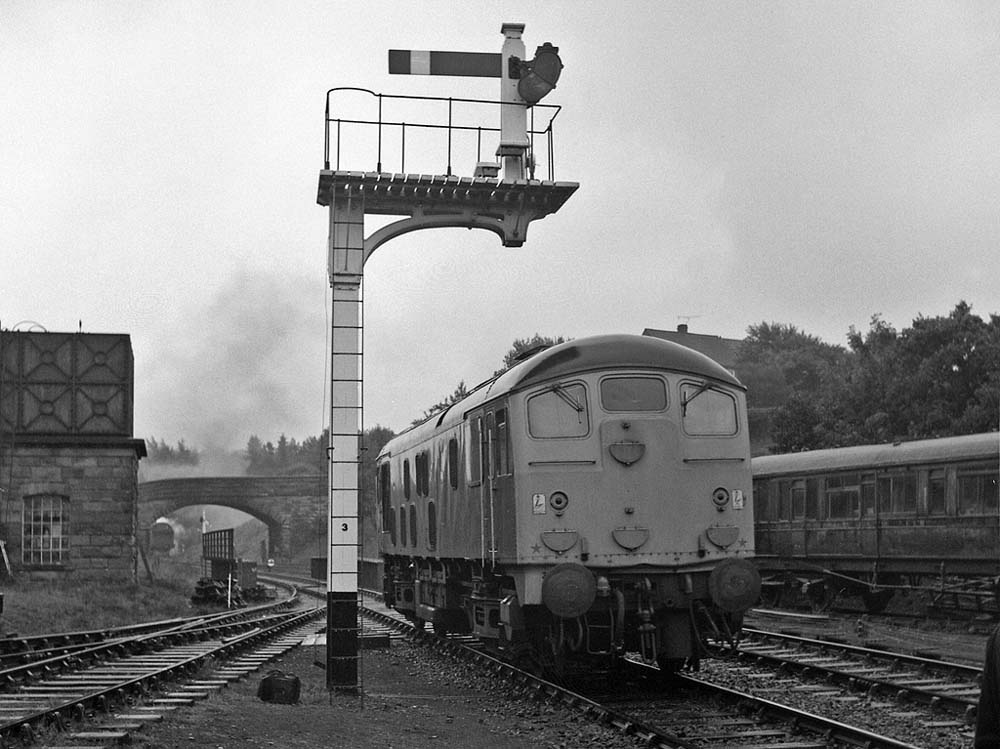 Photograph courtesy Syd Young.
24032 at Goathland early in August 1976. Apart from having its BR emblems removed 24032 looks like it would have done when in normal service, complete with a glistening coat of rain, which seems to further highlight the good condition of the bodywork. This view also reveals that the boiler water tank and buffer beam mounted steam heat connections have been removed at its last overhaul.
1977
For 24032 its one year loan was renewed. During April it was painted in a none to historically accurate two tone green, a livery it never carried - the light green was not correct and the number decals were the wrong size. However in the light of the carnage that was taking place at Swindon and Doncaster, who cared about such minor quibbles.
1978
Late in the year 24032 was taken to Thornaby for tyre turning.
1980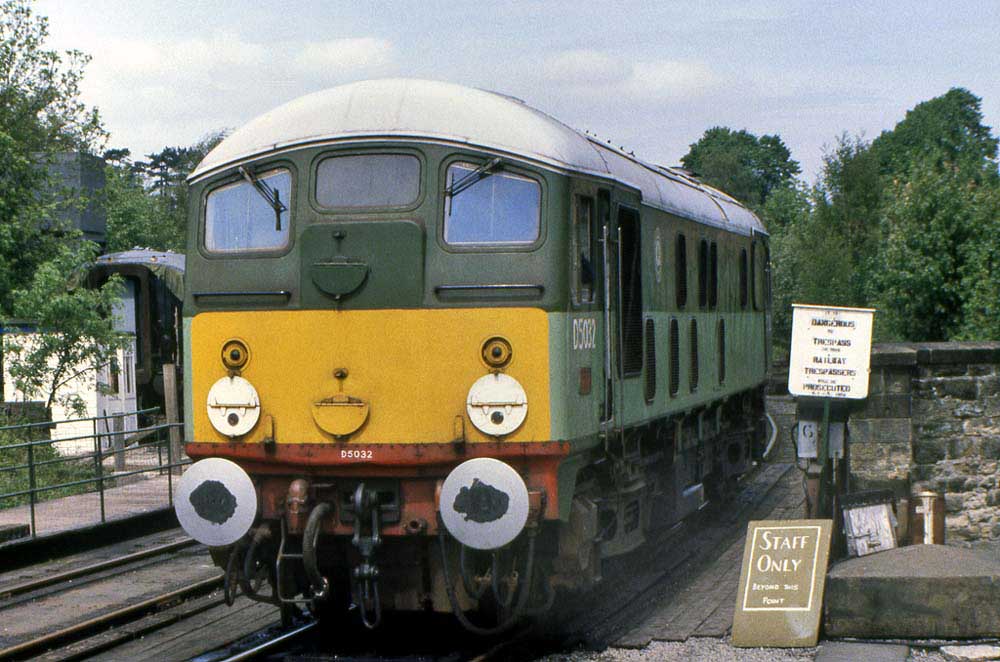 Photograph courtesy Syd Young.
On June 3rd 1980 24032/D5032 was out and about on the NYMR working services between Pickering & Goathland. In this fine view it shows off its two-tone green livery and other details added since its arrival on the NYMR almost four years earlier. By the summer of 1980 there was only one active Class 24 still in service on British Rail - 24081.
Towards the end of 1980 24032 was in need of new batteries and the power unit had developed a serious oil leak.
1981
A new agreement saw the loan of 24032 extended for three years, which allowed for some much needed long term improvements to be carried out, a new set of batteries & a boiler from Swindon ex 25056 were obtained in November.
1982
On October 30th 24032 was named 'Helen Turner', the daughter of TJ Thomson's managing director, the locomotive also received a coat ot the traditional Brunswick Green paint.
1986
During 1976 a total of 100,000 miles were clocked up since entering 'preservation'.
1989
The locomotive was stopped to permit extensive bogie repairs, the wheelsets were sent away for new tires, the bogies stripped and attention given to a traction motor.
2001
The mileage total had now reached 135,000. An inquiry received by TJ Thomson's to sell 24032 led to the NYMR obtaining a seven year lease on the locomotive with option to buy at the end of this period. This would allow for major investment into 24032, including much need top end and bodywork repair. After all the locomotive had now spent way longer in active preservation that it had in service on BR.
2009
If the official allocation date of July 29th 1959 for newly built 5032 is used for its introduction into revenue earning service, then this would mark a good date to celebrate its fiftieth anniversary.
2016
Late in 2016 the North Yorkshire Moors Railway purchased D5032 (24032) from T J Thomson & Son Ltd.
no flk
Page updated September 12th 2016.
Last updated September 5th 2022.
Back to 24031
Forward to 24033