D5033, 5033, 24033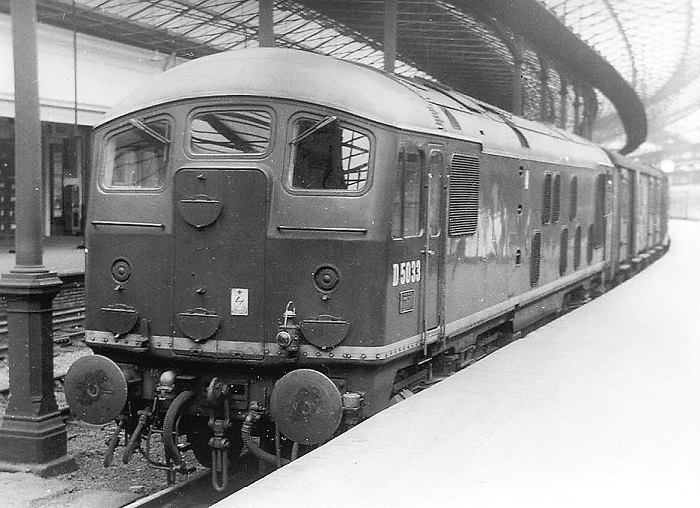 Photograph collection of Rex Conway.

Early days at Euston as D5033 stands with a recently arrived parcels working, presumably during 1961 following its transfer from Stratford to Willesden.

Built Crewe Locomotive Works.
Full size fuel & water tanks (shortened water tank fitted later).
Four upper and four lower air filters on non-BIS side, three upper and four lower on BIS side.
Gangway doors never removed.
Time between last Classified repair and withdrawal: 48 months.
Time between withdrawal and scrapping: 18 months.

Allocations

The frames for D5033 were laid down during the late spring of 1959 at Crewe Works. D5033 was new to March (31B) on August 5th 1959. Further transfers were:

October 1959 to Stratford (30A).
March 1961 to Willesden (1A) on loan, made permanent April 1961.
January 1966 to Bletchley (1E).
April 1966 to London Division (D01).
November 1966 to Birmingham Division (D02).
August 1967 to Stoke Division (D05).
May 1973 to Crewe.
August 3rd 1975 stored serviceable.
October 4th 1975 - withdrawn.

Renumbered March 30th 1974.

24033 was stored at Crewe from August 1975 to January 1977. It was moved to Swindon Works on January 10th 1977 and scrapped there by the middle of March 1977.

Works Visits

Works visits (records incomplete).

Noted Derby Works September & November 1963.
Noted Derby Works July & October 1964.
Noted Derby Works November 1966.
Noted Derby Works October 1971 (Classified and repainted blue/yellow).
Noted Derby Works May 1974.

Withdrawn with shortened water tank, gangway doors never removed.

Highlights

1959
D5033 was one of the first batch of Class 24s to be built at Crewe Works (D5030 - D5037), eventually being one of the forty eight allocated to March (31B). These locomotives would join the new Brush & NBL Type 2s in the dieselisation of East Anglia. In October D5033 moved south to Stratford (30A).

Condition new: green livery with frame level stripe, full size fuel & water tanks, ridge sided sandboxes, two rung bogie footsteps, side ventilators 3/4 BIS side, 4/4 non-BIS side.

Late in December D5033 was noted on passenger duties on the Liverpool St - Cambridge services. Its initial trial was not a success, on 28th it only reached Bethnal Green on the 5.57pm to Cambridge before failing, after much delay K1 62040 took out the train.

1960
D5033 worked the 20.03 Liverpool Street - Bishops Stortford on May 5th.

D5033 worked the 14.37 (SO) Norwich - Sheringham on July 23rd.

1961
In March D5033 moved to the LMR, their new home being Willesden (1A).

1963
On the afternoon of June 1st D5033 was at Euston.

1964
On the afternoon of April 26th D5033 was at Euston with empty coaching stock.

1966
D5076 had a rough couple of days early in the year. On January 31st it failed at Canley on an engineers rubbish working to Bell Green, being rescued by D5033 from Coventry, whilst on February 2nd it passed Coventry three hours late on an early morning Stafford - Kilburn parcels, with the assistance of D298.

1967
With the electrification at the southern end of the LMR progressing and with more arrivals from Derby Works of the latest Class 25s there began a gradual migration northwards of the older Type 2s, during August D5033 was transferred to the Stoke Division (D05).

On the morning of August 19th D5027 & D5033 were stabled at Crewe.

On the afternoon of October 31st noted at Stoke on Trent were D5078 (light engine), D5033 (up freight) & D5086 (down freight) with the old order of 75047 lying condemned on Stoke shed.

1969
The 20:05 Ellesmere Port - Wareham has already been noted bringing Class 25s deep into SR territory on March 3rd a Class 24 made the trip, though how D5033 returned home is not recorded.

1970
On the morning of April 12th 5033 & 5039 were at Stoke on Trent with an up freight.

On the evening of June 11th 5033 & 5133 were at Basford Hall with a down freight.

1971
Condition ??month: plain green livery, small yellow ends, curved upper and lower corners, ridge sided sandboxes, three rung bogie footsteps, handholds present including footstep on bogie end, most valencing in place.

1972
On February 16th 5021 & 5033 were noted at Bletchley on the northbound 'Clayliner'. Normally an electric working the diesels, along with others were used to ease the power crisis due to ongoing coal miners strike.

1973
At about 5pm on August 3rd 5033 was noted at Bangor with an up freight.

On November 25th 5033 was noted with a freight at Dewsnap Sidings.

5033 was on empty coaching stock duty at Liverpool Lime Street on December 28th.

1974
Crewe based 5033 spent almost a week in the Tees area on local workings from January 17th - 21st.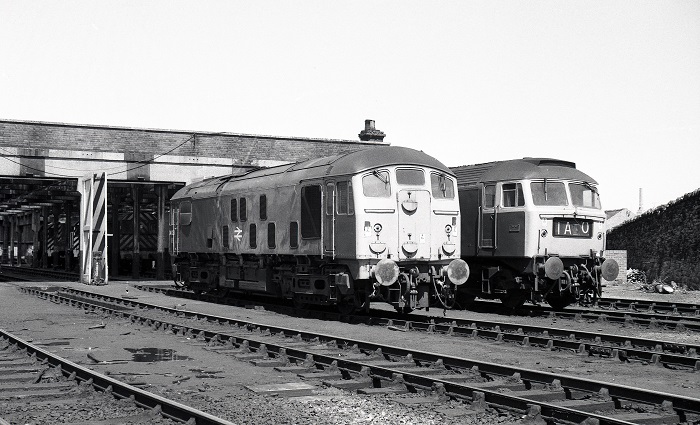 Photograph courtesy John Turner (via RG).
24033 at Holyhead shed circa June 1974.
1975
24033 was noted at Manchester Victoria on January 17th with the 6M46 (Class 24s noted at Manchester Victoria on this day included 24021, 24023, 24025, 24026, 24027, 24033 & 24048). On January 18th 24033 was noted at Manchester Victoria with the 7M04.
On the morning of March 15th 24033 was stabled at Burton on Trent.
24033 was noted at Nuneaton on July 26th.
The mass storage and withdrawals of the Class 24s in the summer included 24033 during August. Ironically as 24033 was being stored, sister locomotive 24035 was receiving a Classified repair at Derby Works!
24033 was withdrawn in September and stored near Crewe Works.
1977
24033 remained at Crewe until making the obligatory trip to Swindon on January 10/11th as the 06:45 Crewe - Swindon behind 25269 and with 24025/29/34 attached, where the end finally came for 24033 in April 1977.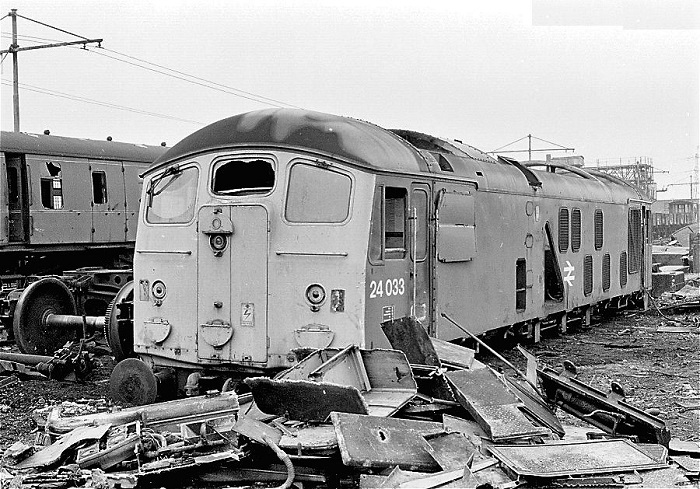 Photograph courtesy Pete Piszczek

March 1977 - 24033 is now next in line for final cutting up. Its been removed from its bogies, which may be those off to the left. In the foreground is all that remains of another Class 24.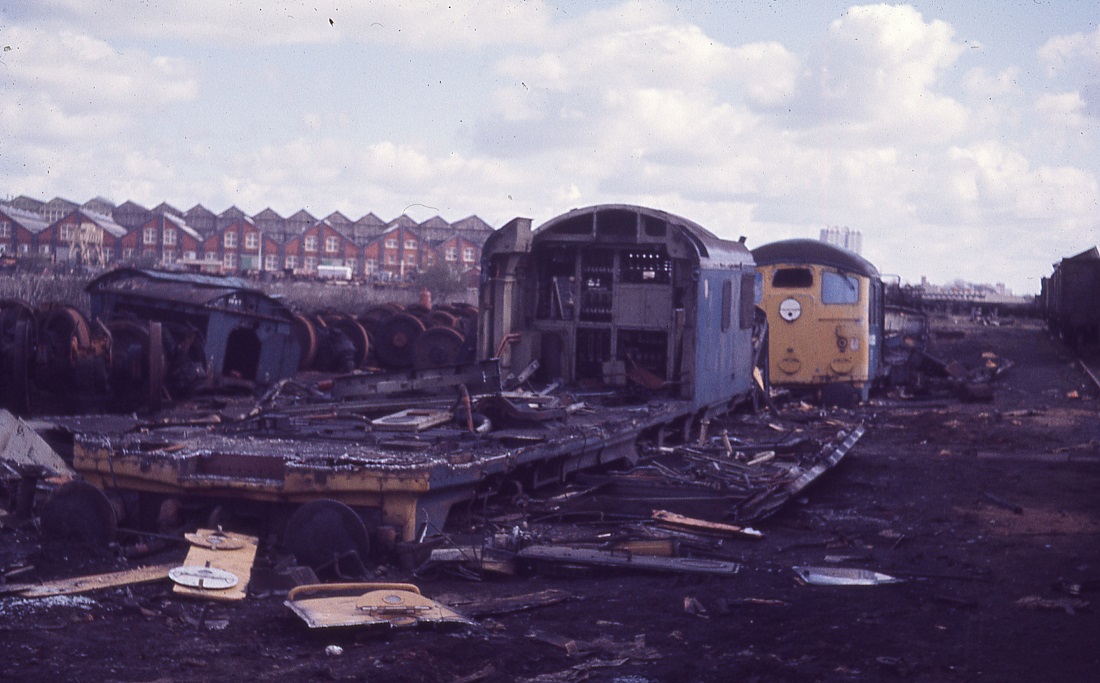 A less than perfect shot of 24033 in its final days. What's left of the nearest cab lies on the ground in front of the photographer, a large section of the locomotive's side also has fallen to the ground, the other cab has been cut away and has fallen forward, all that remains recogniseable is the area around the boiler room and electrical compartment. Behind 24033 is pioneer 24005 which is in little better shape. The date is April 3rd 1977.
flk 1221
Page created January 15th 2001.
Last updated September 6th 2022.
Back to 24032
Forward to 24034