D5037, 5037, 24037
One of the two-tone green examples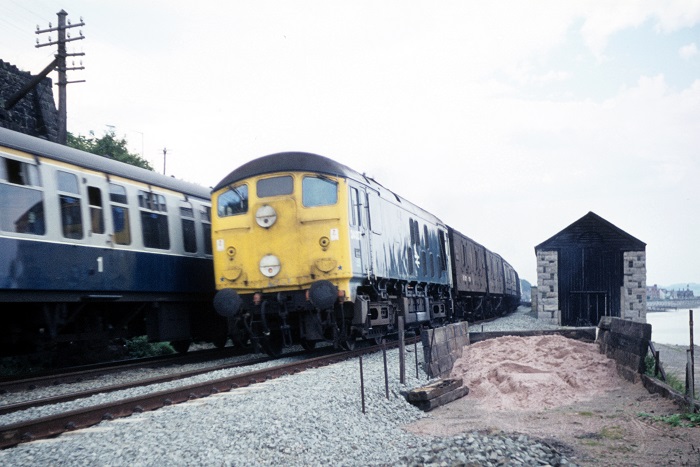 Photograph courtesy Tony Smith.
24037 with a train of vans at Llanfairfechan on August 29th 1974.
Built Crewe Locomotive Works.
Full size fuel & water tanks (retained until withdrawn).
Four upper and four lower air filters on non-BIS side, three upper and four lower on BIS side.
Cab roof ventilators sheeted over at some point (whilst on the ER)
Roof modification (above generator/brake cubicle): original style retained until withdrawn (raised panels).
Time between last Classified repair and withdrawal: ?? months.
Time between withdrawal and scrapping: 11 months.
The sixteen year ten month career of 5037/24037 saw allocations to Eastern Region & London Midland Region depots.
Allocations
The frames for D5037 were laid down during the early summer of 1959 at Crewe Works. D5037 was new to March (31B) on September 7th 1959. Further transfers were:
May 1960 to Ipswich (32B)
August 1967 to Stoke Division (D05)
May 1973 to Crewe
August 3rd 1975 stored serviceable
December 1975 - reinstated to Crewe
May 2nd 1976 stored serviceable
July 17th 1976 - withdrawn.
Renumbered January 28th 1974.
24037 was stored at Crewe from May 1976 until March 21st 1977 when it moved down to Swindon Works and scrapped there by the end of June 1977.
Movement information: 24027/30/37/83 9X29 06.50 Crewe - Banbury - Swindon March 21st 1977.
Works Visits
Works visits (records incomplete).
Noted Stratford Works April 1962.
Noted Doncaster Works May - July 1963.
Noted Derby Works April - July 1965.
Noted Derby Works March 1969.
Noted Derby Works February 1974.
Highlights
Condition, early: green livery, no yellow warning panels, full size fuel & water tanks, two-rung bogie footsteps, silver buffers.
1960
On June 25th D5037 & D5040 were stabled at Ipswich station.
1962
The last day of the summer timetable in East Anglia also marked the end of steam hauled express passenger workings in the area. It was however not a day to remember favourably. An early morning Norwich – London service failed at Diss behind 70006, with D5631 coming to the rescue, no doubt impacting the plans for this 'last day' service. The woes continued with the failure of D5037 at Witham and just before 10am catenary problems at Ingatestone led to cancellations, single line working and diversions for much of the remainder of the day!
1965
A visit to Derby took place from April to July. The two tone green livery was received following this repair, one of five to receive this livery.
Condition (last quarter of year approx.): two-tone green livery with small yellow warning panel, gangway doors in place, full size fuel & water tanks, two-rung bogie footsteps, ventilators in cab roofs above cab doors sheeted over, exhaust port located above engine room.
1968
Condition June: two-tone green livery with small yellow warning panel, gangway doors in place, full size fuel & water tanks, two-rung bogie footsteps, ridge sided sandboxes, ventilators in cab roofs above cab doors sheeted over, blanking plate fitted, hand/footsteps in place, exhaust port located above engine room.
1970
On August 8th 5037 was stabled at Toton, locomotive was in two-tone green livery with full yellow ends and with 'D' prefixes.
On the afternoon of December 10th 5082 & 5037 were noted light engines at Basford Hall.
1972
On February 24th the 09.45 Hooton – Helsby diesel multiple unit became a failure, 5037 off the local trip working was commandeered to assist.
During April 5037 was noted with patched repairs to the No.2 cab 2nd man's side qwith some scrape damage on the main body side. 'D' prefixes were still present.
A Marylebone – Aberdeen exhibition train reached Tyne Yard behind 5855 on June 30th, Crewe based 5037, one of the few to receive two-tone green livery, which it still had, took the train forward to Scotland.
Condition December: still in two-tone green livery.
1973
At about 7am on January 30th 5037 was noted passing Chester with a down freight.
1974
On February 5th 24037 made a test run from Derby Works. Most likely the locomotive was renumbered whilst at Derby Works.
The snag sheet for February 5th recorded:
24037; February 5th 1974; time 10.08 from Nottingham (actual departure 10.35)
| | | | | | |
| --- | --- | --- | --- | --- | --- |
| Load | Speed | Amps | Volts | Notes | Other |
| 1 | 26 | 850 | - | - | - |
No.1 cab bulkhead door seal at bottom
No.1 cab driver's side windscreen wiper motor needs attention (too slow?)
Lamp A side of turbo-charger.
Both 24037 & 24038 had received the two-tone green livery in 1965 and both retained this livery until February 1974 when they were in Derby Locomotive Works at the same time, being outshopped in blue & yellow.
At about 11am on August 3rd 24037 was noted passing Heaton Norris Junction with an up train of rails.
On September 16th 24037 was noted at Crewe station.
1975
On June 15th 24037 was stabled at Warrington Arpley.
1976
24037 was noted at Nuneaton on February 14th.
24037 was stabled at Chester on April 3rd.
24037 was withdrawn on July 17th 1976.
Condition final: blue/yellow livery, gangway doors sheeted over, full size fuel & water tanks fitted, blanking plates fitted, hand/footholds plated over, ventilators in cab roof above cab doors sheeted over, straight sided sandboxes fitted, three-rung bogie mounted footsteps fitted.
flk 0222 (1)
Page created June 30th 2016.
Last updated July 4th 2022.
Back to 24036
Forward to 24038