D5036, 5036, 24036

Built Crewe Locomotive Works.
Full size fuel & water tanks (retained until withdrawn).
Four upper and four lower air filters on non-BIS side, three upper and four lower on BIS side.
Cab roof ventilators sheeted over (Eastern Region modification).
Time between last Classified repair and withdrawal: ?? months.
Time between withdrawal and scrapping: 7 months.

Allocations

The frames for D5036 were laid down during the early summer of 1959 at Crewe Works. D5036 was new to March (31B) on September 3rd 1959. Further transfers were:

May 1960 to Ipswich (32B).
October 1962 to March (31B).
February 1963 to Ipswich (32B).
August 1967 to Stoke Division (D05).
May 1973 to Crewe.
October 16th 1977 stored unserviceable.
November 20th 1977 - withdrawn.

Renumbered May 1974.

24036 was stored at Crewe from October 1977 until May 11th 1978 when it departed for Doncaster Works. It was scrapped at Doncaster Works during June 1978.

Movement information: 24036/57/80/91 12.30 Crewe - Doncaster via Derby May 11th 1978 (layover at Derby) - Class 47 hauled.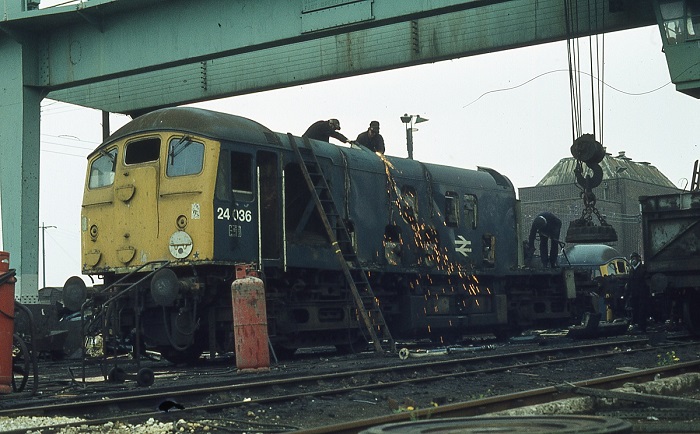 Photograph collection of webmaster.
It May 21st 1978 and 24036 has arrived at Doncaster Works for scrapping. With a team of four men working on dismantling the locomotive it won't be long before the job is done.
Works Visits
Works visits (records incomplete).
Noted Stratford Works January 1960.
Noted Stratford Works September 1961 (bogie change).
Noted Stratford Works May 1962.
Noted Doncaster Works January & February 1964.
Noted Eastleigh Works October 1965.
Noted Derby Works June 1969 (Intermediate Repair).
Noted Derby Works May & June 1975.
Noted Derby Works November 1975.
Highlights
At some point whilst allocated to the Eastern Region, the cab roof ventilators (located above the cab doors) were covered over, it is not known how long the locomotive ran in this condition.
1966
On June 4th D5036 was noted on one of the 'last day' workings over the Peterborough - Market Harborough - Rugby line, with a three coach train, the locomotive carrying a banner and a wreath. At this time the locomotive still retained its roof level water filler covers. The small yellow warning panel had curved upper corners and extended down to the frame, covering the frame level bodystripe. The cab roof ventilators above the doors were sheeted over at this point.
1968
On June 15th D5036 was noed at Manchester Exchange on the 1C65 (passenger working?).
1976
At about 8am on February 28th 24036 + 25304 were noted at Birkenhead North with iron ore for Shotton.
A stranger at Cardiff on August 12th was 24036 having arrived on an overnight freight from Bescot with 46022. It went light to Severn Tunnel Jct to work the morning freight to Gloucester, handling other local trips before dragging 45059 to Saltley later that day.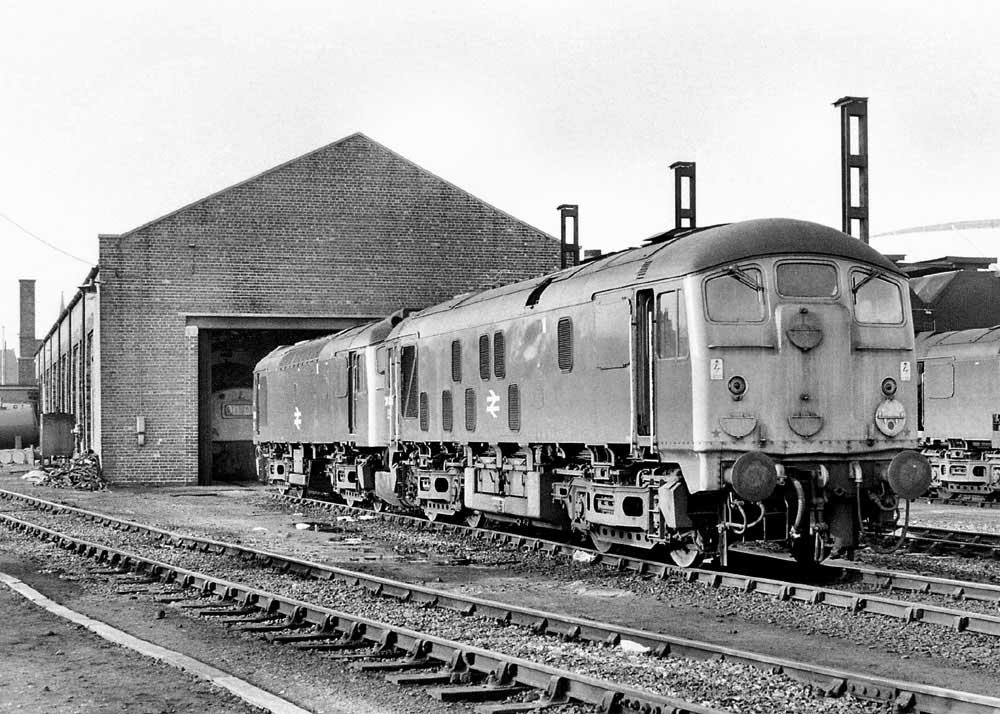 Photograph courtesy David Rapson.
24036 at Birkenhead during 1976.
1977
On February 16th 24036 & 24047 worked a late evening Crewe - Shotwick freight.
On April 23rd 24036 & 24063 were noted at Chester depot.
25168 & 24036 were used for a railtour between Llandudno Junction and Blaenau Ffestiniog on June 12th.
On July 23rd 24036 was noted at Croes Newydd.
24036 was stabled at Cockshute on August 20th and at Chester with a rake of wagons on August 21st.
On September 1st 24036 was noted passing Ipstones with mineral wagons. 24036 was stabled at Cockshute on September 24th.
When withdrawn the locomotive was in standard blue/yellow livery. The gangway doors had been sheeted over. The full size water and fuel tanks were retained until the end, no circular gauges were fitted. The bogies were fitted with the three rung footsteps. The hand/footholds to the cantrail level water filler had been plated over and the bufferbeam mounted steam heat connections had been removed.
A builders plate from 24036 (Crewe 1959) sold at Stafford Auctions for £500 during September 2016.
flk 1017
Page created May 6th 2016.
Last updated February 13th 2020.