D5046, 5046, 24046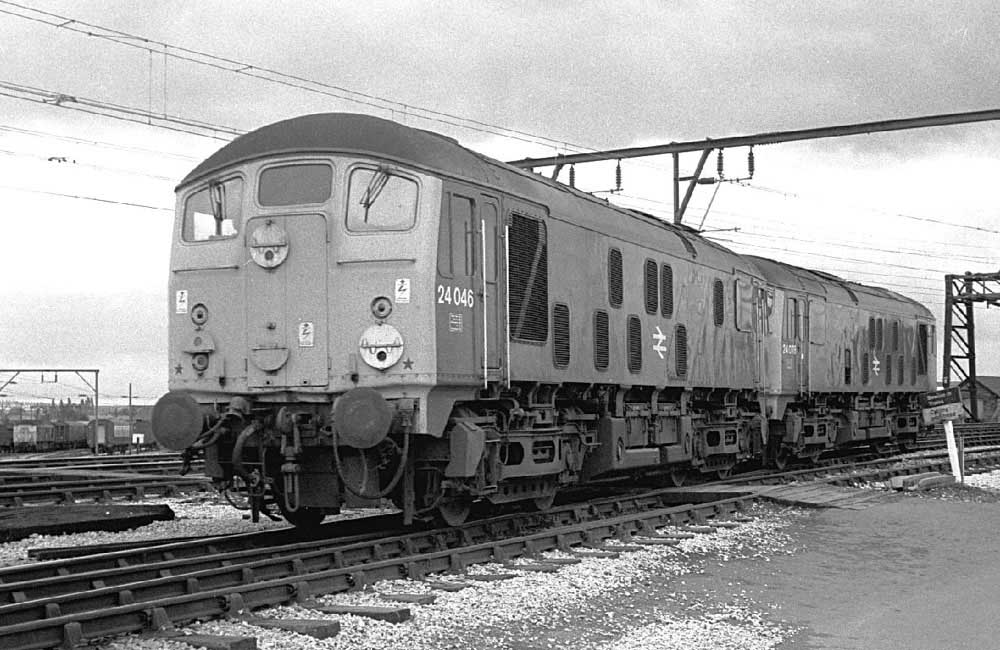 Photograph courtesy Tony Sayer.
24046 at Crewe on September 25th 1975
The sixteen year eight month career of D5046/24046 saw allocations to Eastern Region and London Midland Region depots.
Built Crewe Locomotive Works.
Full size fuel & water tanks (shortened water tank added later).
Four upper and four lower air filters on non-BIS side, three upper and four lower on BIS side.
Circular gauges fitted to fuel & water tanks.
Gangway doors not removed.
Time between last Classified repair and withdrawal: ?? months.
Time between withdrawal and scrapping: 12 months.
Allocations
The frames for D5046 were laid down during the summer of 1959 at Crewe Works. D5046 was new to March (31B) on October 29th 1959. Further transfers were:
September 1960 to Stratford (30A).
March 1961 to Ipswich (32B).
June 1965 to Tinsley (41A) on loan?
July 1965 to Ipswich (32B).
August 1967 to Stoke Division (D05).
May 1973 to Crewe.
August 3rd 1975 to serviceable store.
August 1975 - reinstated to Crewe.
October 1975 to serviceable store.
December 1975 - reinstated to Crewe.
February 1976 to serviceable store.
July 17th 1976 - withdrawn.
Renumbered November 5th 1973.
After withdrawal 24046 was stored at Crewe Basford Hall until May 2nd 1977 when it moved to Oxford, departing here on May 17th 1977 for Swindon Works, where it was scrapped by the third week of July 1977.
Movement: 24038/39/41/46 06.50 Crewe - Oxford - Swindon May 2nd-17th 1977.
Works Visits
Works visits (records incomplete).
Noted Stratford Works May 1962.
Noted Doncaster Works December 1963.
Noted Derby Works October 1965.
Noted Derby Works May 1968.
Noted Derby Works December 1970.
Highlights
Condition New: green livery, frame level stripe, grey roof, full size fuel & water tanks, two-rung bogie mounted footsteps, ridge sided sandboxes.
Condition no date (early 1960s)?: green livery with small yellow warning panels, curved upper corners, frame level stripe not covered by yellow panel, small gap between stripe and bottom of yellow panel; steam style shed plate of cab front.
1975
Condition September: blue/yellow livery, gangway doors fitted, full size fuel tank, shortened water tank, both fitted with circular gauges, two-rung bogie mounted footsteps, valencing removed from body sides, buffer beam mounted steam pipe connections removed, blanking plates fitted, hand/footholds plated over.
1976
24046 was withdrawn on July 17th 1976.
flk 1117
Page added June 24th 2016
Last updated January 11th 2017