| | | | | | |
| --- | --- | --- | --- | --- | --- |
| Load | Speed | Amps | Volts | Notes | Other |
| 1 | 28 | 800 | - | - | - |
No.2 cab engineroom door fouling floor plate
B side of engine, generator end, seam leaking
A side of engine, free end, seam leaking
Oil passing from air inlet manifold
Engine governor leaking oil.
1976
On January 11th 24047 arrived at Tyne Yard with a freight from Healey Mills, the Class 24 later working south with a car train for Morris Cowley.
On June 3rd the 17.20 Llandudno – Manchester used 24047 as a replacement for 47205 which had arrived from Manchester but sustained collision damage at Llandudno(?).
24047 was stabled at Chester depot on July 10th & 18th.
The iron ore trains in the Shotwick/Bidston Dock area were now in the hands of Class 25s following the general demise of the Crewe based Class 24s. However 24047 & 24080 were frequent performers on these trains during early September.
1977
Whilst working the 13.27 Crewe - Derby service on February 13th 50741/59272/50686 became a failure, being noted an hour late through Longport behind 24047. On February 16th 24036 & 24047 worked a late evening Crewe - Shotwick freight. On February 18th/19th 24063 & 24047 worked a late evening Crewe - Shotwick and Shotwick - Pratts Sidings freights. 24035 & 24047 worked an early morning Grange Junction - Shotwick freight on February 26th.
On March 10th 24047 was stabled at Warrington Arpley.
25161 & 24047 were noted with empty sand hoppers between Leek Brook & Oakamoor during the morning of April 12th, later they returned to Stoke with loaded hoppers. 24047 was noted at Chester station on April 16th. 24047 was stabled at Newton Heath on April 23rd.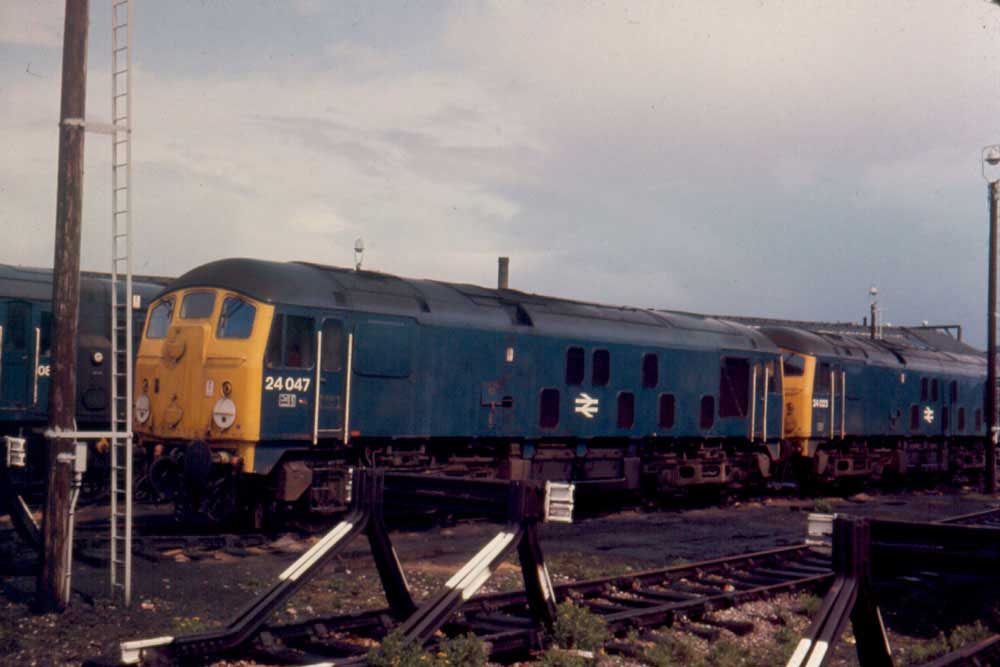 24047 & 24023 stabled at Cockshute on May 7th 1977.
24047 was eastbound with a parcels train Abergele on July 16th. 24047 was light engine at Chester station on July 18th. 24047 was stabled at Cockshute on July 24th.
On August 2nd 24063 & 24047 were light engines at Rock Ferry headed for Birkenhead.
24063 & 24047 were northbound at Crewe station on August 9th with a train of hoppers.
On October 1st 24047 was noted at Manchester Oxford Road with a parcels train. On October 2nd 24047 was stabled at Chester.
24047 was noted at Llandudno Junction on December 1st.
1978
On February 14th 24047 & 24035 were noted at Crewe station after depositing a rake of coaching stock in the carriage sidings alongside the Manchester line. On February 26th the 00.35 Healey Mills - Warrington Arpley freight was worked by 24047.
On March 11th 24047, 25161, 25162 & 25191 ran light engines through Crewe station.
More passenger duty befell 24047 on April 29th when the 16.00 Crewe - Cardiff failed at Donington behind 25058 (or 25055??), the Class 24 taking the train as far as Hereford where 47358 took the train forward.
24047 & 25153 worked the 04.50 Grange Junction (BSC Skelton Works) - Shotwick freight on June 2nd, comprised of mineral wagons.
On June 17th 24047 and fourteen empty vans worked the 5H09 Bangor - Manchester Mayfield. 24047 & 25220 were noted at Cockshute on June 19th. 24047 was stabled at Crewe Diesel depot on June 25th.
24047 and a breakdown train were noted at Barmouth on July 2nd (date assumed from less than precise photo caption details). 24047 was stabled at Llandudno Junction on July 9th.
The addition summer services and holiday extras provided plenty of unusual diesel haulage on the North Wales line, but the star turn was still the diagram commencing with the 09.42 Llandudno - Manchester. June 28th - 30th & July 3rd & 4th saw 24082 on this diagram, July 6th & 7th had 24023. On July 10th 24047 got as far as Chester on 16.42 to Crewe, being replaced by 40145. July 11th & 12th saw 24023 again except it was replaced on the 20.30 Crewe - Bangor by 24063, getting only got as far as Chester before 24035 took over, which succumbed at Llandudno Junction! On July 19th 24047 worked only the first trip.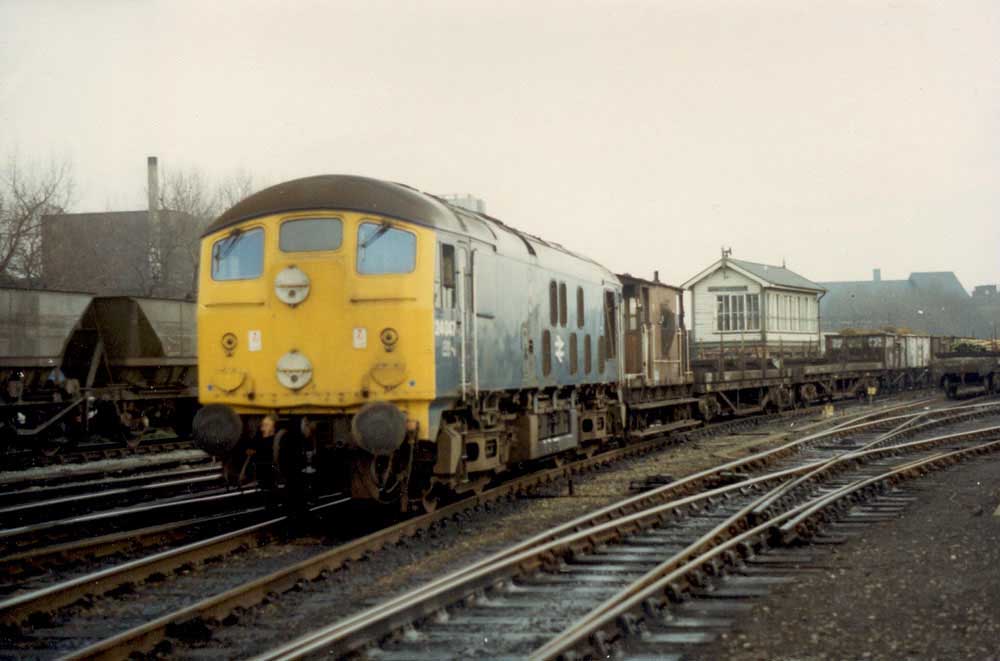 Photograph courtesy Robert Riley.
24047 with a short freight towards the end of its career.
A rare visit to Bedford with a rail train on July 20th was 24047, quickly returning north light engine.
On August 26th 24047 was noted at Curzon Street.
On September 3rd 24047 was at Bescot depot, heading out the next day (3rd) with a freight to Stoke. September 25th (and/or 27th) saw the 19.30 Huddersfield - Wakefield Kirkgate parcels in the hands of 24047. On September 25th pair of Class 24s, one of which was 24047 were noted at St Helens goods yard with empty sand wagons, presumably having brought in a loaded sand train from Oakamoor.
24047 was notd at Chester on October 7th.
Nineteen years of service came to an end for 24047 on November 11th when it burnt out its main generator at Mickle Trafford whilst working the 08.39 Shotwick – Stoke freight. It was assisted to Northwich by 40020, where it was left on shed. 40125 towed it away on November 15th in the 22.44 Northwich – Bescot freight, being taken out at Stoke and dragged alone to Crewe by 40125. By December 13th it was on its way to Doncaster Works accompanying 24035.
Condition final: blue/yellow livery, gangway doors sheeted over, full size fuel & water tanks, blanking plates fitted, hand/footholds plated over, three-rung bogie mounted footsteps fitted, straight sided sandboxes.
flk 0222 (3)
Not all known passenger workings are recorded on this page.
Page added August 7th 2014.
Last updated July 7th 2022.
Back to 24046
Forward to 24048