D5050, 5050, 24050
First of the Class 24/1 (D5050 - D5150)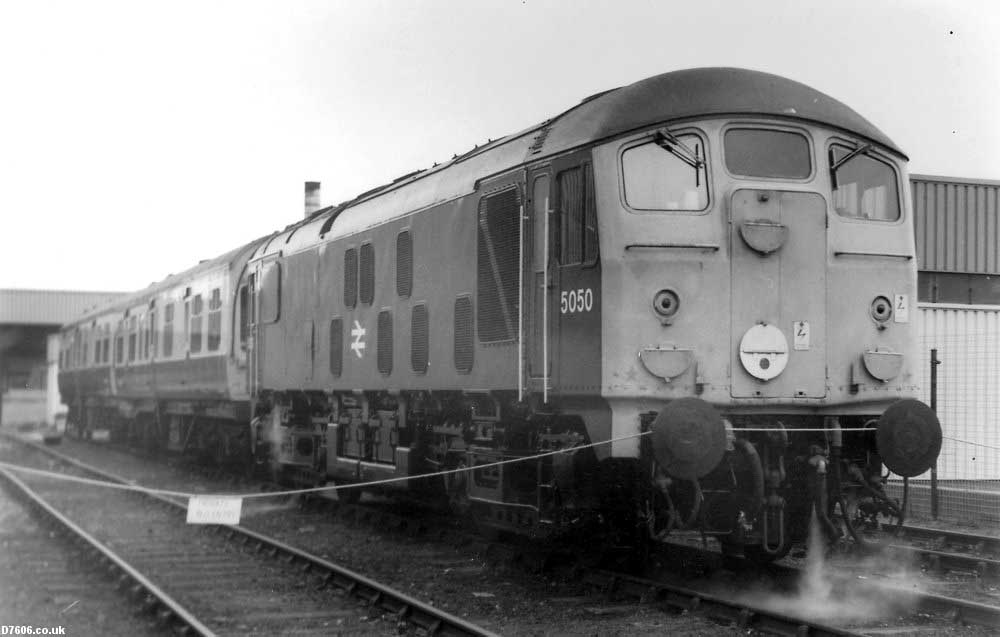 Photograph courtesy Ian Hammond.
Class 24 No. 5050 on display at Crewe Electric Open Day on September 17th 1972.
The sixteen year career of D5050/24050 started out on the Eastern Region, transferred to the Scottish Region before heading to the London Midland Region for the remainder of its career.
Built Crewe Locomotive Works.
Fitted from new with three rung bogie mounted footsteps (D5000 - D5049 delivered with two-rung footsteps).
Shortened fuel tank & full size water tank (retained until withdrawn).
Four upper and four lower air filters on non-BIS side, three upper and four lower on BIS side.
Gangway doors never removed.
Time between last Classified repair and withdrawal: ?? months.
Time between withdrawal and scrapping: 14 months.
The Class 24/0 (D5000 - D5049) when built were in excess of their designed weight by at least 4.8 tons for the first 20 examples (D5000 - D5019) and lesser amounts for the remaining 30 (D5021 - D5049). Commencing with the Class 24/1 subgroup the weight was brought down to 74.2 tons, made possible by the removal of the separate exciter, the fitting of smaller fuel tanks to all of the subgroup and smaller water tanks to some of the later locomotives and the continued use of the lighter Stone 4610 train heating boiler (rather than the Stone 4616 model fitted to many of the Class 24/0).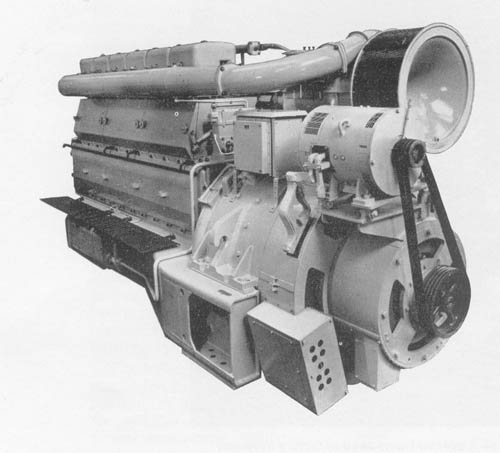 The above view features one of the 6LDA28 power units that were fitted to the first fifty Class 24s, including D5000. Excitation was provided by a separate four-pole machine with separate, self & differential series excitation windings, being belt driven from a shaft extension on the main generator. The function of the belt driven exciter was handled by the main generator from power units fitted to D5051 onwards.
Allocations
The frames for D5050 were laid down during the late summer of 1959 at Crewe Works. D5050 was new to March (31B) on November 27th 1959. Further transfers were:
September 1960 to Stratford (30A).
March 1961 to Finsbury Park (34G).
October 1966 to Eastfield (65A) on loan.
December 1966 to Haymarket (64B).
January 1968 to Longsight (9A) on loan, Manchester Division (D09) from June 1968.
September 1968 to Stoke Division (D05).
March 1969, stored (at Chester).
April 1969, reinstated (to Stoke Division)
May 1973 to Crewe following abolition of the LMR Divisions.
August 1975, stored unserviceable.
October 4th 1975 - withdrawn.
Renumbered March 22nd 1974.
After seven years allocated to the Stoke Division/Crewe 24050 was stored unserviceable during August 1975, along with many others, and finally withdrawn on October 4th 1975. Initially stored at Crewe, 24050 was moved to Derby Works during October 1975 for asbestos cladding removal, spending two months here.
On December 18th 1975 24042/45/48/50 were moved from Derby Works to Swindon Works. This move cleared Derby Works of its withdrawn Class 24s and set the trend for the delivery of withdrawn LMR Class 24s to Swindon Works for scrapping. 24050 was scrapped at Swindon during early December 1976.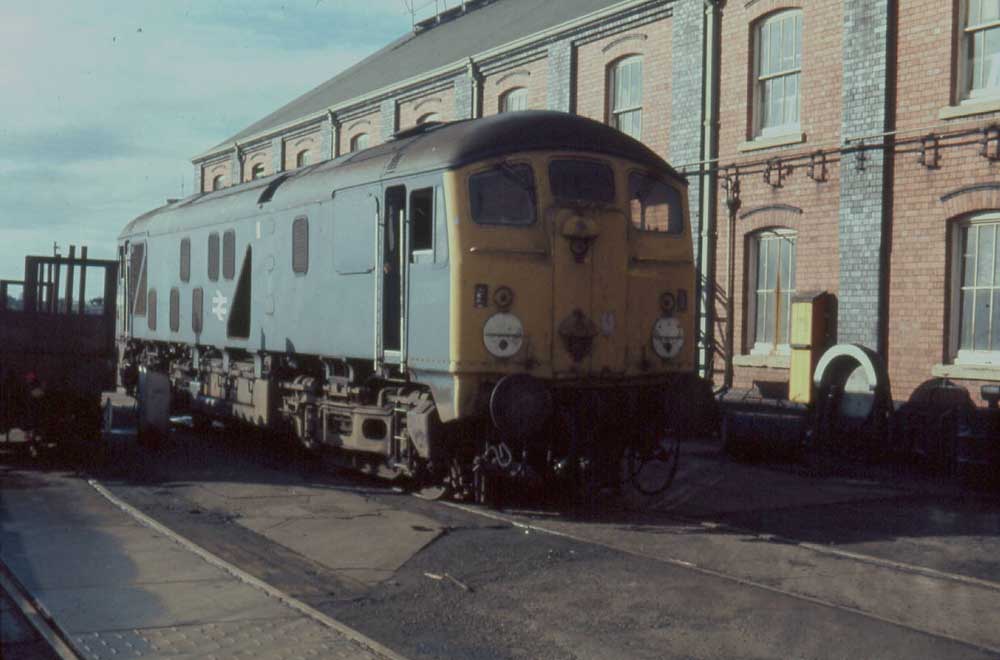 24050 at Swindon Works on November 7th 1976.
Works Visits
Works visits (records incomplete).
Noted Doncaster Works September/October 1961.
Noted Stratford Works June 1962.
Noted Doncaster Works May 1963.
Noted Doncaster Works October 1964.
Noted Derby Works February/March 1966.
Noted Derby Works December 1970.
Noted Derby Works April 1972.
Highlights
1961
On March 13th D5050 worked the 17.17 Broad Street - Hertford North.
1962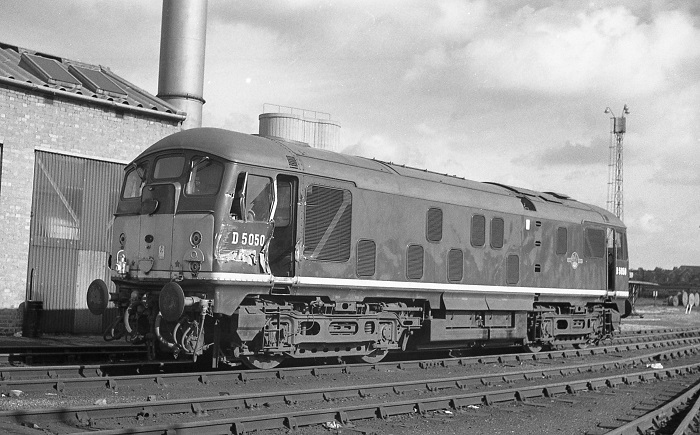 Photograph collection of webmaster.
Class 24 No. 5050 at Stratford depot on September 9th 1962, with minor collision damage.
1966
On October 2nd seven locomotives departed Finsbury Park on transfer to Eastfield, the locomotives heading northbound light engines: D5051 & D5052, D5050 & D5055 and D5053, D5056 & D7600.
D5050 worked the 20.10 Glasgow Queen Street - Dundee on November 21st.
D5050 worked the 07.10 Aberdeen - Glasgow Queen Street on December 3rd.
On December 19th & 20th D5050 worked the 07.06 Edinburgh - Carlisle, 12.56 Carlisle - Edinburgh, 17.54 Edinburgh - Carlisle, then returning north the next day with the 09.20 Carlisle - Edinburgh.
1968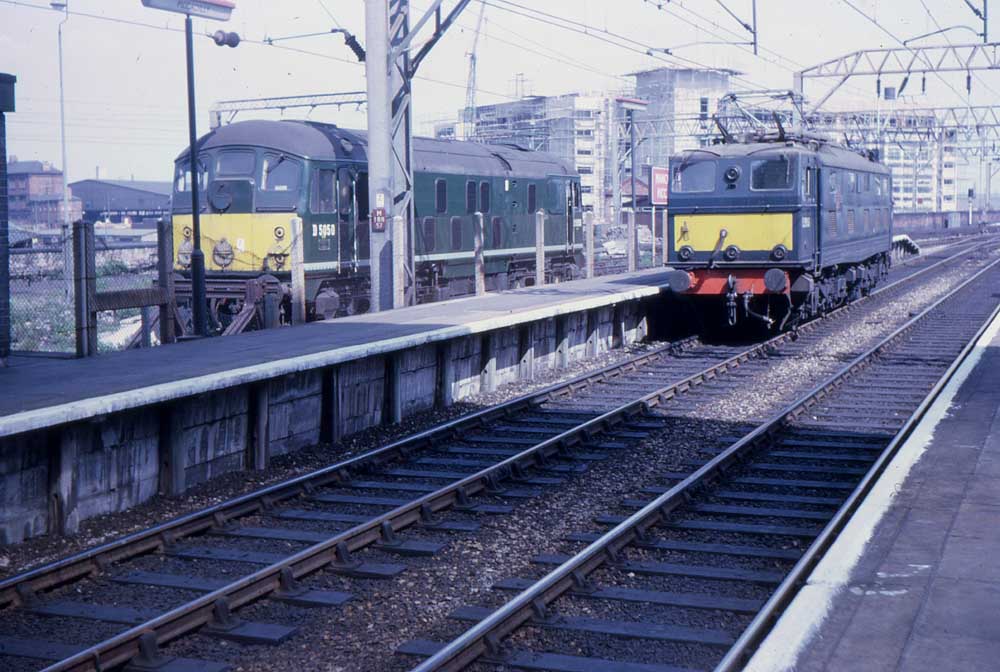 Photograph courtesy Geoff Coward.
Manchester Piccadilly station sometime during 1968. D5050 was transferred from the Scottish Region to Longsight during January 1968.
1970
5050 was the Manchester Victoria banker on February 10th.
1972
The 22.03 York - Aberystwyth of September 24th was worked forward from Crewe by 5080 & 5050 to Shrewsbury, here the train went forward with 5050 alone.
1973
5092 & 5050 worked the 18.30 Aberystwyth - Shrewsbury on June 8th.
On June 30th a Brighton - Aberyswyth day excursion was worked by 5050 & 5146 roundtrip over the Shrewsbury - Aberyswyth portion. Earlier in the day 5146 & 5050 worked the 10.05 Aberystwyth - Euston (to Shrewsbury?).
1975
24050 was noted light engine westbound at Colwyn Bay on the afternoon of August 10th.
24050 was withdrawn on October 4th 1975.
flk 0222.
Page added April 22nd 2012.
Last updated February 15th 2022.