D5049, 5049, 24049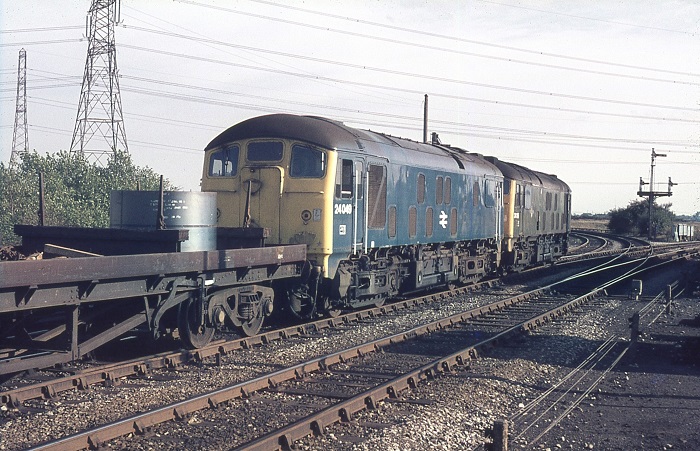 Photograph courtesy K Barber / collection of webmaster.
24049 & green liveried 24136 pass Dee Marsh, taking the line towards Mickle Trafford. The date is not known but may be circa 1974/75. 24049 belonged to a small number of Class 24s that retained gangway doors at one end and sheeted over at the other end. In addition after its repair at Derby following the Kidsgrove collision 5049 carried a headcode box at the No.1 end.
The sixteen year career of D5049/24049 began with seven years on the Eastern Region before transferring to the London Midland Region for the remaining nine years.
Built Crewe Works (from batch 5030 - 5065).
Full size fuel & water tanks from new; Shortened water tank substituted later.
Gangway doors never removed (No.1 end only).
Modified headcode four character display (No.2 end only).
Circular gauges fitted to fuel & water tanks.
Time between last Classified repair and withdrawal: 23 months.
Time between withdrawal & scrapping: 9 months.
Allocations
The frames for D5049 were laid down during the late summer of 1959 at Crewe Works. D5049 was new to March (31B) on April 4th 1960. Further transfers were:
September 1960 to Stratford (30A).
March 1961 to Ipswich (32B).
June 1965 to Tinsley (41A) on loan?
July 1965 to Ipswich (32B).
August 1967 to Stoke Division (D05).
May 1973 to Crewe.
August 3rd 1975, stored serviceable.
August 1975, reinstated to CD.
January 4th 1976, stored unserviceable.
January 31st 1976 - withdrawn.
Renumbered February 23rd 1974.
After almost nine years allocated to the Stoke Division/Crewe 24049 was finally withdrawn on January 31st 1976. Initially stored at Crewe & Basford Hall from January - July 1976, it was moved via Banbury to Swindon Works on August 2nd/4th 1976 with 24058/62/92 by 25188. 24049 was broken up by late November 1976.
Works Visits
Works visits (records incomplete).
Noted Derby Works March 1966.
Noted Derby Works April 1967.
Noted Derby Works September 1968.
Noted Derby Works October & November 1969 (collision damage).
Noted Derby Works April 1973.
Noted Derby Works August & November 1973 (collision damage repairs No.2 cab).
Noted Derby Works February/March 1974.
Highlights
1960
Period reports indicate that D5049 was progressing normally in its build at Crewe Works, but for some reason its entry into service was delayed by about four months. D5044/45/47/50 entered service during November 1959 but D5049 did not enter service until early April 1960.
1961
D5049 worked the 19.00 Harwich Parkeston Quay - Liverpool Street on September 15th.
1967
Condition date uncertain: green livery with small yellow warning panel, curved upper corners, gap between bottom of warning panel and frame level stripe, full size fuel & water tanks, blanking plates fitted, hand/footholds present, engine exhaust in original position, steam style shedplate fitted on cabfront, no ventilators above cab doors.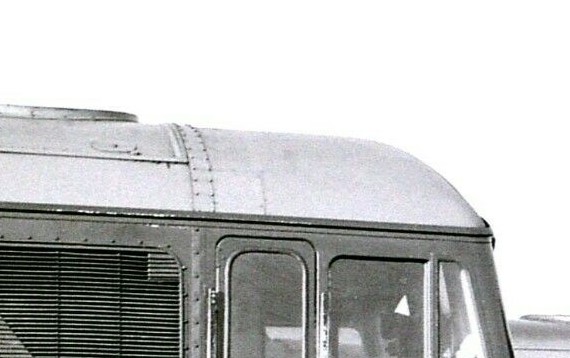 Photograph collection of webmaster.
The cab roof of D5049 shows the sheeted over airvent, circa 1966.
1969
October 1969: noted Derby Locomotive Works with minor damage to the driver's side No.2 cab, gangway door slightly pushed in, valencing and cab corner damaged, sandbox & footsteps damaged, handrails damaged.
Condition October: blue/yellow livery, gangway doors present, blanking plates fitted, three-rung bogie mounted footsteps, emblems are on each cabside, two numbers on each bodyside, circular gauges fitted to fuel & water tanks.
1970
On the afternoon of March 9th 5049 was noted shunting at Uttoxeter.
5042 & 5049 with brake van were at Stoke-on-Trent on December 19th.
1972
At about 5.15pm on April 6th 5049 was noted passing St Helens Junction with an up freight.
1973
On April 18th 5049 made a test run from Derby Works.
The snag sheet for April 18th recorded:
5049; April 18th 1973; from Nottingham
| | | | | | |
| --- | --- | --- | --- | --- | --- |
| Load | Speed | Amps | Volts | Notes | Other |
| 1 | - | - | - | - | - |
B side left hand esch? smoking, to change
Air gauge glass broken D/P1
HWW coming up at 176 degrees approx.
April 27th 1973: A rear-end collision at Kidsgrove involved four Class 24s and led to the death of one railwayman. 5032 & 5145 were in charge of the 1K00 03.55 Crewe - Stoke on Trent newspaper train which had stopped as scheduled at Kidsgrove. It was run into by the 8K52 02.20 Ordsall Lane - Cresswell goods train hauled by 5049 & 5042, this train was under the control of the second man, who was killed in the collision when the No.2 end cab was crushed back to the bulkhead, which itself was bent backwards into the boiler compartment. The rear vehicle of the newspaper train sustained only minor damage, it also came into contact with the overhead electrified wire. Responsibility for the accident lay mostly with the driver of the goods train who had isolated the AWS equipment, it is believed both crew may have temporarily nodded off on the approach to Kidsgrove.
The locomotive was sent to Derby Locomotive Works for repairs, the replacement cab for the No.2 end included having the gangway doors sheeted over and a roof mounted headcode box.
1974
On February 26th 24049 made a test run from Derby Works. The next day, February 27th 24049 (only just renumbered) was noted on London Road curve, awaiting return to its home depot.
The snag sheet for February 26th recorded:
24049; February 26th 1974; time ??
| | | | | | |
| --- | --- | --- | --- | --- | --- |
| Load | Speed | Amps | Volts | Notes | Other |
| 1 | 34 | - | - | - | - |
DSP No.1
No.1 cab heaters
Vacuum to adjust
No.2 speedometer.
On a gloomy October 23rd 24049 was noted northbound passing Toton with a lengthy train of coal wagons.
1975
Condition Final: blue/yellow livery, No.2 cab gangway doors sheeted over - Class 24/1 headcode box fitted, No.1 cab gangway doors retained, blanking plates fitted, hand/footholds plated over, full size fuel tank, shortened water tank - both fitted with circular gauges, three-rung bogie mounted footsteps, ridge sided sandboxes.
On September 7th 24055 & 24049 were noted at Stafford.
1976
24049 was withdrawn on January 31st 1976.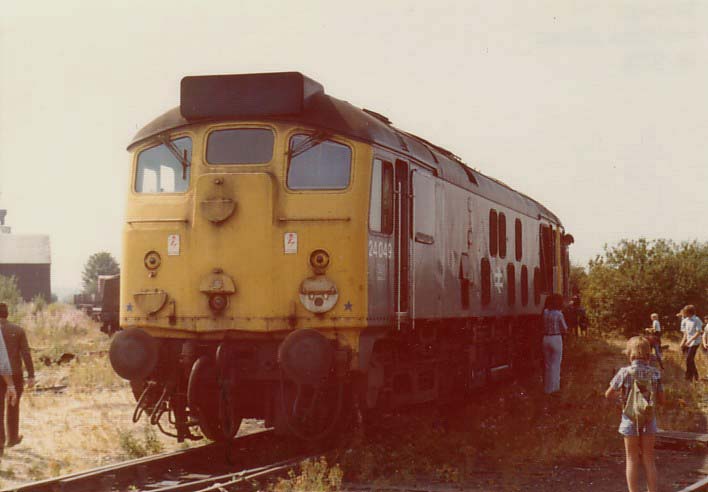 Photograph courtesy Neil Phillips
24049 at Swindon Works on August 18th 1976. After sustaining cab damage in an accident at Kidsgrove, 24049 was repaired at Derby Works and acquired a cab roof/headcode installation from a Class 24/1.
flk 0521 (1)
Page added April 25th 2012.
Last updated June 20th 2022.
Back to 24048
Forward to 24050