D5057, 5057, 24057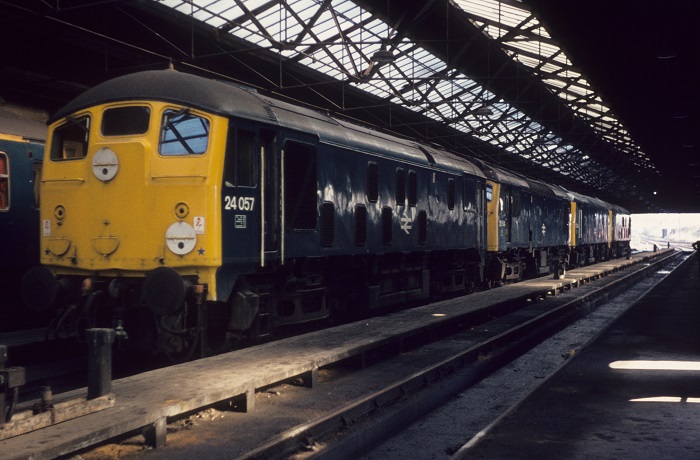 Photograph courtesy Tony Smith.
24057, 25164, 25294 & 24091 at Cockshute on February 29th 1976.
The eighteen year one month career of 5057/24057 saw allocations to Eastern Region & London Midland Region depots.
Built Crewe Locomotive Works.
Shortened fuel tank & full size water tank (retained until withdrawn).
Four upper and four lower air filters on non-BIS side, three upper and four lower on BIS side.
Tripcock fitted (Eastern Region modification).
Cab roof ventilators sheeted over (Eastern Region modification), maybe a late modification or cab roof swap, No.2 cab only.
Roof modification (above generator/brake cubicle): raised square panel containing the engine exhaust.
Time between last Classified repair and withdrawal: 32 months.
Time between withdrawal and scrapping: 4 months.
Allocations
The frames for D5057 were laid down at Crewe Works during the late summer of 1959, D5057 was new to March (31B) on December 22nd 1959. Further transfers were:
February 1961 to Finsbury Park (34G).
August 1966 to London Division (D01) on loan, made permanent September 1966.
April 1967 to Stoke Division (D05).
May 1973 to Crewe.
January 15th 1978 - withdrawn.
Renumbered March 30th 1974.
After withdrawal 24057 was stored at Crewe until May 11th 1978 when it moved to Doncaster Works and was broken up by the end of May 1978.
Movement: 24036/57/80/91 12.30 Crewe - Doncaster via Derby May 11th 1978 (layover at Derby).
Works Visits
Works visits (records incomplete).
Noted Derby Works February & March 1966.
Noted Derby Works April 1969.
Noted Derby Works March 1973.
Noted Derby Works April 1975.
Highlights
1961
On March 22nd D5057 worked the 08.20 New Barnet - Broad Street passenger.
1963
On February 20th D5057 worked the 07.45 Cuffley - Broad Street passenger.
On July 18th D5057 worked the 17.24 Broad Street - Hertford North passenger.
1966
During the summer the Eastern Region started a shake up of its motive power. Intent on stabilising its fleet principally with Classes 31/37/47, it began to divest itself of the Class 24's, with D5057 – D5060 to Willesden (D01) and eleven others moving to Haymarket (64B).
1967
During March & April demolition of the former Midland Railway Bedford - Northampton line took place. London Division (D01) allocated D5057 & D5059 were recorded on March 17th & April 10th working trains recovering a variety of materials, including sleepers and track.
Condition April: green livery, small yellow warning panels, squared upper corners, the yellow covers the frame level stripe; steam style builders plate on cab front, trip cock fitted, blanking plates in place, hand/footholds present.
1968
Attending to a demolition train on the Caernarvon – Afonwen on August 20th was D5057 noted at Groeslon.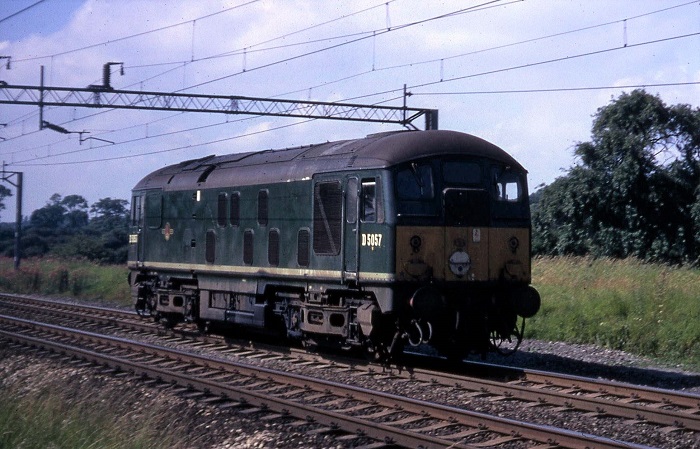 Photograph courtesy Dave Sallery.
D5057 at Acton Bridge, date uncertain but maybe circa 1968.
1972
At about 9.30am on June 11th noted on permanent way trains were 5074 (Norton Bridge) and 5057 & 5144 (both at Stafford).
1973
On January 19th 5057 spent the day on the wheel lathe at Gosforth!
At about 7am on March 2nd 5057 was noted passing Chester on a down freight.
On September 19th 5073 was at Aberystwyth with a passenger working.
Condition September: green livery with full yellow ends, full size water tank, shortened fuel tank, blanking plates fitted (at least one in blue), hand/footholds plated over, bodyside valencing removed.
At about 5.45pm on October 10th 5057 was noted passing Ordsall Lane on an up van train (4H07).
1974
24057 was stabled at Birkenhead Mollington Street on August 4th (green with full yellow cab fronts, lion & wheel emblem).
1975
On February 21st 24044 & 24057, the latter still in green livery, arrived in Bristol with a freight from Holyhead. After dropping off the freight the Class 24s retired to Bath Road depot.
On the afternoon of March 3rd 24057 was stabled at York.
On April 16th 24057 made a test run from Derby Works.
The snag sheet for April 16th recorded:
24057; April 16th 1975; from Nottingham 3C48
| | | | | | |
| --- | --- | --- | --- | --- | --- |
| Load | Speed | Amps | Volts | Notes | Other |
| 1 | - | - | - | - | - |
Bodyside filter A side issue
No.1 cab driver's side door seal.
47187 required the assistance of 24057 on August 1st whilst working the 09.05 Holyhead – Euston.
1976
On May 13th 24057 worked the Machynlleth - Pwllheli freight.
On June 27th 24057 was noted passing Rhyl with a weedkilling train (three tanks and four coaches).
During the afternoon of August 7th 24057 was noted at Chester with a terminating down van train.
24057 worked a Beeston - Castleton special on November 22nd.
1977
24057 was stabled at Croes Newydd on March 7th.
On April 25th 24057 was shunting wagons at Bangor.
On April 30th 24057 & 24036 were stabled at Stafford.
On May 2nd 24057 was noted at Willaston Sidings (Crewe).
On May 26th 24057 & 25043 were noted at Hereford having arrived on a southbound freight.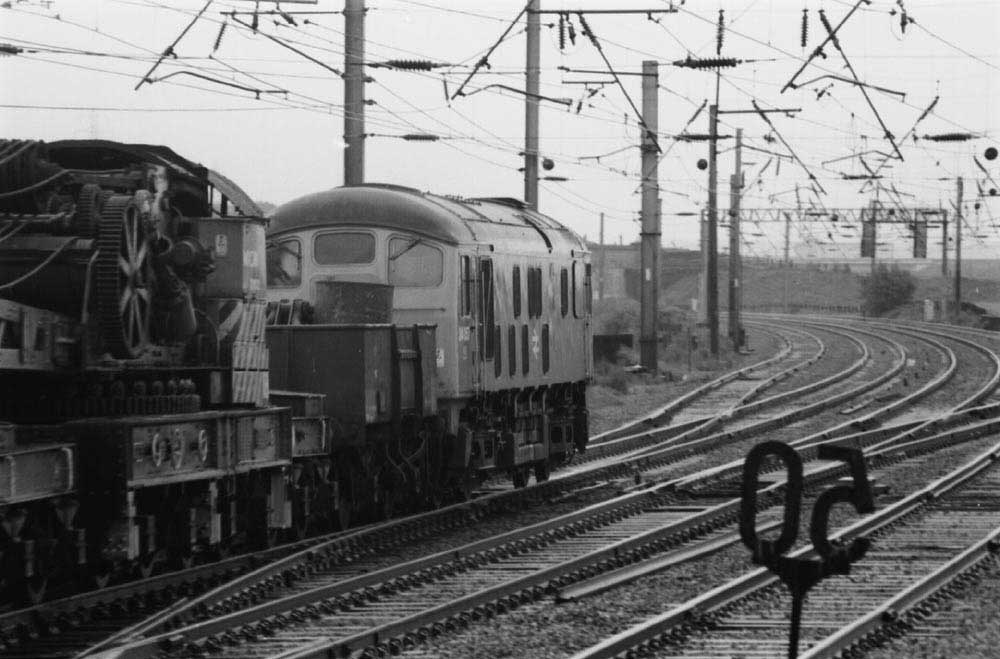 Photograph courtesy Barrie Watkins
24057 at Winwick Junction with a breakdown crane on June 11th 1977.
On June 25th the London Euston - Blaenau Ffestiniog M&GNJRS 'Conway Bay Express' railtour utilised 24073 & 24057 on the roundtrip Llandudno Junction - Blaenau Ffestiniog portion of the tour.
On July 15th 24057 was on a parcels working at Chester and also noted at Crewe.
On July 23rd & 24th 24057 & 25152 were coupled together at Birkenhead Mollington Street. On July 29th 24057 was stabled at Birkenhead and at Springs Branch on July 31st.
On the evening of October 7th 24023 was noted passing through Chester with a freight.
24057 was noted passing through Leamington with freight trains on November 9th & 10th.
24057 was at Crewe Diesel depot on December 3rd.
1978
24057 was withdrawn on January 15th 1978.
flk 0222
Page added June 14th 2016.
Last updated July 7th 2022.
Back to 24056
Forward to 24058