D5056, 5056, 24056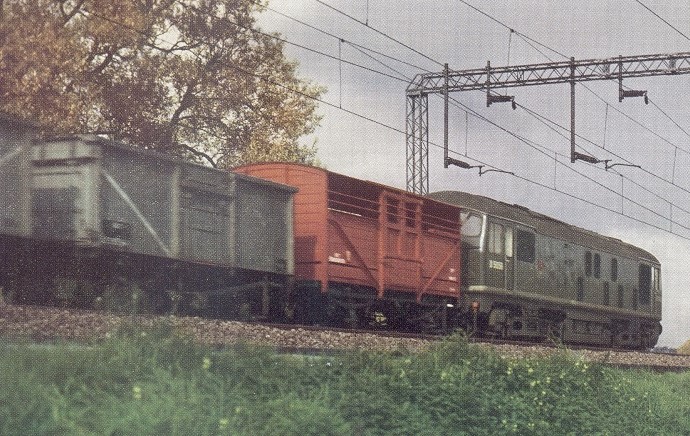 A publicity shot used for Sulzer engines promotional material features D5056.
The fifteen year ten month career of 5056/24056 saw allocations to Eastern Region, Scottish Region & London Midland Region depots.
Built Crewe Locomotive Works.
Shortened fuel tank & full size water tank (retained until withdrawn).
Four upper and four lower air filters on non-BIS side, three upper and four lower on BIS side.
Original exhaust port covered but not immediately removed.
Gangway doors never removed.
Time between last Classified repair and withdrawal: ?? months.
Time between withdrawal and scrapping: 13 months.
Allocations
The frames for D5056 were laid down at Crewe Works during the late summer of 1959, D5056 was new to March (31B) on December 11th 1959. Further transfers were:
February 1961 to Finsbury Park (34G).
October 1966 to Eastfield (65A) on loan, made permanent December 1966.
March 1968 to Carlisle Kingmoor (12A on loan, made permanent April 1968.
April 1968 to Longsight (9A).
June 1968 to Manchester Division (D09).
September 1968 to Stoke Division (D05).
May 1973 to Crewe.
October 4th 1975 - withdrawn.
Renumbered February 23rd 1974.
After withdrawal 24056 was stored at Crewe until September 7th 1976 when it moved to Swindon Works and was broken up by the last week of November 1976.
Movement: 24055/56/60/136 9X75 06.45Crewe - Banbury – Swindon September 7th 1976 by 25063.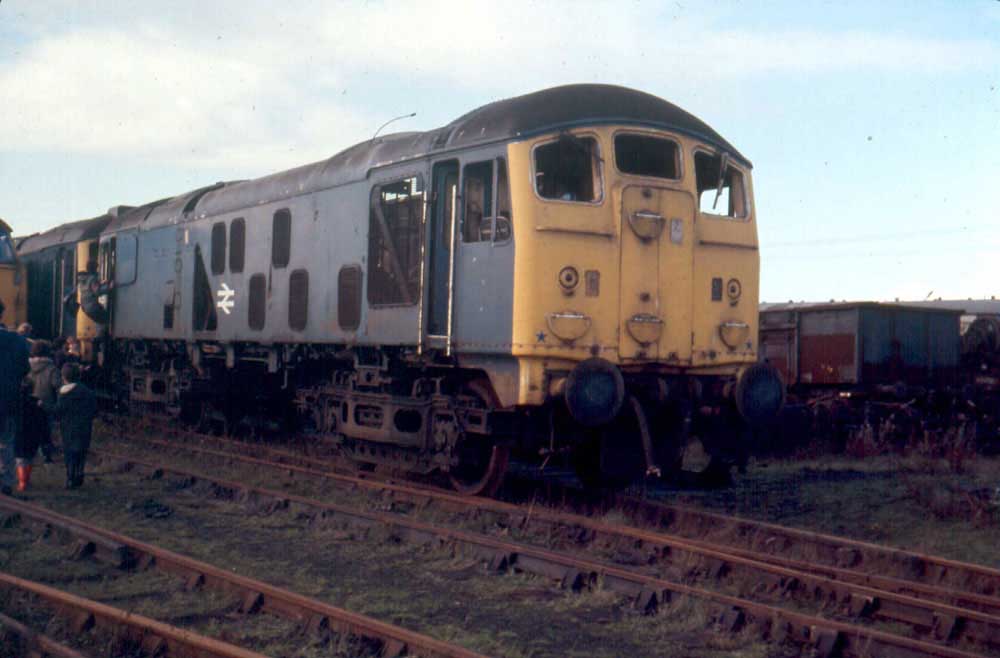 A gutted 24056 at Swindon Works on November 7th 1976 awaiting final scrapping.
Works Visits
Works visits (records incomplete).
Noted Stratford Works March & September 1962.
Noted Derby Works March 1966.
Noted Derby Works May 1968.
Noted Derby Works February 1971.
Highlights
??
Condition 1960s date uncertain - seen at Kings Cross: green livery, small yellow warning panels, curved upper corners, frame level stripe not painted over, with small gap between stripe of bottom of warning panel; full size water tank, shortened fuel tank; blanking plates in place, two engine exhaust ports, original location still extent but plated over, and repositioned location over engine room.
1961
On July 21st D5056 worked the 08.09 Gordon Hill - Broad Street.
1965
On October 13th D5056 worked the 18.16 Broad Street - Hertford North.
On December 3rd D5056 worked the 08.28 Hertford North - Broad Street.

A close up of the roof panels above the boiler room, electrical and brake gear cubicles. The engine exhaust has been repositioned closer to the engine room but the original circular exchaust is still present but has been capped. The raised panels, vents and boiler exhaust outlet above the boiler room remained unchanged for the life of the locomotive, however the raised panels in the area of the new engine exhaust eventually saw several different variants fitted. Date not known but maybe circa 1965.
1966
On October 2nd seven locomotives departed Finsbury Park on transfer to Eastfield, the locomotives heading northbound light engines: D5051 & D5052, D5050 & D5055 and D5053, D5056 & D7600.
D5056 worked the 17.30 Glasgow Buchanan Street - Aberdeen on November 2nd.
1967
D5056 was noted at Carlisle on April 1st assisting Class 47 No.1838 on an unidentified passenger/parcels working.
D5056 worked the 20.10 Glasgow Queen Street - Dundee on May 6th.
D5056 worked the 17.35 Glasgow Queen Street - Aberdeen on July 18th.
D5056 worked the 17.35 Glasgow Queen Street - Aberdeen on October 20th.
1968
At February month end Crewe based D5287 spent some time at Ayr on freight duties, having come into the area from Carlisle, substituting for a defective D5056.
On the evening of May 10th D5056 was noted passing Park (Manchester) with a ballast train.
1969
5056 was noted at Llwyngwril with a freight on June 12th.
September 20th found an enterprising use of the 'Tees-Tyne' stock to work an excursion from Darlington to Welshpool via Newcastle, Carlisle and Crewe. The motive power whilst not spectacular was certainly varied. Tinsley based 1510 made the short hop to Newcastle, 46 across the Pennines to Carlisle leaving 211 for the long leg to Crewe. Here 5056 & 5146 finished the trip to Welshpool, the return working had the same power as outward except for the last leg. Not a bad run for GBP3.00.
1970
Condition September: green livery with small yellow warning panels, squared upper corners; frame level stripe barely visible anywhere, full size water tank, shortened fuel tank, blanking plates in place.
5056 worked the 1E24 18.28 Aberystwyth - York to?? on December 12th.
1972
On April 8th a Crewe – Pwllheli enthusiast special started out behind 5056 & 5062. At Welshpool 5080 replaced an ailing 5056, which quickly headed back towards Shrewsbury, complete with the Welshpool – Newton "staff" still onboard! The locomotive was finally stopped at Westbury and promptly reversed course back to Welshpool, where the special finally got away over an hour late.
5056 worked a 8X40 Castleton CMD - Northampton welded rails train on July 25th.
1973
5056 worked the 18.30 Aberystwyth - Shrewsbury on January 20th.
1974
A St Pancras - Aberystwyth Merrymaker was worked forward from Shrewsbury by 24074 & 24056 on May 11th.
1975
Barmouth Bridge was visited by 24056 and the viaduct inspection unit on March 16th, the same day saw 24078 at Llanaber with a train of large boulders and steam crane reinforcing the seaward side of the track.
On July 24th & 30th excursions ran from Coventry to Aberystwyth with 24055 & 24145 and 24056 & 24146 respectively.
At about 1pm on August 2nd 24056 & 24146 were noted as down light engines at Manchester Victoria.
24056 was noted light engine at Stafford September 14th.
Condition September: blue/yellow livery, gangway doors still in place, full size water tank, shortened fuel tank, blanking plates fitted, hand/footholds plated over, body side valencing removed.
24056 was withdrawn on October 4th 1975.
flk 0222
Page added June 15th 2016.
Last updated February 14th 2022.
Back to 24055
Forward to 24057