D5070, 5070, 24070

The fifteen year six month career of 5070/24070 saw allocations to Eastern Region & Scottish Region depots, with a very brief spell on the Southern Region.

Built Derby Locomotive Works.
Shortened fuel tank & full size water tank (retained until withdrawn).
Four upper and four lower air filters on non-BIS side, three upper and four lower on BIS side.
Tripcock fitted (Eastern Region modification).
Headcode discs centered on cab front (Glasgow modification).
Roof modification (above generator/brake cubicle): no raised panels.
Time between last Classified repair and withdrawal: ?? months.
Time between withdrawal & scrapping: 4 months.

Allocations

The frames for D5070 were laid down at Derby Works during September 1959, D5070 was new to March (31B) on January 23rd 1960. Further transfers were:

November 1960 to Stratford (30A).
November 1960 to Hither Green (73C) on loan, made permanent November 1960.
January 1961 to Stratford (30A).
January 1961 to Finsbury Park (34G).
September 1966 to Haymarket (64B) on loan, made permanent October 1966.
August 1975 - stored serviceable.
February 2nd 1976 - withdrawn.

Renumbered December 1973.

After withdrawal 24070 was stored at Carstairs from July 1975 until April 4th 1976 when it was taken to Doncaster Works and broken up there during June 1976.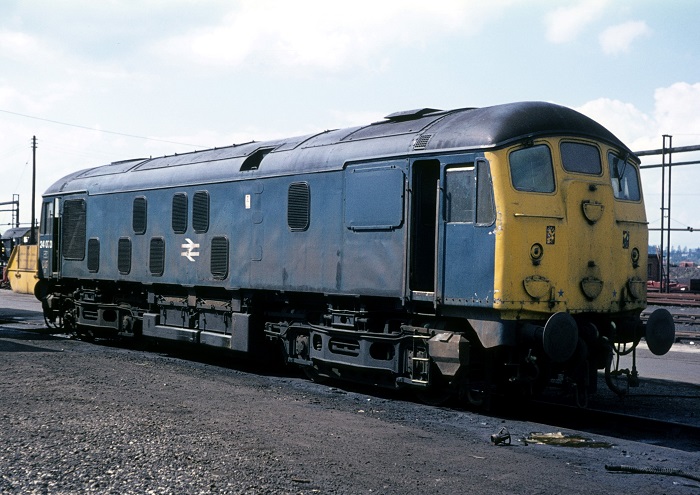 Photograph courtesy Tony Smith.
24070 at Doncaster Works on May 2nd 1976.
Works Visits
Works visits (records incomplete).
Noted Doncaster Works May & October 1963.
Noted Doncaster Works March, November & December 1964.
Noted Doncaster Works September 1965.
Noted Derby Works September 1966 (repaint green livery).
Noted Glasgow Works August 1970.
Noted Glasgow Works December 1973 - January 1974 (repaint into blue livery).
Highlights
1960
The Southern Region borrowed D5044 & D5070 from Stratford during November due to a shortage of boiler equipped locomotives. The evening mail trains on the South Eastern Division were regularly hauled by Type 2s, during December they featured in an unusual 'push-pull' maneuver in the Redhill area. Amongst trains affected were the 11.50pm London Bridge – Deal and the 9.28pm Margate – Cannon Street, both running via Redhill. Engineering works required use of the Quarry Line, necessitating the use of a steam locomotive on the Earlswood – Redhill section to draw the train backwards. On December 9th this move featured D5000 on the Deal and D5002 on the Margate. The SR civil engineer had recently permitted the use of the BR/Sulzer Type 2s over Blackfriars Bridge & Coldharbour Lane Bridge, this would allow use of these machines on cross London freights from Finsbury Park, replacing the J50's.
1961
On July 13th D5070 worked the 17.24 Broad Street - Hertford North.
1965
Condition April: green livery with small yellow warning panels, yellow does not cover frame level stripe; full size water tank, shortened fuel tank, blanking plates fitted, hand/footholds still fitted, original roof style above generator/brake cubicle.
1967
On March 25th an eighteen coach 'Grand Tour' excursion ran from Edinburgh to Perth via Carlisle starting out with D368 & D1973. At Perth Class Five 44997 & A4 60009 replaced the diesels for the run to Aberdeen. Here Type 2s D5070 & D5127 ran out over the GNS mainline to Keith, Craigellachie and the Speyside line to Aviemore. A stop was made here to add D5122 for the run south over the Highland mainline, the two steamers rejoining the train at Perth for the final leg to Edinburgh.
D5070 worked the 07.20 Perth - Glasgow Queen Street on November 14th.
1968
The Easter weekend proved to be a challenging time for staff in the Carlisle area. On April 11th the Settle & Carlisle route was blocked at Dent Head after the morning Long Meg – Widnes anhydrite train became seriously derailed. All traffic was then routed via Carnforth & the WCML. During the afternoon the southbound 'Mid-Day Scot' with D415 failed near Carstairs causing considerable delays, D5307 & 5070 were commandeered to work the train to Carlisle where D413 took over. Because of these troubles & the heavy Easter traffic a morning St Pancras - Leicester was extended to Glasgow with D190 making it to Carlisle about an hour down, surrendering here to D1626, no doubt Cricklewood were wondering where their rake of coaches had gone to! The arrival of the down 'Thames Clyde' behind D25 close to 6pm confused all concerned as the Glasgow/Edinburgh portions were the wrong way round due to the reversal at Carnforth, not helped by the Carlisle station announcer not being aware of the change. Marshalling of the Edinburgh portion by D25 & D35 did not go smoothly with an Edinburgh coach almost sent of to Glasgow, the error noted at the last moment, sustaining more delays to the service.
On December 28th 5070 worked a Carlisle - Edinburgh passenger service.
1969
The New Year brought bad tidings for the Class 24s. One of the principal mainlines they had seen service over for a number of years, the Edinburgh - Carlisle 'Waverley' route was closed on January 4th 1969 with BR expecting to save GBP 300,000 per annum after closure. The final week was not without its problems, the steam heating boilers of the various Type 2s continued to be unreliable, especially during this time of unusually bad weather. So affected was 5187 working the 09:20 Carlisle - Edinburgh on December 30th, 1968, remedial action by a fitter cured the fault, for on the next day it continued the passenger diagram, working the 07:06 Edinburgh - Carlisle and the 13.00 return. On 2nd 5350 on the same train had similar heating problems, attempts to fix it at Stainton Junction failed, so 5340 was obtained from Kingmoor. On the final day the first station to close, due to having only two trains each weekday was Tynehead. Its last service was the 16:12 Edinburgh - Hawick, headed by 5070 and four coaches complete with a small amount of mail which was met by the local postmistress.
1971
On April 23rd (also noted as July 23rd) the 09.20 Edinburgh - Inverness was worked by 5347 & 5070.
D5070 worked the 1E83 14.15 Edinburgh - Newcastle on May 7th & 26th.
1973
On May 19th the 1N33 14.40 Edinburgh - Inverness was in charge of 7581 & 5070.
1974
On September 11th 24070 & 26023 worked the 13.40 Edinburgh - Inverness.
1975
On July 25th 24070 worked the 17.22 Milburn Yard - Millerhill freight, at Carr Bridge the last four wagons and the brake van became derailed, damaging several track panels and delaying a variety of trains.
24066 & 24070 were noted at Edinburgh Waverly on a parcels working on August 2nd.
24070 was withdrawn on February 2nd 1976.
Final condition: blue/yellow livery, gangway doors sheeted over, headcode discs centered on cab front, full size water tank, shortened fuel tank, blanking plates fitted, hand/footholds plated over.
flk 0222
Page added June 2nd 2016.
Last updated February 10th 2022.
Back to 24069
Forward to 24071