D5071, 5071, 24071

The fifteen year six month career of D5071/24071 saw allocations to Eastern Region & Scottish Region depots.

Built Derby Locomotive Works.
Shortened fuel tank & full size water tank (retained until withdrawn).
Four upper and four lower air filters on non-BIS side, three upper and four lower on BIS side.
Headcode discs centered on cab front (Glasgow modification).
Battery Isolating Switch Cover modification (three circular flaps).
Time between last Classified repair and withdrawal: ?? months.
Time between withdrawal & scrapping: 17 months.

Allocations

The frames for D5071 were laid down at Derby Works during October 1959, D5071 was new to March (31B) on February 6th 1960. Further transfers were:

November 1960 to Stratford (30A).
March 1961 to Finsbury Park (34G).
August 1966 to Haymarket (64B) on loan, made permanent October 1966.
July 24th 1975 - stored unserviceable.
August 16th 1975 - withdrawn.

Renumbered April 1974.

After withdrawal 24071 was stored at Haymarket from July 1975 until August 23rd 1975 when it moved to Polmadie. During October 1975 it was moved to Glasgow Works until May 2nd 1976 when it was taken to Doncaster Works and broken up there during January 1977.

Movement: 24015/16/71, 24117 Glasgow Works – Doncaster May 3 1976, (behind 26046 at Berwick).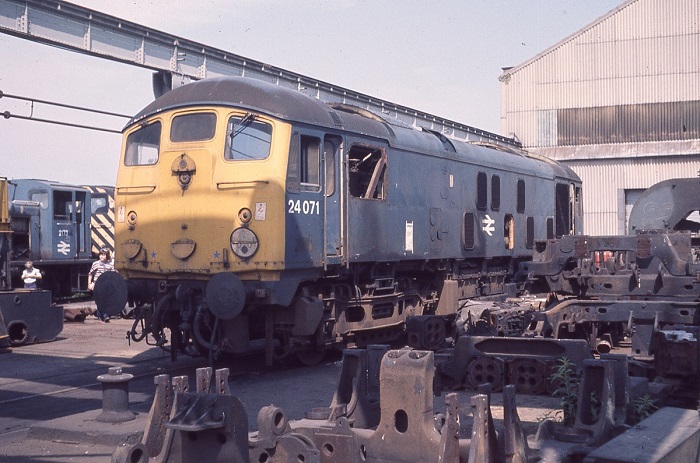 Its July 1976 at the back of Doncaster Works as 24071 is in the process of being dismantled. Of interest is the Battery Isolating Switch cover, the typical two-piece hinged affair has been replaced by three moveable discs, an alteration unique to some Scottish Region Class 24/25s.
Works Visits
Works visits (records incomplete).
Noted Doncaster Works October 1963.
Noted Stratford Works July 1962.
Noted Derby Works June 1966.
Noted Glasgow Works August 1970.
Noted Glasgow Works February - June 1971.
Noted Glasgow Works May 1973, collision damage to a cab, (plain green, all yellow ends).
Noted Glasgow Works August 1974.
Highlights
1960
Condition April (one month old): green livery with frame level stripe, two rung bogie mounted footsteps, exhaust in original position, full size water tank, shortened fuel tank, steam style 31B shedplate on cab front, cantrail water filler cover present.
1961
D5071 worked the 08.38 Gordon Hill - Moorgate on April 18th.
1962
Condition July: green livery with small yellow warning panels, curved upper corners, does not cover the frame level stripe, there is a small gap between the stripe and the yellow, warning panel extends higher up than most; exhaust in original position, full size water tank, shortened fuel tank, steam style 34G shedplate on cab front, ridge sided sandboxes, three rung bogie mounted footsteps.
1963
Condition March: similar to comments under July 1962 .
On November 29th and December 12th D5071 worked the 17.35 Broad Street - Hertford North.
1965
On April 9th D5071 worked the 17.35 Broad Street - Hertford North.
On October 26th D5071 was noted passing Newark with a Millerhill - Kings Cross goods, normally a Type 4 working.
1966
On March 25th D5071 worked the 17.24 Broad Street - Hertford North.
During the summer the Eastern Region started a shake up of its motive power. Intent on rationalising its fleet principally to Classes 31/37/47, it began to divest itself of the Class 24s, with D5057 – D5060 to Willesden (D01) and eleven others moving to Haymarket (64B). The first arrivals were D5061/65 on August 4th, with D5068/71 on 9th. On transfer to Haymarket they were used on the local empty coaching stock workings and local passenger services to Carstairs, Hawick and over the Waverley route to Carlisle. On August 13th D5095 worked the 15.01 Edinburgh – Carlisle and 19.44 return, later D5071 was noted over the Waverley route on the 14.55 (SX) Edinburgh - Carlisle. This move released the temperamental Claytons to the Thornton/Dunfermline/Dundee area, joined here by the ex-WR EE Type 3s, to subdue the local steam fleet. The Clayton's reputation was none too good, even operating in pairs their reliability was inconsistent. Typical of their troubles was the failure of a pair on August 20th working the 05.00 Millerhill - Carlisle freight, rescue came from Kingmoor in the shape of D5298, the unfortunate Claytons being left at Riccarton.
1967
D5071 worked the 20.10 Glasgow Queen Street - Dundee on September 13th.
D5071 worked the 07.20 Perth - Glasgow Queen Street on October 14th.
1968
Timetable changes (?) beginning in May brought Inverness based Class 24s to the Waverley route, possibly on layovers between trips from the Highland capital. One of the diagrams involved the 07.06 ex-Edinburgh, 13.00 ex-Carlisle, 17.54 ex-Edinburgh and the next day's 09.20 ex-Carlisle. Most times a single machine sufficed, however D5128 & D5071 (64B) double headed the diagram on May 24th.
Condition (month uncertain): green livery with small yellow warning panels, squared upper corners, the yellow covers the frame level stripe. Locomotive noted at Hawick still retaining a 34G steam style shed plate on the cabfront, but with a 64B stencil on the secondman's No.1 cabside, just above the frame level stripe.
1969
Another of the Scottish Grand Tours (No 9) ran on September 13th also with eight coaches behind 5071 & 5342 from Edinburgh to Inverness. An unscheduled stop was made at Aviemore to fill the water tank on 5071. From Inverness 5120 & 5117 made a round trip to Kyle of Lochalsh, reverting to the outbound power at Inverness for the run home over the Highland mainline.
A relief Glasgow/Edinburgh - Liverpool (1M58) on December 28th featured 410 leading 5071, suggesting the heating equipment on 410 was defective. Both machines were replaced at Carlisle by 249, the Class 50 retiring to Kingmoor, the Class 24 returning quickly to Carstairs, perhaps to resume its next working.
1970
Condition (month unknown): green livery, small yellow warning panels with squared upper corners, frame level stripe covered by the yellow panel, steam style shedplate still mounted on the cabfront, full size water tank, shortened fuel tank, blanking plates fitted, hand/footholds still present, 'D' prefix still carried, valencing mostly intact.
5071 was noted at Newcastle with a Felixstowe - Bathgate working on December 19th.
1972
Haymarket based 5071 was noted on the ECML on April 1st heading north from Darlington with a parcels train.
Condition September: green with full yellow ends, gangway doors sheeted over, headcode discs centered on cab front; full size water tank, shortened fuel tank, blanking plates fitted, hand/footholds plated over, valencing removed from sides.
1975
24071 was withdrawn on August 16th 1975.
flk 0222 (1)
Page added June 1st 2016.
Last updated February 9th 2022.
Back to 24070
Forward to 24072