D5081, 5081, 24081
- the last operational Class 24 in regular service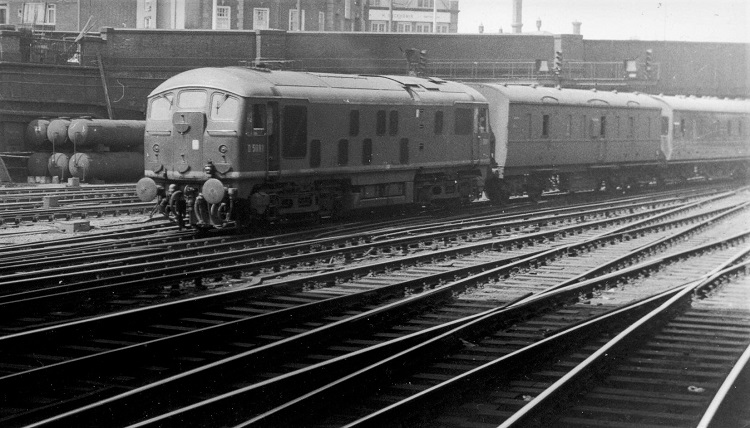 Photograph courtesy the Rex Conway Collection

24081, the last Class 24 to remain in service is seen early in its career at Euston, probably not too long after delivery, circa May 1960.

The twenty year seven month career of D5081/24081 was spent entirely on the London Midland Region apart from its very brief (paper only?) allocation to the Eastern Region.

Built Crewe Locomotive Works (from batch 5076 - 5093).
Shortened fuel tank & full size water tank (shortened water tank fitted later).
Four upper and four lower air filters on non-BIS side, three upper and four lower on BIS side.
Boiler water tank removed permanently (1975 modification).
Carried green livery and full yellows ends with BR double arrow emblem.
Cabroof ventilators removed (1975).
Time between last Classified repair and withdrawal: 63 months.
Preserved.

Allocations

The frames for D5081 were laid down at Crewe Works during January 1960, D5081 was new to March (31B) on March 9th 1960. Further transfers were:

March 1960 to Willesden (1A), on loan.
May 1960 to Rugby (2A) on loan.
August 1960 to Willesden (1A).
November 1960 to Watford (1C).
January 1965 to Willesden (1A).
April 1966 to London Division (D01).
December 1966 to Stoke Division (D05).
May 1973 to Crewe.
November 2nd 1977 - stored, then reinstated the next day.
October 5th 1980 - withdrawn.

Renumbered February 27th 1974.

Although 24081 was withdrawn on October 5th 1980, it had been at Steamport, Southport since September 17th 1980.

Works Visits

Works visits (records incomplete).

Noted Derby Works March 1962.
Noted Derby Works July 1963.
Noted Derby Works February 1966.
Noted Derby Works April 1972 (green, full yellow ends).
Noted Derby Works June & August 1973.
Noted Derby Works June 1975 (repainted blue, gangway doors sheeted over, water tank removed).

Highlights

1960
D5081/82/83 were delivered from Crewe Works during March to March (31B). They represented a small part of a batch of fifty Type 2s (D5045 - D5095) delivered to the Eastern Region to assist in the dieselisation of East Anglia. All would move quickly to the London Midland Region, during May D5081 moved to Rugby (2A), but returned south to Willesden (1A) in August.

April 27th & 28th saw Marylebone Goods yard hosting an exhibition for the Institute of Transport Congress. On display were D269, D5081, E5012, E3037, EMU coaches Sc75591 (026) & E61441 (413) and DMU M59666. A similar exhibition at Stoke on Trent during May to recognise the city's golden Jubilee included amongst other machines D5081.

During November D5081 moved to Watford (1C), where it would remain for the next four years.

On November 11th D5081 & D5085 were noted in Scotland having arrived on the Luton - Bonnybridge car train.

1961
On August 9th D5081 worked the 17.10 Rugby - Euston.

1963
Condition April: small yellow warning panels with curved upper corners, full size water tank, shortened fuel tank, no blanking plates.

1965
After four years at Watford (1C) D5081 returned to Willesden (1A) in January.

Condition April: small yellow warning panels with curved upper corners, blanking plates fitted, shortened fuel & water tanks.

Condition July: ex-works in green with small yellow warning panels, curved upper corners, blanking plates fitted, shortened fuel & water tanks.

On July 10th ex-works D5081 was noted at Carlisle arriving with a Blackpool bound special on the first Saturday of 'Glasgow Fair' week. Black Five No. 45012 would take over the train for the run to Blackpool. D5081 had also been noted in the Perth area in ex-works condition during July.

D5081 worked the 17.05 Gourock - Glasgow Central on July 21st.

1966
By the end of 1966 with the completion of the electrification of the southern end of the WCML and the arrival of newer Class 25s from Derby Works, the exodus of the Class 24 fleet began, with D5081 moving to the Stoke Division (D05) during December.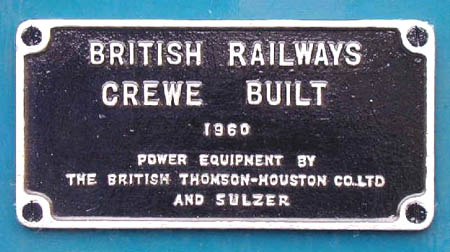 Photograph courtesy Gary Thornton.
A close up of the restored builders plate on 24081, all four of the preserved Class 24's (24032/54/61/83) were built at Crewe.
1970
On May 1st 5081 worked the FO 17.30 Manchester - York, at this time Class 40s were common on this working.
5081 worked a down freight through Llwyngwril on July 17th.
5081 worked the 1E24 18.28 Aberystwyth - York (to Crewe?) on December 28th.
1971
5081 worked the 1E24 18.28 Aberystwyth - York (to Crewe?) on March 20th.
On June 27th a Northampton - Pwllheli day excursion saw 5080 & 5081 work the roundtrip Shrewsbury - Pwllheli portion.
Condition July: green livery (no stripe, light grey roof) with full yellow ends (paint seems reasonably fresh), BR double arrow centered on bodysides, gangway doors in place, shortened fuel & water tanks, blanking plates in place, no bodyside valencing, hand/footholds plated over.
1972
A wet June 25th found 5081 in charge of a nine coach Liverpool - Barmouth mystery excursion, on the return leg fifteen minutes were recovered following a late departure.
1973
24081 was noted at Derby Works during June & August.
1974
5081 was renumbered late in February.
1975
On January 22nd 24081 was noted at Manchester Victoria.
Condition June: green livery (no stripe, light grey roof) with full yellow ends, gangway doors in place, shortened fuel & water tanks, blanking plates in place, no bodyside valencing, hand/footholds plated over, straight sided sandboxes, three rung bogie mounted footsteps, cabroof ventilators fitted (would be removed at next repair).
1976
In North Wales flooding between Bettws-y-Coed and Llanwrst trapped a two car diesel multiple unit whilst the last service from Blaneau on 2nd ran into a fallen tree damaging M56163. Bus services substituted until 10th due to the seventeen washouts reported, 24081 was noted on 6th with a ballast train.
A Shrewsbury - Gourock excursion on July 10th suffered a failure shortly after departure with 25193 & 24081 requiring assistance from 37040, the cavalcade being replaced at Warrington by 81004.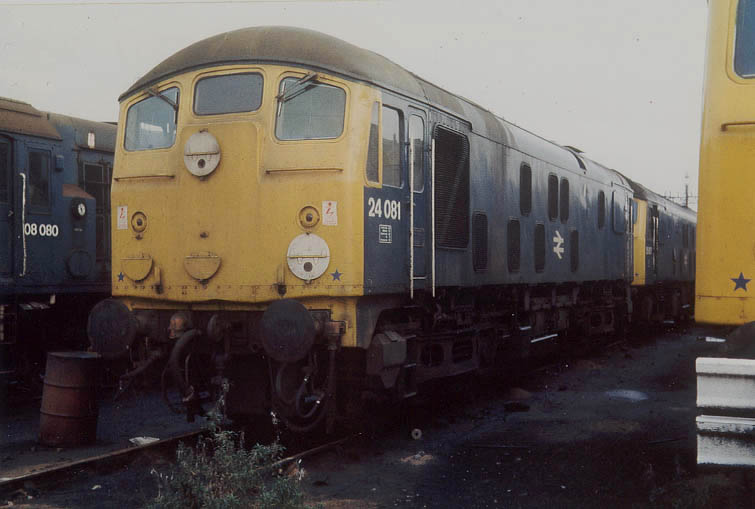 An afternoon visit to Crewe Works brings the inevitable 'stop-in' at Cockshute. On October 10th 1976 24081 and others await their next call to duty sometime on Monday morning. The paintjob has been enhanced by a little extra yellow added to the side window frames.
Condition October, No.1 end drivers side, modified yellow paint around side window (see view above). This embellishment is believed to have existed until July 1979 when a repaint of 24081 took place.
1977
24081 & 24091 were noted at Crewe on January 29th.
24081 & 25323 were noted working Bidston Dock - Shotton ore trains on February 14th & 15th.
24081 & 24091 worked an overnight Trentham - Shotwick and Shotwick - Pratts Sidings freights on March 8th/9th.
On May 2nd 24081 was noted shunting at Llandudno Junction. The next day (3rd) 24081 was noted arriving at Wigan North Western with a parcels train, reversing here then heading off to Manchester Victoria. On May 14th & 15th 24081 was noted on Shotton (?) iron ore trains. During May the Stoke - Healey Mills freight was a regular Type 2 diagram, usually a Class 25 but May 23rd produced 24081 & 24087, whilst 24087 made the run solo the next day. The Stoke area could normally guarantee workings for the remaining Class 24s, they were still regular visitors on the stone trains from Oakamoor and Caldon, and Cockshute stabling point was a favourite place for them to layover.
On July 21st 24081 was noted at Llandudno Junction shed with a short engineers train. On July 23rd 24081 worked the 1K25 10.35 Llandudno - Crewe.
On November 2nd a number of Class 24s (24023/35/36/47/63/81/91) were put to store, then promptly returned to service on October 3rd!
1978
24081 & 24087 were on the Shotton iron ore working on January 13th.
On May 26th 24081 was noted passing Saltney Junction with a lengthy mixed freight from Croes Newydd yard to Mold Junction on May 26th. June 8th & 14th saw 24023 & 24081 on the Shotwick iron ore workings.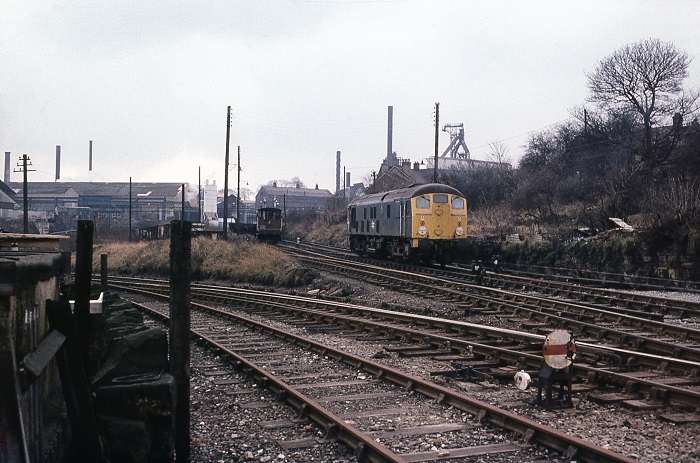 Photograph collection of webmaster.
On a grey day sometime in 1978 24081 shunts the yard at Brymbo.
Condition August: blue/yellow livery, gangway doors sheeted over, shortened fuel tank, no water tank, blanking plates fitted, hand/footholds plated over, three-rung bogie mounted footsteps, ridge sided sanddboxes, bufferbeam steam pipe connection removed.
On August 14th 24081 was noted at Stafford, the next day (15th) it was noted between Nuneaton & Rugby.
24081 was noted at Guide Bridge on November 12th.
1979
24081 worked a train of coal to Stourport Power Station on January 15th.
The 04.50 Grange Junction Sidings - Shotwick freight was hauled by 24063 & 24081 on January 30th.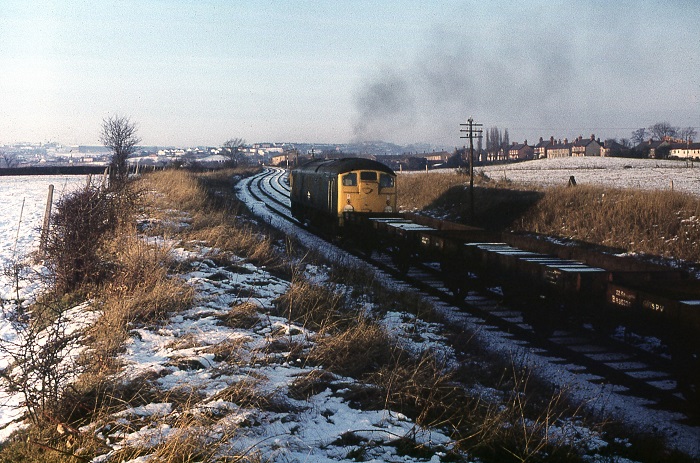 Photograph collection of webmaster.
On a winter's day in 1979 24081 passes Caego on the way to Brymbo, the steelworks being visible in the distance.
On February 6th 24081 & 24082 worked the 22.00 Crewe - Shotwick freight, returnng early the next morning to Crewe. On February 7th 24081 & 25290 were in charge of the 05.38 Healey Mills - Northwich and 09.20 return. On a slushy, overcast February 20th 24081 & 25061 were noted at Croes Newydd stabling point.
24081 & 25095 were noted at Basford Hall on March 8th with an up freight. Late into March the two remaining Class 24s 24063 & 24081 were still soldiering on, observed on the Oakamoor sand train were 24081 & 25215 (28th) and 24063 & 25159 (29th).
During April 24081 was a regular visitor to Hereford. It arrived with 25211 on 8th with the 21.30 Grange Junction (Stoke) - Margam, returning north on April 9th with the 15.10 Radyr - Shotwick. Regrettably from April 10th 24081 would be the last remaining Class 24 in service following the withdrawal of 24063 the previous day. Whilst working the 14.20 Bidston Dock - Shotwick iron ore service the locomotive collided, at Shotwick, with some wagons from the local trip working hauled by 25158. On April 12th a train of continuously welded rail from Hookagate arrived at Hereford behind 24081, which was removed to the stabling point and departed on April 13th with the 12.45 Penzance - Crewe parcels. On 15th & 21st it arrived with a continuously welded rail train from Hookagate, the latter time with 25159. The pair returned north from Hereford the same day (21st) with empty continuously welded rail wagons from Severn Tunnel Junction to Hookagate.
On the evening of July 6th 24081 & 25063 were noted passing Crewe station with a down freight. On the afternoon of July 14th 24081 was noted at Chester depot. On the afternoon of July 21st 24081 ran light from Crewe to Llandudno Junction in order to work a railtour the next day.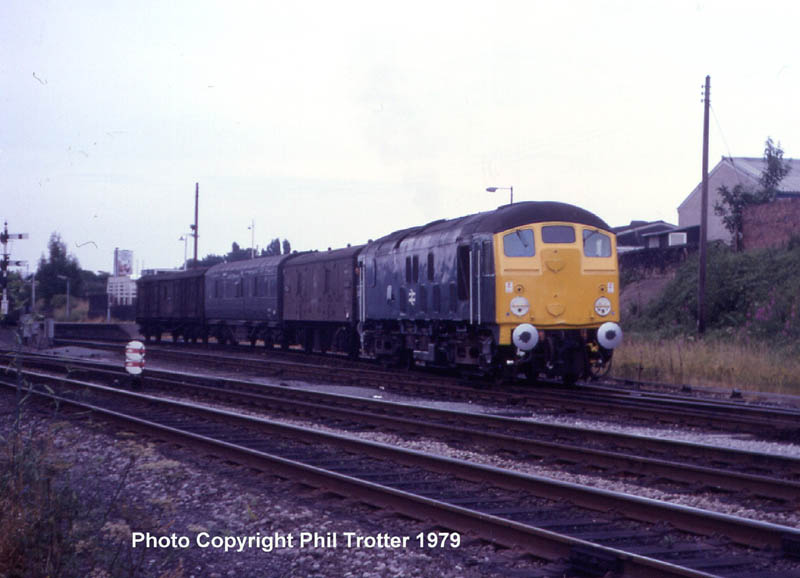 Photograph courtesy Phil Trotter.
24081 at Wrexham on July 26th 1979.
On July 26th 1979 24081 was captured on film running through Wrexham station, here it would do some shunting, leaving with a short parcels train (see views above).
The third week of July marked the 100th anniversary of the Blaneau Ffestiniog branch, a display on 22nd at Llandudno featured 24081, 40186, refurbished 50986 & 56221 and a BR cinema coach. The one remaining Class 24 was noticeable by its absence this summer on passenger workings, however on August 2nd (or 3rd?) 24081 rescued 40129 at Colwyn Bay on the 18.05 Holyhead - Euston, taking the service as far as Crewe.
On October 30th 24081 was noted passing Stoke on Trent with a rake of empty wagons for either Oakamoor or Caldon.
1980
The early morning 05.43 Grange - Shotwick freight on January 7th, in charge of 24081 got into trouble at Greenbank, with a main generator fault disabling the locomotive. Rescue came in the shape of 25071 as far as Oakleigh, where 25215 took the train forward with 25071 taking the errant Class 24 to Crewe.
On the afternoon of February 3rd 24081 was noted at Crewe on an up permanent way train.
Nuneaton stabling point held an Open Day event on May 4th, 24081 being one of the honoured visitors.
On June 4th 24081 was noted south of Crewe with a ballast working.
On September 13th in celebration of the Liverpool & Manchester Railway 150th Anniversary, an exhibition at Liverpool Road, Manchester featured many exhibits including 24081 & 08477. Crewe Works Open Day followed on September 22nd, and in October 1980 24081 attended a joint BR/Steamport exhibition at Southport. It was failed here with flat batteries and retired, ending its remarkable eighteen month run as the sole Class 24 in service. From here, with a service life of just over twenty years, it was quickly rescued for preservation. Withdrawn at the same time were interestingly the last three remaining Class 31/0s, 31004/08/19, two 06s, four 25s and six 76s whilst 56084 was delivered new to Tinsley.
And since November 2000 24081 will have spent more time in preservation than in active service for British Railways.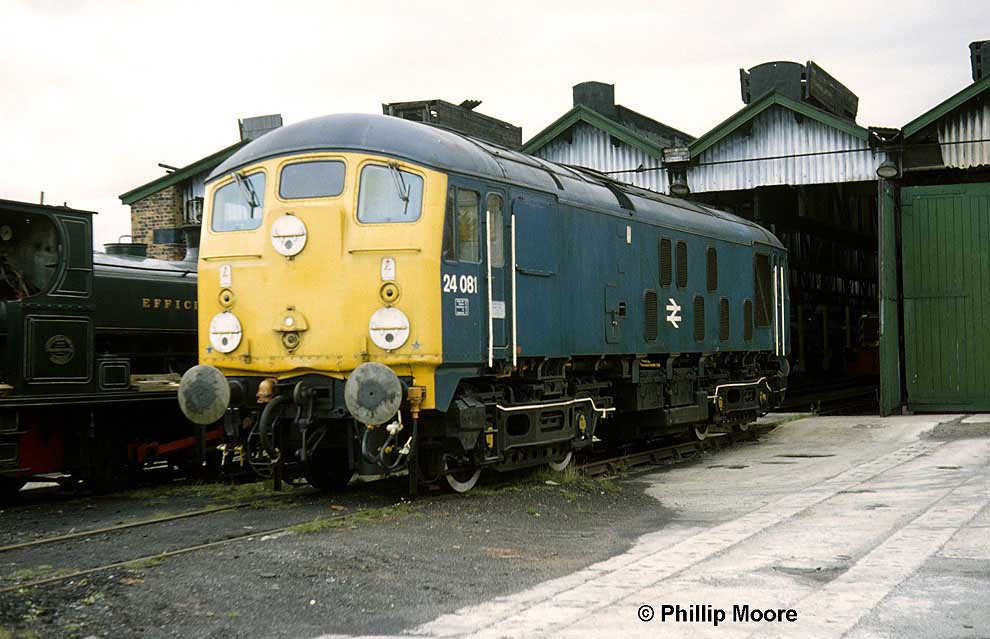 Photograph courtesy Phillip Moore.
A fine portrait of 24081 at Southport, some four years into preservation, September 23rd 1984.
flk 1117 partial (2)
Page created May 6th 2000.
Last updated November 3rd 2020.
Back to 24080
Forward to 24082