D5082, 5082, 24082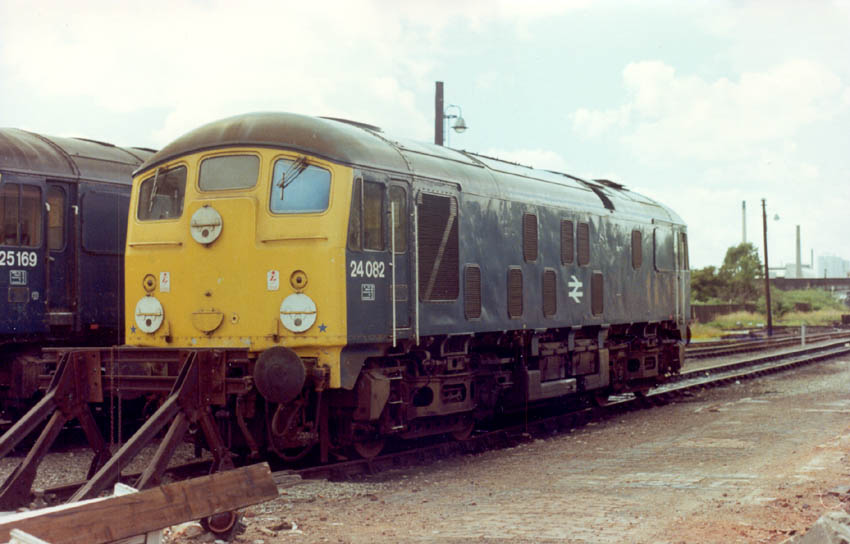 24082 at Warrington Arpley, date unknown
The eighteen year eight month career of D5082/24082 was spent entirely on the London Midland Region apart from its very brief (paper only?) allocation to the Eastern Region.
Built Crewe Locomotive Works (from batch 5076 - 5093).
Shortened fuel tank & full size water tank (shortened water tank fitted later).
Four upper and four lower air filters on non-BIS side, three upper and four lower on BIS side.
Royal Train cabling modification (cab front circular access point).
Cabroof ventilators removed.
Time between last Classified repair and withdrawal: ?? months.
Time between withdrawal & scrapping: 2 months.
Allocations
The frames for D5082 were laid down at Crewe Works during January 1960, D5082 was new to March (31B) on March 29th 1960. Further transfers were:
April 1960 to Willesden (1A), on loan.
May 1960 to Rugby (2A) on loan.
July 1960 to Willesden (1A).
May 1962 to Watford (1C).
January 1963 to Crewe (5A).
April 1966 to Stoke Division (D05).
August 1966 to London Division (D01).
January 1967 to Stoke Division (D05).
May 1973 to Crewe.
July 1976 to store serviceable.
October 1976 - reinstated to Crewe.
March 1st 1979 - withdrawn.
Renumbered October 19th 1973.
24082 was stored at Crewe from early March 1979 until March 20th 1979 when it moved from Crewe to Doncaster Works, and broken up during May 1979.
Movement: 24082 17.40 Crewe – Derby St Mary's 9Z15 March 20th 1979, attaching 50018 from Laira for Doncaster.
Works Visits
Works visits (records incomplete).
Noted Derby Works November 1960.
Noted Derby Works February, March & May 1962.
Noted Derby Works April, June - August 1963.
Noted Derby Works July, August & November 1965.
Noted Derby Works May 1968.
Noted Derby Works August 1969.
Noted Crewe Works March & April 1970.
Derby Works May 1975?? - noted ex-works June.
Highlights
1961
On February 3rd D5082 was working an evening local service from Euston.
A holiday treat for D5082 on Whit Sunday (May 21st?) was handling a Wolverton/Bletchley – Bognor Regis excursion throughout.
Condition May: no yellow warning panels yet.
1962
On July 28th D5082 worked the 13.25 Euston - Bletchley.
1971
Condition June: green, all yellow ends.
1973
5085 & 5082 worked the 1A69 18.25 Shrewsbury - Euston to Wolverhampton on February 11th.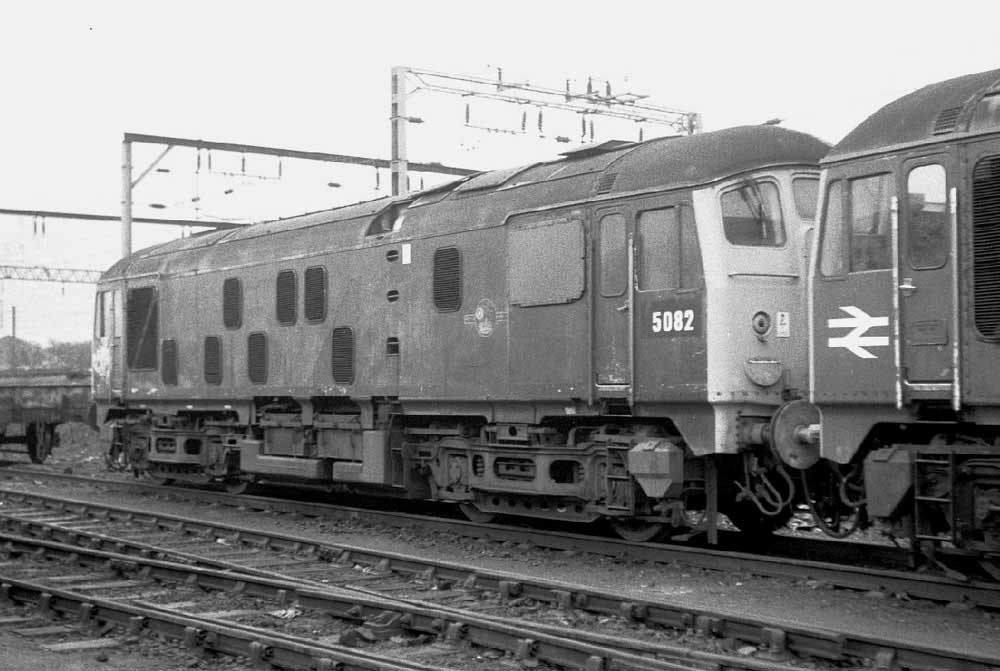 Photograph courtesy Tony Sayer
5082 in work stained green/yellow livery at Bescot on April 23rd 1973.
5082 worked the 18.30 Aberystwyth - York (to Crewe?) on September 15th.
Condition September, faded, tatty green livery with full yellow ends, blue blanking plate on non-BIS side, gangway doors in place.
1974
24082 & 24087 worked the return leg of a Barmouth - Leamington Merrymaker on May 11th, with 24087 coming off at Machynlleth.
On the evening of October 4th 24082 & 24080 were noted at Stockport with a down freight.
1975
Condition July: blue & yellow livery, gangway doors sheeted over, shortened fuel & water tanks, blanking plates fitted, hand/footholds plated over. Relatively smart condition, recently overhauled?
1976
24082 was handling a local Bescot trip working on January 14th.
1976
25326 + 24082 were noted at Birkenhead North on June 17th with an iron ore train.
Class 24s Nos.24082 & 24087 head a Wirral Railway Circle Class 24 Great Central Farewell charter from Crewe to Loughborough via Guide Bridge and Sheffield Victoria on 4th December.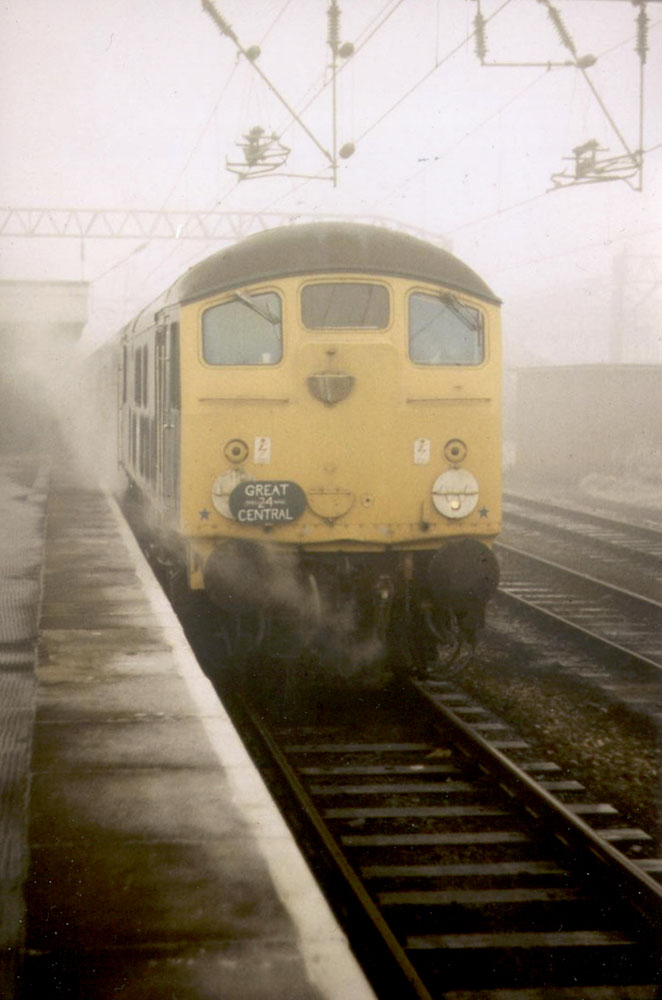 Photograph courtesy Dave Homer
Class 24 Nos.24082 & 24087 at Stockport on a foggy, frosty December 4th. Mercifully the steam heating was warming the train on this cold day.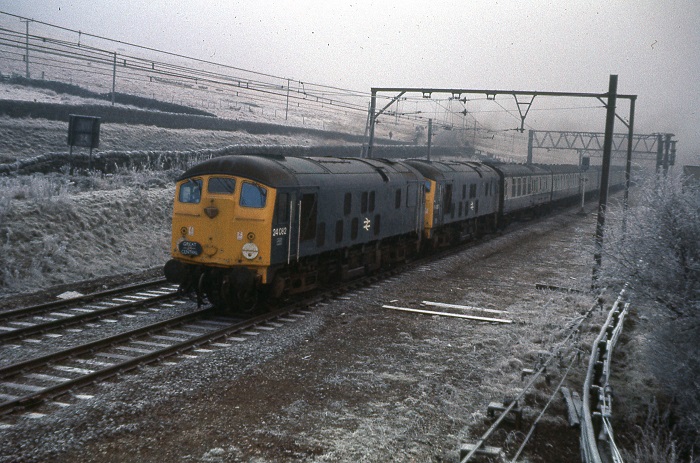 24082 & 24087 pass Torside signalbox with the railtour, a good layer of frost coats everything. The signalman took pity on our little group awaiting the arrival of the train and invited us into the warm signalbox. On board the train there appears to be no-one brave enough to stick their head out of the window/door on this chilly morning.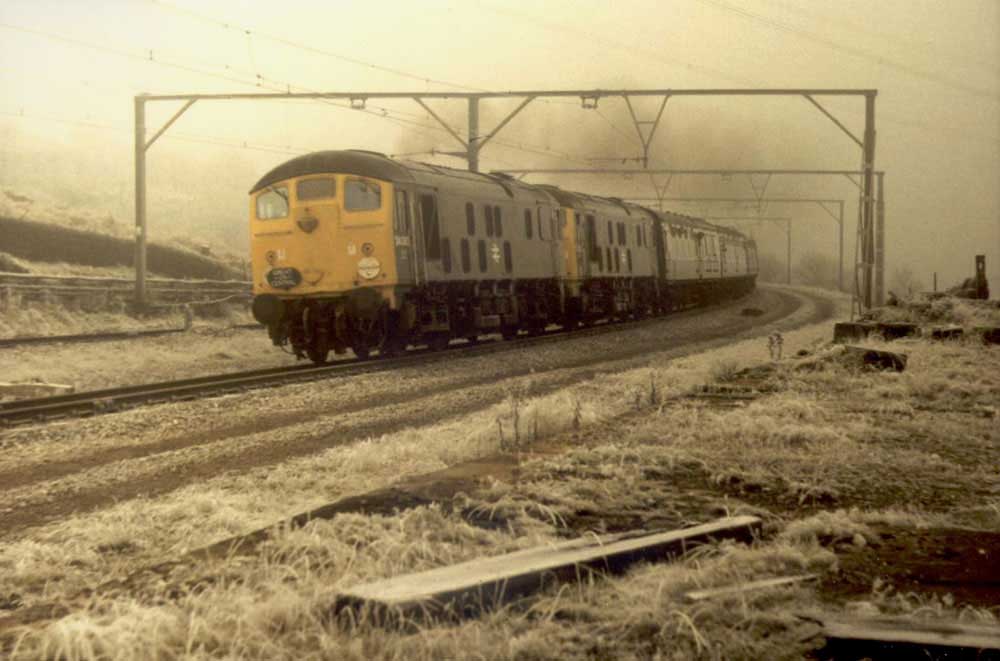 Photograph courtesy Dave Homer
A little further east from Torside the Class 24s attack the approach to Woodhead with some vigour. As the tour travelled eastwards, the weather improved greatly. In this view it appears there is one hardy soul taking in the chilly air from the first carriage.
1977
On June 5th 1977 a charter was run to Barmouth from Crewe/Chester with the motive power confirmed as two Class 24s. It was decided to make a trip by the ever faithful 1972 Hillman Hunter from Derby to Barmouth to obtain some photographs of the running of this train.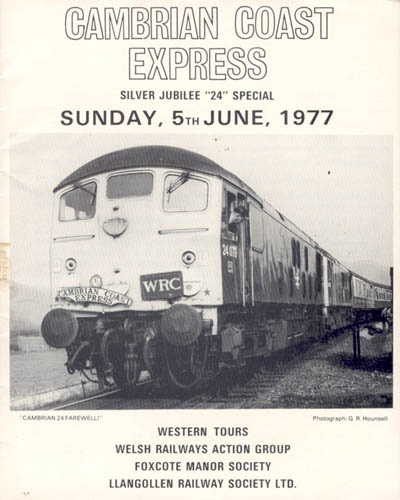 It might have been wise to seek some help as to where were the best locations to capture the train on its journey west. However that was not done so the views that came out were few and far between, but we were young & adventurous in those days, so what can you say!

Two other trains were noted in the book that day on the Cambrian hauled by 25131 & 25143 on the 08.45 1J45 Birmingham - Barmouth and 25253 & 25101 on a twelve coach York - Barmouth charter. Also at Barmouth at the same time but missed by yours truly was 25120 & 25254 on a ten coach Stroud - Barmouth charter. Because the line from Barmouth towards Pwhelli was closed on a Sunday it could be used to stable the charter trains. As usual these were not photographed, but I assume that one of these trains does feature in the close up of 24082 at Barmouth, if only one could go back & do it again!

The two Class 24s working the train were two of the three regulars, in this case 24133 & 24082. On the westbound trip 24133 was leading, on the return from Barmouth 24082 was on the point.

For another review of this day's activities go here to Dave Plimmer's excellent North Wales pages.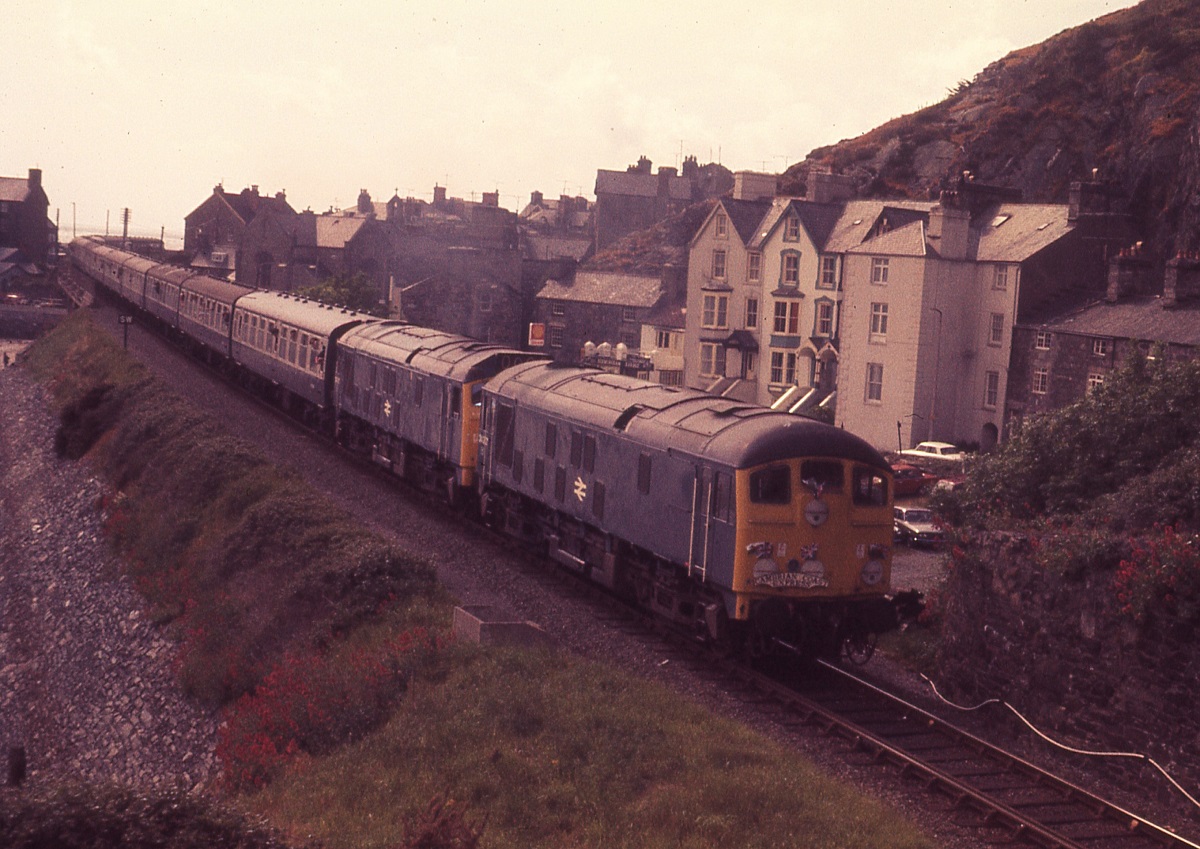 24082 leads the train out of Barmouth on the return leg, remarkably on this whole trip the rain held off, despite some ominous clouds.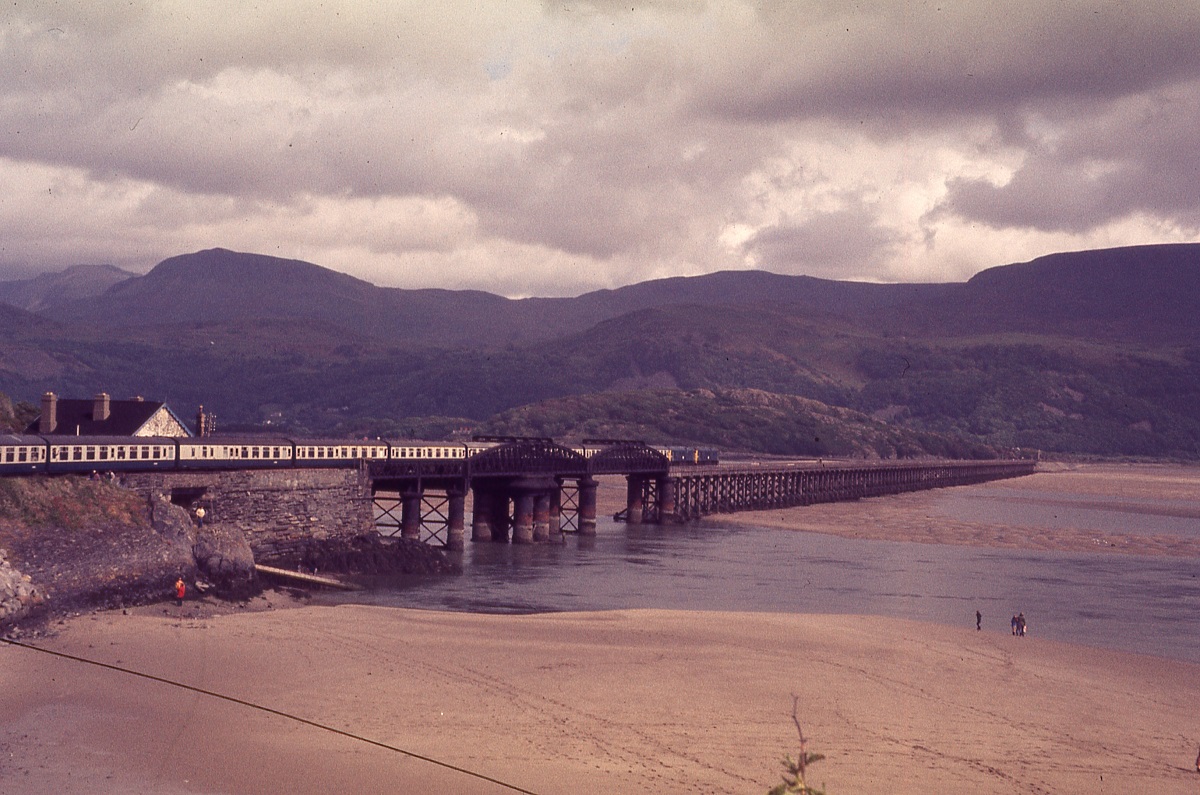 The locomotives have cleared the two prominent spans and head south towards Friog, on the south side of the Mawdacch Estuary. This bridge came under attack from the teredo worm, necessitating expensive repairs to allow continued operation of the service to Barmouth & Pwhelli.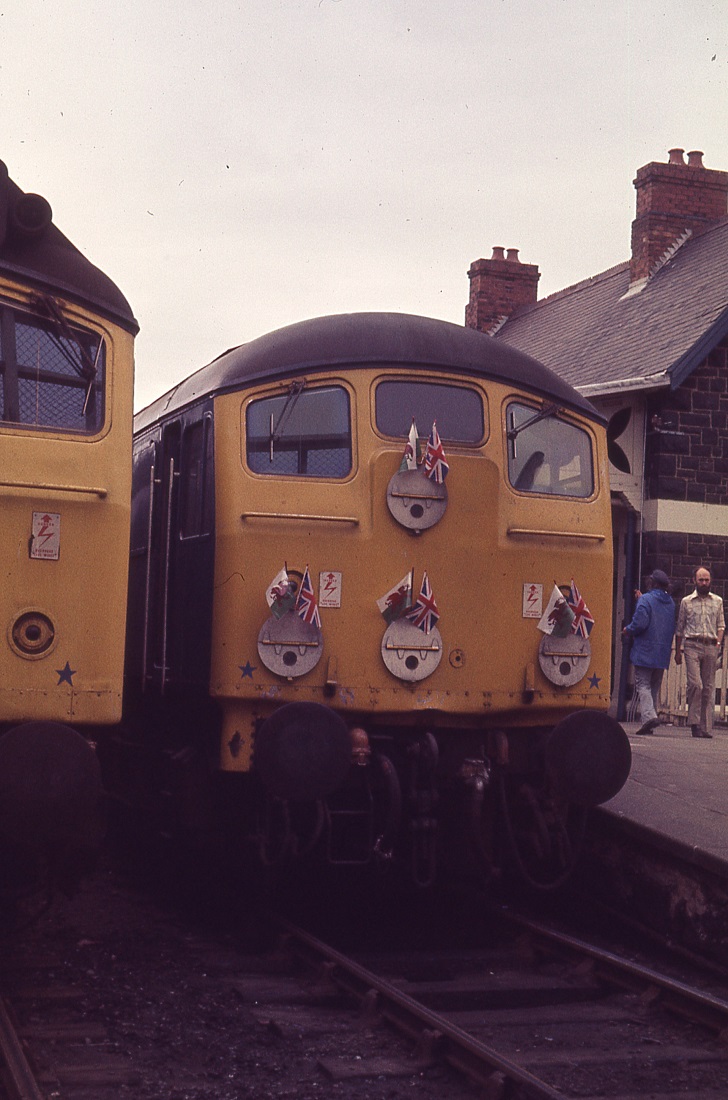 A close up of the flag bedecked cab of 24082 at Barmouth station. With the Class 25s being so familiar that back then it was felt un-necessary to photograph both trains together at Barmouth, in hindsight clearly a serious error of judgement.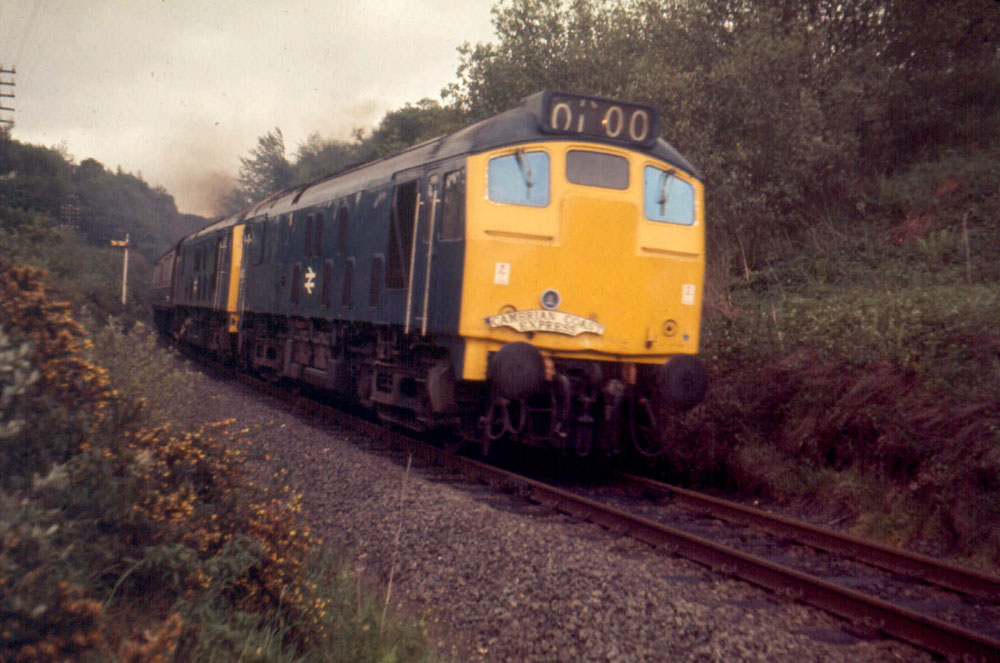 With 24133 leading, and with much evidence of a heavy exhaust this must be somewhere close to the summit at Talerdigg. The dull day certainly didn't assist in my amateur photography lesson.
24084 was noted at Crewe station on July 17th.
24081 & 24082 were noted northbound through Crewe with head a train of sand, probably from Oakamoor on July 26th.
On August 23rd 24082 was southbound at Crewe with a coal train.
A pair of Class 24s, 24133 & 24082 paid a visit to York on October 1st whilst in charge of the RCTS 'Roses No.2 Rail Tour'. Originating from Crewe and picking up at Stockport, the special traversed the Pennines via the Woodhead route. The former Great Central route was used to Treeton Junction, north to Rotherham, Mexborough & Doncaster then onto York via Knottingley. The journey time was just over three and a half hours, with arrival in York being about ten minutes late. The return was via Normanton, Wakefield Westgate, Mirfield, Sowerby Bridge and Hebden Bridge for the run across Copy Pit, then Accrington, Blackburn, Bolton and Manchester Victoria. The Type 2s made a fine run up Miles Platting bank before turning at Ashton Moss N & S junctions to reach the outbound route at Denton. Throughout the railtour the timetable was maintained very closely, the return leg took slightly longer than the outward leg, but arrived at Crewe only two minutes late.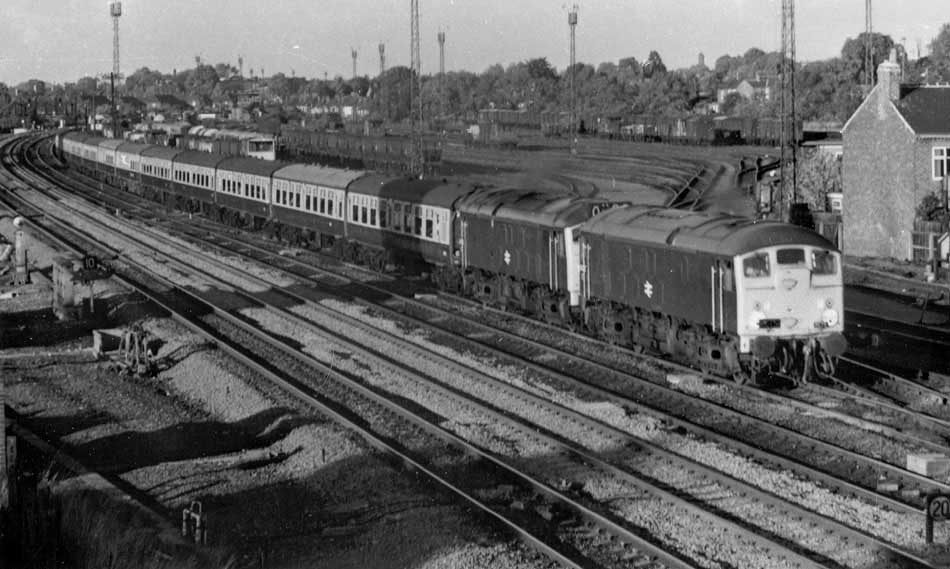 Photograph collection of webmaster.
Class 24 Nos. 24082 & 24133 at Dringhouses, just south of York on the return leg of the 'Roses No.2 Rail Tour', October 1st. Must have been a mellow group, there are no heads sticking out of any windows.
December 3rd saw 24082 & 24133 handling a charter from Crewe to Aberystwyth via Chester & Shrewsbury. On December 13th 24082 was noted at Hartford on an ICI freight.
1978
On January 14th 24082 & 24133 worked a roundtrip St Pancras - Liverpool charter via Leicester and Nuneaton. The ten coach train was routed from London St Pancras – Bedford Station – Wigston South – Nuneaton – Water Orton – (via Sutton Park line) – Walsall – Portobello Junction – Wolverhampton – Wellington – Shrewsbury – Wrexham – Chester – Helsby – Halton Junction – Runcorn – Liverpool Lime Street and returning from there: Runcorn – Weaver Junction – Crewe - Alsager - Stoke-on-Trent – Uttoxeter – Stenson Junction – Sheet Stores Junction – Loughborough – Leicester – London St Pancras. Good timekeeping was maintained on this railtour.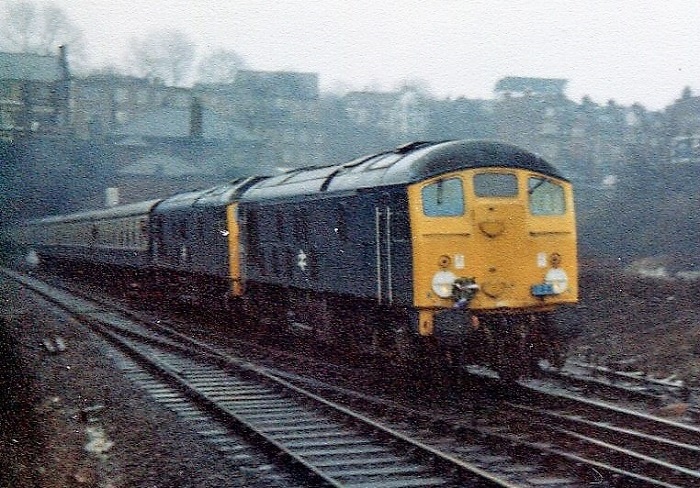 Photograph courtesy Al Paterson.
24082 & 24133 exit Belsize Tunnel on January 14th 1978 with the St Pancras - Liverpool railtour (detailed above). Time has not been kind to the image, but views of this railtour south of Leicester are quite rare, not helped by the overcast, wet weather.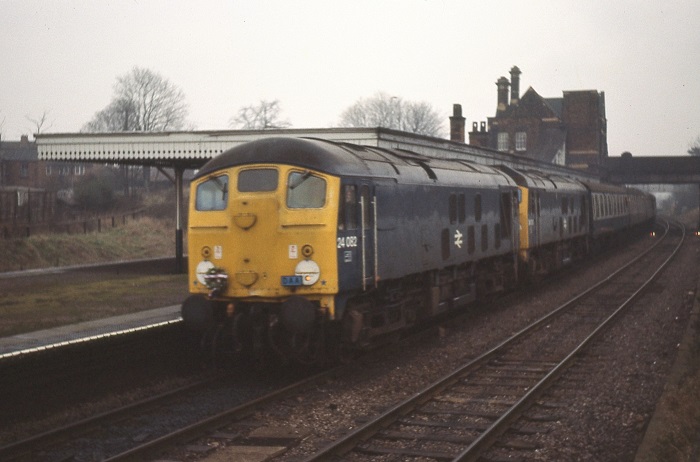 24082 & 24133 passing Water Orton on January 14th 1978 with the St Pancras - Liverpool railtour (detailed above). The weather in the Birmingham area was little better than that in the London area view above, definately dull, but no rain.
An evening Chester - Rugby parcels was worked by 24082 on March 9th. 24082 was noted light engine at Crewe on March 11th. The 00.35 Healey Mills - Warrington Arpley freight was worked by 24082 on March 14th. 24082 was at Crewe station on March 28th with a short parcels train.
24082 & 25153 were noted at Seacombe Junction with an iron ore train on April 1st. On April 15th a Brighton - Blaneau Ffestiniog 'The Welsh Highlander' excursion arrived at Llandudno Junction behind 47436, the roundtrip over the Blaneau Ffestiniog branch was worked by 24082 & 25043.
A seasonal diagram featured the 09.42 Llandudno - Manchester, 13.30 return, 16.42 Llandudno - Crewe, 20.30 Crewe - Bangor and 22.45 return as far as Llandudno. On May 25th 24082 operated this diagram throughout, continuing onto the next day's, but was replaced at Chester by 25161 whilst on the 13.30 ex Manchester. 24082 handled this diagram on June 8th & 9th, on 10th it worked a Llandudno – Euston excursion as far as Crewe.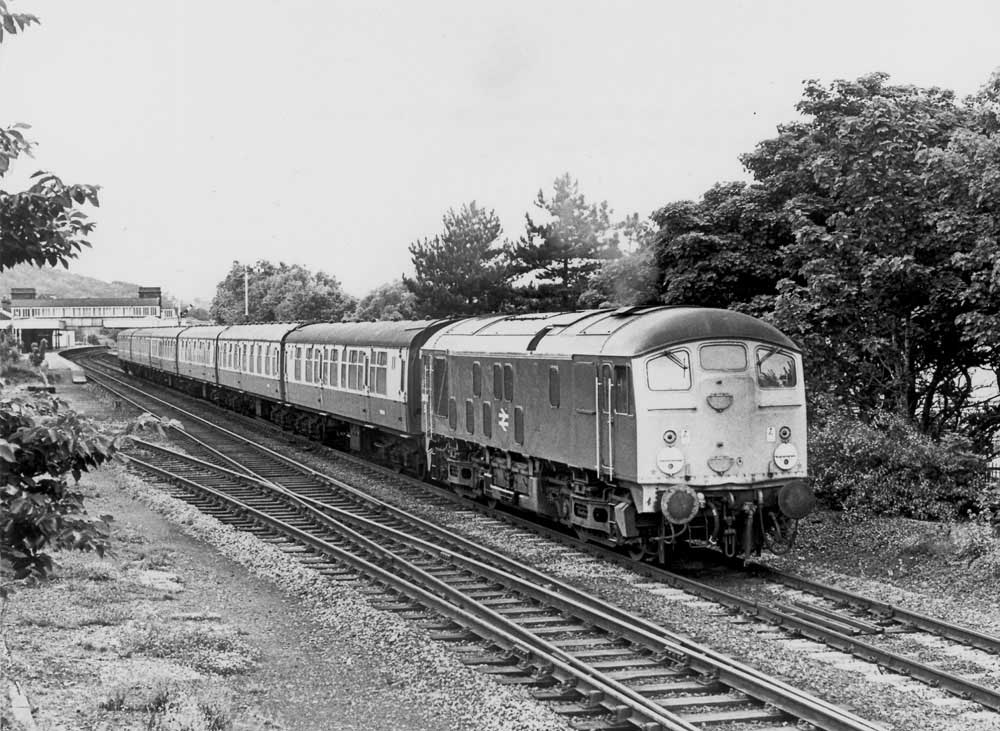 Photograph courtesy Larry Goddard.
Its June 9th 1978 and the 07.42 Llandudno - Manchester Victoria is in the hands of 24082, seen here leaving Colwyn Bay. There are more details (above) on this passenger diagram.
The additional summer services and holiday extras provided plenty of unusual diesel haulage on the North Wales line, but the star turn was still the diagram commencing with the 09.42 Llandudno - Manchester (see above). June 28th - 30th & July 3rd & 4th saw 24082 on this diagram.
On July 18th 24063 & 24082 were noted at Betley with a lengthy loaded coal train. On July 28th 24082 was eastbound through Alsager with a mixed freight.
24082 worked the morning Llandudno - Manchester Victoria on August 14th, returning with the 13.30 to Llandudno. It would work a similar diagram on August 22nd, 23rd & 24th and on August 29th worked a Llandudno - Crewe service. On August 28th 24082 was noted at Healey Mills, returning westbound with the 01.30 (of 29th?) freight to Stoke.
24082 was receiving attention at Crewe Diesel depot on September 14th.
On October 7th the RPPR 'Conway Consort' railtour from London Paddington to Blaneau Ffestiniog utilised 24082 & 40113 from Llandudno Junction to Blaenau Ffestiniog with 24082 alone returning the railtour to Llandudno Junction.
On November 10th 25195 & 24082 were noted at Crewe Basford Hall with a loaded coal train.
On November 13th 24082 worked the 11.41 Garston - Margam empties as far as Hereford.
1979
24082 was noted at Stafford on January 24th.
On February 6th 24081 & 24082 worked the 22.00 Crewe - Shotwick freight, returning early the next morning to Crewe.
On February 13th 24082 & 25042 were noted together on Crewe diesel depot fuelling point.
On a snowy February 14th 24082 was noted stabled at Cockshute with 25215, possibly the pair had just returned from a trip to Cauldon Low.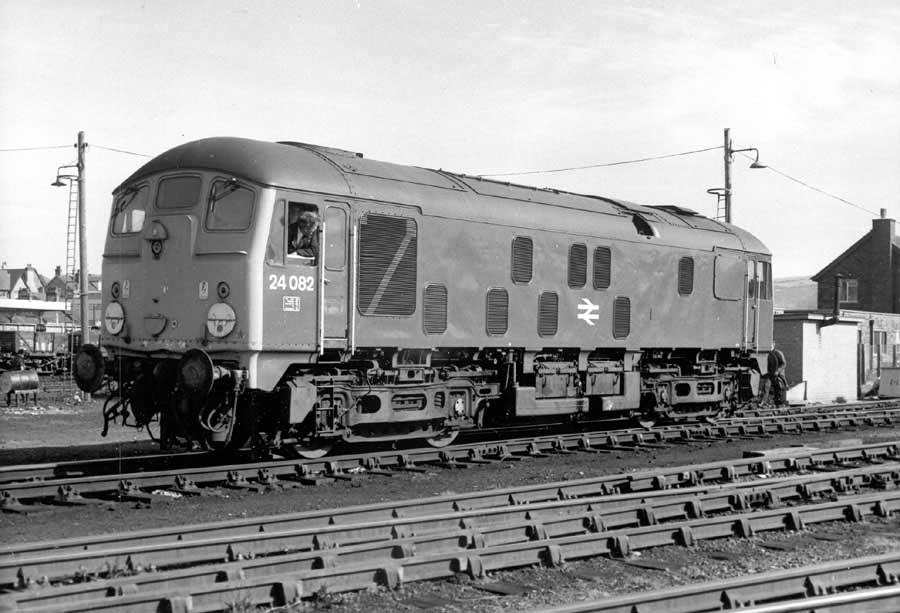 24082 at Llandudno Junction shed, date unknown

24082 is in its final condition, blue/yellow livery, gangway doors sheeted over, shortened fuel & water tanks, blanking plates fitted, hand/footholds plated over

24082 was withdrawn on March 1st 1977.

flk 0222

Page added May 19th 2016.
Last updated February 3rd 2022.

Back to 24081
Forward to 24083