D5083, 5083, 24083

The sixteen year one month career of D5083/24083 was spent entirely on the London Midland Region apart from its very brief (paper only?) allocation to the Eastern Region.

Built Crewe Locomotive Works (from batch 5076 - 5093).
Shortened fuel tank & full size water tank (shortened water tank fitted later).
Four upper and four lower air filters on non-BIS side, three upper and four lower on BIS side.
Cabroof ventilators removed (No.2 cab only - 1975).
Time between last Classified repair and withdrawal: 7 months.
Time between withdrawal & scrapping: 13 months.

Allocations

The frames for D5083 were laid down at Crewe Works during January 1960, D5083 was new to March (31B) on April 8th 1960. Further transfers were:

April 1960 to Willesden (1A).
May 1960 to Longsight (9A) on loan, made permanent October 1960.
November 1960 to Willesden (1A).
November 1960 to Longsight (9A).
March 1961 to Willesden (1A).
January 1963 to Crewe (5A).
October 1965 to Willesden (1A).
December 1965 to Crewe (5A).
April 1966 to Stoke Division (D05).
September 1966 to London Division (D01).
January 1967 to Stoke Division (D05).
May 1973 to Crewe.
February 1976 to store unserviceable.
March 27th 1976 - withdrawn (collision damage).

Renumbered March 16th 1974.

24083 was stored at Crewe from February 1976 until March 21st 1977 when it moved from Crewe to Swindon Works, where it was scrapped by the third week of May 1977.

Movement: 24027/30/37/83 9X29 06.50 Crewe - Banbury - Swindon March 21st 1977.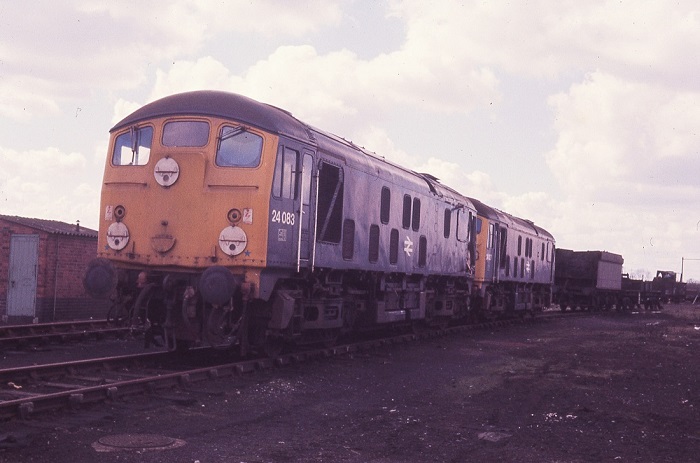 Class 24 Nos.24083 & 24027 at Swindon Works on April 3rd 1977. The collision damage which caused the withdrawal of 24083 is just visible to the No.2 cab.
Works Visits
Works visits (records incomplete).
Noted Derby Works March 1963.
Noted Derby Works May & June 1964.
Noted Derby Works February & March 1966.
Noted Derby Works September & December 1966.
Noted Derby Works November 1968.
Noted Derby Works February 1970.
Noted Derby Works February & March 1972 (repainted blue).
Noted Derby Works June - August 1975 (gangway doors sheeted over).
Highlights
1960
During May D5083 was allocated to Longsight (9A) for crew training prior to the arrival of a batch from Derby Works later in the year. By November D5083 would be at Willesden joining other members of the class recently transferred from the Eastern Region.
The recent arrival of a number of Type 2s at Longsight saw them working new turns, one such was the 9.35pm Huddersfield Hillhouse – Willesden Class D freight returning north as far as Northampton on the 2.50pm ex Euston, so noted have been D5083, 5134 – 5137/39.
1963
Introduced during January was a second 'Condor' service, from Aston (Birmingham) to Glasgow Gushetfaulds. This service ran overnight each way, on a ten hour schedule, with a maximum of 45 wagons, though usually the train size was half that. Loads comprised containers on Conflat As, steel coil and Bird's tank containers. Departure from Aston was at 7.30pm arriving Gushetfaulds at 5.50am, the return working left here at 7.30pm reaching Aston at 5.27am. Normal power for this train were Crewe allocated BR/Sulzer Type 2s, a BR publicity photograph showed D5083 in charge of January 17th's 'up' working complete with 'Condor, Glasgow - Birmingham' headboard. With at least a ten hour layover in Glasgow the locomotives were invariably used by Polmadie for fill-in turns.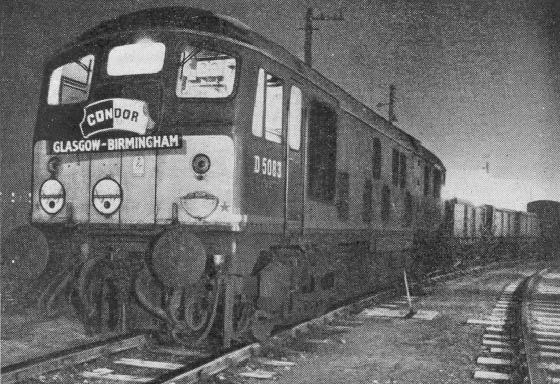 D5083 on the 'Up' Condor.
1964
The continuing use of BR/Sulzer Type 2s on the Aston 'Condor' service often found them pressed into service whilst laying over in Glasgow prior to the evening's southbound working. Often employed on local passenger workings, a popular choice being the 11.25 Wemyss Bay - Glasgow service with examples noted in November being D5186/92/94, 7584/92/93. During October the Condor had seen some remarkable loadings on October 12th D5083 & D72 handled forty five vehicles, on 14th it was D269 and fifty vehicles, the next day D5083 & D8117 and forty eight vehicles.
1965
On November 22nd D5083 worked the 20.11 Euston - Bletchley.
1970
5083 was one of three Class 24s stranded on Anglesey by the Menai bridge fire on May 24th. Along with 5034, 5083 remained on the island to handle the local freight traffic and support the diesel multiple units (50404 & 56167) on passenger services. A third Class 24, No.5044 was shipped to the mainland through Barrow in June along with fourteen other locomotives and seventy two coaches. Whilst stranded on Anglesey the train heating boiler was re-activated as occasionally the Type 2s were used to assist the diesel multiple units on passenger workings.
The other mainline locomotives stranded on Anglesey were 219/231/232/233/241, 307/390, 1724, 1851 & 1940. Three shunters were at Holyhead: 3004, 3175 & 4139, with 2954 & 2955 at the breakwater.
On July 10th 5083 and four coaches 16.12 Llanfair P G stopper to Holyhead, the locomotive remained in green livery with full yellow ends.
1971
Condition May - green livery with full yellow ends, still with D prefix.
1972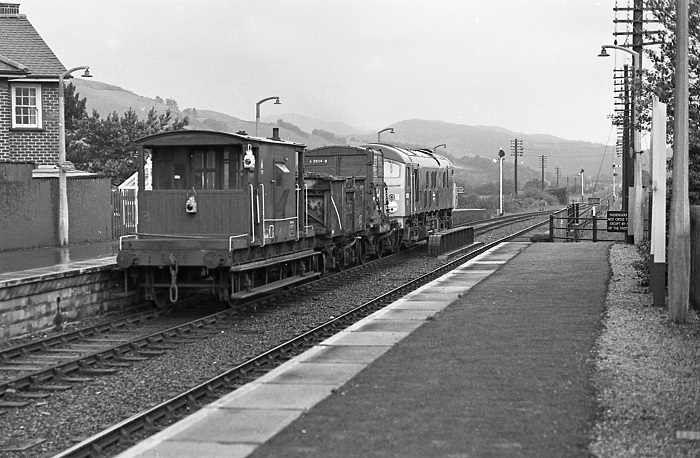 Photograph collection of webmaster.
This is believed to be 5083 at Machynlleth circa 1972.
On June 17th 5083 was noted at Barmouth with the Bridge inspection train.
Condition June: blue & yellow livery, gangway doors still in place, shortened fuel & water tanks, blanking plate fitted, foot/handholds plated over.
1974
On the first Sunday of the summer season, June 9th, three excursions visited the Cambrian coast line, two hauled by Class 40s, the other by a pair of Class 24s. The Mexborough – Barmouth train with 40008 failed at Fairbourne, requiring the locomotive off the following excursion (40028 from Coventry) to push the failure to Barmouth. To get the excursionists home the pair of Class 24's (at Aberystwyth) were split, one returned on its train to Manchester whilst 24083 was sent to Barmouth to take the Mexborough train home. With ten coaches in tow the climb to Talerdigg must have been quite a challenge.
On October 5th a thirteen coach Talyllyn Railway Preservation Society special 'Cambrian Express' (1L05) ran from Euston to Pwllheli. 86012 handled the out and return legs between Euston and Wolverhampton. 24053 & 24083 worked the route Wolverhampton - Cosford - Wellington - Abbey Foregate Junction - English Bridge Junction - Sutton Bridge Junction - Welshpool - Machynlleth - Dovey Junction - Tywyn - Barmouth - Harlech - Minffordd - Portmadoc - Pwllheli and returning over the same route. Time was available to visit either the Talyllyn Railway or the Ffestiniog Railway.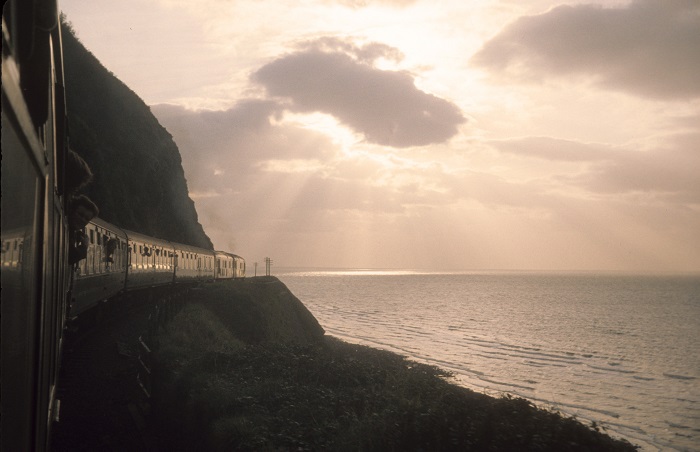 Photograph collection of Roger Geach.

24083 & 24053 alongside the coast near Friog on October 5th 1974 with a Talyllyn Railway Preservation Society special.


1975
From June to August 24083 was at Derby Locomotive Works undergoing repair. The locomotive was an exhibit at the Open Day on August 30th.

Shortly after release from the Works, 24083 worked a roundtrip Derby - Matlock service!

In its final condition it was in blue/yellow livery, the gangway doors sheeted over, shortened fuel & water tanks, blanking plates fitted, hand/footholds plated over. Interestingly the boiler water tank and the buffer neam steam pipe connections had been retained.

1976
Having received one of the last Classified repairs given to a Class 24, it should have run for several more years before withdrawal. Regrettably during February 24083 suffered minor collision damage to the 2nd man's side of the No.2 cab, leading to the withdrawal of 24083. It would be stored at Basford Hall until moved to Swindon.

It is perhaps ironic that another Class 24 to receive one of the last Classified repairs at Derby, 24086 also suffered collision damage not long after being outshopped, also leading to its early demise.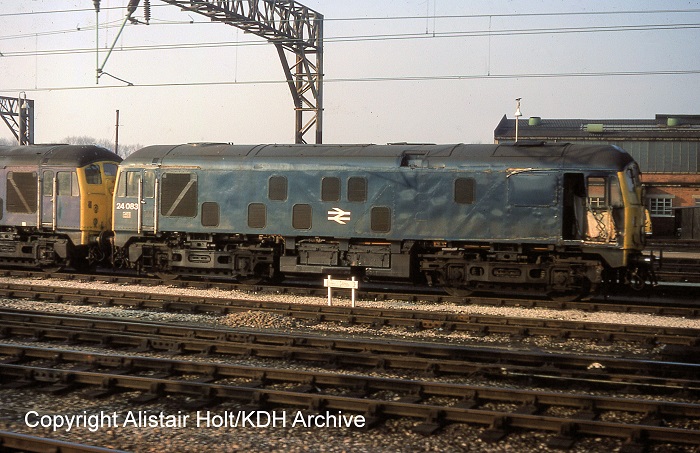 Photograph courtesy KDH Archive.

A last look at 24083 at Crewe on March 6th 1976 revealing the damage which caused its early demise.


flk 0121 (1)

Page added May 18th 2016.
Last updated January 29th 2021.

Back to 24082
Forward to 24084