D5091, 5091, 24091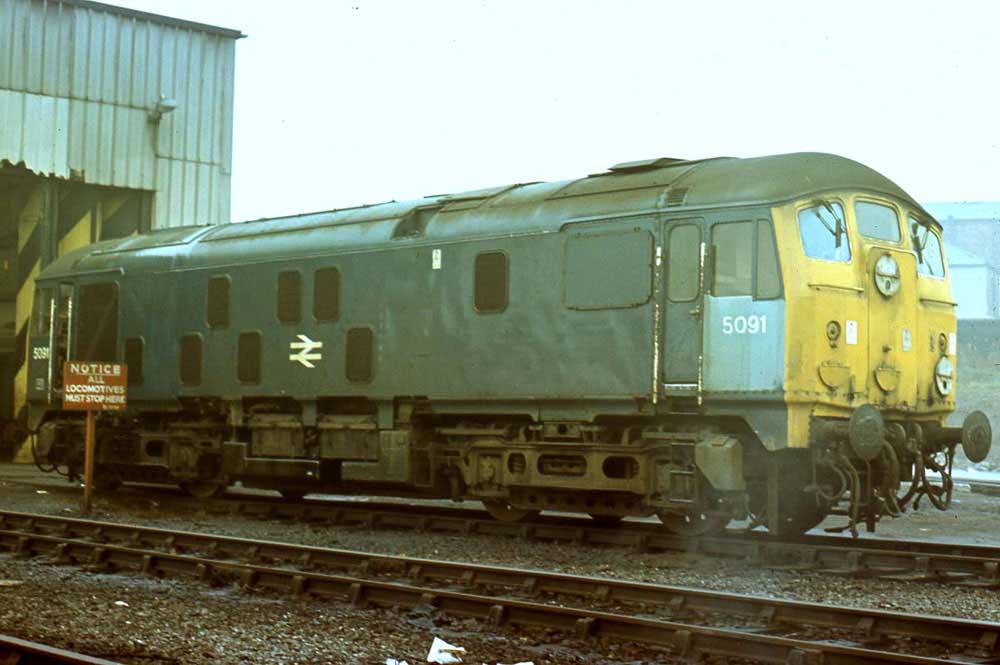 Photograph courtesy Tom Sutch.
5091 at Springs Branch on November 1st 1973. The gangway doors are still in place, the fuel & water tanks are of the shortened type and blanking plates cover the boiler room grilles.
The seventeen year four month career of D5091/24091 saw allocations to Eastern Region & London Midland Region depots.
Built Crewe Locomotive Works (from batch 5076 - 5093).
Shortened fuel tank & full size water tank (shortened fuel tank fitted later).
Four upper and four lower air filters on non-BIS side, three upper and four lower on BIS side.
Boiler water tank removed (1975).
Cabroof ventilators missing (No.1 cab only, after 1975).
Time between last Classified repair and withdrawal: 29 months.
Time between withdrawal & scrapping: 7 months.
Allocations
The frames for D5091 were laid down at Crewe Works during spring 1960, D5091 was new to March (31B) on June 25th 1960. Further transfers were:
June 1960 to Cricklewood East (14A) on loan, made permanent July 1960.
September 1963 to Cricklewood West (14B).
September 1964 to Willesden (1A).
April 1966 to London Division (D01).
December 1966 to Longsight (9A).
March 1967 to London Division (D01).
March 1967 to Stoke Division (D05).
May 1973 to Crewe.
October 16th 1977 to store unserviceable.
November 20th 1977 - withdrawn.
Renumbered April 1974.
24091 was stored at Crewe from October 1977 until May 11th 1978 when it was moved to Doncaster Works and scrapped there during June 1978.
Movement: 24036/57/80/91 12.30 Crewe - Doncaster via Derby May 11 1978 (layover at Derby) Class 47 powered.
Works Visits
Works visits (records incomplete).
Noted Derby Works October 1960.
Noted Derby Works June 1961.
Noted Derby Works April 1962.
Noted Derby Works February & May (ex-works) 1962.
Noted Derby Works September & October 1964.
Noted Derby Works March & April 1965.
Noted Derby Works November 1966.
Noted Derby Works August 1967.
Noted Derby Works June 1970.
Noted Derby Works June 1975.
Highlights
1967
Buxton depot received D5091, D5135 & D5137 for crew training and banking duties at Peak Forest at the end of February. These machines would work alongside the small pool of Class 25s working the Northwich - Tunstead ICI block trains.
1973
May 1973: gangway doors still in place, in blue/yellow livery.
1975
On May 6th a notable stranger at Kings Lynn was 24091 coupled to 25267, the pair having arrived from March to work a special freight to Bristol.
On August 22nd the 13.20 Holyhead - Euston suffered a failure with its Class 47, 24091 dragged everything forward to Crewe (?).
1976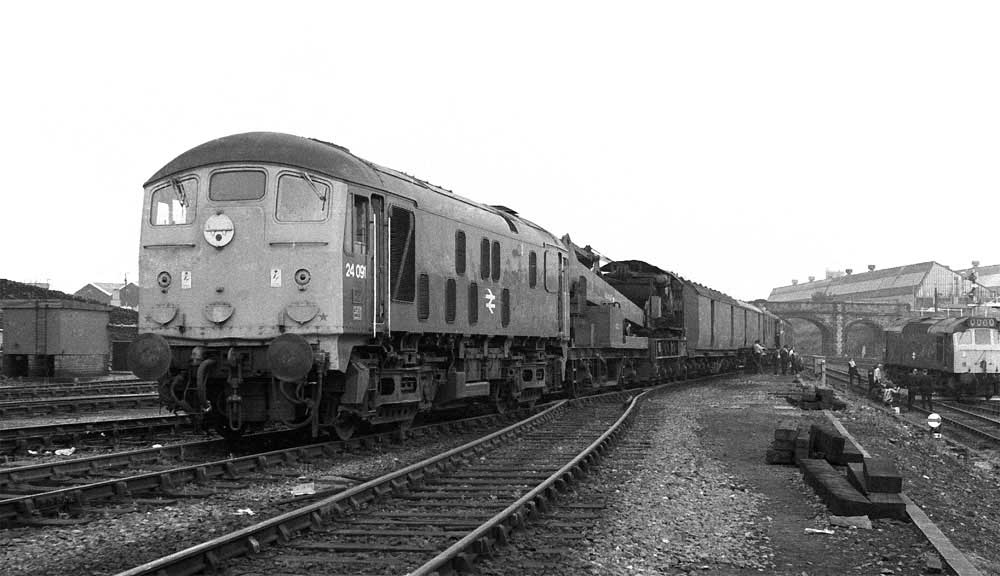 Photograph courtesy Steve Morris.
24091 at Holyhead during 1976 coming to the rescue of a derailed Class 25. At the last Works repair the gangway doors were sheeted over, the boiler water tank removed and the bodyside valencing is gone. The No.1 end cab no longer has the roof ventilators above the cab door.
On July 15th 25156 & 24091 were noted together at Crewe depot, the next day (16th) they worked the 09.40 Euston - Aberystwyth forward from Shrewsbury. 24091 was noted northbound through Macclesfield on July 22nd.
1977
24091 & 25076 were noted northbound through Crewe station on January 23rd, possibly with loaded sand wagons.
24081 & 24091 worked an overnight Trentham - Shotwick and Shotwick - Pratts Sidings freights on March 8th/9th.
On June 9th 24091 worked sand empties to Oakamoor.
24091 & 24082 were noted at Warrington on August 1st.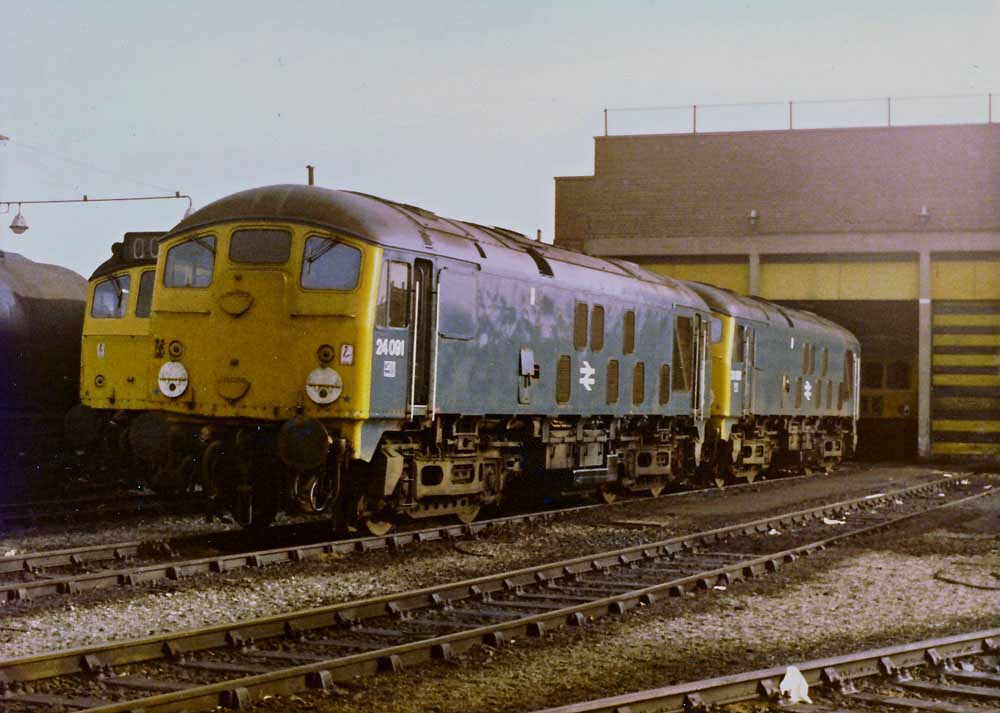 Photograph courtesy Steve Harrison.
24091, 24081 & 25288 at Chester on October 7th 1977. 24091 has about a month left in service.
24091 was withdrawn on November 20th 1977.
flk 1217
Page added May 7th 2016.
Last updated February 21st 2020.