D5092, 5092, 24092
One of the few Class 24s to remain in green livery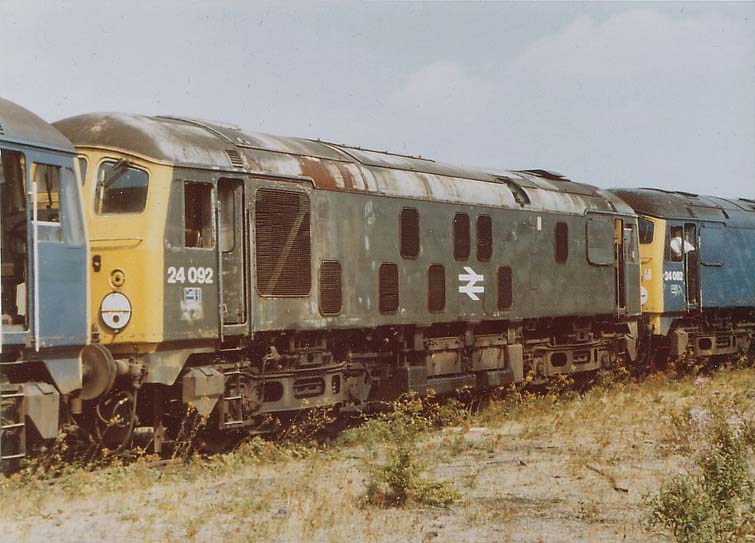 Photograph courtesy Neil Phillips.
A sunny view of 24092 on August 18th 1976, having recently arrived with 24049/58/62 from Basford Hall. By Christmas 1976 all four would be gone, with 24092 cut up in December. Swindon also dealt with green liveried 24136 whilst Doncaster despatched ex-Scottish green liveried 24090.
The fifteen year three month career of D5092/24092 saw allocations to Eastern & London Midland Region depots.
Built Crewe Locomotive Works (from batch 5076 - 5093).
Shortened fuel tank & full size water tank (shortened water tank fitted later).
Four upper and four lower air filters on non-BIS side, three upper and four lower on BIS side.
Gangway doors never removed.
Carried green livery with TOPS numbering.
Carried green livery with BR double arrow emblem (from at least May 1973).
Retained green livery until withdrawn.
Time between last Classified repair and withdrawal: ?? months.
Time between withdrawal & scrapping: 14 months.
Allocations
The frames for D5092 were laid down at Crewe Works during spring 1960, D5092 was new to March (31B) on July 15th 1960. Further transfers were:
July 1960 to Cricklewood East (14A) on loan, made permanent August 1960.
September 1963 to Cricklewood West (14B).
December 1964 to Willesden (1A).
April 1966 to London Division (D01).
March 1967 to Stoke Division (D05).
May 1973 to Crewe.
October 4th 1975 - withdrawn.
Renumbered April 1974.
24092 was stored at Crewe from October 1975 until August 4th 1976 when it was moved to Swindon Works and scrapped there by the third week of December 1976.
Movement: 24049/58/62/92 Crewe – Banbury - Swindon August 4th 1976 by 25188.
Works Visits
Works visits (records incomplete).
Noted Derby Works March 1961.
Noted Derby Works March & April 1962.
Noted Derby Works February & July 1963.
Noted Derby Works October 1965.
Noted Derby Works July 1966.
Highlights
1965
On January 24th D5092 & D5094 were at Wood Green with a ballast train.
On the evening of March 12th D5092 was at Marylebone with an Up parcels.
1969
5092 was on a freight at Towyn on June 2nd.
Condition August: green livery with small yellow warning panels, curved upper corners, bottom of panel does not completely cover the frame level stripe, shortened fuel & water tanks, blanking plates fitted, hand/footholds still present, three rung bogie mounted footsteps, ridge sided sandboxes, exhaust located above engine room, 'D' prefix still present.
1971
Condition June: green with full yellow ends.
On November 30th the Redditch branch saw the thrice weekly Oakamoor stone train in charge of 5027 & 5092. The stone service ended during January 1972.
1973
Condition March: green livery with full yellow cab fronts, no frame level stripe (repainted in plain green livery at some point, at least after August 1969), gangway doors still in place, shortened fuel & water tanks, blanking plates fitted, hand/footholds still present, three rung bogie mounted footsteps, flat sided sandboxes.
On the weekend of May 12th/13th a twelve coach B.R./Plymouth Railway Circle excursion ran from Plymouth to Aberystwyth. The fare of £2.80 included a round trip on the Vale of Rheidol. Motive power was 1038 Plymouth - Shrewsbury, 5092 & 5142 Shrewsbury - Aberystwyth - Shrewsbury, 1038 Shrewsbury - Bristol, 1646 Bristol - Plymouth. The route was via Severn Tunnel Junction & Hereford.
Departure from Plymouth was at 06.35am, the locomotive change at Shrewsbury was 12.04pm - 12.15pm, arriving in Aberystwyth at 2.24pm, with departure at 8.46pm. The locomotive change at Shrewsbury was 10.48pm - 11.05pm and the change at Bristol was 01.28am - 02.03am (23 minutes late at this point). Final arrival at Plymouth was at 4.53am (17 minutes late).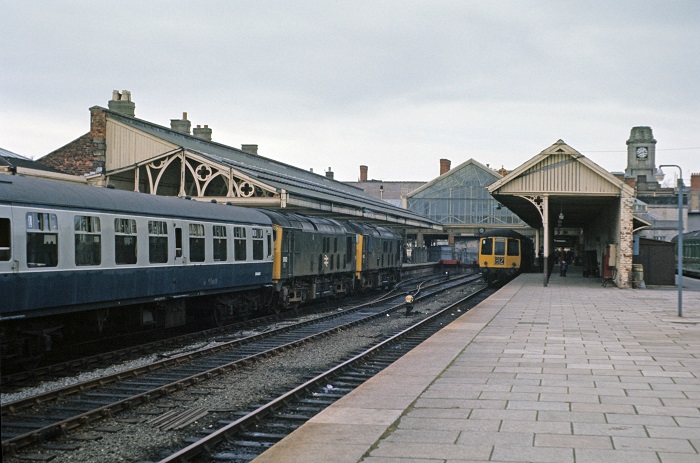 Photograph courtesy Bernard Mills.
5092 & 5142 at Aberystwyth on May 12th 1973 having arrived with the excursion from Plymouth. Although pairs of green Class 24s were still common at this time, its ironic that 5092 would never receive blue livery and that 5142 would end up a carriage heating unit.
5092 & 5050 worked the 18.30 Aberystwyth - Shrewsbury on June 8th.
1974
On June 15th 24092 was stabled at Newton Heath depot.
On July 23rd 24092 was noted shunting vans at Machynlleth.
1975
24092 was withdrawn on October 4th 1975.
24092 was one of three Class 24s (24090, 24092 & 24136) to be withdrawn during the 1975/76 purge of the Class still bearing green livery. With many of the series 24080 - 24089 having undergone Classified repairs between 1973 & 1975, similar overhauls would have been due for 24090 & 24092 in 1975/1976, but unfortunately withdrawal came first for these two machines.
flk 0122
Page added July 19th 2016.
Last updated January 31st 2022.