D5095, 5095, 24095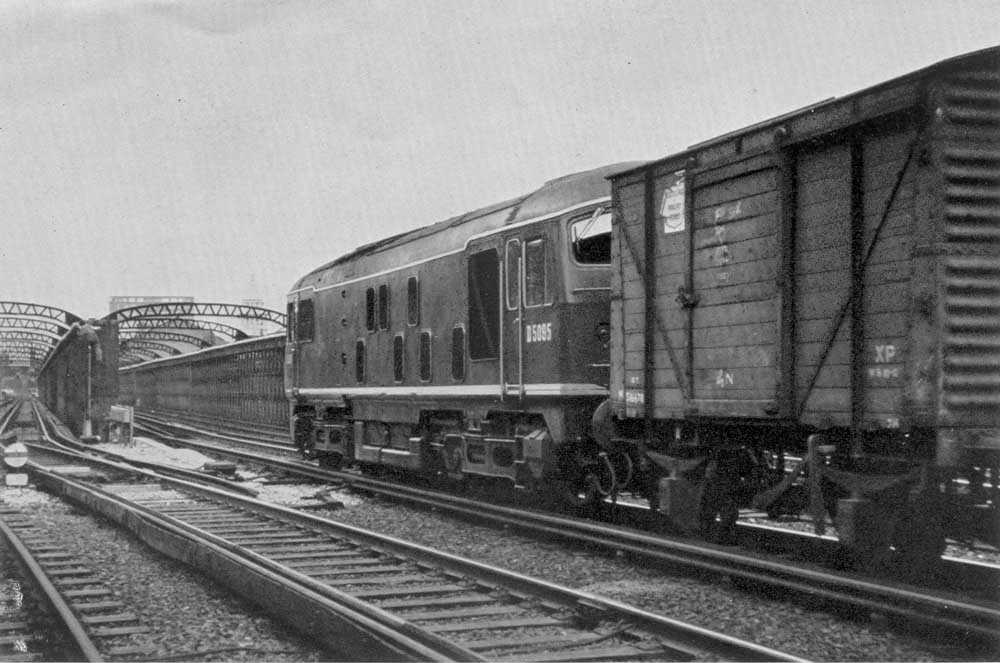 A publicity view from a period Sulzer Brothers brochure showing a reasonably new D5095 crossing Blackfriars bridge on an inter-regional freight.
The fifteen year career of D5095/24095 began with six years on the Eastern Region before transferring to the Scottish Region for the remaining nine years.
Built BR Darlington Works (batch D5094 - D5113).
Shortened fuel tank & full size water tank (retained until withdrawn).
Four upper and four lower air filters on non-BIS side, three upper and four lower on BIS side.
Headcode discs centered on cab front (Glasgow modification).
Time between last Classified repair and withdrawal: ?? months.
Time between withdrawal & scrapping: 9 months.
Allocations
The frames for D5095 were laid down at Darlington Works during November 1959, this was the 2nd Class 24 to be built here. D5095 was new to March (31B) on March 25th 1960. Further transfers were:
June 1961 to Finsbury Park (34G).
August 1966 to Haymarket (64B) on loan, made permanent October 1966.
(May 1973 shed code 64B becomes HA).
July 7th 1975 - stored unserviceable.
August 16th 1975 withdrawn from Haymarket.
Renumbered October 1973.
24095 was stored unserviceable from Haymarket depot early in July 1975 and retired about a month later on August 16th 1975. After withdrawal 24095 moved to Cadder Yard for storage until October 1975 when it was taken to Glasgow Works. It then moved to Doncaster Works on February 18th 1976 with 24008 & 24098 and broken up there during June 1976.
A familiar scene at Doncaster Works on May 2nd 1976 as 24095 & 24070 wait for a visit to the stripping area. With the frame level valencing missing from the 2nd man's side of the cab, the location of the air horns is visible.
Works Visits
Works visits (records incomplete).
Noted Doncaster Works March 1964.
Noted Eastleigh Works October 1965.
Noted Glasgow Works October 1973.
Highlights
1960
D5095 was released from Darlington Works on March 23rd.
December 17th 1960: D5095 working the 12.53am Whitemoor - Broxbourne coal train hit a derailed vehicle in the 7.14pm Romford - Whitemoor parcels at Stretham Fen, Cambridgeshire at about 2.40am. D5095 suffered considerable damage to the No.1 cab, whilst the force of the impact derailed the locomotive and sent it down an eight foot high embankment. Despite the considerable damage to the cab, the driver and second man escaped with only minor injuries.
1961
D5095 worked the 17.24 Broad Street - Hertford North on June 19th.
On the morning of July 15th D5095 was on empty coaching stock duty at Kings Cross.
1962
On July 5th D5095 worked the 08.11 Gordon Hill - Broad Street.
1963
On September 20th D173 on the 1.47pm Doncaster - Kings Cross had failed at somepoint, D5095 assisting everything to Kings Cross.
1966
Recently arrived D5095 was noted on Waverley route services on August 13th, working the 15.01 (SO) Edinburgh - Carlisle, returning with the 19.44 Carlisle - Edinburgh.
D5095 workd the 13.15 Glasgow Buchanan Street - Dundee on August 15th.
1967
D5095 worked the 07.35 Dundee - Glasgow Queen Street and the 20.10 Glasgow Queen Street - Dundee on March 11th.
1968
On April 4th D5095 worked the evening 3N25 Wigan - Leeds vans.
The 12.50 Perth - Carlisle empty coaching stock was worked by D5095 on May 27th.
1969
On April 26th 5095 & 5072 worked the 12.30 Edinburgh - Aberdeen, the next day the same pair were noted at Carstairs with a single mail coach.
1971
The 14.15 Edinburgh - Newcastle was occasionally powered by Haymarket Type 2s, noted during August were 5347 (3rd & 4th), 5325 (16th) and 5095 (25th).
Photograph collection of webmaster.
Time has marched on and in this undated view 5095 is clearly in need of some Works attention. The frame level valencing has been removed, including that from under the cab, producing an untidy look.
1973
On the afternoon of May 27th 5095 (green with full yellow ends) was stabled at Haymarket.
1974
On May 31st the diesel multiple unit working the 17.01 Dunblane - Edinburgh arrived at its destination with the assistance of 24095.
1975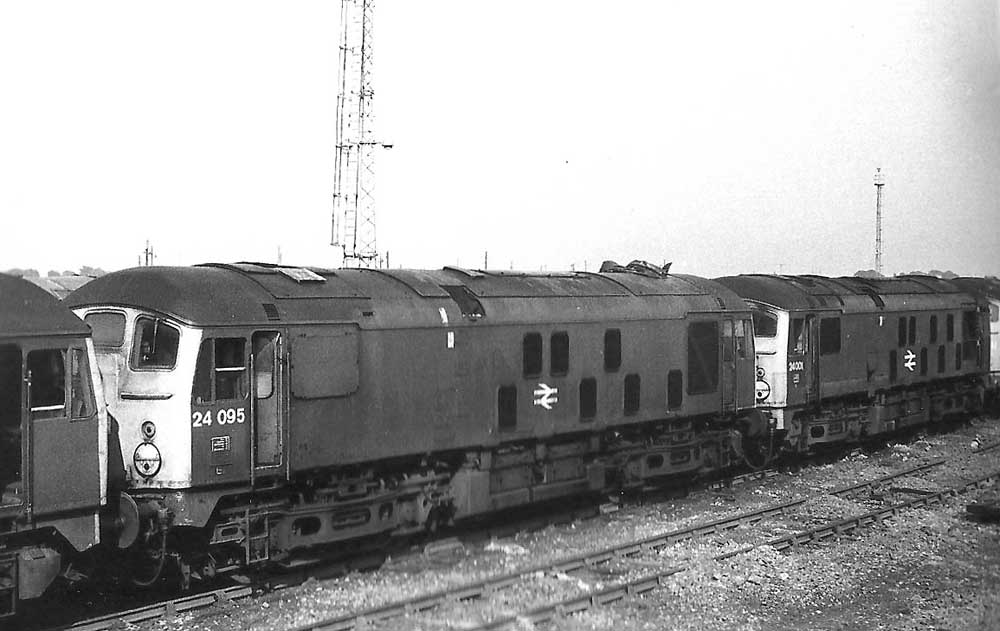 Photograph courtesy Paul Roberts.
24095 in a line of retired Class 24s at Cadder Yard during the summer of 1975. The boiler & engine exhaust ports have been sheeted over, perhaps in the hope that the locomotive might see future service at some point.
24095 was withdrawn on August 16th 1975.
flk 0122.
Page added May 13th 2012.
Last updated September 7th 2022.
Back to 24094
Forward to 24096