D5105, 5105, 24105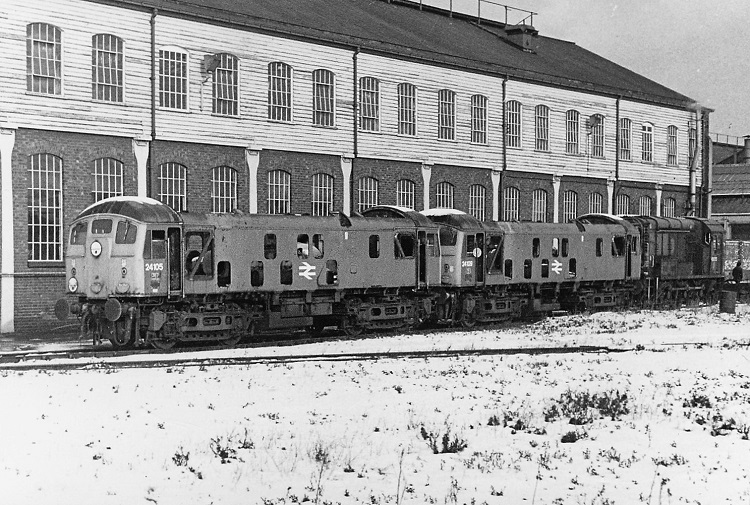 Photograph collection of webmaster.
24105 & 24109 at Doncaster Works in January/February 1978.
The fifteen year one month career of D5105/24105 was split between North Eastern Region and Scottish Region depots.
Built BR Darlington Works (batch D5094 - D5113).
Shortened fuel tank & full size water tank.
Four upper and four lower air filters on non-BIS side, three upper and four lower on BIS side.
Tyne Dock - Consett modifications (high level air pipe fitted, water tank removed).
Time between last Classified repair and withdrawal: ?? months.
Time between withdrawal & scrapping: 28 months.
Allocations
The frames for D5105 were laid down at Darlington Works during May 1960, D5105 was new to Gateshead (52A) on September 10th 1960. Further transfers were:
May 1974 to Eastfield
August 1975 - stored serviceable
October 5th 1975 withdrawn
Renumbered February 1974.
After withdrawal 24105 was stored at Cadder Yard during August & September 1975, then stored at Carlisle from September 1975 until December 29th 1977 when it was forwarded to Doncaster Works and broken up during February 1978.
Movement: 24013, 24105/109/111 07.00 Carlisle - Doncaster 9Z14 December 29th 1977.
Works Visits
Works visits (records incomplete).
Noted Darlington Works March 1961.
Noted Darlington Works June 1962.
Noted Darlington Works January & February 1963.
Noted Derby Works May & June 1966 (ex-works).
Noted Crewe Works September 1966.
Noted Glasgow Works June 1969.
Noted Glasgow Works October 1970.
Noted Glasgow Works October & November 1971.
Noted Glasgow Works October & November 1972.
Highlights
1966
Condition July: green livery with yellow warning panels, squared upper corners, warning panel does not cover frame level stripe, shortened fuel tank, full size water tank, blanking plates fitted, hand/footholds present, three-rung bogie mounted footsteps, ridge sided sandboxes, locomotive is in ex-works condition.
1969
Noted in blue livery by June.
1970
During November a local bus strike on Tyneside required the strengthening of many local diesel multiple unit services. On November 23rd authorities did not have a multiple unit available for the 17.40 Newcastle - Carlisle (and 19.55 return), a scratch set of four coaches and no heat 5105 was used. The mild weather and pre-heated stock presumably kept the passengers reasonably comfortable.
1975
On May 3rd 1975 24006 & 24105 were noted northbound at Perth with cement wagons bound for Inverness.
24105 was withdrawn on October 5th 1975.
Condition final: blue/yellow livery, gangway doors sheeted over, headcode discs centered on cab front, shortened fuel tank, no water tank, hand/footholds plated over, three-rung bogie mounted footsteps, flat sided sandboxes.
flk 1016 (partial)
Page added October 25th 2016
Last updated November 7th 2020.
Back to 24104
Forward to 24106