D5113, 5113, 24113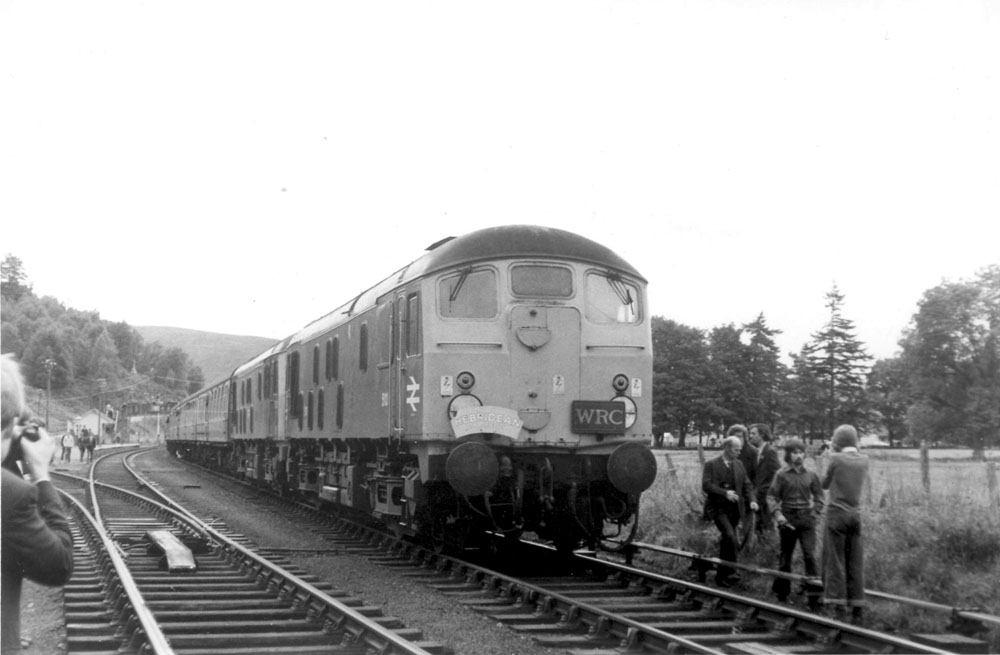 Photograph collection of webmaster
5113 & 5129 on railtour duty at Garve on September 22nd 1973.
The fifteen year nine month career of D5113/24113 began with ten years & eight months allocated to Eastern Region depots before transferring to the Scottish Region for the remaining five years.
Built BR Darlington Works (batch D5094 - D5113).
Shortened fuel tank & full size water tank (shortened water tank fitted later).
Four upper and four lower air filters on non-BIS side, three upper and four lower on BIS side.
Headcode discs centered on cab front (Glasgow modification).
Circular gauge added to fuel & water tank.
Battery Isolating Switch Cover modification (one hinged door).
Time between last Classified repair and withdrawal: ?? months.
Time between withdrawal & scrapping: 8 months.
Allocations
The frames for D5113 were laid down at Darlington Works during November 1960 and was new to Gateshead (52A) on January 29th 1961. Further transfers were:
December 1961 to Thornaby (51L).
June 1964 to Gateshead (52A).
October 1967 to Holbeck (55A).
October 1971 to Polmadie (66A).
March 1972 to Eastfield (65A).
April 1972 to Inverness (60A).
October 1973 to Eastfield.
February 1974 to Inverness.
October 1975 to Haymarket.
October 14th 1976 - stored serviceable.
October 31st 1976 - stored unserviceable.
December 31st 1976 withdrawn.
Renumbered July 1974.
24113 was stored at Millerhill from October 1976 until moved on June 17th 1977 with 24112 to Doncaster Works, where 24113 was broken up during September 1977.
Works Visits
Works visits (records incomplete).
Noted Darlington Works January 1962.
Noted Derby Works May - July 1965.
Noted Derby Works September 1968.
Noted Glasgow Works June 1970.
1st qtr 1975 Glasgow Works?
Highlights
1961
5113 worked the 12.02 Leeds - Newcastle on May 24th.
5113 worked the 17.00 Leeds - Newcastle on July 26th.
During December Gateshead sent D5112 & D5113 to Thornaby in exchange for D5156 & D5157.
1965
On Sunday April 18th the following were noted:
Gateshead: D5102, D5150, D5106, D5149, D5180, D5103, D5109, D5113
Heaton Carriage Sidings: D5178, D5108, D5147, D5177
Thornaby: D5163, D5162, D5167, D5154, D5152, D5157, D5155, D5156, D5172, D5169, D5153.
1967
On August 26th the afternoon Stranraer - Newcastle was worked by D5097 & D5113.
1968
On February 13th D5113 failed on the afternoon Leeds – Patricroft parcels somewhere in the Huddersfield area, D6863 assisted forward.
On the evening of March 8th D5113 worked the Wigan - Leeds vans.
Condition April: green livery with small yellow warning panels, no frame level stripe, gangway doors present, original engine exhaust location, BR emblem centered low down on bodyside, no blue star emblems on cab front.
On May 31st D5113 worked the 22.00 Bradford - Huddersfield.
BR Standard 70013 was again used on an RCTS organized 'The Dalesman No 2 Railtour' on June 16th. This tour departed Leeds with D7568 and nine coaches, 70013 taking over at Stansfield Hall for a run over Copy Pit and various lines between there and Carnforth. On the return D5113 replaced 70013 at Skipton for the run up the Grassington branch, the short loop there required skilful shunting to complete the run round maneuver. At this time D5113 was still in green livery with small yellow ends (curved upper corners), single BR double arrow centered on the side and retaining its original exhaust port.
During September 5113 entered Derby Works for a repair. On outshopping the locomotive gained blue & yellow livery, it received a shorter water tank with the fuel & water tanks fitted with with circular gauges (both sides), two numbers (inboard) and two BR emblems (cabside) each side. However the locomotive retained its gangway doors & original exhaust port.
1969
5113 worked the 09.40 Kings Cross - Bradford Exchange forward from Leeds? on June8th.
5113 worked the 09.08 Bradford Exchange - Poole to Huddersfield on July 5th.
5113 worked the 09.40 Leeds - Scarborough on December 14th.
1970
5113 worked the 17.20 Bradford Exchange - Kings Cross to Leeds on March 14th.
5150 & 5113 worked a Leeds - Blackpool North service on July 18th.
5113 worked the 17.40 Bradford Exchange - Kings Cross to Leeds on November 28th.
1972
5113 & 5132 worked the 09.20 Edinburgh - Inverness on December 14th.
1973
5330 & 5113 worked the 08.20 Inverness - Edinburgh on January 6th.
On June 28th 5113 was noted at Invergordon with a mixed freight.
On June 29th 5113 worked the 10.36 Inverness - Kyle of Lochalsh (still with two numbers and two emblems on each side).
5113 & 5346 worked the 11.25 Inverness - Glasgow Queen Street on August 30th.
On September 22nd the WRC Hebridean No.3 railtour (Inverness - Kyle?) was worked by 5113 & 5129.
1974
During October it was observed the footholds had been plated over, but the cantrail water filler was still extent.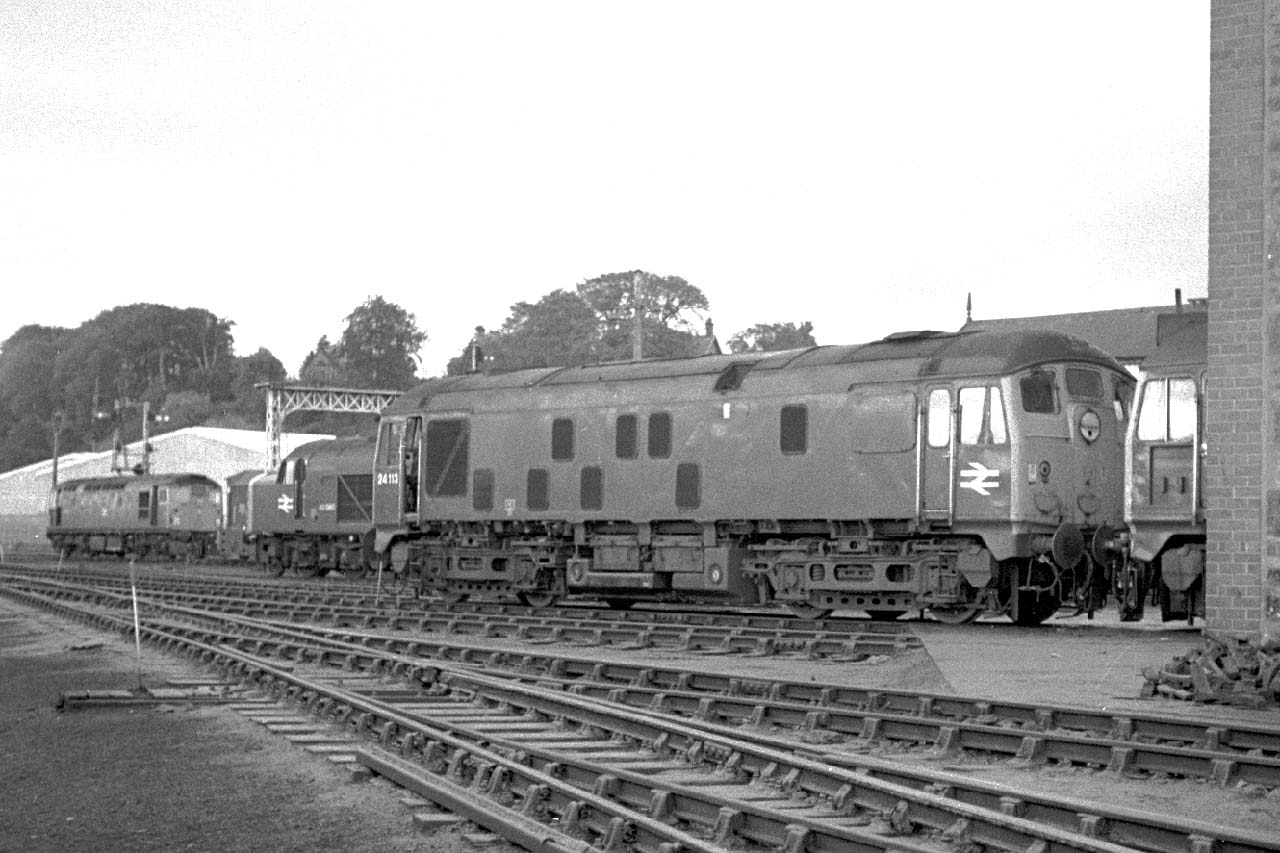 Photograph courtesy Tony Sayer
24113 at Inverness on October 2nd 1974.
1975
Traffic levels were increasing on the Highland mainline, brought about in part by the North Sea Oil boom. Unfortunately the singling of the main line during leaner times was now causing a constriction to traffic, although the greater use of Type 4 locomotives over the Highland route mitigated this somewhat. And even the bigger power encountered difficulties such as 47427 on February 5th's Up 'Clansman' (10.30 Inverness – Euston) noted arriving at Perth with 24113 assisting, both being replaced by 47211.
24113 worked the 17.40 Inverness - Kyle on February 21st.
July 8th's 09.35 Glasgow - Inverness saw 24129 & 24113 taken off the train at Perth and replaced by 26036 & 26042.
On August 7th 24113 & 26014 worked the 16.35 Inverness - Glasgow/Edinburgh.
On November 1st 26039 (ex-works) & 24113 were noted awaiting departure from Glasgow Queen Street, possibly an Inverness train. 24113 was noted at Millerhill depot on November 8th, in company with 24106.
1976
24113 was stabled at Millerhill on February 28th.
This would be the last summer for the Scottish Class 24s with their demise imminent since more Class 25s were expected on transfer from the Western Region.
On June 19th 24113 & 26012 worked the 12.15 Inverness - Glasgow.
24113 worked the 1E83 17.10 Edinburgh Waverley - Berwick on July 14th.
24113 was noted running at Inverness on July 18th and stabled at Eastfield on July 24th.
24113 was noted through Pitlochry on August 27th with a freight train including oil tanks. 24113 was stabled at Inverness on August 30th.
24113 was noted at Kyle of Lochalsh on September 2nd with a passenger service for Inverness. 24113 was noted at Motherwell on September 4th, and was noted passing Motherwell on September 9th with a freight. The next day (10th) 26027 & 24113 worked the 20.25 Perth - Edinburgh. The same pair were noted the next day (11th) working the 13.10 Edinburgh – Inverness passenger and noted later that night southbound at Perth.
On October 1st 24113 was noted on a coal train at Kirkcaldy.
During early October 24113 was noted on local workings from Tyne Yard. On October 8th, 11th & 12th it worked the 9P08 Tyne Yard - Ponteland freight. On October 14th 24113 appears to have left the area working the 05.55 Tyne Yard - Millerhill freight. Since 24113 was stored serviceable on October 14th, was this the last train it worked?
24113 was withdrawn on December 31st 1976.
Extract from Thornaby Shed Repair Record Book
D5113 for the periods 20/7/1961 - 2/11/1961 and 1/6/62 - 27/12/1962.
7/6/62 B exam
15/6/62 Cab doors
23/6/62 Exhauster top up
25/6/62 Failed at shed, compressor
27/6/62 C exam
3/7/62 Brake to be adjusted
11/7/62 Oil pressure
13/7/62-16/7/62 Air brake
18/7/62 B exam
25/7/62 Sump to exam low in oil
30/7/62 B exam
7/8/62 Lub. oil
8/8/62-9/8/62 Air pipe fractured
10/8/62 Compressor governor
15/8/62 Boiler
17/8/62 Brake to take up
20/8/62 B exam
26/8/62 Brake defective
27/8/62 Fire bottle pin
29/8/62 Bellows, Works
9/9/62 No2 end no use in tandem air pipe blanked off
12/9/62 Vac leak
14/9/62-17/9/62 Air pipe & boiler, sands
21/9/62 Air pipe
25/9/62 Brake tension spring bolts tighten up
26/9/62 B exam
28/9/62 Engine brake adjust, brake leak No1 end
1/10/62 Cut out valve
2/10/62 Cut out valve to vac side filters
3/10/62 Water joint leaking, Cut out V broken
16/10/62 B exam
25/10/62 Brakes slow releasing, brake cly piston rod oil
28/10/62 B exam
29/10/62 No5 cylinder fuel pump rack gland leaking
30/10/62 No1 end cab door won't close
31/10/62 Vac brake valve handle, sands
7/11/62 B exam, sand pipe secure, pin brake adjusting rod bolt,
8/11/62 Fuel pipe off boiler connection & nut to renew
15/11/62 Cab heater
19/11/62 Water pipe in engine room leaking, C exam
20/11/62 Sands
24/11/62 Deadman's valve to exam
28/11/62 Brake holding badly, brake tender adjust
2/12/62 B exam, vac brake valve
3/12/62 Spray head replace
4/12/62 Boiler
5/12/62 Wiper, sands
12/12/62 Brake blocks renew, sands, B exam
14/12/62 Radiator element or joint
18/12/62 Body lights
19/12/62 Boiler spray heads to change over, heater pipe renew
23/12/62 B exam
Resources:
Repair book information courtesy Peter Maynard.
flk 0122
Page added May 1st 2016.
Last updated January 17th 2022.