D5114, 5114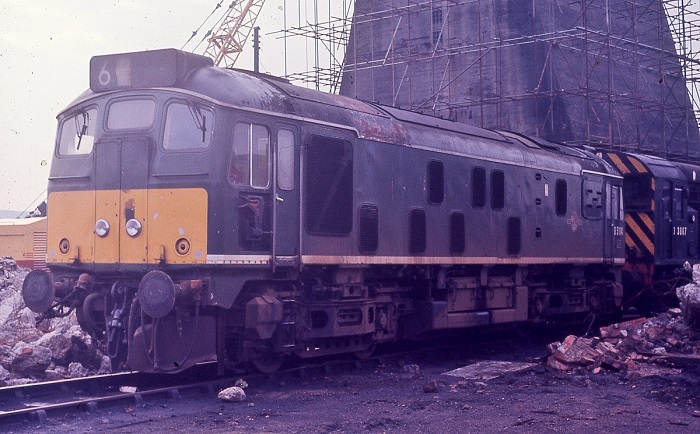 Photograph courtesy J Ashley.
A work-stained D5114 stands at Eastfield, date unknown. The Class 24 is kitted out in full Highland regalia - twin headlights, tablet catcher, weather stripping on the connecting doors, modified boiler room grille covering. It sports only one miniature snowplough, on the drivers side - and is more than likely due a shopping at Glasgow Works.
The twelve year five month career of D5114 was spent allocated only to Scottish Region depots.
Built BR Derby Locomotive Works (batch D5114 - D5150).
Shortened fuel tank & full size water tank.
Four upper and four lower air filters on non-BIS side, three upper and four lower on BIS side.
Scottish 'Highland' modifications: twin headlights, tablet catcher, boiler room grille, cantrail water filler sheeted over, winterisation features : gangway door weatherstripping, headcode box weatherproofing.
Gangway doors never removed.
Time between last Classified repair and withdrawal: ?? months.
Time between withdrawal & scrapping: 12 months.
Allocations
The frames for D5114 were laid down at Derby Locomotive Works during February 1960, D5114 was new to Kittybrewster (61A) on April 23rd 1960. Further transfers were:
April 1960 to Inverness (60A).
October 9th 1972 withdrawn.
After withdrawal 5114 was moved to Glasgow Works by November 1972 and scrapped there by the end of October 1973.
Works Visits
Works visits (records incomplete).
Noted Glasgow Works July 1969.
Noted Glasgow Works February, April & May 1971 (accident damage).
Highlights
1960
February found both Derby and Crewe laying down frames for new batches of Type 2s, Derby had D5114 - D5119 under construction for the Scottish Region and Crewe with D5080 - D5089 destined for the Eastern Region & London Midland Region. The construction of D5114 involved the first major change to the physical appearance of the Type 2s. The use of the lamp & disc method of train identification was being replaced by a four position alpha/numeric system. For the Class 24s this equipment was contained in a housing on the cab roof, considerably altering the aesthetics of the cab front, the omission of the discs and lights presented a tidier appearance.
The fitting of the tablet catcher recess on the driver's side cab required a modification to the cabside window. The driver's side window was now of the sliding type, the drop-down type was retained on the 2nd man's side.
Towards the end of May Inverness regained most of its fleet of Type 2s following the arrival of all the machines from Hornsey. Initially returning to the freight workings, May 22nd saw D5338/39 rostered for the seven coach 5.05pm Inverness - Perth, with at least one locomotive returning on the next day's 4.00pm Perth - Inverness. That same day D5114 had worked the class H 8.06am Perth - Inverness, whilst Inverness depot held D6146, the former Lochgorm Workshops now converted into the diesel servicing shed.
1962
Condition March: green livery with frame level stripe (no yellow warning panels yet), gangway doors noted in use coupled to a Class 26, full size water tank, shortened fuel tank, boiler grilles present, hand/footholds & cantrail water filler present, ridge sided sandboxes, three-rung bogie mounted footsteps, engine exhaust in original position (but may also have exhaust over engine room as well), tablet catcher equipped.
1964
Condition August: green livery with small yellow warning panels, curved upper corners, warning panel covers frame level stripe, gangway doors fitted, full size water tank, shortened fuel tank, ridge sided sandboxes, three-rung bogie mounted footsteps, boiler room grilles present, hand/footholds present, cantrail water filler present, tablet catcher fitted, three piece miniature snowploughs (black) fitted.
1972
October was not a good month for Scottish Region Class 24s, four examples were withdrawn: 5067, 5068 & 5149 from Haymarket depot and 5114 from Inverness.
1973
On May 12th Glasgow Works held its first Open Day, remarkably there were sixty four diesels on display that day, although twenty seven of those were condemned Claytons. Two class 25s were present: 5178 and 5157, the latter having a replacement cab fitted from withdrawn 5149. Class 24s noted were 5006, 5019, 5121 & 5127 under repair and elsewhere withdrawn 5067, 5114 & 5149. Parts of 5068 were still present.
The remains of 5114 were scrapped at Glasgow Works during October. However the cabs were salvaged, being sent from Glasgow Works to Derby Works for re-use, at Derby 5055 was noted having one of these cabs grafted on.
Condition final: blue/yellow livery, gangway doors still fitted but with significant weatherstripping, full size water tank, shortened fuel tank, ridge sided sandboxes, three-rung bogie mounted footsteps, blanking plates fitted (five slats), hand/footholds plated over, cantrail water filler sheeted over, tablet catcher fitted, bodyside valencing removed.
flk 1217 (1)
Page added August 12th 2016.
Last updated December 20th 2017.