D5147, 5147, 24147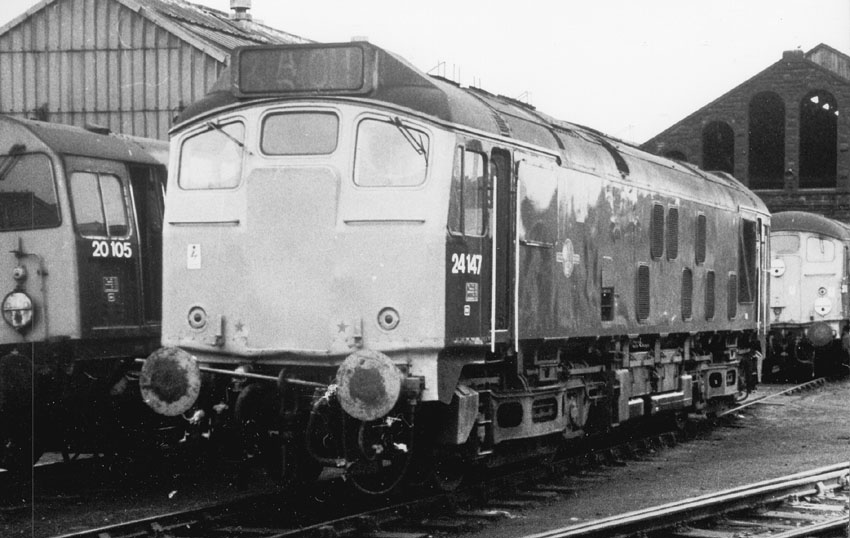 Photograph courtesy Glyn Weigh, collection of Paul Roberts
Sometime between April & September 1974, Ayr shed hosts 24147 which is still in green livery. It also carries the rather unusual headcode box fairing on both cab roofs - in place of the rectangular box is this 'one-off', which can also be found on several Class 24/1s & 25/0s.
The fifteen year seven month career of D5147/24147 was spent allocated to Eastern Region & Scottish Region depots.
Allocations
Built Derby Locomotive Works.
Shortened fuel & water tanks from new.
Four upper and four lower air filters on non-BIS side, three upper and four lower on BIS side.
Modified headcode boxes above both cabs (both with sloped sides).
Time between last Classified repair and withdrawal: 21 months.
Time between withdrawal & scrapping: 17 months.
The frames for D5147 were laid down at Derby Locomotive Works during October 1960, D5147 was new to Gateshead (52A) on December 17th 1960. Further transfers were:
November 1967 to Holbeck (55A).
October 1971 to Polmadie (65A).
March 1972 to Eastfield (65A).
August 1975 to Haymarket.
April 13th 1976 to unserviceable store.
July 18th 1976 withdrawn.
Renumbered April 1974.
After withdrawal, caused by a collision, 24147 was noted at Motherwell on May 23rd 1976, then stored at Carstairs from July 1976 to September 1977 when it was forwarded to Doncaster Works (noted York September 15th 1977) and broken up by the last week of November 1977.
Movement: 24009, 24128, 24147 Carstairs - Doncaster Works via ECML (noted York September 15th 1977).
Works Visits
Works visits (records incomplete).
Noted Darlington Works November 1963.
Noted Darlington Works September 1965.
Noted Derby Works March 1967 (full repaint, green with small yellow warning panels).
Noted Derby Works April 1968.
Noted Glasgow Works September & October 1974.
Highlights
The condition reports indicate that throughout the life of D5147/24147 the locomotive retained shortened fuel & water tanks, at some point both headcode boxes acquired sloped sides ('fairings'), and it was one of several Class 24s to carry green livery with its TOPS number applied.
1960
The completion of D5147 - D5150 closed out the order books for the BR/Sulzer Type 2s powered by the 1,160hp 6LDA28A engine, these last four locomotives were laid down at Derby during the autumn of 1960, with delivery of D5147 taking place on December 17th to Gateshead. These locomotives were boiler equipped, so found themselves diagrammed for both passenger and freight work in the Newcastle area, including the principal routes to Edinburgh, Carlisle & York.
1961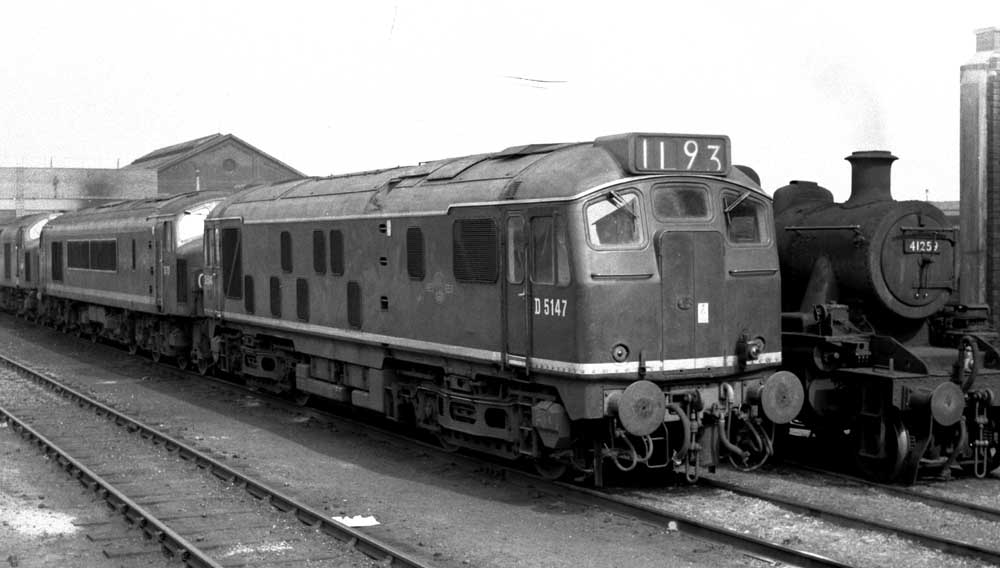 Photograph courtesy Keith Long
D5147 at Neville Hill on July 30th 1961.
1962
Gateshead's Type 2s now held a virtual monopoly on the local trip freights, frequently assigned to the Berwick, Carlisle, Thornaby & York workings. The Carlisle trips included two parcels workings, one of which returned on the 2.50am Carlisle - Newcastle passenger. They also frequently enjoyed outings on the 9.18am Newcastle (6.55am ex York) - Edinburgh, returning with the 2.25pm ex Edinburgh. From April 16th - 19th this turn was powered by D5147, D5097, D5104 & D5148.
1963
D5147 was noted at Darlington Works during November.
1965
On Sunday April 18th the following were noted:
Gateshead: D5102, D5150, D5106, D5149, D5180, D5103, D5109, D5113
Heaton Carriage Sidings: D5178, D5108, D5147, D5177
Thornaby: D5163, D5162, D5167, D5154, D5152, D5157, D5155, D5156, D5172, D5169, D5153.
D5147 was noted at Darlington Works during September.
1967
D5147 was noted at Derby Works during March. When outshopped with a full repaint, the No.1 cab roof was fitted with a modified headcode box, with sloped sides.
Condition April (ex-works): green livery with small yellow warning panels, square upper corners, warning panel covers frame level stripe, ridge sided sandboxes, three-rung bogie mounted footsteps, steam style shedplate on cabfront, no blanking plates, hand/footholds present, No.1 cab roof fitted with a modified headcode box, with sloped sides, engine exhaust in original position.
During 1967 double headed Gateshead Type 2s were again diagrammed to work the Saturday's only Newcastle - Ayr - Stranraer passenger in both directions. So noted in June & July were D5097/D5112 (24th), D5149/D5112 (1st), D7601/D5149 (8th), D7611/D5051 (15th) & D5101/D5112 (22nd), Scottish examples filled in, especially on the eastbound runs after failures had occurred. These workings must be considered one of the more interesting service/routes worked by the Class 24s, regretably there seems to be little photographic record of these workings.
The final summer working of the Saturday's only Stranraer – Newcastle passenger occurred on September 2nd with Gateshead's D5150 & D5147 in charge.
1968
The north-west's parcels trains were gradually transitioning from steam to diesel - the afternoon Leeds City - Patricroft became a regular Holbeck Type 2 working, noted in January were D5147 (10th)-still allocated to Gateshead, D5096 (12th) & D7573 (26th). On the evening of January 19th D5147 was noted at Manchester Victoria with the Wigan - Leeds vans.
Visitors to Derby included D5147 in April.
After calling Gateshead home for seven years 5147 - 5150 were allocated to Leeds Holbeck (55A) during September.
1969
The summer only passenger workings between Newcastle, Ayr & Stranraer continued to be diagrammed for Type 2s. The 23.45FO Newcastle - Stranraer and the 13.50SO return working brought the following machines in July: 5188/5190 (5th), 5147/5281 (12th), 7555/7564 (19th) and 5182/5196 (26th). This service had seen Class 40s in 1968, though these had not ventured beyond Ayr due to lack of driver knowledge on the Stranraer line. Loads varied between nine & twelve coaches.
1970
On March 14th 5147 worked a roundtrip Leeds City - Sheffield Midland football special.
The last summer season working of the 09.25 Scarborough - Manchester ran on September 5th behind 5182 whilst the 11.00 (SO) Filey - Huddersfield was noted behind 5147.
1971
As part of the reshuffling of the fleet in October 5147 - 5150 moved to the Scottish Region to assist in the withdrawal of the remaining NBL & Clayton products. 5147 & 5148 moved to Polmadie (66A) whilst 5149 & 5150 moved to Eastfield (65A).
1972
When Polmadie closed during March 5147 & 5148 moved to Eastfield (65A), joining 5149 & 5150.
1973
On May 26th/27th 5147 was noted at Motherwell (green livery with full yellow ends, Lion & Wheel crest, new style numbers on one cab only, plain numbers on the other three).
1974
During the spring Eastfield repainted 24147 in green livery.
Condition August: green livery with full yellow cabfronts, TOPS numbering, gangway doors sheeted over, blanking plates fitted, hand/footholds plated over, straight sided sandboxes, three-rung bogie mounted footsteps.
24147 was noted at Glasgow Works during September & October.
On November 26th the 17.15 Edinburgh - Dundee diesel multiple unit failed shortly after departure, 24147 was used to push the unit back into Waverley, where another unit was found to work as far as Cupar.
1975
The last transfer for 24147 was from Eastfield to Haymarket during August.
The infamous 1E83 17.10 Edinburgh – Newcastle continued to operate with a variety of motive power during September with 55004 (8th), 24110 (15th) & 24147 (19th). Other workings reported include on October 7th 24147 on the 17.52 Dundee – Glasgow Queen Street throughout.
1976
During April 24147 was stored at Haymarket having sustained minor collision damage to one cab, it was noted at Motherwell in late May, by July it had been withdrawn, and was moved from Haymarket to Carstairs.
Condition final: blue/yellow livery, gangway doors sheeted over, blanking plates fitted, hand/footholds plated over, straight sided sandboxes, three-rung bogie mounted footsteps??, both headcode boxes were modified with sloping sides.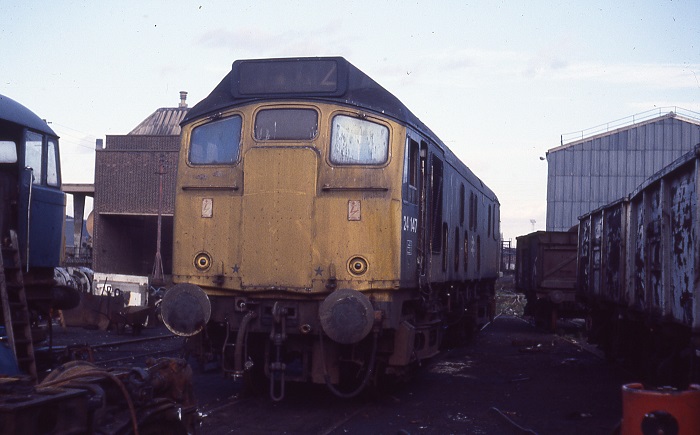 Withdrawn from Haymarket during July 1976 24147 spent over a year in Carstairs shed keeping company with the local pidgeons. Finally removed to Doncaster Works, 24147 is seen here on October 23 1977. The locomotive carries the unusual cab roof headcode housing, similar to the Class 25/1's but without the horn receptacles. Within a month 24147 would be gone.
flk 0322 (1)
Page added September 10th 2016.
Last updated March 15th 2022.
Back to 24146
Forward to 24148