D5148, 5148, 24148
Photographer not known at this time.
D5148 hauls a variety of coal/coke wagons, presumably somewhere in the northeast. This particular machine sports the small yellow warning panel with squared corners, also visible on the cabfront is a steam style shed allocation plate. And suspended from the bufferbeam appears to be a shunters pole.
The fourteen year ten month career of D5148/24148 was spent allocated only to Eastern Region and Scottish Region depots.
Built Derby Locomotive Works.
Shortened fuel & water tanks (from new).
Four upper and four lower air filters on non-BIS side, three upper and four lower on BIS side.
Circular gauges added to fuel & water tanks.
Modified Headcode boxes, cabroof mounted - with sloped sides (no horn receptacles) both cabs (1969).
Roof modification (above generator/brake cubicle): no raised panels, but with 'collar'.
Time between last Classified repair and withdrawal: ??
Time between withdrawal & scrapping: 26 months.
Allocations
The frames for D5148 were laid down at Derby Locomotive Works during October 1960, D5148 was new to Gateshead (52A) on December 23rd 1960. Further transfers were:
September 1968 to Holbeck (55A).
October 1971 to Polmadie (66A).
March 1972 to Eastfield (65A).
August 1975 to store.
October 5th 1975 withdrawn.
Renumbered April 1974.
After withdrawal 24148 was stored at Carlisle during July 1976, then at Carstairs until October 26th 1977 when it was forwarded to Doncaster Works and broken up by December 1977.
Movement: 24001/72, 148 9Z14 07.00 Carlisle - Doncaster October 26th 1977.
Works Visits
Works visits (records incomplete).
Noted Darlington Works February 1962.
Noted Darlington Works January & February 1964.
Noted Derby Works October 1965.
Noted Derby Works February 1967.
Noted Derby Works March 1969 (full repaint, green to blue/yellow, modified headcode boxes added, engine exhaust relocated).
Noted Glasgow Works August & October 1970.
Highlights
1960
The completion of D5147 - D5150 closed out the order books for the BR/Sulzer Type 2s powered by the 1,160hp 6LDA28A engine, with delivery for D5148 made during Christmas Week of December 1960 to Gateshead. These locomotives were boiler equipped, so found themselves diagrammed for both passenger and freight work in the Newcastle area, including the principal routes to Edinburgh, Carlisle & York.
1962
D5148 was noted at Darlington Works in February.
Gateshead's Type 2s now held a virtual monopoly on the local trip freights, frequently assigned to the Berwick, Carlisle, Thornaby & York workings. The Carlisle trips included two parcels workings, one of which returned on the 2.50am Carlisle - Newcastle passenger. They also frequently enjoyed outings on the 9.18am Newcastle (6.55am ex York) - Edinburgh, returning with the 2.25pm ex Edinburgh. From April 16th - 19th this turn was powered by D5147, D5097, D5104 & D5148.
1964
D5148 was at Darlington during January & February.
Condition no date: D5148 noted green livery with small yellow warning panels, at one time with curved upper corners and later with squared upper corners.
1965
D5148 was at Derby for repair during October.
1966
Condition August: green livery with lower body stripe, small yellow warning panel, straight upper corners, shortened fuel & water tanks, no blanking plates, hand/footholds present, ridge sided sandboxes, three-rung bogie mounted footsteps, standard headcode boxes, all valencing present, engine exhaust located above engine room, roof was remarkably clean suggesting not long out of Works.
1967
D5148 was noted during February at Derby Works.
1968
Condition May: green livery with frame level stripe and small yellow panels, square upper corners, warning panel covers frame level stripe; steam style shed plate on cab front (52A), gangway doors in place.
After calling Gateshead home for seven years 5147 - 5150 were allocated to Leeds Holbeck (55A) during September.
1969
Condition month uncertain (March?) but very ex-works: blue/yellow livery, two numbers on each bodyside (no 'D' prefix), BR emblems on each cabside, gangway doors present, shortened fuel & water tanks - both fitted with circular gauges, blanking plates fitted, hand/footholds present, ridge sided sandboxes, two-rung bogie mounted footsteps, headcode panels with non-standard sloping wings (both cabs), all valencing present, engine exhaust located above engine room.
D5148 was noted at Derby Works during March in blue livery with both headcode panels having the non-standard sloping wings (no horn receptacles).

Photograph courtesy of Alistair Holt/KDH Archive.
5148 at Holbeck circa July 1969. The locomotive is not too long out of Derby Works. It left the Works with a full set of valencing, but now the valencing above the battery boxes has been removed. It has also recieved headcode boxes with sloping sides above both cabs. The fuel and water tanks have recieved circular gauges. The engine exhaust had previously been relocated above the engine room and the raised panel which contained the circular exhaust above the boiler room removed. Compare this view with that of 24148 below and note that in its later repair at Glasgow the raised panel containing the engine exhaust was removed.
1970
5148 was noted from August to October under repair at Glasgow Works.
1971
As part of the reshuffling of the fleet in October 5147 - 5150 moved to the Scottish Region to assist in the withdrawal of the remaining NBL & Clayton products. 5147 & 5148 moved to Polmadie (66A) whilst 5149 & 5150 moved to Eastfield (65A).
1972
When Polmadie closed during March 5147 & 5148 moved to Eastfield (65A), joining 5149 & 5150.
1975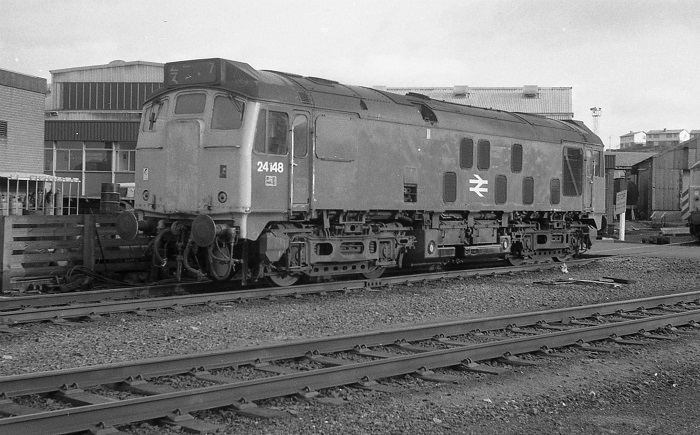 Photograph collection of webmaster.
24148 at Eastfield depot, date unknown.
24148 worked the local Hexham pick up goods on January 30th.
The big inroads to the Class 24s in the summer included 24148, being stored in August and withdrawn on October 5th 1975.
flk 0322 (1)
Page added September 10th 2016.
Last updated March 14th 2022.