D5153, 5153, 25003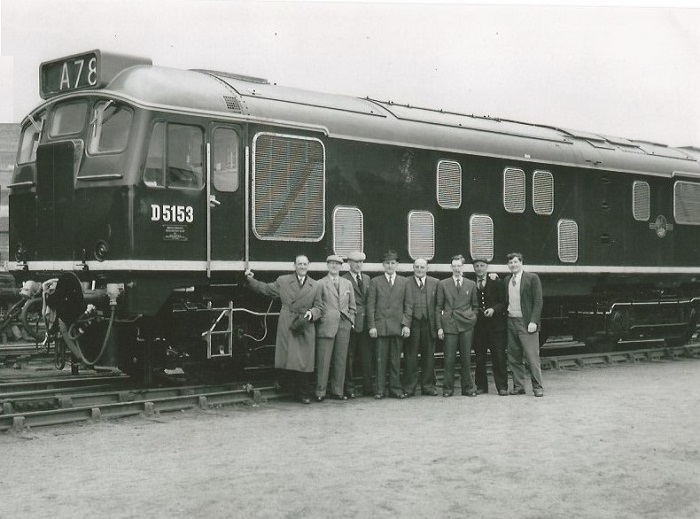 Photograph courtesy Lynne Gibson.
D5153 at Darlington Works circa May 1961. Left to right in the view are John Dixon pattern shop foreman, Jack Spackman electrical foreman, Ben Potts wheel shop foreman, Dick Brass coppersmith foreman, Bill Feldon electric shop chief foreman, George J Fletcher chief draughtsman, not known but chief shunter in works yard, Ron Hodsdon photographer BR Eastern Region.
The fifteen year three month career of D5153/25003 included allocations to Eastern, London Midland & Scottish Region depots.
Built: BR Darlington Locomotive Works.
Tested during 1967 with high visibility paint on the cab front panels, similar to D5159.
Time between last Classified repair and withdrawal: 10 months.
Allocations
D5153 was new to Thornaby (51L) on May 10th 1961. Further transfers were:
November 1967 to Carlisle (12A) on loan, made permanent December 1967.
January 1968 to Springs Branch (8F).
May 1968 to Longsight (9A).
June 1968 to Manchester Division (D09).
October 1972 to Haymarket (64B).
May 1974 to Tinsley.
July 1975 to Eastfield.
Withdrawn August 18th 1976 (collision damage to No.1 cab, 2nd man's side).
Renumbered March 1974.
25003 was the 10th Class 25 withdrawn, one of two retired during August 1976.
After withdrawal 25003 was moved to Glasgow Works by early October 1976 and scrapped there by January 1978.
Works Visits
Works visits (records incomplete).
Noted Derby Works July & August 1965.
Noted Derby Works April & May 1966 (ex-works repaint).
Noted Derby Works October 1967.
Noted Derby Works August 1974.
Noted Derby Works October 1975 (classified repair, full repaint).
Highlights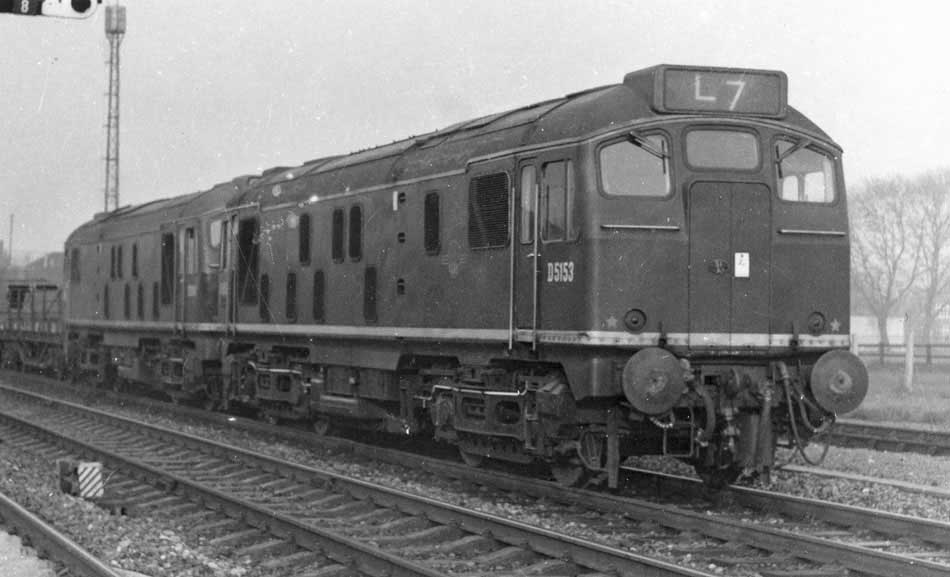 Photograph collection of webmaster.
Thornaby based D5153 is seen very early in its career, little changed from the day it was outshopped from Darlington Works. The location is not known but maybe in the York area.
1967
On or about August 4th 1967 D5153 (in green livery, with small yellow warning panels which include the high visibilty paint also being tested on D5159) was noted lying on its side at Hesleden Bank (Hartlepool), presumably having run through catchpoints? It presumably required a Works visit to rectify the damage sustained to its side.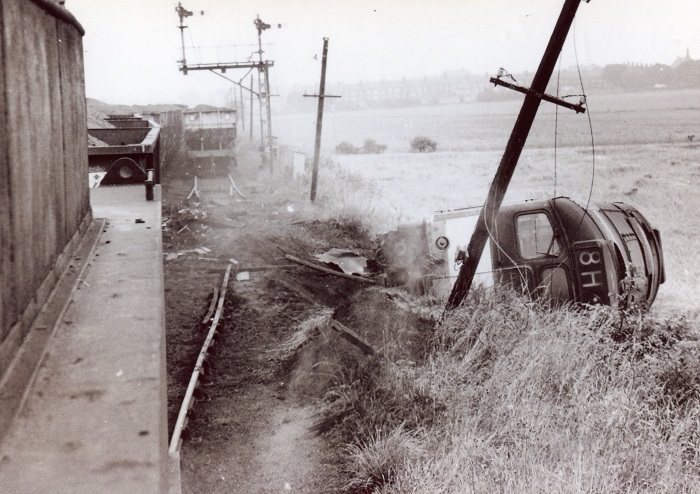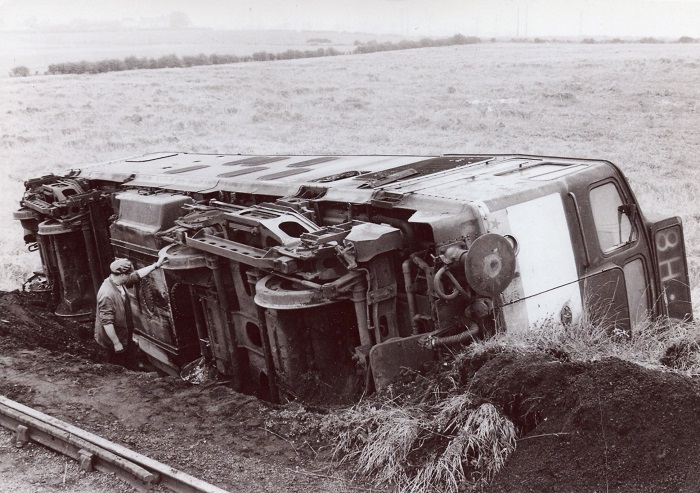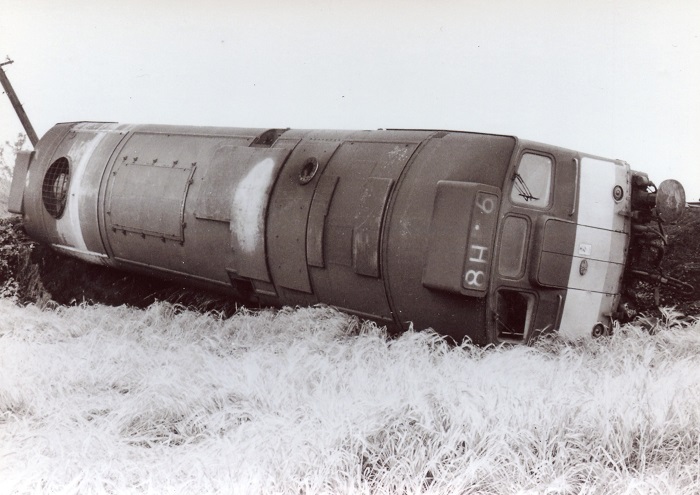 Photographs courtesy of Regal Walker. The views are used with the permission of the owner, who is the son of the railway worker sent out to investigate the derailment of D5153. Copies of these views and many others are available from the seller's Ebay store.
Three views of D5153 derailed at Hesleden, on or about August 4th 1967.
On December 23rd D5153 was noted at Manchester Victoria with the 3P03 vans.
1969
5153 was the Manchester Victoria pilot on November 18th (with 7592), 24th (with 5187), 25th, 26th (with 5197).
1970
On February 9th & 10th 5153 was noted at Patricroft with an up van train. 5153 was the Manchester Victoria pilot on February 13th (with 7542) & 20th. 5153 & 5154 were the Manchester Victoria bankers on February 25th.
5153 was the Manchester Victoria pilot on March 5th, 6th & 9th.
1972
The only recorded passenger working so far known took place on June 17th 1972 with 5153 & 7646 working the 08.58 Derby - St. Pancras throughout.
1973
On March 17th 5153 worked the local freight over the Dyce - Fraserburgh freight only line.
An odd combination noted working the 6M70 18.50 Millerhill - Carlisle freight was 5153 leading 1534 on April 10th.
In the early hours of May 26th 5153 was noted at Motherwell depot in plain green with full yellow cabfronts.
1974
Condition May: gangwaydoors present, circular guage present on side of fuel tank.
1975
25003 was noted at Millerhill depot on November 8th, in company with 24106 & 24113.
1976
25003 was noted outside Polmadie shops on January 3rd.
July 26th, 25003 & 25025 were stabled at Ayr depot.
25003 was withdrawn on August 18th 1976.
Not all known passenger workings are recorded on this page.
1/128
flk 0417
Page added August 10th 2013.
Last updated January 3rd 2020.