D5154, 5154, 25004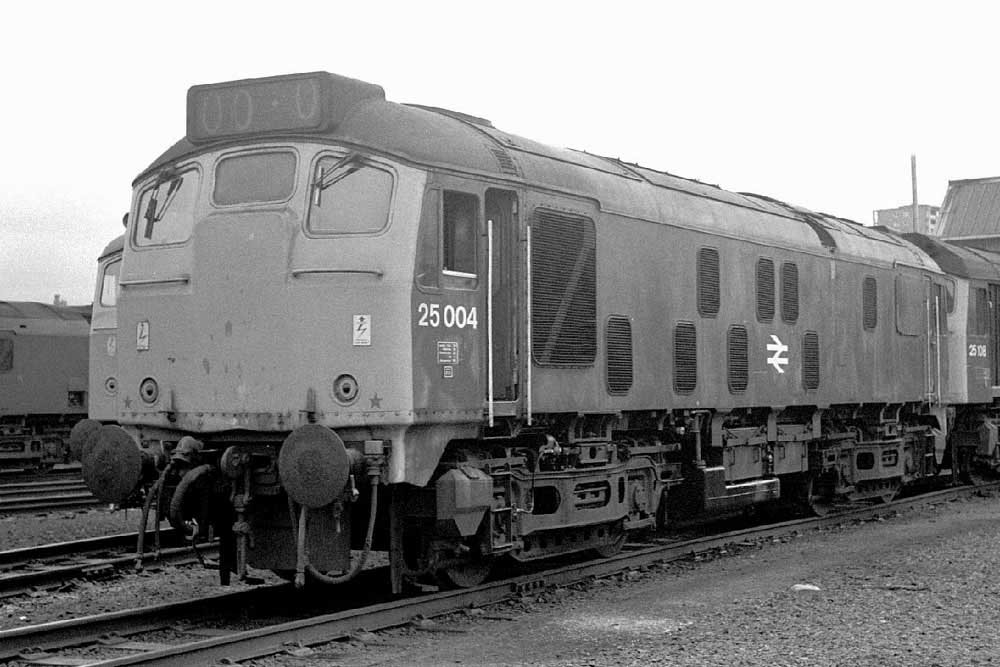 Photograph courtesy Tony Sayer.
June 5th 1976 finds 25004 at Eastfield, this will be the last summer for 25004. With less than three months remaining in service it will be retired and dumped at Polmadie for six months before being moved to Glasgow Works where it will be cut up during September/October 1977.
The fifteen year four month career of D5154/25004 included allocations to Eastern, London Midland & Scottish Region depots.
Built: BR Darlington Locomotive Works.
Allocations
D5154 was new to Thornaby (51L) on May 20th 1961. Further transfers were:
December 1966 to York (50A) 1967.
June 1967 to Holbeck (55A).
September 1967 to Thornaby (51L).
November 1967 to Carlisle (12A) on loan, made permanent December 1967.
January 1968 to Springs Branch (8F).
May 1968 to Longsight (9A).
June 1968 to Manchester Division (D09).
October 1972 to Haymarket (64B).
May 1974 to Tinsley.
July 1975 to Eastfield.
Withdrawn September 15th 1976.
Renumbered April 1974.
25004 was the 12th Class 25 withdrawn, one of two retired during September 1976.
After withdrawal 25004 was stored at Polmadie from November 1976 to May 1977 when it moved to Glasgow Works and scrapped there by the beginning of October 1977.
Works Visits
Works visits (records incomplete).
Noted Darlington Works January 1963.
Noted Derby Works October 1965.
Noted Derby Works October 1966.
Noted Glasgow Works October 1975.
Highlights
1961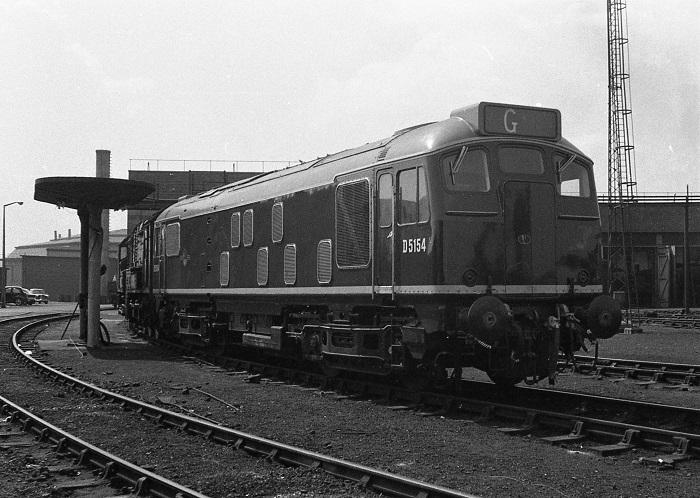 Photograph collection of webmaster.
D5154 at Thornaby on May 27th 1961, the locomotive has officially been in service for seven days.
1964
February 1st saw the closure of Bishop Auckland shed, many Thornaby Type 2's had worked various turns from this depot. Its duties and engines were taken over by the delayed opening of Shildon. The last day found seven diesels and two steam engines working off the shed. Cl 3 2-6-0 77010 was the last steam locomotive to leave, working the 6.35am pick-up to Stanhope. The last engine off was D5154 on the 2.55pm mineral turn from Brancepeth Colliery to Belasis ICI plant. As the locomotives ended that day's duties they returned to Shildon for stabling. With this changeover an intensive set of twenty diagrams were set up for seven Sulzer 2's based at Shildon, with weekly visits to Thornaby for fuel and scheduled maintenance. No provision was made for a spare unit, causing the later turns to operate at all hours if problems were encountered earlier in the day!
1968
The 09.00 Liverpool - Glasgow was regularly worked to Preston by steam during the first four months of the year. The increasing availability of diesels saw these opportunities greatly reduced by May, whilst early in June noted were D5262 (3rd), D5248 (4th), D5154 (8th) and D7589 (15th).
Condition June: green livery with frame level stripe, small yellow warning panels, square upper corners, uncertain if bottom of warning panel covers frame level stripe, no blanking plates, hand/footholds present, engine exhaust in original condition, ridge sided sandboxes, three rung bogie mounted footsteps, steam style shedplate on cab front, all valencing present.
June 29th was the last day of steam at Patricroft & Newton Heath sheds, D5154 was the Manchester Victoria pilot that day.
1969
5154 was the Manchester Victoria pilot on December 10th.
1970
5154 was the Manchester Victoria banker on February 23rd, joined by 7541 on February 24th and by 5153 on February 25th.
5154 was the Manchester Victoria pilot on May 26th, 5196 was the banker.
Condition April: green livery, frame level stripe, small yellow warning panels which cover frame level stripe, square corners, engine exhaust in original position, two-piece miniature snow ploughs, shed plate on cabfront.
On April 29th whilst negotiating the crossovers at the center of Manchester Victoria station 7573 become derailed. The Newton Heath breakdown crane arrived behind 5154, taking about an hour to put 7573 back on the rails.
The 16.25 York - Newcastle parcels was noted with a variety of power through out the month including 5154 on May 26th.
1971
5154 was the Manchester Victoria banker on March 11th.
5154 was the Manchester Victoria banker on May 6th & 11th.
1975
The passenger workings so far recorded for D5154/25004 are very sparse. On July 21st 1975 the 20.46 Dundee - Glasgow Queen Street was worked by 25004. A shortage of multiple units led to a number of diesel substitutions in the Edinburgh area, principally using Type 2's & hauled stock. One such was 25004 working the 17.15 Edinburgh – Dundee on November 11th 1975.
1976
25004 was withdrawn on September 15th 1976.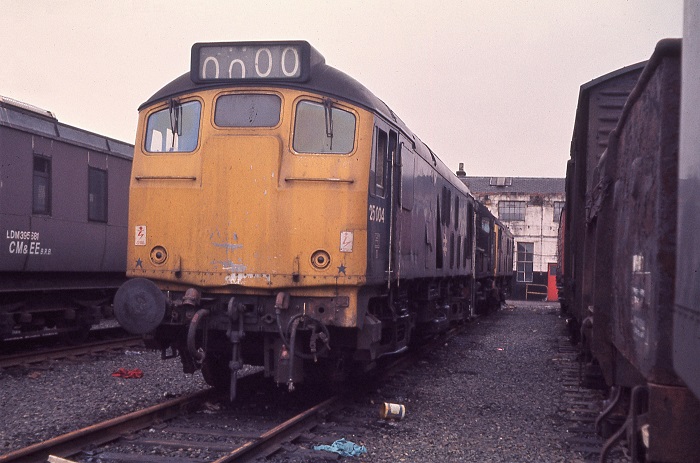 25004 on March 5th 1977, the locomotive has been withdrawn for about six months.
Not all known passenger workings are recorded on this page.
2/142
flk 0417 (2)
Page added August 10th 2013.
Last updated January 2nd 2020.