D5160, 5150, 25010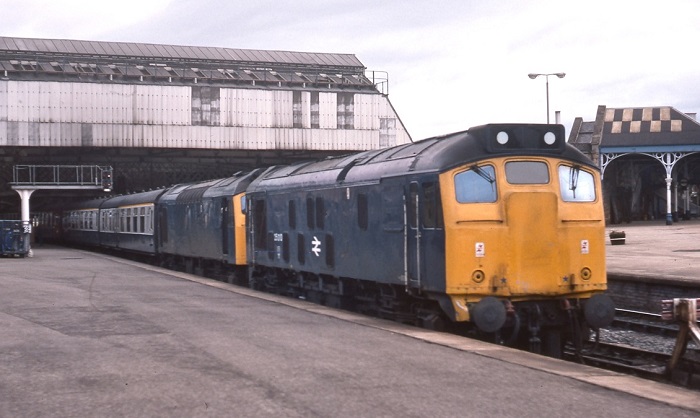 Photograph courtesy Peter Lovell
25010 & 25085 at Perth on July 12th 1980 with the 09.05 Perth - Kensington Olympia motorail.
The nineteen year six month career of D5160/25010 included allocations to Eastern and Scottish Region depots, including ten consecutive years allocated to Thornaby.
Built: BR Darlington Locomotive Works.
Modified Headcode boxes - Class 25/1 style (with horn receptacles): No.1 cab only.
No.1 end cab roof had no air vents above the cab doors at withdrawal (Air vents discontinued from D5176 onwards).
Time between last Classified repair and withdrawal: 20 months.
Time between withdrawal and scrapping: five months.
Allocations
D5160 was new to Thornaby (51L) on August 19th 1961. Further transfers were:
August 1971 to Holbeck (55A).
January 1972 to Eastfield (65A).
May 1974 to Haymarket.
October 1974 to Tinsley.
August 1975 to Eastfield.
May 1978 to Haymarket.
December 29th 1980 stored serviceable.
Withdrawn December 29th 1980 (although also reported as February 11th 1981 - was this an oversight correction?).
Renumbered April 1974.
25010 was one of seventeen Class 25s withdrawn during December 1980.
At withdrawal 25010 was quickly prepared for movement to Swindon Works (see details below), for at least part of the journey 25010 powered the dead engine convoy, arriving February 14th 1981 and scrapped by the beginning of June 1981.
25010/11/23/87 Millerhill? – Swindon Works, February 6th - 14th, 1981 (noted passing Saltley behind a Class 31).
Works Visits
Works visits (records incomplete).
Noted Darlington Works August 1963.
Noted Derby Works January 1965.
Noted Derby Works February 1967.
Noted Derby Works February 1971.
Noted Derby Works March & April 1973.
Noted Glasgow Works February - April 1978 (gangway doors sheeted over - the last to be done for a Class 25?).
Highlights
1963
In the early hours of July 31st D5160 was involved in a fatal accident which revealed troubling issues related to the locomotive and its crew. D5160 & a brake tender were in charge of the 1.0am Class 8 freight from Tees Yard to Northallerton, travelling ahead of it was the 1.30am Class 8 freight from Tees Yard to Washwood Heath hauled by a Class 37 and brake tender.
Just north of Rounton Gates signal box the Northallerton bound freight rear ended the Washwood Heath train, impact speed was approxiamately 30mph, the leading train was barely moving having just started to pull away from a signal stop. D5160 had been propelling a 35ton brake tender, which demolished and set fire to the brake van of the leading train. The wagon next to the brake van, a 40ton bolster wagon carrying rolled steel lost its bogies and was thrown upside down across both running lines. The brake tender was demolished in the collision, D5160 rode over it sustaining severe damage to the cab.
The guard of the Washwood Heath train was severely injured in the collision and died shortly after reaching the hospital. The investigation showed the driver of D5160 to be a troubled man. He was approaching retirement age and had been driving diesel locomotives for about five months. He had suffered from dizzy spells for about fifteen months prior to the accident, since transferring to diesel locomotives his stomach had troubled him, unable to keep down food after he had been driving the diesels. Cooking smells also upset him, at the time of the accident the second man was in the rear cab cooking up his breakfast of bacon and eggs on the hotplate. At this time all nightime diesel workings were doubled manned to provide protection for the crews in case of drowsiness brought on by the more comfortable environment found in the diesel locomotive cabs. The second man had been in the rear cab for about fifteen minutes and had not monitored any of the signals. Additionally the guard of the train admitted to only a casual observance of the signals on that trip.
The driver could remember nothing of the final moments of the journey, either because of a spell of dizzyness or drowsiness impairing his actions. Equally as disturbing was the operation of the deadman's pedal, which although found to be in proper working order after the collision appeared to have been operational by the action of a downward pressure lower than that prescribed by the manufacturer - if the driver had fallen asleep the weight of his legs would normally have been inadequate to keep the pedal depressed. In the case of the pedal in D5160 it was operating outside of its designed specifications and allowed the locomotive to operate with the driver incapacitated, therefore making the device virtually of no use.
During August D5160 was noted in Darlington Works & Yard presumably for accident repairs.
1967
Despite its ten years of freight service from Thornaby depot D5160/25010 acquired a small selection of passenger workings, including at least one whilst allocated to Thornaby. The SLS 'Three Dales Railtour' on May 20th 1967 from Stockton to Middlesborough was worked between Redmire & Darlington by D5160 with 62005 at the rear.
D5160 worked the 7B61 14.10 Tees Yard - Dringhouses on August 17th, with K1 62005 as the pilot, the steam locomotive going forward to Leeds for examination at Hunslet's Works.
1971
Date uncertain - 5160 was noted at Derby Works with considerable collision damage to the No.2 cab on the driver's side. The locomotive carried blue livery with full yellow ends, no 'D' prefix, fitted with gangway doors, a steam style 55A shedplate, a modified headcode roof panel sportings wings but no horn receptacles, three rung bogie mounted footsteps, straight sided sandboxes, buffer beam mounted steam heating connections, original engine exhaust location and oval coach type buffers, presumably these had replaced the damaged round ones to allow movement to Derby Works. During the repair the headcode box reverted to the normal rectangular type (no wings or horn receptacles) and the gangway doors were not sheeted over.
1972
November 6th found 5160 working a ballast train from Girvan to Stranraer. Its progress was halted after it caught fire and ran away over the steep gradients near Pinwherry. The locomotive was quickly evacuated to Eastfield for assessment of repairs.
1973
On May 17th the 13.45 Derby - St. Pancras with Class 45 No.91 was piloted to Leicester by 5160, which was on test from Derby Works.
On September 2nd fourteen locomotives were stabled at Ayr depot including 5007, 5156 & 5160.
1975
On July 26th 25010 worked the 07.18 Sheffield - Skegness and 10.55 Skegness - Sheffield via Beighton.
1976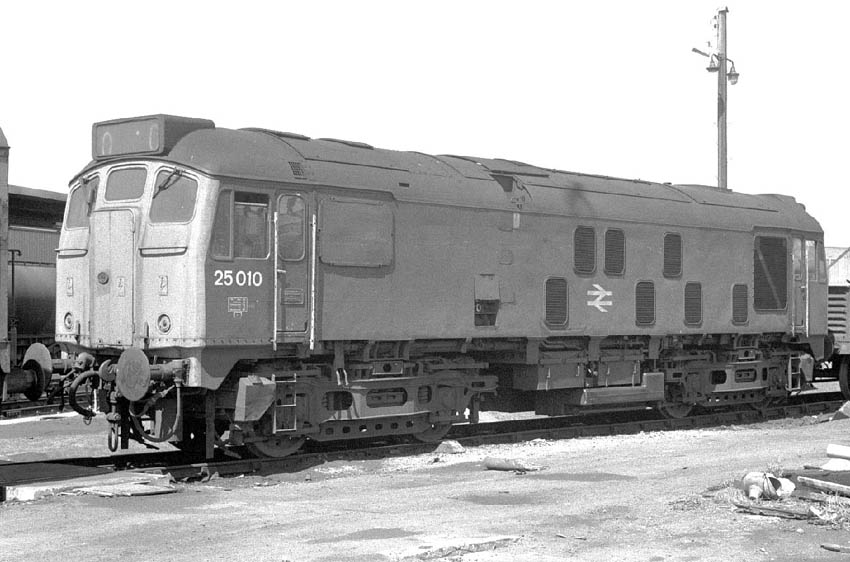 Photograph courtesy Tony Sayer
A fine study of 25010 at Ayr on June 6th 1976, with the No.2 end retaining the standard headcode box for a Class 25/0. This shows the battery isolating switch side of the locomotive. The locomotive retains the gangway doors, these would be sheeted over at the next works visit. The steam style shed plate is still afixed to the cabfront!
25010 was stabled at Stranraer Harbour on June 20th.
1977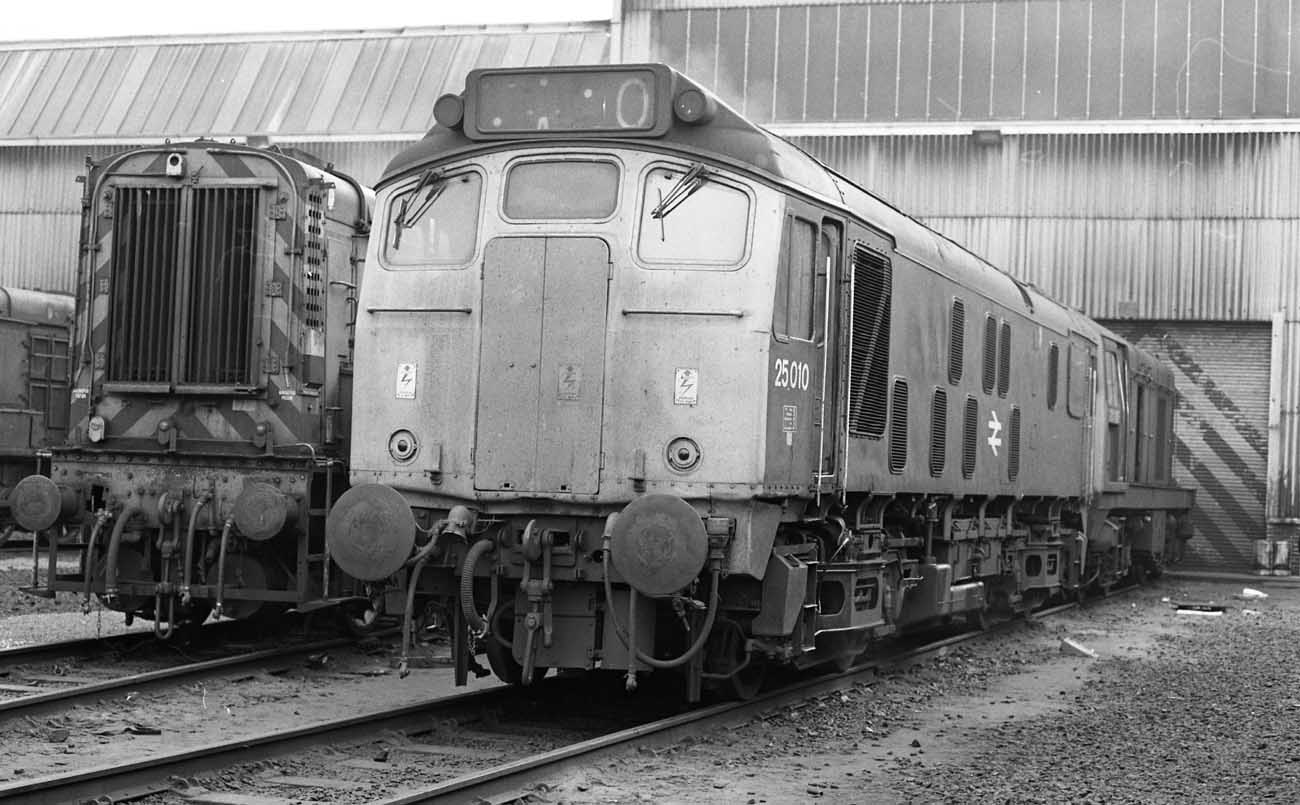 Photograph courtesy Danny Preston, collection Neil Johnson
25010 at Eastfield on April 9th 1977. The No.1 cab clearly shown is its borrowed cab roof/headcode box from a Class 25/1.
1978
Whilst allocated to the Scottish Region 25010 received an overhaul at Glasgow during April - May 1978, on May 15th 25010 piloted a Class 27 on the 10.44 (?) Glasgow Queen Street - Dundee and 13.38 (?) return as running-in turns from Glasgow Works. The overhaul included the sheeting over of the gangway doors, possibly the last Class 25 to have this done.
On the evening of August 9th 25010 was noted at Haymarket depot.
On August 21st 25010 worked the 11.03 Perth - Edinburgh, 12.50 Edinburgh - Perth, 17.17 Perth - Arbroath and the 18.33 Arbroath - Dundee.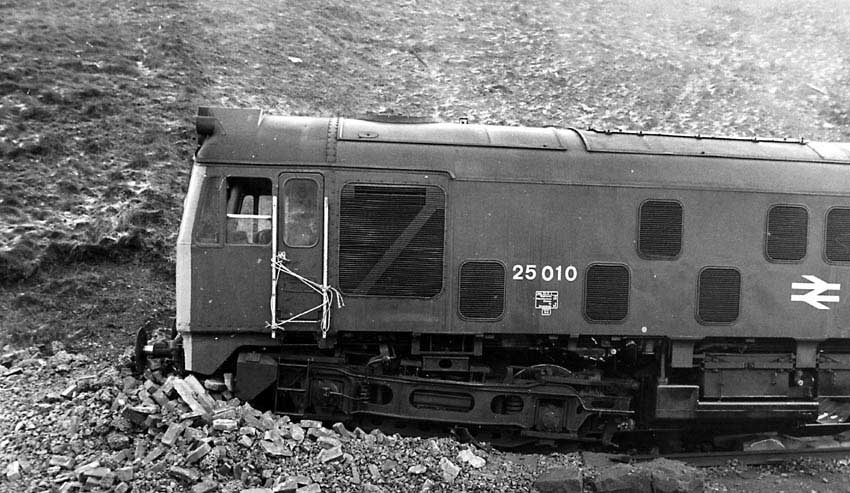 Photograph collection of Steve Morris
An unusual view of 25010, believed to be at Eastfield, date not known, but after receiving its last overhaul at Glasgow Works. If the locomotive sustained any damage, it clearly didn't keep it out of service for long.
1979
At about 10.30am on June 5th 25010 & 27040 were noted on coaching stock at Glasgow Central.
On July 14th the 21.40 Edinburgh - Carstairs was worked by 25010. On July 17th 25010 was noted on a Dundee(?) - Edinburgh service (2G16) and was also noted about 1pm at Perth shunting vans.
1980
25010 was noted stabled at Haymarket depot on February 17th & 18th.
On April 11th 25010 was noted at Markinch with a southbound thirteen wagon + brake van ballast train from Clatchard Craig quarry (near Newburgh).
25010 was stabled at Haymarket on June 14th.
At about 10.30am on June 24th 25010 was noted at Edindburgh Waverley possibly with empty coaching stock.
The last recorded passenger working for 25010 took place on July 12th working the 09.05 Perth - Kensington Olympia to Mossend Yard with 25085.
25010 was noted at Carstairs on September 28th.
25010 was stabled at Haymarket on November 1st.
25010 was noted at Inverness on November 8th.
25010 was effectively withdrawn on December 29th 1980, though may have been withdrawn on paper on February 11th 1981.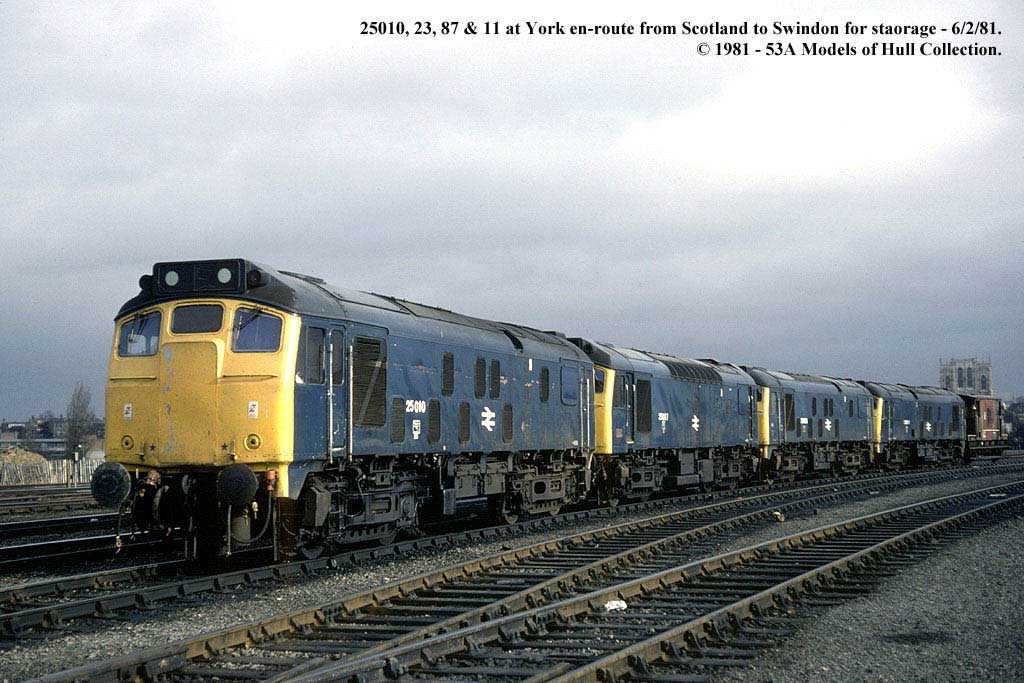 Photograph courtesy John Turner
A weak afternoon sun catches 25010 at York on February 6th 1981 attached to three other Class 25s. This was in fact 25010's last journey dragging three others down to Swindon for breaking.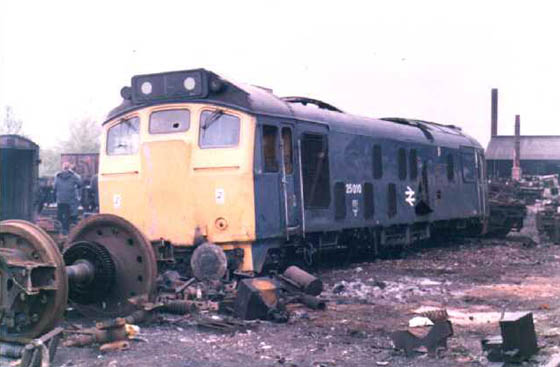 Photograph courtesy Mark Bennett

What Darlington put together and Derby & Glasgow tried to keep running, so Swindon took it all apart.


Extract from Thornaby Shed Repair Record Book
D5160 for the periods 20/7/1961 - 2/11/1961 and 1/6/62 - 27/12/1962.
5/7/62 B exam, settling tank gauge tank glass leaking
15/7/62 B exam. Derailment
16/7/62-19/7/62 Gear case, electric contact
29/7/62 Engine crank case low in oil
3/8/62 B exam
4/8/62 Bogie rivets broken
7/8/62 Waiting works
20/8/62 Out of works
27/8/62 Cab windows
28/8/62 B exam, water failure trip plug to reset
29/8/62 Wipers, horns
3/9/62 Wipers
8/9/62 Horn
14/9/62 Wiper
20/9/62 Oil pipe leaking against generator
1/10/62 B exam
2/10/62 Bolt loose on gen.
5/10/62 Water leak from cab roof valve
10/10/62 B exam
11/10/62 Settling tanks to fill, vac reducing valve to reset
13/10/62 Engine room flooded with water
15/10/62 Heavy rattle No 2 cab
20/10/62 Wiper renew
28/10/62 Wipers
2/11/62 C exam
13/11/62 Brakes, B exam
16/11/62 Bogie suspension bolts check nuts,brake adjusting rod nuts
22/11/62 Sump oil low, radiator to fill
25/11/62 Vestibule doors, heater, B exam
29/11/62 Sands
10/12/62 Vestibule door
12/12/62 Screw coupling to renew
13/12/62 B exam
18/12/62 Settling glass to clean
24/12/62 B exam

Not all known passenger workings are recorded on this page.

Resources:
Repair book information courtesy Peter Maynard.

13/709
flk 0820 (3)

Page added August 11th 2013.
Last updated September 28th 2020.

Back to 25009
Forward to 25011