D5161, 5161, 25011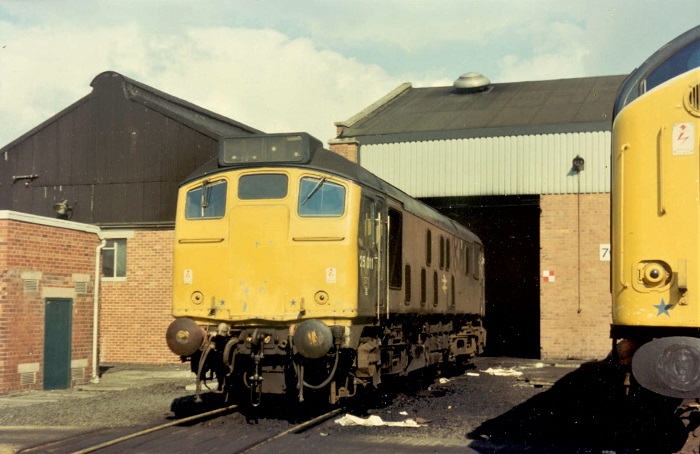 Photograph collection of webmaster
25011 poses for another portrait at Haymarket depot on April 10th 1977.
The nineteen year three month career of D5161/25011 included allocations to Eastern and Scottish Region depots, including ten consecutive years allocated to Thornaby.
Built: BR Darlington Locomotive Works.
Circular gauge added to fuel tank.
Roof modification: no raised panels.
Time between last Classified repair and withdrawal: ?? months.
Time between withdrawal and scrapping: 3 months.
Allocations
D5161 was new to Thornaby (51L) on September 2nd 1961. Further transfers were:
October 1971 to Eastfield (65A).
May 1974 Haymarket.
March 1975 Tinsley.
August 1975 Eastfield.
October 1976 Haymarket.
Withdrawn December 1st 1980
Renumbered October 1973
25011 was the 72nd Class 25 to be withdrawn, one of seventeen Class 25s withdrawn during December 1980.
After withdrawal 25011 was stored at Millerhill. From February 9th - 11th 1981 25010 with 25011, 25023 & 25087 were moved from the Scottish Region (Millerhill) to Swindon for scrapping. At least as far as York (and possibly further southwards, Toton?) 25010 was used to power the consist, perhaps giving 25010 the dubious honor of being the last Class 25/0 to remain in an operational condition. 31215 may have been used to take the scrappers forward from Toton. It is believed the convoy reached Swindon by February 11th. 25011 was broken up at Swindon during March 1981.
Works Visits (records incomplete)
Noted Darlington Works January & February 1963
Noted Derby Works July - October 1966
Noted Derby Works March 1967
Noted Derby Works May 1971 (repainted)
Noted Glasgow Works October 1973
Noted Glasgow Works June 1974
Noted Glasgow Works March 1976
date uncertain maybe 1977 Glasgow Works for repair/repaint
Noted Derby Works August 1978
Noted Glasgow Works February 1979
Highlights
1961
The frames for 5161/25011 were laid down at Darlington Works during June 1961, being completed late in August 1961.
1962
Condition October: green livery with frame level stripe, small yellow warning panels with curved up corners.
1964
On July 4th an Ushaw Moor - Seaburn roundtrip (?) day excursion was worked by D5161.
1965
Condition July: green livery with frame level stripe, small yellow warning panels, curved upper corners, gangway doors in place, blanking plates fitted, ridge sided sandboxes, three-rung bogie mounted footsteps, all valencing fitted, engine exhaust in original location.
On July 31st D5161 was noted at Scarborough, presumably working a summer dated extra.
1968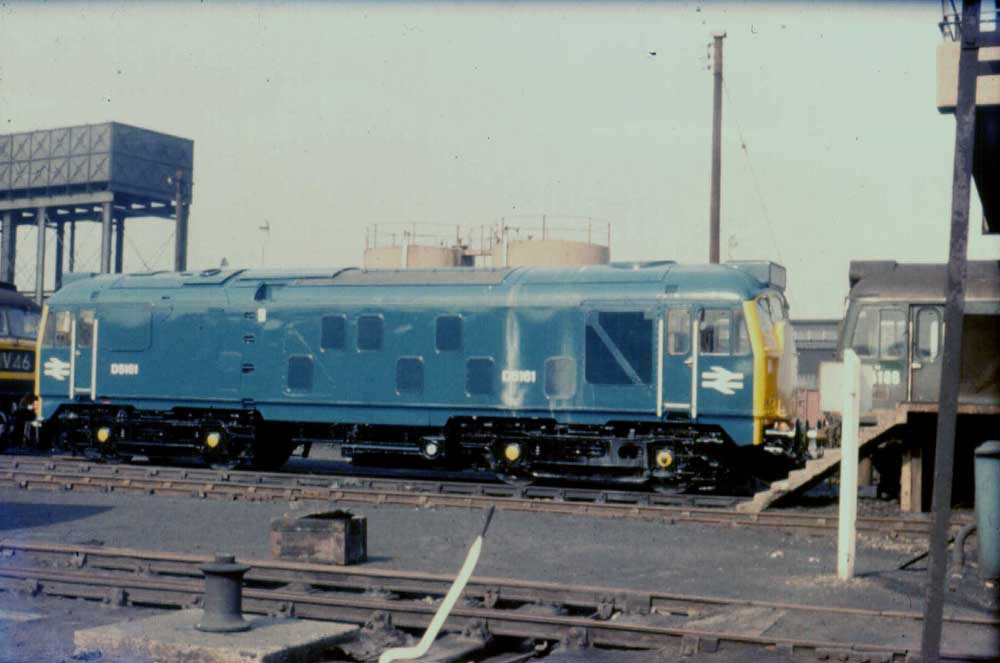 Photograph collection of webmaster
An undated view of recently outshopped D5161 at Derby, believed to be in the first half of 1968. The locomotive still retains its frame level skirt and has the original style exhaust port and location. The fuel tank has gained a circular gauge and the boiler room grille has now been fitted with a solid cover.
1969
On the afternoon of December 17th 5161 was at Darlington shed.
1971
Condition June: blue/yellow livery, numbers on cabsides, emblems in center of bodyside.
1972
Condition June: blue/yellow livery, gangway doors in place, blanking plates fitted, hand/footsteps plated over, fuel tank fitted with circular gauge, straight & ridge sided sandboxes, three-rung bogie mounted footsteps, valencing above batteries missing, buffer beam steam pipe connection mostly present, roof equipped with raised panels.
1973
On the evening of May 27th Class 24/25s noted at Eastfield were 5004 (still in green/yellow livery), 5019, 5096, 5101, 5159, 5161, 5296, 7581 & 7583.
On September 1st 5161 was noted passing Motherwell with a down freight.
On November 9th the 20.47 Perth - Carlisle behind 5161 was failed at Motherwell and the train terminated due to an overhead line clearance infringement.
1974
On the afternoon of October 30th 25011 was light engine at Eastfield.
1975
On an unknown date during May 25011 worked the 8T64 Peterborough - Hitchin Stockyard freight.
On June 22nd 25011 & 31325 were noted passing Holbeck depot with an engineer's train for Stourton.
On the afternoon of July 10th 25011 worked the 4L10 York - Bradford parcels.
1976
A new contract to move pipes from Leith Docks to several long distance destinations including Derby, Wisbech and Salisbury, and shorter hauls to Carlisle, Darlington, Law Junction, Maud & Montrose would provide much work for pairs of Haymarket Class 25s. The Leith – Salisbury diagram involved the Scottish Type 2s working as far as Didcot, examples noted were 25011 & 25026 (March 13th & 15th) and 25002 & 25317 (March 27th), 25018 & 25031 (April 10th), 25026 & 25092 (April 24th), the locomotives generally returning north light, at least as far as the Birmingham area.
On March 27th 25011 was stabled at Ayr.
On June 6th 25011 was stabled at Ayr.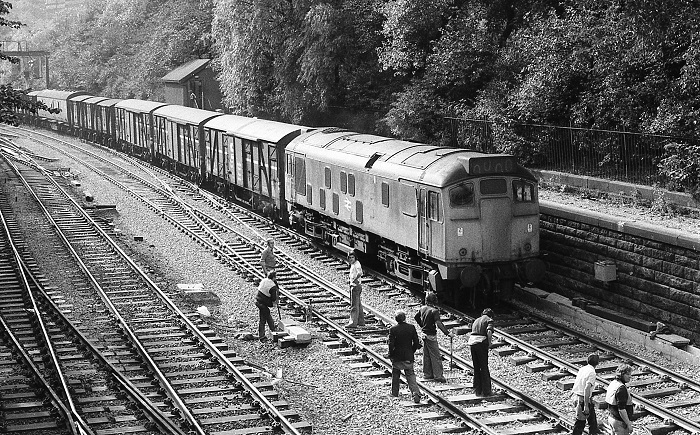 Photograph courtesy Barrie Watkins
A familiar location for generations of photographers, Princes Street Gardens, Edinburgh finds 25011 heading east with a great mixture of parcels & other wagons on September 6th 1976.
1977
25011 was noted at Haymarket on April 10th.
The 16.54 Glasgow Queen Street - Dundee and the 19.38 Dundee - Glasgow Queen Street were worked by 25011 & 27032 on August 24th.
1978
On June 2nd the 12.50 Ayr - Largs school excursion was worked roundtrip (?) by 25011.
On June 30th 25011 was stabled at Ayr.
During August 25011 was noted at Derby Works receiving minor attention. After release the locomotive was sent off in the opposite direction to its home depot in Scotland! It was noted on the 15.55 Bristol - Plymouth parcels on September 7th, working as far as Exeter, being replaced here by 25155. It continued its westward march by working the 19.30 Exeter - Paignton!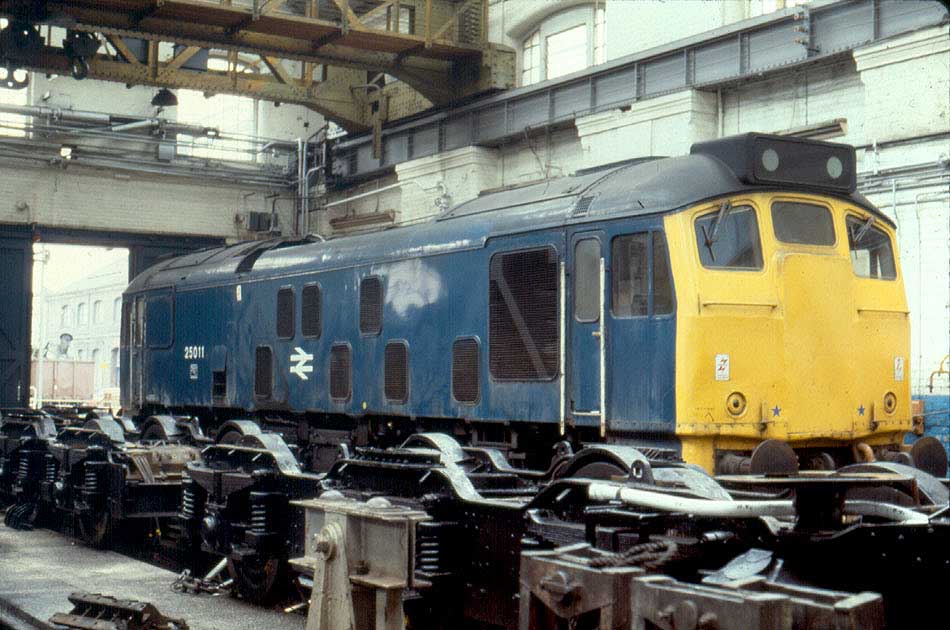 A surprise visitor to Derby Works was 25011, seen here on August 5th 1978. It was only received for minor repairs, and was soon released back into traffic. At this late stage in the life of the Class 25/0s any major attention would normally be carried out by Glasgow Works.
25011 was noted at Ayr on October 8th.
1979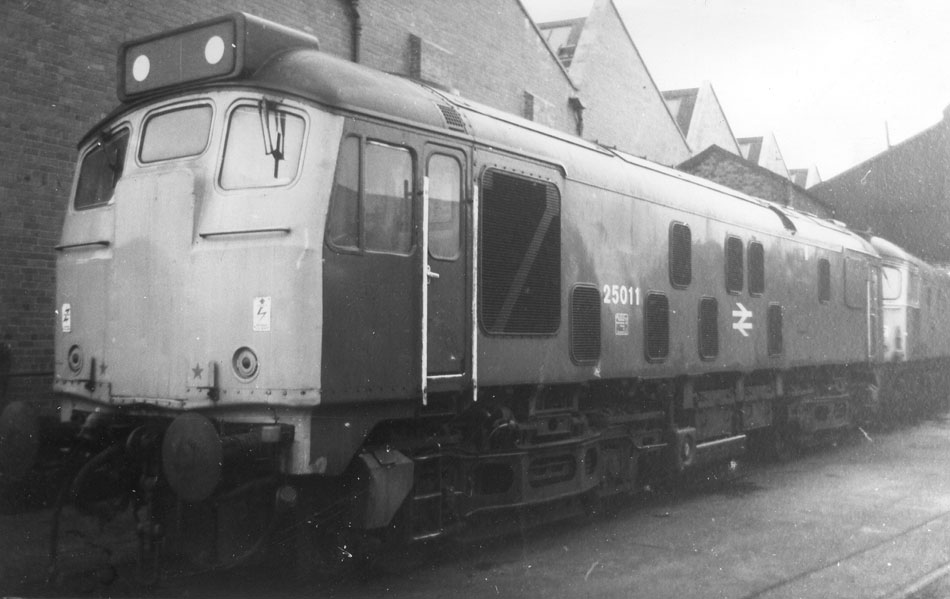 Photograph courtesy A Forster
Its 9am at Haymarket on February 18th 1979 and 25011 awaits its next turn of duty.
25011 was noted at Dundee on April 1st, having arrived with a freight.
On May 12th 25011 was noted with buffet car SC1706 at Millerhill headed for the work taking place at Penmanshiel following the recent collapse of the tunnel.
25011 was noted at Stonehaven with a goods train on June 29th.
On July 5th 25011 worked a Glasgow Queen Street - Dundee service. At month end on July 31st 25011 worked the 21.40 Edinburgh - Carstairs.
The 21.40 Edinburgh - Carstairs was worked by 25011 on August 27th.
On August 29th 25011 was stabled at Millerhill.
On the morning of September 1st 25011 was stabled at Haymarket depot.
1980
25011 was noted passing Burntisland with a freight on February 18th.
The 07.40 Edinburgh - Glasgow Queen Street was worked by 25011 on August 25th. The next day (26th) 25011 worked an evening Glasgow Queen Street - Edinburgh service. On August 27th the 14.44 Glasgow Queen Street - Dundee was worked by 25011.
25011 was noted on Haymarket depot on October 14th derailed and awaiting repair.
On November 7th the 17.12 Aberdeen - Stonehaven was worked by 25011.
All the remaining Class 25/0s were taken out of service and withdrawn during December, including 25011. 25011 ended its days out of service at Haymarket, by early January it was at Millerhill.
Extract from Thornaby Shed Repair Record Book
D5161 for the periods 20/7/1961 - 2/11/1961 and 1/6/62 - 27/12/1962.
2/10/61 Electrical fault
14/6/62 B exam, 2 body lamps not working
17/6/62 Control air blowing near column
22/6/62 Wiper not working
27/6/62 Footstep
6/7/62 B exam, Field diverter
17/7/62 B exam
22/7/62 No 2 end R. side horn
25/7/62 Water tank level to exam
27/7/62 No1 end fireman's horn
29/7/62 B exam
8/8/62 C exam
10/8/62 Sands open out , wiper not working
16/8/62 Settling tanks to exam
17/8/62 Sands open out
23/8/62 Wiper
24/8/62 Settling tanks, water gauges, sands
27/8/62 Horn & wipers
29/8/72 B exam
30/8/62 Drivers window & engine room door made to open, air leak under controller, settling tanks to exam
2/9/62 Radiator to fill
5/9/62 Settling tanks to exam
8/9/62 B exam,
17/9/62 In works no record when went
24/9/62 Horns, wipers
25/9/62 Settling tank to fill, horns
26/9/62 D exam
1/10/62 Water low, sands
5/10/62 Air leak, wiper
6/10/62 Settling tanks fill, not getting amps, pressure gauge failure
10/10/62 Settling tanks to fill
16/10/62 B exam
17/10/62 Heaters
18/10/62 Engine cutting out, settling tank to fill
23/10/62 Horn
24/10/62 Settling tanks refill, Wiper
25/10/62 Horn
29/10/62 Sump, waiting works
7/11/62 In works
9/12/62 Out of works
10/12/62 Handle for oil strainer, Field divert switch locking pin,horn
12/12/62 No2 cylinder head
13/12/62 Sands, horn, cannot get vacuum
16/12/62 Water leak
27/12/62 Oil dilution
Resources:
Repair book information courtesy Peter Maynard.
14/649
flk 0422 (1)
Page added March 15th 2012.
Last updated April 11th 2022.
Back to 25010
Forward to 25012