D5163, 5163, 25013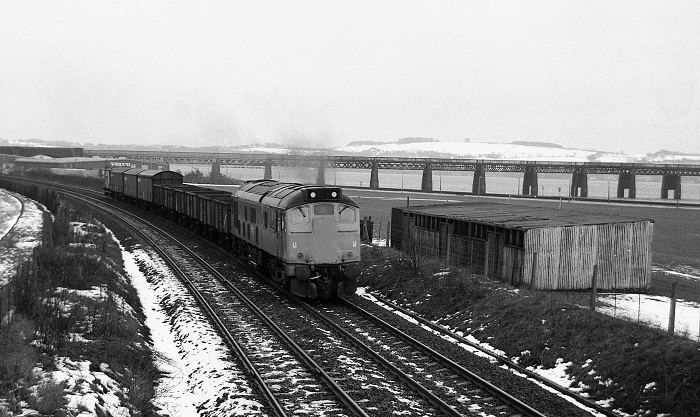 Photograph collection of webmaster
25013 heads towards Perth with a short freight on February 7th 1980, the north end of the Tay Bridge is in the background.
The eighteen year eight month career for D5163/25013 was spent allocated to Eastern Region and Scottish depots.
Built: BR Darlington Locomotive Works.
Circular gauge added to fuel tank (Class 25/0 only).
Time between last Classified repair and withdrawal: ?? months.
Time between withdrawal and scrapping: 3 months.
Allocations
D5163 was new to Thornaby (51L) on September 23rd 1961. Further transfers were:
October 1971 to Holbeck (55A).
October 1972 to Tinsley (41A).
August 1975 to Eastfield.
February 1976 to serviceable store.
June 1976 reinstated to Eastfield.
October 1976 to Haymarket.
Withdrawn September 28th 1980.
Renumbered March 1974.
After withdrawal 25013 along with 25001/19/21 were moved to Swindon Works, they were noted through Durham behind 40006 on October 10th 1980, laying over at Thornaby. They were later noted departing York on October 16th 1980 now with 31274 added and with 25001 in charge of the movement. 25013 was broken up at Swindon Works during the second week of January 1981.
Works Visits
Works visits (records incomplete).
Noted Darlington Works February 1963.
Noted Derby Works November 1966.
Noted Derby Works September & November 1968.
Noted Derby Works March 1969.
Noted Glasgow Works October 1972.
Highlights
1967
Condition May: green livery with small yellow warning panel, curved upper corners, bottom of warning panel partially covers frame level stripe; valencing in place, blanking plate fitted, ridge sided sandboxes, three rung bogie mounted footsteps, engine exhaust in original location, circular gauge not yet fitted to fuel tank.
1969
On November 15th 1969 a Darlington - Barnsley football special failed behind Class 47 No. 1575, assistance by 5163 was provided from ?? Later in the journey a heavy shunt damaged the stock leading to the return train being a diesel multiple unit.
1970
A new duty for a Thornaby Class 25 was the Darlington - Aycliffe limestone hoppers which had for many years been worked by a shunter due to indifferent track and lack of runround facilities. However recent improvements led to the successful testing of 5163 on May 20th 1970, allowing for the regular diagramming of a Class 25.
1971
5163 was noted on a local Bescot trip working on February 24th.
1972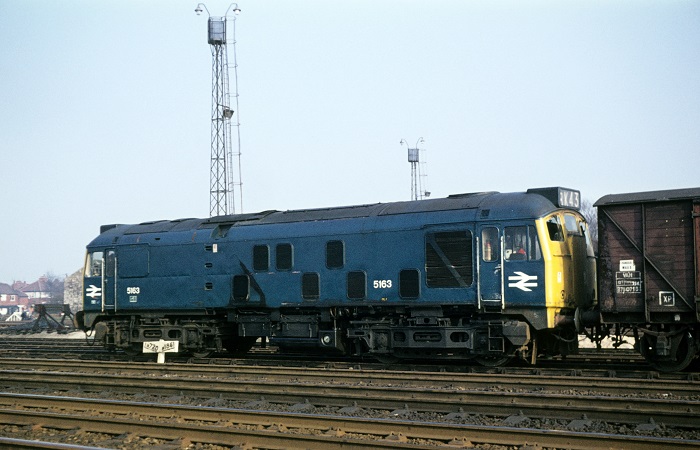 Photograph courtesy Tony Smith.
5163 at Clifton, York on March 14th 1972.
On December 6th 1972 5163 worked the 17.15 Derby - Nottingham with hauled stock.
1973
5163 was noted at Sheffield station at about 6pm on July 28th.
1975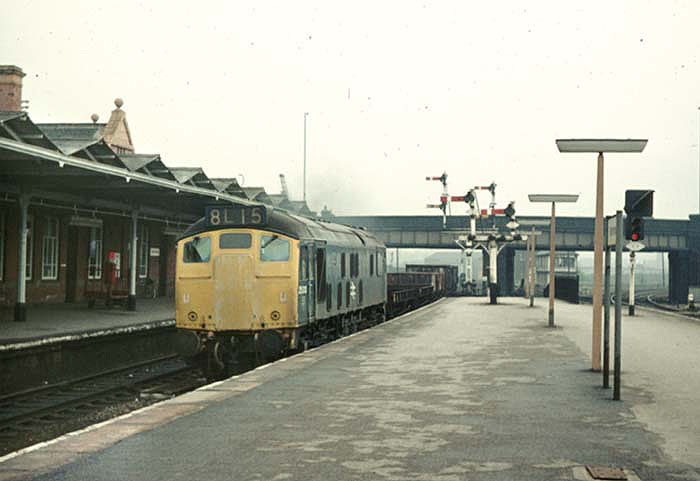 Photograph collection of RCTS
25013 runs northbound through Rotherham on May 8th 1975 on one of the myriad freight workings once found in the Sheffield area. 25013 has only three months left on these workings, during August 1975 it will be transferred to Eastfield.
The transfer of 25013 to Eastfield during August 1975 in replacement of recently retired Class 24s allowed 25013 to handle a mixture of internal passenger workings. The first recorded Scottish passenger working took place on August 20th 1977 working the 23.45 Inverness - Glasgow Queen Street from Stirling with 25046, having replaced 40006. 25013 was active following this, on August 23rd it worked the 18.44 Glasgow Queen Street - Dundee, on 24th the 11.03 Perth - Edinburgh, on 26th the 07.38 Dundee - Glasgow Queen Street and the 12.44 back to Dundee, and the 15.38 to Glasgow Queen Street.
1979
A year would pass until the next recorded passenger workings in September 1979, on 21st 25013 worked the 22.45 Carstairs - Edinburgh, October 1st's 17.30 Edinburgh - Cardenden and the 21.40 Edinburgh - Carstairs, the 21.40 Edingburgh - Carlisle on October 19th and on October 27th the 13.40 Glasgow Central - Carlisle from New Cumnock after the failure of 25076.
1980
The final passenger workings for 25013 took place during June & July 1980. Three workings over the Dundee - Glasgow route were handled on June 26th, the 07.39 to Glasgow Queen Street, 14.44 to Dundee and the 17.33 back to Glasgow Queen Street. The last working took place on July 14th handling a Glasgow Queen Street - Edinburgh service.
25013 was withdrawn on September 28th 1980.
Not all known passenger workings are recorded on this page.
16/886
flk 0518 (1)
Page added June 24th 2013.
Last updated March 12th 2020.