D5164, 5164, 25014
Photograph collection of webmaster.
D5164 with brake tender at Hartlepool on April 3rd 1966.
The fifteen year eight month career of D5164/25014 was split between allocations to Eastern Region & Scottish Region depots.
Built: BR Darlington Locomotive Works.
Circular gauge added to fuel tank (Class 25/0 only).
Roof modification: no raised panels.
Time between last Classified repair and withdrawal: ?? months.
Time between withdrawal and scrapping: 3 months.
Allocations
D5164 was new to Thornaby (51L) on October 7th 1961. Further transfers were:
October 1971 to Holbeck (55A).
October 1972 to Tinsley (41A).
November 1972 to Holbeck (55A).
May 1973 to Tinsley.
August 1975 to Eastfield.
February 1st 1976 to serviceable store (at Haymarket).
June 1976 reinstated to Inverness.
June 21st 1977 to unserviceable store.
Withdrawn July 20th 1977.
Renumbered May 2nd 1974.
25014 was the 17th Class 25 withdrawn.
After withdrawal 25014 was noted at Glasgow Works by early August 1977 and had been broken up by the middle of October 1977.
Works Visits
Works visits (records incomplete).
Noted Darlington Works May 1964.
Noted Derby Works October 1965.
Noted Derby Works September 1968.
Highlights
1963
D5164 was stabled at Thornaby on July 21st, with small yellow warning panels fitted, with curved upper corners.
1965
On March 7th the following Class 25s were on Thornaby shed: 5155, 5156, 5159, 5163, 5164, 5166, 5167, 5169, 5170, 5172, 5174 & 5175.
1973
5164 was noted on a Whitemoor - Ely freight on the morning of November 4th, the locomotive then returned light to March.
1974
On April 16th 25025 & 25014 were noted at Sprotbrough Junction (Doncaster) with bogie bolsters.
On April 21st 25014 was at Wath depot.
1975
The recorded passenger workings for D5164/25014 are very few. April 28th 1975 found 47116 shutting down in Bradway tunnel with the 15.15 Manchester – Parkeston Quay, the locomotive was revived enough to reach Chesterfield where it was replaced by 25014 which worked through to Nottingham, where 45121 was waiting to go forward.
On July 19th 1975 25014 worked the 07.18 Sheffield - Skegness and 10.55 Skegness - Sheffield.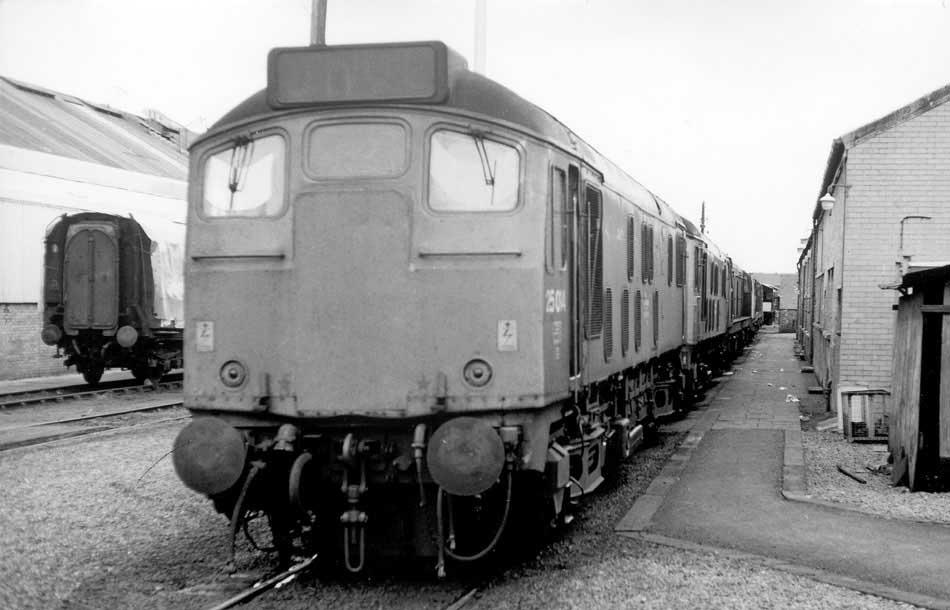 Photograph collection of webmaster.
25014 awaits its next turn of duty at Ayr, date unknown. 25014 was one of several Class 25/0's put to store during February 1976, then reinstated in June 1976 and working for another year before withdrawal in June 1977.
1976
February - marked as a CM&EE Training locomotive whilst at Haymarket.
25014 was stabled on Haymarket in store at lunchtime on May 2nd.
25014 was at Eastfield on July 24th.
25014 was noted at Haymarket depot on September 7th.
1977
25014 was stabled at Haymarket on January 24th.
25014 was noted at Ayr depot on March 13th.
On April 14th 25014 was westbound at Edinburgh Waverley with a freight.
25014 was withdrawn on July 20th 1977.
Extract from Thornaby Shed Repair Record Book
D5164 for the periods 20/7/1961 - 2/11/1961 and 1/6/62 - 27/12/1962.
6/6/62 B exam
19/6/62 E exam
29/6/62 B exam
9/7/62 Air leak No 2 end at couplings
10/7/62 B exam
20/7/62 B exam
3/8/62 Lub. oil pressure low
10/8/62 B exam
13/8/62 Only getting 20 pressure
15/8/62 Windscreen wiper motor defective
21/8/62 Brakes to take up, B exam
31/8/62 B exam
2/9/62 Oil pressure to exam
5/9/62 Air pressure gauge
6/9/62 Bogie suspension bolt nuts, sand pipe stay, oil press gauge
11/9/62 B exam
16/9/62 Collision damage
20/9/62 B exam, Brake wheel to secure,bolts loose motor gear case
5/10/62 Hand brake wheels to secure, bogie suspension bolts, traction motor bolts loose. B exam
10/10/62 Fuel injector pumps to exam
11/10/62 Oil pressure to exam, sump oil top up
14/10/62 Exhauster to top up
15/10/62 B exam
26/10/62 B exam
29/10/62 Oil pressure
31/10/62 No2 cylinder leak
5/11/62 B exam, cab heaters
12/11/62 Sumps to exam
15/11/62 B exam
19/11/62 Bellows
25/11/62 Waiting works
12/12/62 Out of works, Sands
13/12/62 Brake tension spring nuts loose, susp bolt check nuts
15/12/62 Sands
18/12/62 B exam
Resources:
Repair book information courtesy Peter Maynard.
Not all known passenger workings are recorded on this page.
3/258
flk 0422
Page added August 6th 2013.
Last updated April 9th 2022.
Back to 25013
Forward to 25015