D5172, 5172, 25022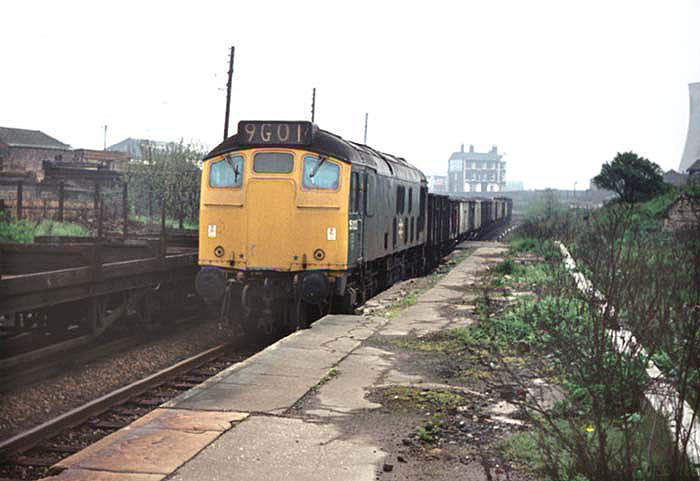 Photograph courtesy Kevin Hughes.
Its a dull May 8th 1975 as 25022 runs through Rotherham with a typical freight for the Sheffield area.
The entire thirteen years and eleven month career of D5172/25022 was spent allocated to Eastern Region depots.
Built: BR Darlington Locomotive Works.
Circular gauge added to fuel tank (Class 25/0 only).
Roof modification: no raised panels.
Time between last Classified repair and withdrawal: ?? months.
Time between withdrawal & scrapping: 24 months.
Allocations
D5172 was new to Thornaby (51L) on February 17th 1962. Further transfers were:
October 1966 to Holbeck (55A).
October 1967 to Gateshead (52A).
December 1967 to Holbeck (55A).
November 1971 to Thornaby (51L).
January 1972 to Holbeck (55A).
August 1972 to Gateshead (52A).
October 1972 to Tinsley (41A).
January 11th 1976 to store (serviceable).
Withdrawn January 25th 1976.
Renumbered March 1974.
25022 was the 8th Class 25 withdrawn, one of five retired during January 1976, including sisters 25016, 25017, 25020 & 25024, all from Tinsley depot.
25022 was stored at Barrow Hill from January to March 18th 1976, when it was moved with 25024 to Glasgow Works, being broken up there by the end of January 1978.
Works Visits
Works visits (records incomplete).
Noted Derby Works August 1965.
Noted Derby Works November 1968.
Noted Derby Works May 1974.
Highlights
1965
On March 7th the following Class 25s were on Thornaby shed: 5155, 5156, 5159, 5163, 5164, 5166, 5167, 5169, 5170, 5172, 5174 & 5175.
On Sunday April 18th the following were noted:
Gateshead: D5102, D5150, D5106, D5149, D5180, D5103, D5109, D5113
Heaton Carriage Sidings: D5178, D5108, D5147, D5177
Thornaby: D5163, D5162, D5167, D5154, D5152, D5157, D5155, D5156, D5172, D5169, D5153.
1967
On March 3rd D5172 was stabled at Crewe diesel depot.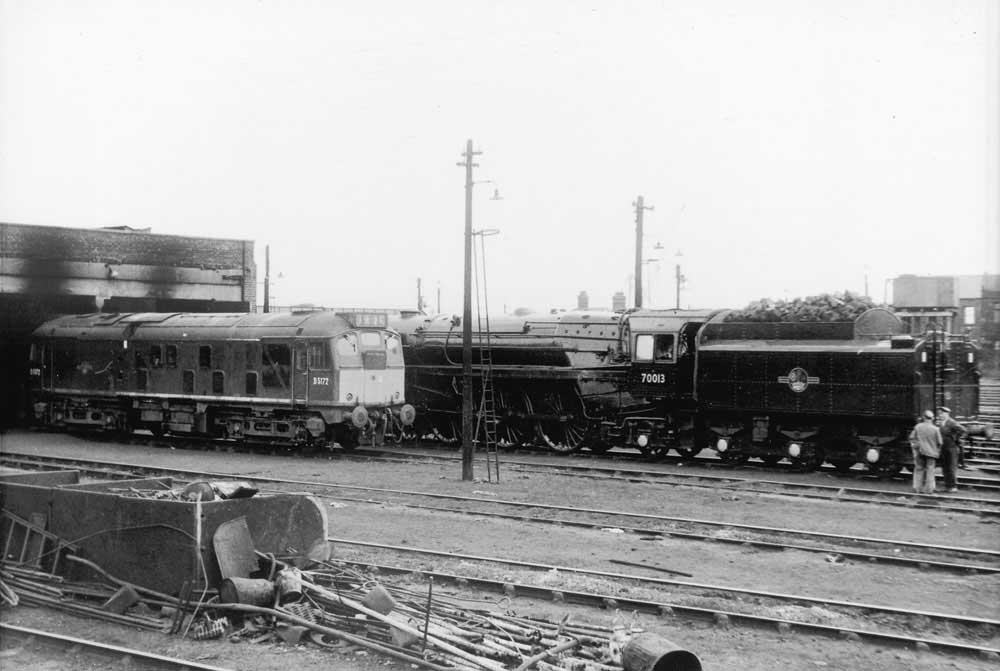 Photograph courtesy Dave Burdon.
5172 and 70013 'Oliver Cromwell' at Carnforth shed on August 29th 1967. 70013 had been the last steam locomotive to receive a repair at any BR workshop, being outshopped during February 1967. Its paintwork still has a gloss to it, not so that of 5172 who's workings reflect far more mundane duties than that of 70013. Written in chalk on the the top of the gangway doors of D5172 was 'Duke of Windsor'.
1968
On July 10th D5172 was noted with Black Five 45134 at Bolton le Sands, possibly with Heysham - Neville Hill oil tank working.
1970
With an allocation history entirely on the Eastern Region and not being boiler equipped the passenger history for D5172/25022 was very minimal.
The three identified workings involved trips to the East Coast seaside resorts. On July 4th 1970 5172 worked the 09.25 Scarborough - Manchester Victoria.
1971
During July 1971 5172 was noted in blue livery with full yellows ends, BR emblems on all cabsides and numbers behind each cab door. The cabfront gangway doors had been sheeted over but the locomotive retained its original exhaust location. The 'L' shaped raised roof panel was present, possibly having been recently renewed due to its very shiny condition. Blanking plates covered the boiler room grilles.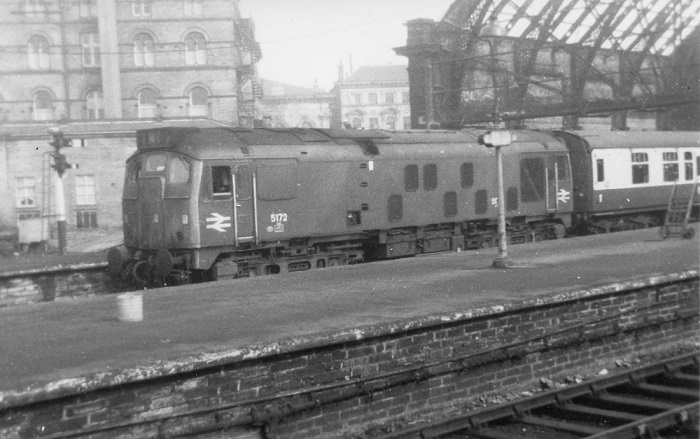 Photograph collection of webmaster.
5172 has now acquired blue livery, with numbers behind the cab doors and BR emblems on each cabside panel. The cab gangway doors have not yet been sheeted over, but a circular gauge has been added to the fuel tank.
On August 17th 5172 towed 'Kelvin' from ICI Horton-in-Ribblesdale to Skipton and returned with a similar locomotive to Horton-in-Ribblesdale.
1973
On April 25th 5172 & 5162 were noted at Carters Crossing, Fenton, Stoke on Trent running light engines, presumably having worked the 8M54 Treeton - Grange (arr 12.13) which returned as 8E06 13.45 Etruria Junction - Treeton, presumably there were no return empties this day.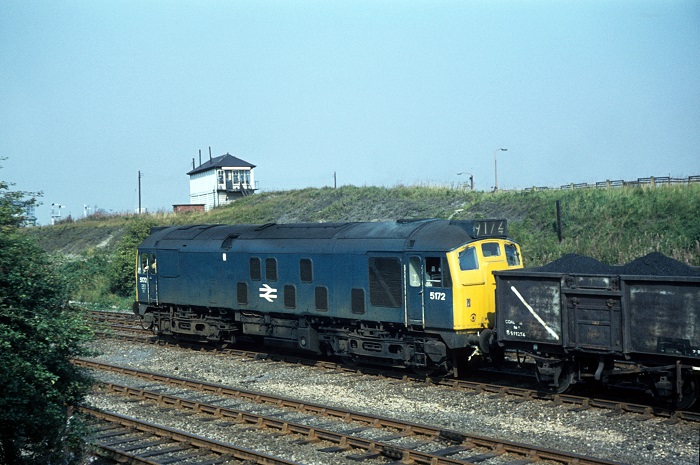 Photograph courtesy Tony Smith.
5172 at Wath Road on September 11th 1973.
1975
On June 21st 25022 & 25190 worked the 09.20 Derby - Skegness and 13.05 return.
On September 23rd 25022 & 25130 were noted on shed at Exeter.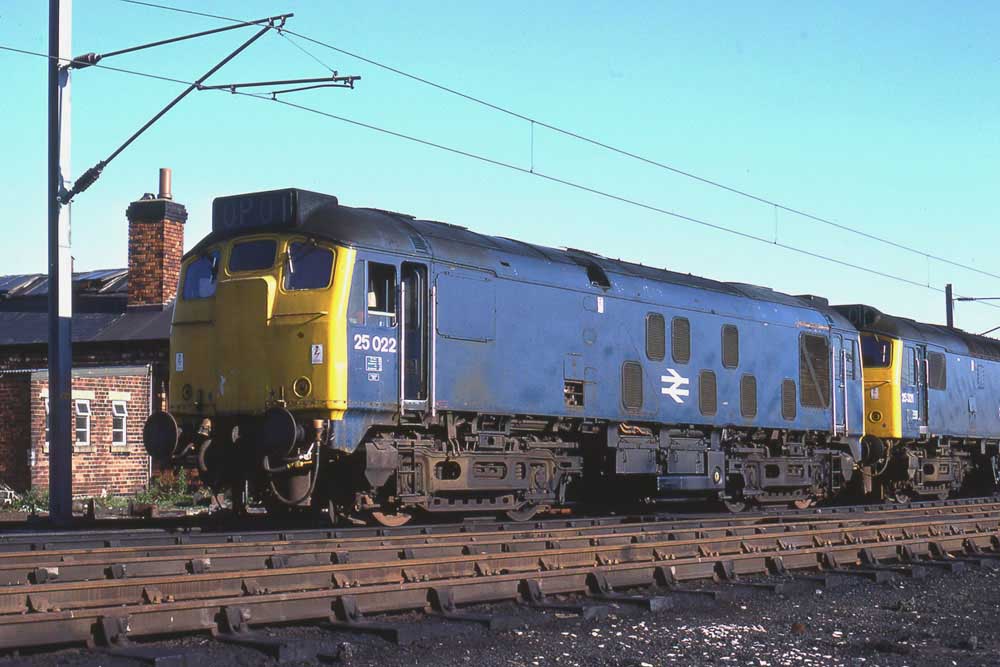 Photograph courtesy Tom Sutch.
If the Class 25 have a long association with the LMR and Springs Branch in particular, then this view of 25022 (with 25321) is a bit of an anachronysm because for all its working life it was allocated to Eastern Region depots. At the time of this view 25022 was allocated to Tinsley, it had about six months of of service left before being sent north to Glasgow Works as a parts source and scrapping.
1976
25022 was withdrawn on January 25th 1976.
Not all known passenger workings are recorded on this page.
Extract from Thornaby Shed Repair Record Book
D5172 for the periods 20/7/1961 - 2/11/1961 and 1/6/62 - 27/12/1962.
13/6/62 B exam
16/6/62 Check brake nuts
25/6/62 B exam
5/7/62 D exam
15/7/62 B exam
25/7/62 Sands open out
27/7/62 B exam
16/8/62 Oil pressure to exam, light out in drivers cab, brake tension spring nuts to check, bogie suspension check nuts
27/8/62 Wiper
29/8/62 Wipers
31/8/62 Blocks
4/9/62 Wipers
5/9/62 Wipers
6/9/62 B exam
7/9/62 Wipers
10/9/62 Water from roof rain channels going into cab, wiper
16/9/62 B exam
25/9/62 Sand pipe
26/9/62 C exam
28/9/62 Sands
3/10/62 Sands
8/10/62 B exam
9/10/62 Wipers not working
17/10/62 B exam
18/10/62 Sands
28/10/62 B exam, sand air pipe connection, bogie susp link nut
29/10/62 Electrical repairs on alarm
8/11/62 E exam
12/11/62 Main generator
25/11/62 Batteries
4/12/62 Oil in engine room
6/12/62 B exam
11/12/62 Derailment damage
13/12/62 Wiper
17/12/62 Wiper, B exam
Resources:
Repair book information courtesy Peter Maynard.
4/292
flk 0422
Page added May 9th 2013.
Last updated April 8th 2022.
Back to 25021
Forward to 25023