D5173, 5173, 25023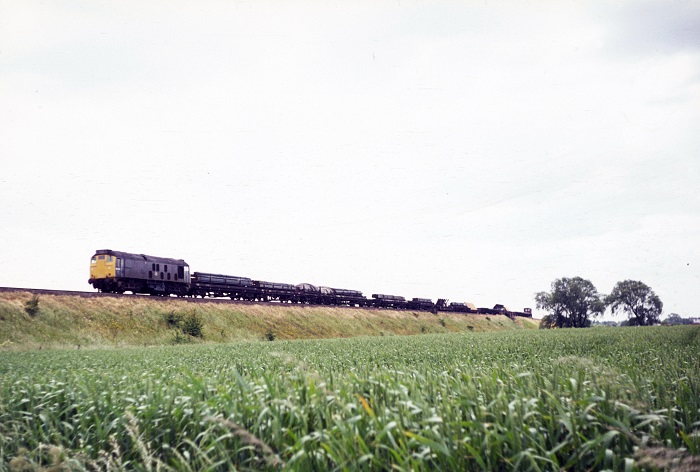 Photograph courtesy Tony Smith.
25023 with a lengthy freight carrying steel products at Hensall (between Selby & Doncaster) on June 18th 1974.
The eighteen year six month career of D5173/25023 was spent allocated to Eastern & Scottish Region depots.
Built: BR Darlington Locomotive Works.
Circular gauge added to fuel tank.
Time between last Classified repair and withdrawal: ?? months.
Time between withdrawal and scrapping: 29 months.
Allocations
D5173 was new to Thornaby (51L) on March 17th 1962. Further transfers were:
October 1966 to Holbeck (55A).
August 1972 to Gateshead (52A).
October 1972 to Tinsley (41A).
February 1976 to Eastfield.
January 1980 to Haymarket.
Withdrawn September 28th 1980.
Renumbered February 1974.
25023 was the 44th Class 25 withdrawn, one of nine retired during September 1980, including sisters 25001, 25013, 25019 & 25021.
After withdrawal 25023 was stored at Millerhill Yard from December 1980 until February 11th 1981 when it was moved (see details below) to Swindon Works, being broken up there by the end of March 1983.
25010/11/23/87 Millerhill – Swindon Works February 21st, 1981: hauled by 25010.
Works Visits
Works visits (records incomplete).
Noted Darlington Works December 1964 & January 1965.
Noted Derby Works August 1969 (on display at the Open Day, freshly painted).
Noted Derby Works April 1970.
Noted Glasgow Works February 1973.
Noted Glasgow Works March, April 1978 (assumed).
Highlights
1968
The first steam locomotive to make a trip under its own power on BR since August 4th 1968 was A3 4472 'Flying Scotsman', making a trip from Huddersfield to Tyne Dock on September 6th. 4472 had arrived from Doncaster via Sheffield & Penistone, whilst the empty stock arrived at Huddersfield behind 5173.
1969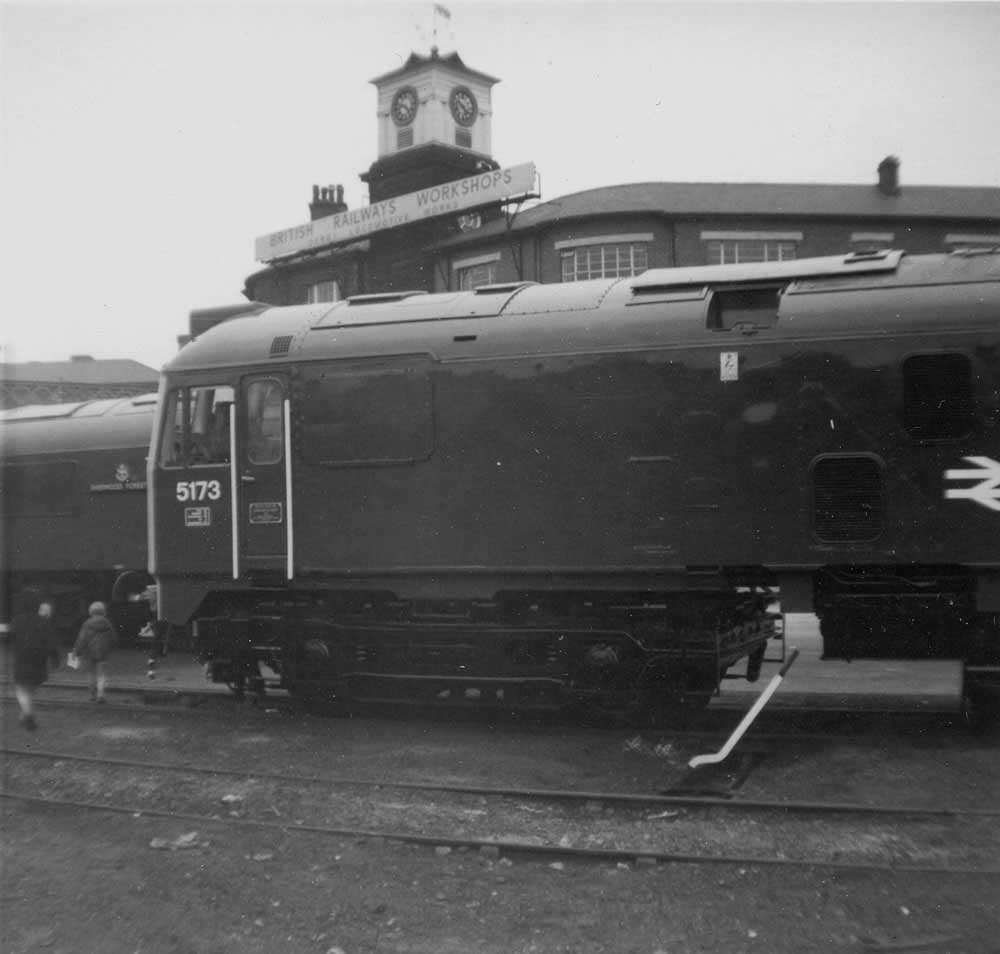 Photograph collection of webmaster.
Derby Works Open Day August 30th 1969, on display this day was ex-works 5173. The locomotive was outshopped in the corporate blue and yellow with black underframe and bogies. The gangway doors have not been sheeted over but the exhaust port has been moved from its original position. The fuel tank has gained a circular gauge.
1970
Despite being a non-boilered locomotive intended primarily for freight diagrams, D5173/25023 acquired a modest, varied selection of passenger workings. On January 23rd one of the newly transferred Eastern Region Class 24s, 5019 in multiple with 5173 found itself on front line passenger duty when the 12.10 Swansea - Newcastle arrived at York short of fuel. After a quick engine change the Type 2s completed the journey to Newcastle, both returning south later that day on a parcels working.
On February 19th 5173 was noted at Barrow with coaching stock, believed to be for the 17.10 Barrow - Preston.
On June 20th 5173 worked the 09.20 Manchester Piccadilly - Yarmouth to Lincoln Central, Class 31 No. 5822 handled the return working. A NE/SW service was handled on August 22nd with 5173 on the 1O43 09.10 Bradford - Poole to Nottingham.
1972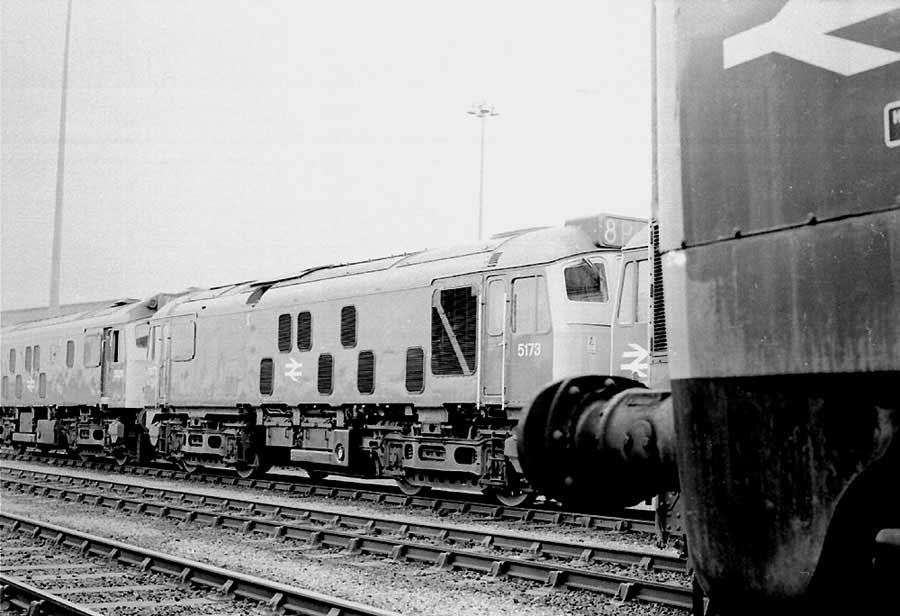 Photograph courtesy David Rogers.
Its July 1st 1972 and Holbeck has 5173 & 5229 awaiting their next turn of duty.
1974
25033 & 25023 worked a morning Bescot - Exeter Riverside freight on June 10th, they returned north with Exeter Central - Westbury Presflow empties.
On June 29th 25023 worked the 11.06 Scarborough - Sheffield.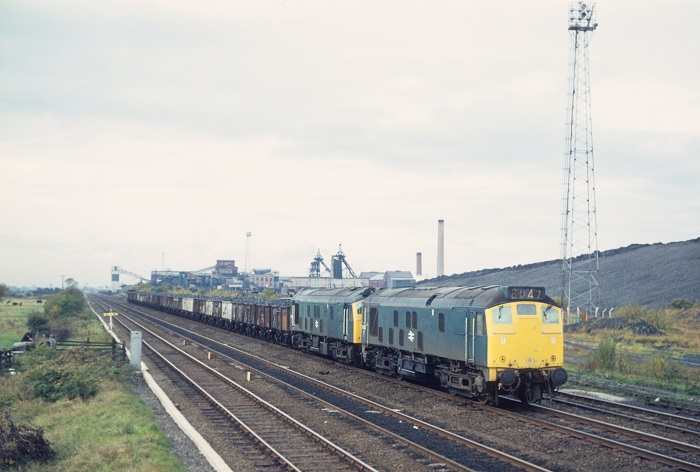 Photograph courtesy Tony Smith.
25023 & 25026 passing Stainforth on October 21st 1974.
25023 was stabled at March on November 17th.
1975
On April 5th the Landor Street banking duties was in the hands of Tinsley allocated 25023.
August 15th (?) produced a surprising working on the ECML and possibly 25023's longest passenger haulage, joining 25085 on the relief 10.50 Aberdeen - Kings Cross as far as Newcastle, a total of 255 miles. On August 23rd 1975 25023 & 25134 worked a roundtrip Leicester - Skegness.
1976
With the transfer of 25023 to the Scottish Region during February 1976, the opportunity for further passenger workings was generally confined to the summer months. On August 7th the 09.53 Edinburgh - Aberdeen was worked by 25023. A post-Christmas relief working took place on December 28th 1976, with one coach 25023 worked the 11.00 Dumfries - Carlisle due to the late running of the 09.30 Glasgow - Carlisle.
1977
1977 has so far produced only one recorded passenger working, on July 26th 1977 working the 07.02 Perth - Edinburgh.
1978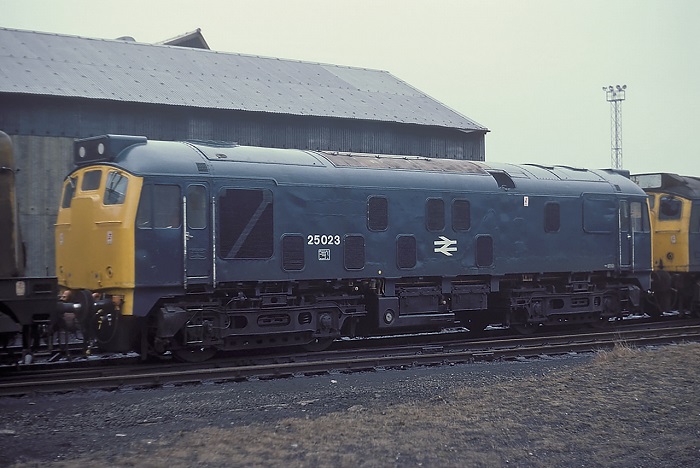 Photograph courtesy Robert Woolnough.
25023 at Eastfield on April 2nd 1978, freshly outshopped from Glasgow Works.
1978 provided quite a variety of passenger workings, all recorded in August & September, starting on August 10th with the 09.38 Dundee - Glasgow Queen Street. Later this day during the evening 25023 was noted southbound at Perth with vans and was stabled the next morning (11th) at Perth. August 14th produced the 01.00 Glasgow Queen Street - Oban. The 19th witnessed three workings, the 11.03 Perth - Edinburgh and 12.50 return, closing the day with the 21.40 Edinburgh - Carstairs. The 23rd saw 25023 working the 12.55 Glasgow Queen Street - Oban and the 17.44 return, now accompanied by 27021. The next day (24th) 25023 returned to Oban with the 12.55 from Glasgow Queen Street. And finally for this hectic month 25023 on 26th worked the 12.23 Pitlochry - Birmingham New Street to Mossend Yard. The recorded passenger mileage for August was 718 miles. Two workings were handled during September 1978, on 7th the 16.53 Perth - Dundee followed by the 17.33 Dundee - Glasgow Queen Street.
1979
Two workings recorded in 1979 were the 08.44 Glasgow Queen Street - Dundee on August 30th 1979 and the 21.30 Euston - Fort William from Mossend Yard to Cowlairs Junction with 25002 on September 5th 1979.
1980
25023 was reported as being the banker on the Camp Hill line (Saltley trip No.70) on April 5th, had the Scottish locomotive arrived on one of the inter-regional pipe trains?
1980 was the last year in service for 25023, it was noted on June 23rd working the 07.39 Dundee - Glasgow Queen Street as far as Perth where it was declared a failure. Railtour duty was 25023's last passenger working, on September 13th 1980 25023 & 25026 worked the Dundee - Edinburgh leg of the 'Tyne-Tay Express' following the failure of A4 60009 'Union of South Africa'.
25023 was withdrawn on September 28th 1980.
1982
During June the honour of being the longest retired Class 25 passed from 25092 (withdrawn May 1980) to 25023, as the former was broken up at Derby. 25023 would retain this dubious honour until March 1983 when it was broken up, the longest retired would now be 25028 (withdrawn December 1980).
Not all known passenger workings are recorded on this page.
flk 0915
26/2013
Page added June 23rd 2013.
Last updated January 16th 2020.