D5174, 5174, 25024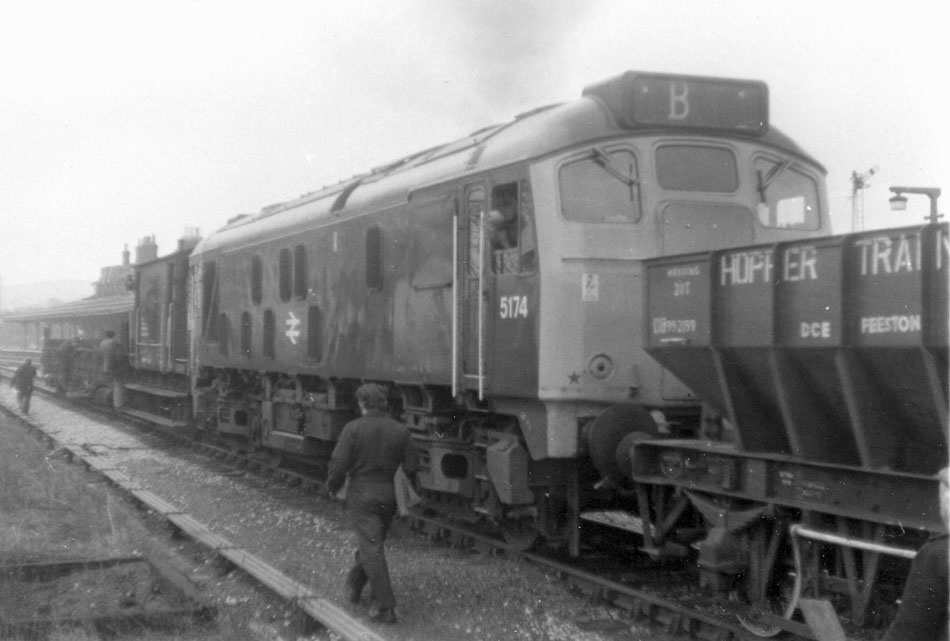 Photograph collection of webmaster.
On an overcast day at Hellifield 5174 is vital to the day's engineering work. Its last classified repair may have been at Derby during the summer of 1974.
The thirteen year ten month career of D5174/25024 saw allocations only to Eastern Region depots.
Built: BR Darlington Locomotive Works.
Time between last Classified repair and withdrawal: 15 months.
Time between withdrawal and scrapping: 11 months.
Allocations
D5174 was new to Thornaby (51L) on March 30th 1962. Further transfers were:
October 1966 to Holbeck (55A).
August 1972 to Gateshead (52A).
August 1972 to Tinsley (41A).
November 1st 1976 stored serviceable.
Withdrawn January 25th 1976.
Renumbered March 1974.
25024 was the 9th Class 25 withdrawn, one of five retired during January, all Tinsley allocated Class 25/0s.
After withdrawal 25024 was stored at Barrow Hill from January 1976 until moved to Glasgow Works on March 18th 1976, and scrapped there by December 1976. A cab from 25024 was noted at Derby Locomotive Works during April 1978.
Works Visits
Works visits (records incomplete).
Noted Darlington Works November 1964.
Noted Derby Works April & May 1965.
Noted Derby Works July 1966.
Noted Derby Works August 1968.
Noted Derby Works September 1971.
Noted Derby Works August & October 1974 (full repaint).
Highlights
1965
On March 7th the following Class 25s were on Thornaby shed: 5155, 5156, 5159, 5163, 5164, 5166, 5167, 5169, 5170, 5172, 5174 & 5175.
1966
November 22nd saw front line duty, of sorts, for D5174 (55A). Whilst shunting at Apperley Bridge it was called upon to assist D90 working the 09.42 Glasgow St. Pancras after its failure at Guiseley Jcn. The rescuing Type 2 was used to push the train the remaining ten miles into Leeds!
1967
April: locomotive still in green livery with small yellow warning panels and original exhaust location.
1968
On April 2nd D5174 and 9F 2-10-0 92167 worked the Heysham-Hunslet East oil tank train (7N28), made up of twenty short-wheelbase tanks.
April: locomotive still in green livery with small yellow warning panels and original exhaust location.
1972
July: locomotive in blue/yellow livery.
1973
5174 was noted at Scunthorpe on the late afternoon of July 14th.
1974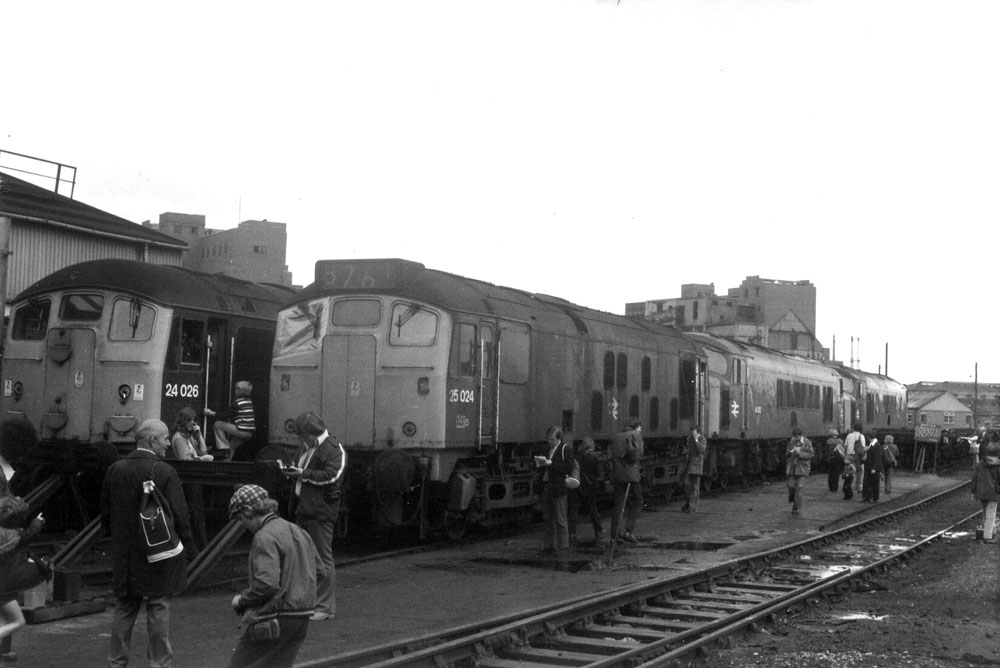 Photograph collection of webmaster.
It looks like the August 30th 1974 Works Open Day was a cloudy affair as seen in this view of the deadlines with 24026 & 25024 closest to the camera. Look at all those duffel bags, 'Adidas' bags and the clothing of the visitors.
At about 2pm on November 20th 25024 was noted at Exeter stabling point, being in ex-works condition.
On Thursday November 21st noted at Exeter stabling point were 25024, 25224 & 25275.
1975
The recorded passenger workings are very few for D5174/25024. On July 5th 1975 the 08.30 Chesterfield - Scarborough was worked by 25024 & 25122. During August 1975 the 07.18 Sheffield - Skegness and 10.55 Skegness - Sheffield was worked by 25024 on August 2nd, 23rd and 30th.
On August 26th 1975 25024 was noted southbound on the ECML at South Otterington with a mixed train mostly comprised of loaded steel bogie wagons.
25024 was withdrawn on January 25th 1976.
Extract from Thornaby Shed Repair Record Book
D5174 for the periods 20/7/1961 - 2/11/1961 and 1/6/62 - 27/12/1962.
13/6/62 B exam
16/6/62 Compressor
25/6/62 B exam
29/6/62 Starter contact
2/7/62 Starter contact
4/7/62 Starter motor
6/7/62 Crank case cover
20/7/62 Cab door made to open
24/7/62 B exam
2/8/72 B exam
18/6/62 Vac to exam
28/8/62 B exam
30/8/62 Wiper
3/9/62 Oil pressure low
5/9/62 Settling tank gauge glass broken
6/9/62 Exhausters, horn
7/9/62 Wipers
21/9/62 B exam, bellows
30/9/62 Fire extinguisher missing
7/10/62 Lub oil filter rachet
14/10/62 B exam
15/10/62 Engine will not start, Exhausters to top up
18/10/62 Exhausters top up
23/10/62 Firebell ringing
24/10/62 AWS
25/10/62 Brakes, B exam
30/10/62 AWS
2/11/62 Sands, AWS seal broken
5/11/62 Electrical exam
8/11/62 AWS, Brake spring tension fulcrum bolt working out
9/11/62 AWS key to secure
11/11/62 Sands
12/11/62 Wiper
14/11/62 B exam
21/11/62 Air valve sticking
28/11/62 Sands
6/12/62 B exam
9/12/62 Water leak engine room
10/12/62 Guard irons to strengthen, sand pipe catching wheel
12/12/62 Sands
16/12/62 C exam, heaters
22/12/62 Heater not working
Not all known passenger workings are recorded on this page.
Resources:
Repair book information courtesy Peter Maynard.
9/800
flk 0320
Page added August 5th 2013.
Last updated September 30th 2020.
Back to 25023
Forward to 25025