D5186, 5186, 25036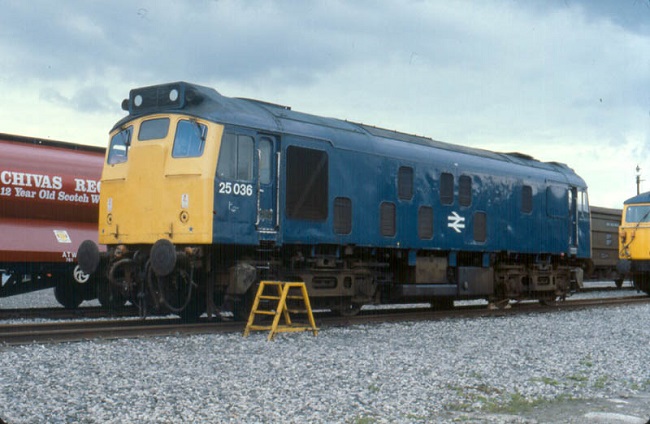 A weekend exhibition of rolling stock at Carlisle Goods Yard brought a number of locomotives and wagons to the public's attention. Seen here on July 6th 1980 is 25036. Other locomotives present were a Class 40 & 87. At this time 25036 had just been transferred to Kingmoor.
The nineteen year nine month career of D5186/25036 saw allocations to depots only on the London Midland Region. This was a change from the allocation histories of all the previous Class 25s.
Built: BR Derby Locomotive Works.
Boiler equipped.
Dual brake fitted.
Carried green livery with TOPS numbering (approx 3/74 - 9/74).
Royal Train cabling modification (cab front circular access point).
Center lampbracket & other fittings removed.
Time between last Classified repair and withdrawal: 54 months.
Time between withdrawal & scrapping: 29 months.
Allocations
D5186 was new to Toton (18A) on March 23rd 1963. Further transfers were:
February 1964 to Leicester (15A).
January 1965 to London Midland (Midland) Lines.
February 1965 to Nottingham Division (D16).
June 1965 to Leicester Division (D15).
September 1965 to London Midland (Midland) Lines.
June 1968 to Nottingham Division (D16).
November 1968 to Preston Division (D10).
November 1969 to London Division (D01).
May 1973 to Cricklewood.
May 1974 to Willesden.
August 1974 to Cricklewood.
December 1974 to Springs Branch.
May 1978 to Laira (transfer may have been cancelled before 25036 reached Laira).
May 1978 to Springs Branch.
August 1980 to Kingmoor.
February 1982 to Bescot.
Withdrawn December 20th 1982.
Renumbered March 16th 1974.
25036 was the 160th Class 25 withdrawn, one of eight retired during December 1982.
After withdrawal 25036 had reached Derby Works by January 1983. The dispute which had led to the cessation of the breaking up of locomotives at Derby created the build up of a considerable quantity of condemned locomotives littering the Works. During 1985 this matter was dealt with by moving the Class 40/45 locomotives to Doncaster Works and the Class 25s to Swindon Works. This included 25036 which moved as the 9X12 Derby - Swindon on February 4th & 5th 1985 as part of the convoy containing 25036/049, 25150, 25228/253/277 25304/317/320. 25036 was broken up at Swindon Works during June 1985.
Works Visits.
Works visits (records incomplete).
Noted Derby Works September 1962 - March 1963 (under construction)
Noted Derby Works September & October 1966.
Noted Derby Works November 1968.
Noted Derby Works November 1969.
Noted Derby Works January 1970.
Noted Derby Works October & November 1974 (dual brake equipment fitted).
Noted Derby Works June & July 1978 (Classified).
Noted Derby Works June 1981 (N4 repairs).
Noted Derby Works September & October 1982 (N4 repairs, never left works?).
Highlights
1963
During the last quarter of 1962 Derby Works finally was able to lay down the frames for the first of a long line of Class 25s, begining with D5186. Prior to this Derby had been busily working on completing its order of Class 46s. The middle of March saw the delivery of the first of an order of thirty seven Type 2s from Derby Works (D5186 - D5222), initially delivered to Toton for further dieselisation of the Midland lines. Their arrival was most timely as the railways recovered from the extreme weather of January & February. With the mainline expresses and the principal fitted freights out of St Pancras being handled by the Peaks the new Type 2s took over many of the remaining freights, frequently found in pairs and using brake tenders. They were also joined in this task by the BRCW Type 2s.
Testing of the Derby Works built units included a roundtrip to the Corby area attached to a string of coaches, the headcode used was 1T48, D5186 was noted on this working on February 15th & March 12th.
1964
On February 22nd D5186 was noted at Leeds with the empty coaching stock forming the 10.35am Leeds - Glasgow.
The continuing use of Sulzer 2s on the Aston 'Condor' service often found them pressed into service whilst laying over in Glasgow prior to the next evening's southbound working. They were frequently utilised on local passenger workings, a popular choice being the 11.25 Wemyss Bay - Glasgow service with examples noted in November being D5186/92/94, 7584/92/93.
1965
Condition June: green livery with frame level stripe, small yellow warning panels with curved upper corners, panels cover frame level stripe.
On November 4th 1965 the 15.25 Manchester Central - Nottingham was worked by D5186.
1967
Condition July: green livery with frame level stripe, small yellow warning panels with square upper corners.
1968
On August 10th 1968 D5186 worked the summer dated roundtrip Nottingham - Llandudno Town.
1973
On January 13th Kings Cross was visited by 5186 & 5237 and 5641 & 5234 in charge of Leicester - Finsbury Park (for Highbury) F A cup tie specials.
The locomotive still carried green livery with the lion & wheel emblem, with the numbers still prefixed with 'D'.
On September 15th 1973 D5186 & D5187 worked a roundtrip Leicester - Skegness service.
1974
Passengers on a Marylebone -York excursion on April 25th enjoyed the delights of being routed via Penistone and Huddersfield, the locomotives for the day were 25072 & 25036.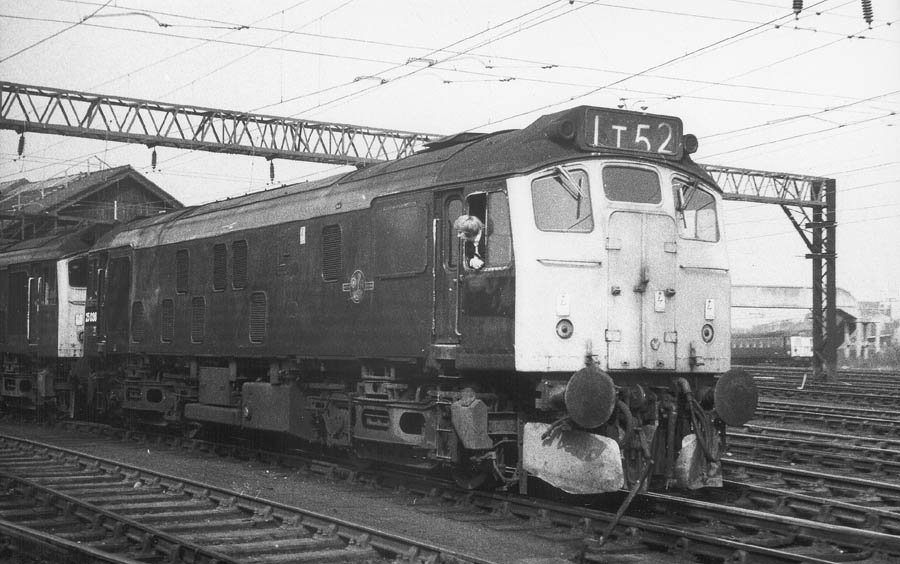 Photograph collection of webmaster.
25036 in well worn green livery backs on to coaching stock at Longsight, date unknown but most likely between March & September 1974. 25036 was one of a small group of Class 25s to carry green livery and carry TOPS numbers.
25036 returned to Willesden in May, then across to Cricklewood in August, it was at Derby Works during October & November, the repairs including the fitting of dual brake equipment. It was reallocated to Springs Branch in December!
1975
25036 was on empty coaching stock duty at Liverpool Lime Street on January 2nd. On January 15th 25036 was noted at Manchester Victoria with the 6F01. On January 31st 25036 was noted at Manchester Victoria.
On February 6th & 7th 25036 was noted at Manchester Victoria. On February 15th the 10.36 Liverpool Street - Kings Lynn failed at some point behind 37039, 25036 dragged the service to Kings Lynn(?).
On March 22nd 25027 & 25036 were westbound at Chester with a train of covered hoppers.
On April 27th 25036 was stabled at Springs Branch.
On June 2nd 25036 was at Warrington Arpley.
On June 24th 25036 was noted at Manchester Victoria with the 9X57.
On August 20th 25036 worked the 05.07 Leeds City - Manchester Victoria vans.
On September 2nd 25036 was stabled at York.
1976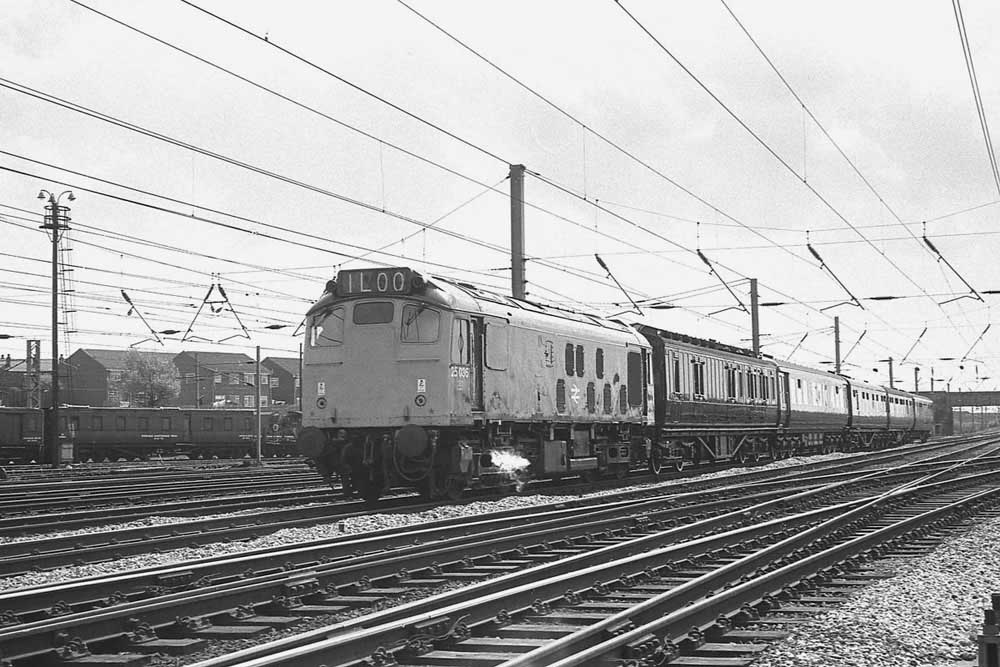 Photograph courtesy Tom Sutch
25036 passes Springs Branch on May 18th 1976 with the 1L00 Liverpool Lime Street - Oxenholme for use by the Duke of Edinburgh. This was most likely an empty coaching stock movement.
25036 was on empty coaching stock duty at Liverpool Lime Street on December 13th.
1977
On March 26th 25036 was noted at Vigo with a tank train.
The 'Silver Jubilee Conway Valley Adventurer' charter on June 12th from Oakham to Blaenau Ffestiniog was worked throughout by 25036 & 25120 (return to Kettering) for a total of 410 passenger miles. A large blue & white headboard adorned the loeading locomotive.
On July 25th 25036 worked the 00.40 Manchester Victoria - York.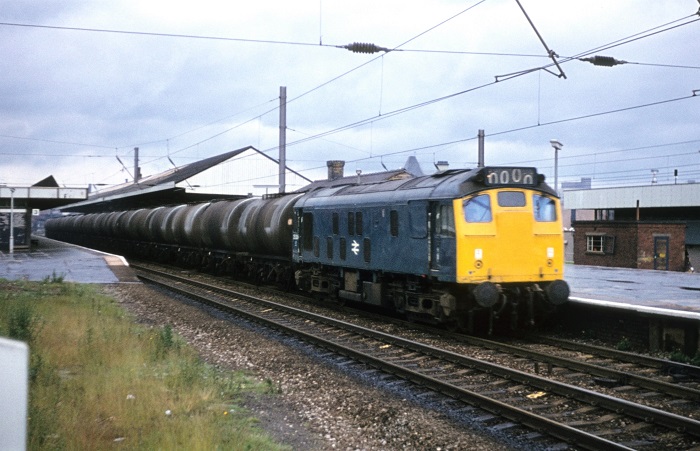 Photograph courtesy Tony Smith.
25036 passes Warrington Bank Quay with an oil train on June 27th 1977.
25036 was noted on a permanent way train at Liverpool Lime Street on December 4th.
1978
25036 was on empty coaching stock duty at Liverpool Lime Street on April 1st. On April 14th the 18.26 Preston - Liverpool was worked by 25036, deputising for a failed Class 47. A week later on April 22nd the St. Pancras - York 'Yorkshire Rover' was worked out & back by 25036 & 25067 for a total of 438 passenger miles. On the return leg the ECML was used as far as Newark, where the freight only Bottesford branch was taken.
On May 1st the relief 08.24 Leicester - Skegness & 18.34 Skegness - Leicester were hauled by 25036 & 25074.
During June & July 25036 visited Derby Locomotive Works to receive its last Classified repair. The two views below show it progressing through the Works.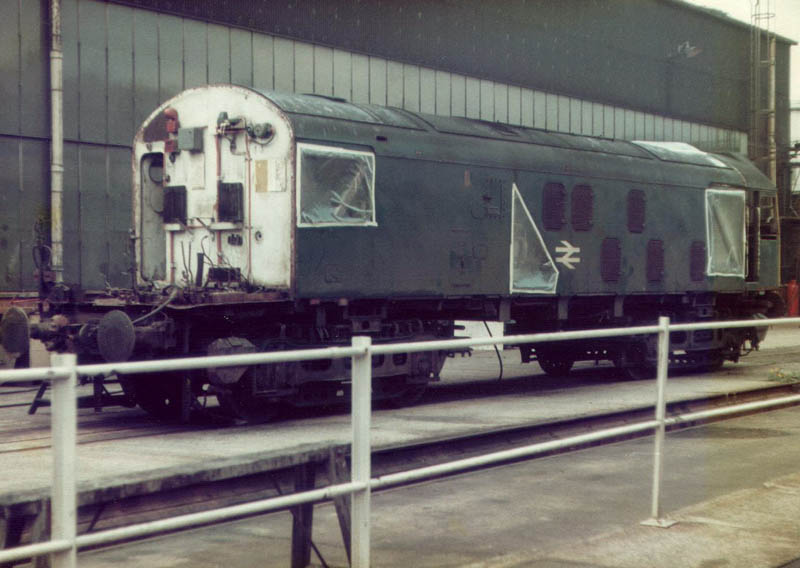 Photograph courtesy Graham Turner
With one cab removed and the various 'holes' covered with plastic sheeting 25036 undergoes some sort of de-asbestos treatment prior to moving to 8 Shop. Seen here June 6th 1978.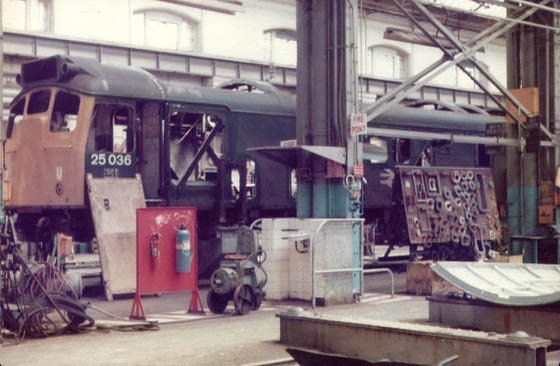 Photograph courtesy Graham Turner
A gutted 25036 takes its place in 8 Shop to have all its bits put back together - seen here surrounded by many of the bits and pieces needed by the shop forces at Derby to make this happen. June 11th 1978.
On July 27th 25036 made a test run from Derby Works.
The snag sheet for July 27th recorded:
25036; July 27th 1978; 3F01 from Nottingham
| | | | | | |
| --- | --- | --- | --- | --- | --- |
| Load | Speed | Amps | Volts | Notes | Other |
| 1 | 28 | 900 | - | - | - |
Boiler will not shut down when air supply is off
Boiler reluctant to fire, fuel OK
Boiler sealing plate to clean out
No.2 rocker seal
Auto air gauges to check - different
A side crankcase door free end
Turbo-charger breather joint leaking B side
No.2 boiler fault light - inspect.
On July 30th ex-works 25036 was stabled at Saltley.
On the morning of August 1st 25097 & 25036 were stabled at York.
On August 5th 25036 was stabled at Holbeck.
On August 10th 25036 was at Chester with a tank train from Stanlow.
25060 & 25036 were noted at Seacombe Junction with an iron ore train on October 23rd.
On November 27th the morning Glasgow - Nottingham service was noted arriving at Leeds behind 25036, it is uncertain as to how far the Class 25 had worked.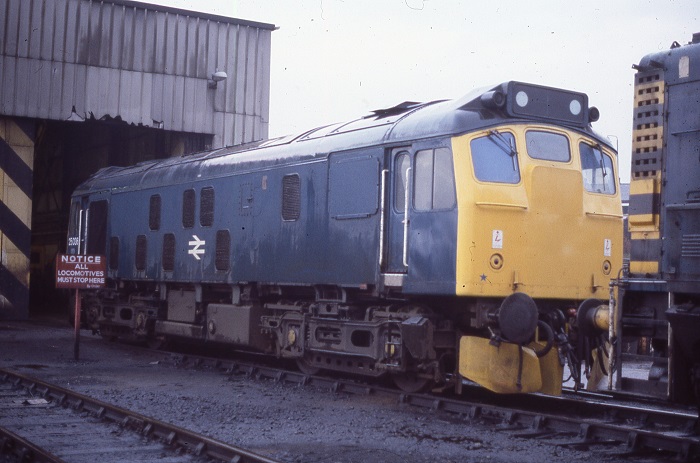 Standing in the rain outside Wigan Springs Branch shed on a dismal Sunday afternoon December 9th 1978 is 25036.
1979
The 19.30 Chester - Manchester Piccadilly was worked by 25036 on March 2nd.
25036 was stabled at Newton Heath on April 22nd.
On August 2nd 25036 was noted at Oxford with a train of explosives. On August 16th 25036 was noted light engine through York station. During the middle of August 25036 & 25283 spent a weekend on Cambrian metals. On August 18th they worked the 04.15 Shrewsbury - Aberystwyth and the 10.09 Aberystwyth - Euston to Wolverhampton. The next day (19th) they worked the 08.45 Birmingham New Street - Barmouth and the 17.45 Barmouth - Euston to Wolverhampton.
On November 22nd 25036 worked the 19.30 Bangor - Manchester Victoria, whilst two days later (24th) 25036 was noted passing Eccles on an unidentified passenger working.
1980
25036 worked the Portington - Baglan Bay tanks on March 14th.
On April 25th 25036 & 25138 were at Northwich with a train of ICI bogie hoppers.
On June 28th the 14.00 Glasgow Central - Carlisle was worked by 25036. The next day (29th) the 21.25 Dover Western Docks - Stirling motorail was taken forward from Mossend Yard by 25036 & 26010. During July 25036 moved to Kingmoor. On August 6th 25036 worked the 20.30 Crewe - Bangor. The next day (7th) a diesel multiple unit failure found 25036 working the 14.55 Llandudno Town - Blaenau Ffestiniog from Llandudno Junction, returning with the 16.25 Blaenau Ffestiniog - Llandudno Town to Llandudno Junction. The locomotive did not run round so pushed the diesel multiple unit on the return working.
On August 29th 25036 was noted at Sheffield on an unknown passenger working, possibly due to a failure on an wx-St Pancras service.
A melancholy duty for 25202 & 25036 during October was their use with the 'Rail Away Gang' in the removal of the trackwork of the closed Rowrah – Whitehaven line.
1981
On March 28th the 15.40 Manchester Victoria - Bangor was worked by 25036.
On the afternoon of April 29th 25036 was noted at Ashton Grange Junction with a down freight.
During June 25036 was in Derby Works for N4 repairs.
On August 22nd the 04.10 Shrewsbury - Aberystwyth and the 10.07 Aberystwyth - Euston to Wolverhampton were worked by 25036 & 25131.
On November 13th 25036 & 25106 worked the Leith South - Heysham Harbour pipe train (from Carlisle?).
1982
25036 moved south to Bescot in February.
On February 13th 25036 was at Carlisle New Yard.
On March 30th three vehicles from 370003 and a barrier vehicle were hauled south through Sheffield by 25036.
25036 was derailed at Water Orton on April 5th.
On May 4th 25036 worked an Edge Hill - Red Bank van train.
On June 1st the 12.50 Carlisle - Glasgow Central was worked by 25036.
With 25036 allocated to Bescot it soon made a number of trips across the Cambrian line to Aberystwyth on the summer Saturday services, those reported are 25036 & 25044 on June 19th's 07.38 Shrewsbury - Aberystwyth & return 10.07 to Euston as far as Wolverhampton. 25036 & 25323 were busy on the weekend of July 24th/25th, on 24th they worked the 10.10 Euston - Aberystwyth from Wolverhampton & 16.05 back to Shrewsbury, the following day (25th) they worked the 08.45 Birmingham New Street - Aberystwyth from Shrewsbury, the 16.40 Aberystwyth - Machynlleth and 17.25 return and finally the 18.15 Aberystwyth - Euston to Shrewsbury. And finally on August 7th 25036 & 25067 workd the 07.38 Shrewsbury - Aberystwyth & return 10.07 to Euston as far as Wolverhampton.
25036 entered Derby Works for N6 repairs in September, being on display in front of the office block on September 4th 1982, the locomotive remained at Derby until December when 25036 was withdrawn.
25036 was withdrawn on December 20th 1982.
1983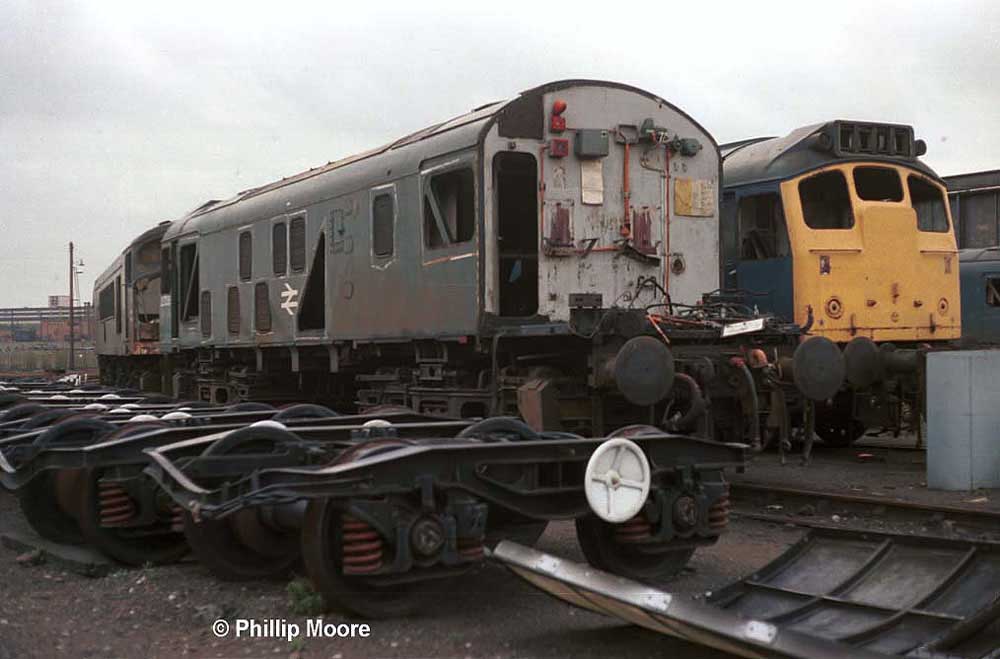 Photograph courtesy Phillip Moore.
The unfortunate 25036 stands amid lines of other dismembered locomotives at Derby Works on November 26th 1983, having surrendered a cab to repair 25035! In this undignified state 25036 was towed down to Swindon where the end came in June 1985.
A builders plate reportedly from 25036 sold on Ebay during March 2013 for GBP170.01.
44/4548
flk 0422
Page added February 1st 2002.
Page updated July 9th 2022.
Back to 25035
Forward to 25037