D5185, 5185, 25035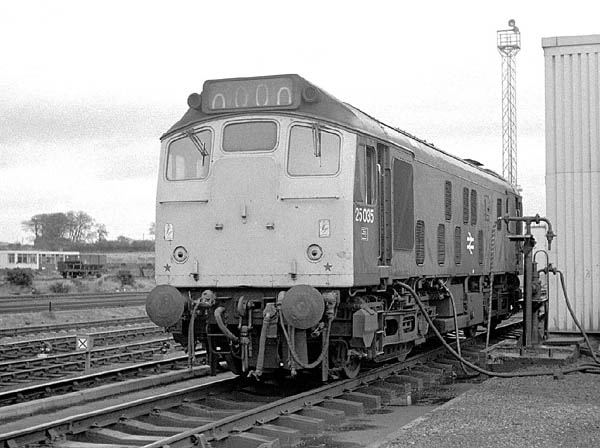 Photograph courtesy Tony Sayer
A fine portrait of 25035 at Millerhill on October 30th 1977 as the locomotive takes on fuel and water.
The twenty three year ten month career of D5185/25035 was similar to that of D5184/25034 with allocations to depots on the London Midland, Eastern & Scottish Regions. D5185 was the last of a batch of 35 built by Darlington Works delivered between April 1961 & May 1963. Darlington would continue with the batch transferred from Derby (D5223 - D5232, delivered July 1963 - November 1963).
Built: BR Darlington Locomotive Works.
Boiler equipped.
Boiler water tank fitted with circular gauge from new.
Royal Train cabling modification (cab front circular access point).
Dual brake fitted (July 1978).
Center lampbracket & other fittings removed (1978).
Angled strip at bottom of cab doors (1978).
Named, unofficial: Castell Dinas Bran (1986/1987).
Time between last Classified repair and withdrawal: 104 months.
The Class 25 with the 2nd longest time in service (23 years & 289 days).
Oldest preserved Class 25.
Allocation History:
D5185 was new to Toton (18A) on May 25th 1963. Further transfers were:
January 1964 to Leicester (15A).
May 1964 to Toton (16A).
September 1964 to Cricklewood (14B).
Jnuary 1965 to London Midland (Midland) Lines.
June 1968 to Nottingham Division (D16).
July 1969 to London Division (D01).
June 1972 to Holbeck (55A).
October 1972 to Tinsley (41A).
February 1975 to Haymarket.
November 1980 to Crewe.
Renumbered February 1974.
Withdrawn March 15th 1987
After withdrawal 25035 was stored at Basford Hall until moved to Leicester Humberstone Road on July 14th 1987 and into Vic Berry's Leicester yard on September 11th 1987. On July 14th 1988 25035 departed Vic Berry's yard for the Northampton Steam Railway.
Works Visits (incomplete):
Noted Darlington Works : January 1963 - May 1963 (under construction)
Noted Derby Works : October 1966
Noted Derby Works : August 1974
Noted Glasgow Works: June & July 1978 (Classified, dual brake equipment fitted)
Noted Derby Works : November 1978
Noted Glasgow Works: November 1979 - April 1980 (main generator)
Noted Derby Works: December 1980
Noted Derby Works: July 1982
Noted Derby Works: December 1982 - February 1983
Highlights
1963
D5185 was the last of a batch of thirty five built by Darlington Works, being released to traffic on May 24th. It was also the third of a continuous batch of thirty five (D5183 - D5217) delivered to Toton (18A) as part of the dieselisation of the lines north from St Pancras.
1964
D5185 was well travelled during 1964, in January it moved to Leicester (15A), then continued on to Nottingham (16A) in May followed by a move south to Cricklewood (14B) in September, joining the growing Type 2 fleet there.
On July 5th stabled at Toton were D5184, D5185, D5234, D5243, D5244, D5245, D5247, D5249, D5251, D5257, D5262, D5263, D5268, D5277, D5279, D5280 & D5281.
1965
On July 24th 1965 a roundtrip relief Nottingham - Skegness was worked by D5185.
1966
Passenger services between Rugby and Peterborough ceased on June 6th, so ending a cross-country route long familiar to the BR Sulzer Type 2s. D5185 worked the final 20.20 Peterborough East - Leicester service. A visit by D5185 was made to Derby Works during October. On December 3rd 1966 a return Carlisle - Leicester railtour saw 45562 Alberta replaced by D5185 at Derby.
1967
On the evening of June 29th D5185 was southbound at Derby with a parcels.
On the evening of July 13th D5185 was at Uttoxeter with a down parcels.
On the evening of July 20th D5185 was at Longton with an up freight (7P31).
On the evening of July 28th D5185 was at Leeds City with empty coaching stock (3G35).
1968
D5185 was noted at Skegness on June 1st & 3rd with a round trip service from ??
On August 4th D5185 was southbound at Toton with a freight (small yellow warning panels, square upper corners).
1969
On May 3rd 1969 the 15.28 Birmingham New Street - Yarmouth was worked to Norwich by 5185.
1970
The Women's International Hockey Match at Wembley on March 14th brought four specials to Kensington Olympia, Class 47 D1727 with a train from Wolverhampton and Class 45 D95 from Nottingham. The other two were electric hauled to Willesden, switching here to Type 2s; 5185 took over a thirteen coach train from Crewe and 7537 & 5219 with sixteen coaches from Barrow for the last few miles to Kensington Olympia.
On June 6th 5185 was the parcels pilot at Euston.
1971
On January 5th 5185 was on an up freight at Willesden.
1972
The evening Curzon Street - Norwich parcels was worked by 5185 on November 27th & 28th.
On the evening of December 12th 5185 was noted at York with an up freight (6L68).
1973
On March 17th 5185 worked a Newcastle - York parcels.
On the evening of March 19th 5185 arrived at Dringhouses with a freight from the north, uncoupled and ran light engine to York depot.
On the morning of May 28th 5185 was northbound at Skelton (York) with a freight.
On July 9th 5185 was stabled at York.
On the morning of August 6th 5185 was stabled at York.
On the evening of August 9th 5185 was shunting ballast hoppers at York.
Front line service befell an odd couple on September 14th when 5858 and 5185 powered a Bournemouth - Newcastle passenger north from Birmingham New Street.
On the afternoon of October 4th 5185 was stabled at York.
On November 3rd 1973 a roundtrip Leicester - Norwich football excursion was worked by 5185 & 7585.
1974
Renumbering took place during February, from 5185 to 25035.
On the morning of February 15th 25035 was stabled at York.
On the afternoon of February 26th 25035 & 25078 were at Nottingham with an up freight.
During February energisation of the overhead took place from Garstang to Carlisle. Diesel powered test trains operated between Preston & Carlisle, various test vehicles and vans were used, including 5285 (March 4th), 25026 (March 11th) & 25035 (March 21st).
On March 18th 25035 worked the Whitehaven - Preston - Huddersfield mails and returned with a mail train to Carlisle.
On April 14th the 21.30 Leicester - Birmingham New Street was worked by 25035.
On the morning of April 18th 25035 was at Birmingham New Street with empty coaching stock and vans.
On April 21st the 20.43 Birmingham New Street - Peterborough was worked by 25035.
On April 29th 25035 was stabled at York.
Condition June: gangway doors still fitted, Royal Train cabling modification (cab front circular access point) still present.
It was a busy weekend on June 1st/2nd 1974 for 25035 & 25135, on the 1st working the 08.00 Walsall - Yarmouth to Norwich, returning from there with the 14.15 Yarmouth - Derby. The next day they worked the a roundtrip Derby - Skegness service.
25035 briefly visited Derby Works during August.
25035 was stabled at Peterborough on November 17th.
On December 13th 25035 was at York for much of the day shunting parcels vans.
1975
On the afternoon of February 6th 25035 was stabled at York.
The 13.15 Edinburgh - Inverness on May 31st was worked by 26020 & 25035.
On September 19th the 07.55 Oban - Glasgow Queen Street was worked by 25035. Three days later (22nd) a (late afternoon?) Wick - Inverness service failed at Brora behind 26017, 25035 rescued the service, arriving two hours late at Inverness.
1976
The 1E83 17.10 Edinburgh - Berwick on Tweed frequently used whatever Haymarket had available, on February 11th 25035 was noted hauling this service.
During May 25035 was noted on the track lifting train employed between Alloa & Dollar. On May 27th 1976 the 21.40 Edinburgh - Carstairs was worked by 25035.
The Leith pipes trains to locations south of the border were probably worked at one time or another by every Scottish Class 25, on August 19th it was the turn of 25035 & 25026 to reach Oxford.
On the afternoon of August 31st 25035 was stabled at Perth.
On November 2nd 1976 25035 & 26024 worked a roundtrip Glasgow Queen Street - Inverness, a total of 362 miles.
1977
25035 was in charge of the 08.35 Glasgow Queen Street - Oban on January 18th.
At least three passenger duties were worked by 25035 on May 17th; the 12.25 Dundee - Arbroath, the 13.17 Arbroath - Dundee and the 14.22 Dundee - Edinburgh.
On July 21st 1977 25035 worked the 09.40 Edinburgh - Perth (portion for a morning Glasgow - Inverness service). A late afternoon Dundee - Glasgow Queen Street service was worked by 25035 on September 9th 1977 whilst on October 10th 1977 it was the turn of the 17.33 Dundee - Glasgow Queen Street for 25035.
1978
The 17.43 Glasgow - Ayr was hauled by 25035 on January 31st.
For 25035 June 1978 was spent under repair at Glasgow Works, with the locomotive being dual braked during this overhaul. The cab doors were fitted with angled strips at the bottom of the doors (to deflect moisture?), a variant unique to a Glasgow shopping. When the No.2 cab was replaced at Derby Locomotive Works at the end of 1982, the replacement cab doors were not fitted with the angled strips. Soon after release from Glasgow Works March depot provided 25035 to take forward the 14.52 Liverpool Street - Edinburgh parcels on July 4th, presumably very ex-works.
On August 1st 1978 25035 worked the 09.38 Dundee - Glasgow Queen Street, whilst a month later on September 1st 25035 worked the 07.50 Arbroath - Edinburgh.
A brief visit was made by 25035 to Derby Works during November.
1979
On May 12th the SRPS chartered an excursion from Falkirk to Fraserburgh with 40061 handling the journey to/from Aberdeen. Here 25034 & 25035 took over for the journey to Fraserburgh via Dyce Junction and Maud Junction. This was most likely the last passenger train over the line north of Dyce Junction as the branch was due to close that weekend.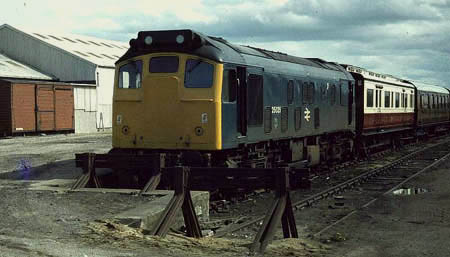 Photograph courtesy Stew Robertson
To effect the run round manouvre at Fraserburgh the locomotives were split, May 12th 1979.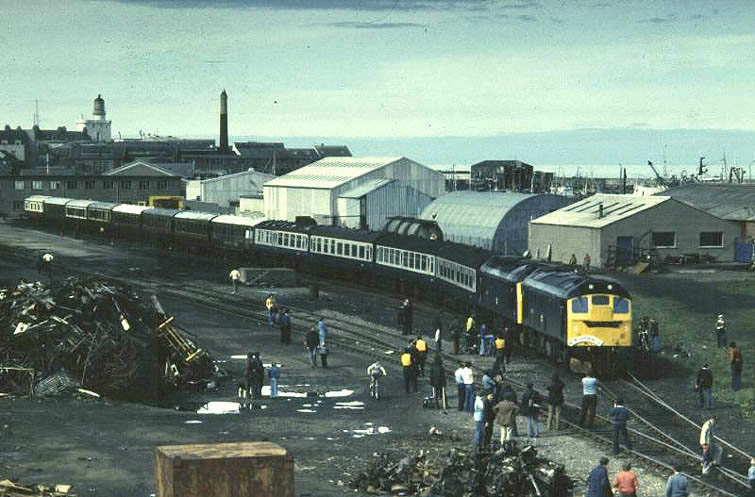 Photograph courtesy Stew Robertson
On May 12th 1979 the SRPS operated a railtour which included the freight only line from Dyce Jct to Fraserburgh. 25034 & 25035 were the chosen motive power for the day north of Aberdeen though the 20mph restriction on the branch did not promote much in the way of high speed running. The train is seen here at Fraserburgh awaiting to return south.
From the middle of June until November 25035 was reported out of service at Polmadie, then spending time at Glasgow Works from November 1979 to April 1980 for generator (N4) repairs. The views below come from an interesting document scavenged from the pages of Ebay. It was a series of typed legal size sheets featuring tabular histories of many Class 25s, apparently mostly those which had been allocated to Scottish depots. Many photographs had been pasted onto the pages, in between the text, some had been cropped and many appeared to be printed by the photographer. Although the quality of some of the photographs is not great, the whole document is a fascinating testament to how far we enthusiasts will go to record our hobby.
The owner also created similar log sheets for Classes 20/26/47, which also went for sale on Ebay. The seller picked them up from some sort of clearout of the owners house, possibly the result of the owner becoming deceased or moving to a elderly care home. Possibly the owner was a Mr A Forster - thanks for the memories & notes.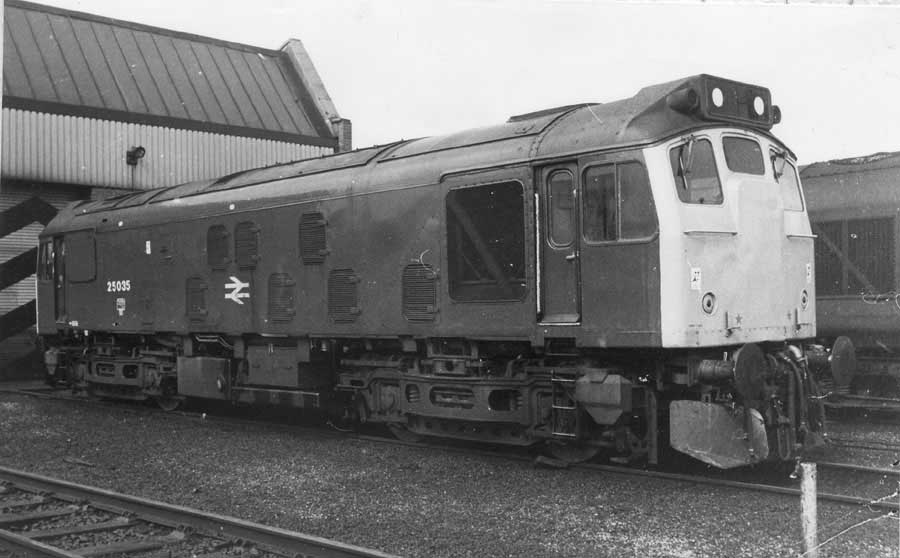 Photograph courtesy A Forster
April 13th 1979 and 25035 is noted at the east end of Haymarket shed building. The angled strips at the bottom of the cab doors are clearly visible in both photographs (No.1 cab above, No.2 cab below).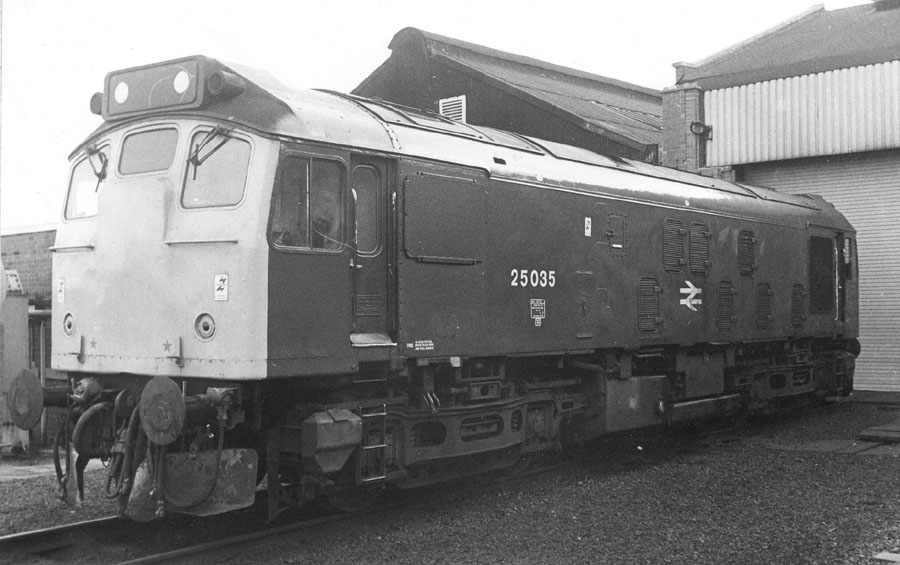 Photograph courtesy A Forster
April 22nd 1979, 25035 is now seen at Haymarket on the west side of the shed building. Visible at frame level to the right of the cab door is the instruction with regard to activation of the fire suppresion system, a notice only added by Glasgow Works.
1980
During March approximately six hundred locomotives were awaiting attention of which only one third (about 160) were out of traffic for scheduled repair. For the Class 25s fifty eight were laid up, the Class 31s had thirty out of traffic, whilst for the Class 47s one out of every five machines was awaiting some sort of attention. Eight Class 25s had been out of traffic for at least three months (25035/42, 25113/147/177/191, 25234/252). For 25035 it is reported to have been noted out of use at Polmadie during the middle of June 1979, then later moved to Glasgow Works and released back into traffic by June 1980.
On June 23rd 25035 was noted on the Trip 25 working from Motherwell, which involved light engine from Motherwell to Mossend Yard up siding No.9 - Lanark (via Holytown) - Law Junction (shunt) - Mossend up sidings (via Holytown) then light back to Motherwell MPD.
On July 21st 1980 25035 worked the 17.10 Glasgow Queen Street - Edinburgh. On September 9th 1980 the 08.44 Glasgow Queen Street - Dundee was worked by 25035.
After almost five years on the Scottish Region 25035 moved to Crewe during November. This was the last move for 25035, being joined in July 1985 by sister 25034. On November 19th the 06.55 Gloucester - Birmingham was in the hands of 25035. During December 25035 visited Derby for generator (N4) repairs.
1981
On the morning of January 24th 25035 was noted at Kidsgrove on a wiring train (see also photograph below).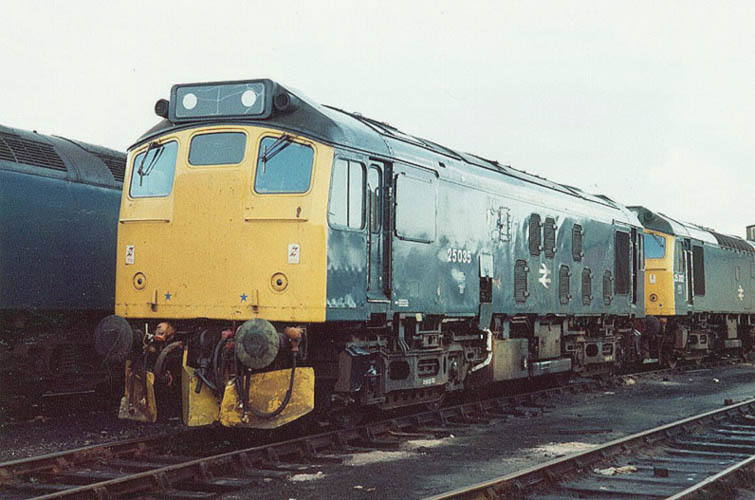 Photograph courtesy Paul Bettany
In November 1980 25035 moved from Haymarket to Crewe. Seen here on January 24th 1981 at Cockshute 25035 still sports the three piece snowploughs. Also visible are the hinged air filters, unique to the early series dual-braked Class 25's. The addition of this equipment in the cramped Class 25 body blocked acces to the filters from the inside, hence the need to access them externally.
On February 15th 1981 25035 failed at Stafford working the 04.10 Crewe - Birmingham New Street, a Class 81 assisted from Stafford. Four days later (19th) 25035 worked the 19.30 Crewe - Cardiff.
25035 was stopped at Crewe Diesel depot on April 7th for repairs. Two days later on April 9th 25035 worked the afternoon Manchester - Bristol parcels.
On May 5th an Aberystwyth - York special was hauled by 25035 & 25219 to Crewe. The return working proved to be an ugly time for the locomotives with three out of the four Class 25s failing. The original pair made it to Shrewsbury Hookagate Junction before 25035 failed, followed shortly afterwards by 25219 at Westbury. 25033 & 25113 came to the rescue, leaving them at Westbury, only to have 25033 fail at Forden. Fortunately 25113 did not succumb and after dumping 25033 and some coaches at Machynlleth finally reached Aberystwyth almost four hundred minutes late. By the last week of May the reliability of 25035 had improved, on May 22nd it worked the relief 12.28 Salisbury - Sheffield forward from Birmingham New Street with 25033. Four days later (26th) 25035 worked the 10.15 Birmingham New Street - Norwich throughout. 25035 was stabled at Guide Bridge on the afternoon of May 28th. On May 30th the 08.58 Peterborough - Yarmouth to Norwich and the return 12.52 Yarmouth - Peterborough from Norwich were worked by 25035.
The 09.32 Cardiff - Manchester Piccadilly was worked by 25035 & 25221 on July 14th 1981. On July 20th 25035 towed fire damaged 45052 from Bromsgrove to Derby Works, the Peak having caught fire two days earlier on a Leeds - Paignton working.
On November 22nd 25035 was noted at Coventry on permanent way duties with five other Class 25s. The 18.15 Birmingham New Street - Norwich was worked at least to Peterborough by 25035 on November 25th 1981.
1982
25032 was stabled at Cricklewood on March 7th.
On June 15th 1982 the 14.10 Nottingham - St. Pancras was worked to Leicester by 25035. Four days later (19th) 25035 worked the 07.45 Manchester Victoria - Bangor.
25035 visited Derby for N4 repairs in July.
The 08.22 Crewe - Derby was worked (throughout?) by 25035 on August 25th 1982 following a diesel multiple unit failure?
On September 18th 25035 spent the day working two round trips on the Manchester Victoria - Bangor circuit (the 07.45 & 15.45 to Bangor & returns), a total of 400 passenger miles. Two days later (20th) 25035 worked the 15.45 Manchester Victoria - Bangor and the 19.25 Bangor - Manchester Victoria as far as Llandudno Junction (?), being replaced by 25254.
A collision at Crewe fuelling point occurred on October 6th between 25035 & 25190, the former sustaining damage to the cab. This could easily have resulted in withdrawal but repairs were effected at Derby between December 1982 and February 1983. A replacement cab was fitted from recently withdrawn sister 25036, this led to a temporary identity crisis, since 25036's final repair had been at Derby the locomotive carried the numbers on the cab side whilst Glasgow had given 25035 bodyside numbers, giving for a short while a Class 25 with two different numbers, though this was quickly put right after a visit to the paint shop.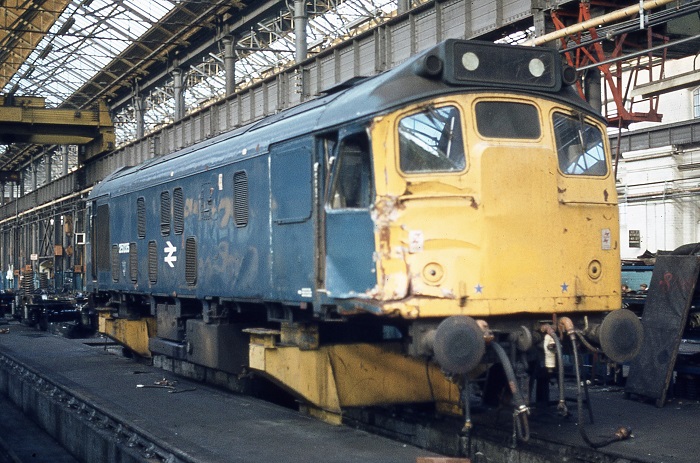 Photograph courtesy A Healey / J Glynn
25035 awaits attention at Derby Works, December 6th 1982. Classified repairs for the Type 2s had long since ceased so it was remarkable that 25035 should receive a repair. Bescot allocated 25036 had only just been withdrawn, so it donated one of its cabs to the lucky 25035. This gave 25035 an identity crisis as for a while at Derby it displayed two numbers, before visiting the paint shop.
1983
On May 13th 25035 was noted passing Loughborough with eleven loaded bogie ballast wagons. On May 21st 25035 was noted passing Saltley with a breakdown train. Late May saw a couple of passenger workings for 25035. On May 23rd 25035 worked the 07.22 Derby - Birmingham New Street. A week later on May 31st 1983 the 09.29 Derby - Skegness and the return 18.37 Skegness - Derby were worked by 25035 & 25209.
On June 2nd 25035 was noted shunting Railfreight vans opposite Derby station. The 19.25 Lawley Street - Ipswich freightliner was booked for electric traction from Nuneaton to Willesden. During June pairs of diesels were working throughout, with 25035 & 47066 noted on June 9th. On June 17th 25035 was eastbound? at Buxworth with a short train of bulk powder wagons.
On July 8th 1983 25035 worked the 16.00 Leeds - Carlisle. Two days later (10th) it worked the 10.40 Carlisle - Leeds and the 16.00 Leeds - Carlisle. By July 13th it was noted heading west through Chester on oil tanks.
25035 was noted at Manchester Victoria on August 13th. 25035 was noted on parcels duty at Euston on August 31st.
25035 was noted at Severn Tunnel Junction on September 13th.
On November 4th a Manchester Victoria - Chester diesel multiple unit suffered severe mechanical failure and was dragged into Warrington Bank Quay by 25035 where the service was terminated, after fitters attention which involved isolating any remaining good final drives and manhandling severely mangled propshafts into the unit. 25035 ran round the unit and dragged it to Newton Heath for repair. On November 5th the 07.16 Manchester Victoria - York was worked to Leeds by 25035. Later the same day a Kings Cross - Carlisle charter was worked from Leeds to Carlisle by 25035 & 31102. On November 30th 25035 failed at Darlington hauling a Ferme Park - Heaton empty coaching stock extra. After repairs were completed it was noted the next morning on an early morning permanent way job.
1984
This would be a banner year for 25035, it would take first place for passenger miles hauled, with at least 3,261 miles (possibly more) recorded behind this fine machine. The first passenger working didn't occur until February 5th when it handled the 02.35 Euston - Bletchley. Next came F & W's 'The Vital Statistician' on February 11th when 25035 & 25048 worked the Birmingham New Street - Walsall - Brownhills - Lichfield - Burton - Toton leg of a Plymouth - Linby colliery tour. Scottish haulage beckoned on February 22nd when 25035 assisted a Class 47 between Ayr & Girvan on the overnight Euston - Stranraer.
April 14th saw 25035 on the 15.02 Manchester - Bristol parcels, since December 1983 this had been a Class 47 turn. 25035 was noted at Cardiff Canton on April 15th. 25231 & 25035 were noted on an up ballast train at Mostyn on April 21st.
After an absence of three months 25035 returned to passenger haulage in June, on the 1st it completed the last leg of a Euston - Blackpool service from Preston. On June 2nd it was noted at Newcastle Central shunting a diesel multiple unit. On June 4th & 5th it worked one round trip each day between Carlisle & Glasgow over the GSW route. On June 19th 25268 & 25035 were noted at Stockport.
On the night of July 3rd 25035 was on parcels duty at Birmingham New Street. On July 19th it deputised for a diesel multiple unit on an early evening Manchester Victoria - Llandudno Town service. On July 29th 25035 was stabled at Holyhead.
The last week of August found 25035 on a variety of workings, assisting a electric between Golbourne Junction & Skew Bridge Junction (23rd) due to the power being turned off and working a relief Southport - Manchester Victoria service on August 24th. On August 28th 25035 was noted eastbound at Warrington Arpley with a lengthy train of concrete sleepers. On August 30th 25035 worked the 11.41 Manchester Piccadilly - Hull to Sheffield following the failure of a Class 31/4, returning with the 15.48 Sheffield - Manchester Piccadilly.
25035 was stabled at Severn Tunnel Junction on September 15th & 16th. However it was during the last week of September that 25035 started out on an extended spell on the Glasgow - Carlisle route. On September 24th, 25th, 27th, 28th & October 1st, 2nd, 3rd & 4th at least one round trip was worked each day, on the 27th one extra trip was worked. Although no workings took place on 26th it was in action somewhere, it had ended the 25th's workings at Glasgow and started the 27th's duties at Carlisle. It returned to the Glasgow - Carlisle route on October 26th working the 08.40 Carlisle - Glasgow Central and the 20.50 Carlisle - Perth forward from Mossend Yard. The next day (27th) 25035 worked the 15.45 Glasgow Central - Carlisle.
On November 24th 25035 was noted at Carlisle Upperby Carriage depot with an engineers train.
The 20.50 Carlisle - Perth from Mossend was worked on December 5th & 7th. Its last known passenger working in 1984 was a Carlisle - Glasgow round trip on December 17th.
1985
After the considerable mileage clocked in 1984 it was left for 25035 to drift into the shadows in 1985. Reports indicate only one passenger working during the first half of the year, on February 5th with 25032, covering a late afternoon Lincoln - Crewe working (from Nottingham) following a failure of the booked diesel multiple unit. On February 25th 25035 was noted southbound through Crewe station with a permanent way train.
On March 9th 25035 was noted northbound at Carlisle with a freight.
On June 29th 25035 was stabled at Shrewsbury.
25035 was noted at Liverpool Lime Street on July 21st, having brought in a passenger working? Another failure, this time of 304001 at Stoke on a Stafford - Manchester local found 25035 commandeered to complete the working on July 25th. August 4th - 6th were spent on local workings in the North West, the highlight perhaps being the replacement of failed 31168 at Manchester Victoria on the 14.10 Cambridge - Blackpool.
25035 & 45034 were noted passing light engines through Gloucester station on August 14th.
25035 was stabled at Springs Branch on September 29th.
On October 9th 25035 was noted passing Helsby with a LowMac and brakevan and later noted heading back to the Wirral with a train of Catfish from St. Helens Shaw Street CCE Sidings. On October 11th 25035 was stabled at March. On October 12th 25035 was noted at Birkenhead Mollington Street.
Stanlow oil terminal on November 23rd provided a veritable feast of Class 25s with 25190 & 25192 and 25279 & 25325 on workings from Leeds and 25035 & 25072 from Dalston.
1986
25035 was stabled at Saltley on a snowy February 6th and was also noted this day at Nuneaton. 25035 was noted at Saltley on February 27th.
The month of February produced at least three short passenger workings for 25035. On February 10th 1986 the 07.26 Coventry - Glasgow Central required assistance between Canley & Wolverhampton after 86412 failed. Two days later (12th) and following a diesel multiple unit failure 25035 (?) worked the 14.15 Bletchley - Bedford and the 16.19 return.
On March 27th 25035 was noted with ballast wagons at Wellingborough.
Class 25s stabled at Rugby on March 29th for permanent way work were 25034, 25035, 25037, 25058, 25192 & 25202.
25035 was stabled at Severn Tunnel Junction with 25109 on April 12th & 13th.
On May 6th 25035 was noted northbound at Derby with container flats. On May 7th 25035 was noted eastbound at New Mills South Junction with a trainload of scrap. On May 24th 25035 was stabled at Cockshute. On May 27th 25035 was noted on the Cauldon Low branch with a loaded sand train.
A recent working bringing Class 25s to Scunthorpe was the eastbound empty coke running between Holyhead and Conoco's Humberside oil refinery with 25035 noted on June 2nd. On June 27th 25035 was noted northbound at Warrington Bank Quay with a lengthy parcels train.
Whitemoor still continued to use Class 25s on their local trip freights with 25035 on the Bury St Edmunds turn on July 11th. 25035 was noted at Stafford late on the morning of July 28th with a train of ballast hoppers.
On August 3rd 25035 was noted at Prestatyn with four empty short-wheelbase ballast wagons.
25035 was noted at Carlisle on September 16th.
During the night of October 17th 25035 was noted at Crewe station with oil tanks.
December saw 25034 retired, the elder statesman now becoming 25035. Not that the end of the year was a good time for 25035. It had been stopped at Crewe since December 16th pending a 'B' exam and attention to cylinder liners & seals.
1987
Crewe finally released 25035 back into traffic about January 9th, being noted on the afternoon of 11th attached to 25057. It was noted at Nottingham on the evening of 13th, followed by a spell in the Bescot area (Jan 17th, 24th & 25th). On the evening of 27th Longsight allocated 25035 to the 6K36 to Nuneaton Hartsill and 7H56 to Guide Bridge. However a loss of power on the 28th caused the engine to shut down, spending several days at Toton prior to the fault being fixed. All was well by the 30th with Llandudno Junction being reached in the evening.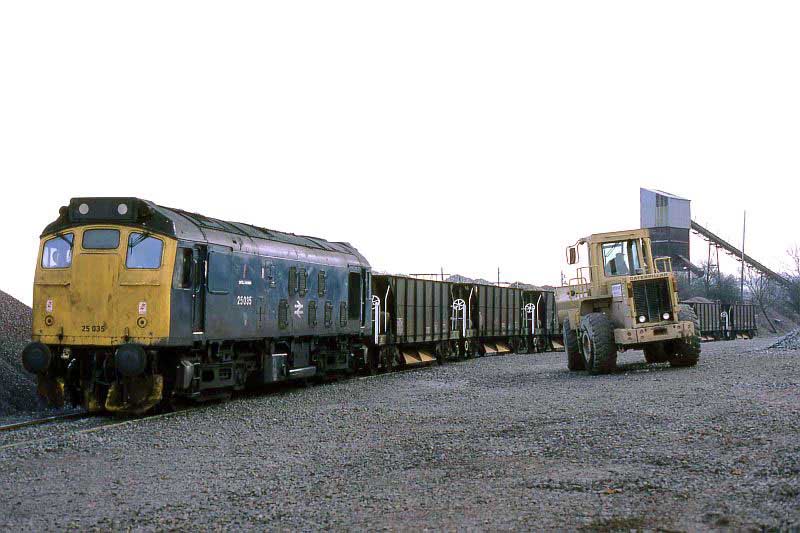 Photograph courtesy Ron Kosyse
25035 awaits the filling of the ballast wagons at Hartshill Quarry on February 17th 1987. Once all the wagons are loaded the train will depart as the 7H55 16.24 Hartshill - Guide Bridge.
In the wee hours of February 11th 25035 was back at Manchester Victoria being allocated to the 1P55 to Barrow and 5P55 return to Red Bank. That afternoon it was received by Longsight for an 'A' exam. Following this it worked local jobs on 12th. After more local jobs at Newton Works & Windsor Bridge it was back to Manchester Victoria for target MM20 on February 15th. More local jobs on the 17th, then to Manchester Victoria to await the 18th's 1P55 to Barrow and 5P55 return to Red Bank. An early morning arrival at Crewe on February 21st saw the next couple of days duties in the Crewe area. On 23rd it worked the 3F01 00.04 Crewe South Yard to Liverpool Lime Street. From the evening of February 24th to about March 7th 25035 spent most of its time in the Llandudno area, though by March 6th it had been stopped at Llandudno Jct with flat batteries. By the morning of the 7th it was back at Crewe, now in working order. At lunchtime on March 12th 25035 was at Ellesmere Port with a local trip freight.
On March 14th it was left to 25035 to handle the last passenger trip for a Class 25 in regular service. The train locomotive, recently outshopped 47424, failed on the 1V05 07.09 Holyhead - Cardiff service at Chester. 25035 took the service to Crewe where both machines were replaced. The following day at tea-time 25035 was withdrawn, moving to Basford Hall on the morning of the 19th.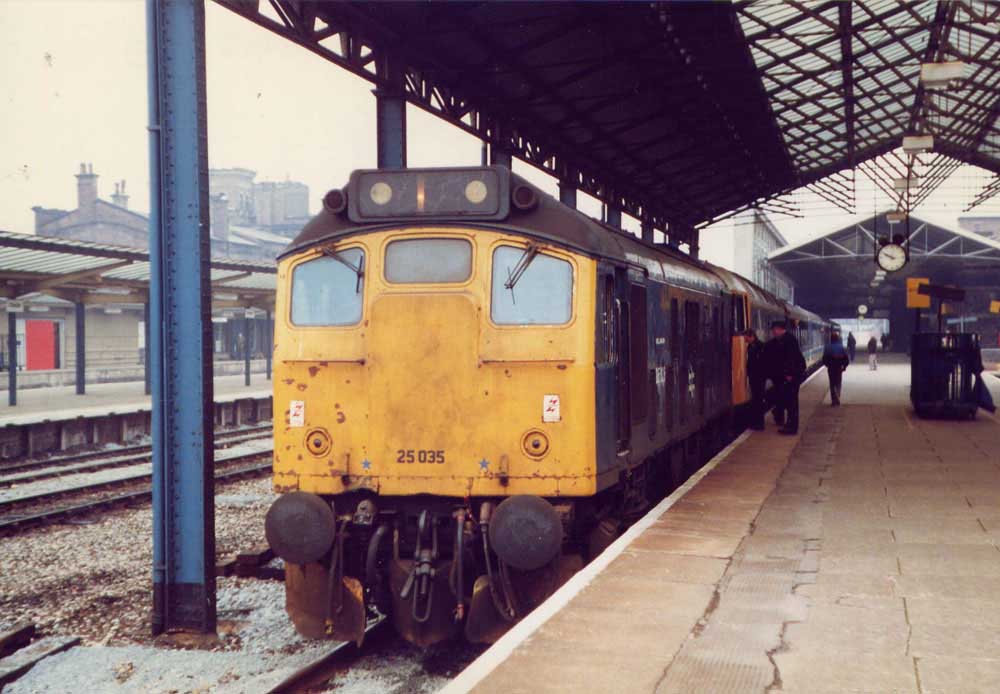 Photograph courtesy Paul Gleave
Its March 14th 1987 and 25035 works the last passenger train to be hauled by a Class 25, seen above waiting to depart from Chester.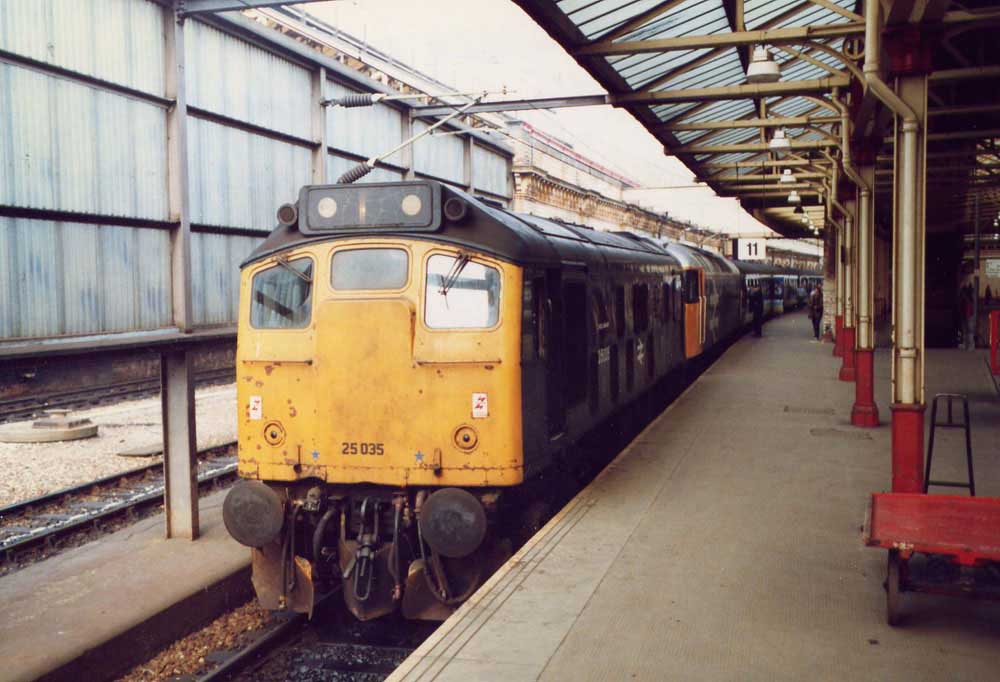 Photograph courtesy Paul Gleave
Its March 14th 1987 and 25035 works the last passenger train to be hauled by a Class 25, seen here on arrival at Crewe.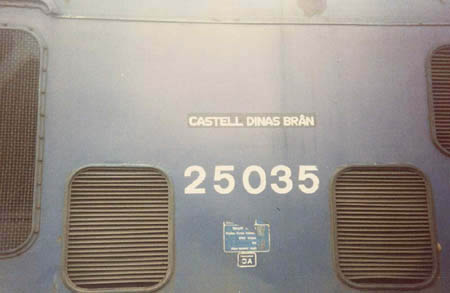 Photograph courtesy Mark Jones
A close up of the painted name on 25035, Basford Hall July 11th 1987, three days later the locomotive moved to Leicester.
25035 remained at Basford Hall until July 14th 1987 when it moved with 25057, 25109 & 25265 in the 9L37 10.50 Basford Hall to Leicester Humberstone Road. It remained here until September 9th when it tripped as the 08.00 9T16 to Vic Berry's yard with 25109. After an extended stay at Berry's 25035 left for a brighter future in preservation, heading to the Northampton & Lamport Railway on July 14th 1988.
Distinguishing Features
No.1 cab bufferbeam valencing: damage to valencing 2nd man's side above MU socket: at least by March 1987.
No.1 cab headcode: very distinct gap/break in domino panel: at least by March 1987.
No.1 cabfront: number stencilled in black at lampbracket height: (no number late May 1986), July 1986 until withdrawn.
No.2 cabfront: number stencilled in black at lampbracket height: September 1986 until withdrawn.
BIS side: painted name: February 11th 1987.
Three piece miniature snow ploughs fitted: June 1980, January 1981, (No ploughs September 1983, November 1983), April 1984, (No ploughs June 1984, July 1984, August 1984, September 1984, November 1984, February 1985, March 1985, June 1985, September 1985, October 1985), February 1986, March1986, April 1986, May 1986, June 1986, July 1986, September 1986, October 1986, February 1987.
With thanks to Alan Baylis for details of the 1984/85 passenger workings and Neil Cannon for the 1987 detail and to the many photographers who contributed views for these fine machines.
113/9266.
flk 0717 (3).
Page added February 1st 2002.
Page updated September 10th 2022.
Back to 25034
Forward to 25036