D5195, 5195, 25045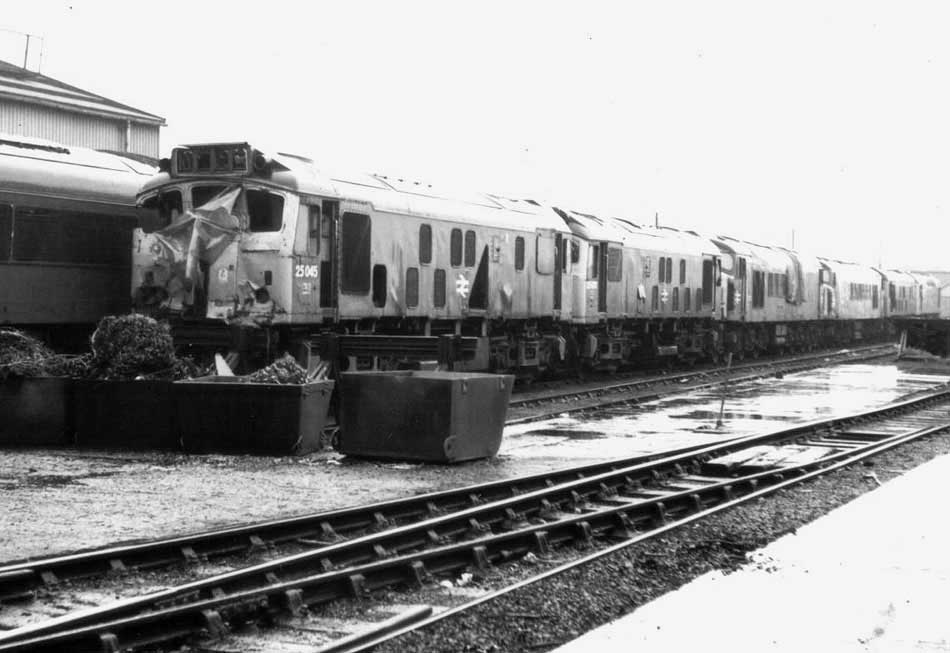 Photograph courtesy Graham Turner
On another rainy day, May 2nd 1978, Derby Works reveals a sorry line up of locomotives, led by accident damaged & withdrawn 25045.
Built: BR Derby Locomotive Works.
Boiler equipped.
Cab front gangway doors never removed.
Third Class 25 to be withdrawn (1st TOPS numbered Class 25 to be withdrawn).
The twelve year five month career of D5195/25045 saw allocations to London Midland and Eastern Region depots. The allocation history was similar to the immediately preceding locomotives but included six months on loan to Colwick, but no stint on the Scottish Region. This was the third class 25 to be withdrawn because of collision damage and marked the first inroads into the fleet at the same time that major withdtawals were affecting the Class 24s. In earlier times the damage sustained would have been repaired but times were changing during 1975.
Allocations
D5195 was new to Toton (18A) on May 4th 1963. Further transfers were:
February 1964 to Nottingham (16D).
January 1965 to Nottingham Division (D16).
May 1965 to Colwick (40E, later 16B) on loan.
January 1966 to Nottingham Division (D16).
October 1966 London Midland (Midland Lines) LMML.
June 1968 to Nottingham Division (D16).
July 1968 to Liverpool Division (D08).
May 1970 to Preston Division (D10).
May 1973 to Kingmoor.
May 1973 to Springs Branch.
August 1975 to store.
Withdrawn October 4th 1975.
Renumbered February 28th 1974.
25045 was the 3rd Class 25 to be withdrawn, being the first withdrawn since TOPS renumbering had taken place.
25045 was put to store during August 1975 with collision damage and noted at Derby Works early in September 1975. Withdrawal came a month later, with the locomotive lingering for four years at Derby Works until finally broken up during September 1979.
Works Visits
Works visits (records incomplete).
Noted Derby Works May - July 1964 (collision repairs).
Noted Derby Works March 1966.
Noted Derby Works March 1967.
Highlights
1963
The frames for D5195 were laid down at Derby Works during November 1962 and were completed late in April 1963 and initially being allocated to Toton (18A). Being boiler equipped they would frequently be utilised on the area's local passenger workings.
1964
Transferred during 1964 was D5195 to Nottingham (16D) in February.
Trouble befell D5195 on April 24th whilst working the final leg of the 'Devonian' from Leeds City South to Bradford, a regular working for the Type 2's. In a conflicting move at Leeds City Junction a collision ensued with the 17.36 Leeds City North - Knottingley diesel multiple unit, derailing a number of vehicles, leaving D5195 with a very battered cab. This locomotive was later removed to Derby Works for repair, being noted here during May & July.
1965
During May Colwich's loaner Type 2 changed from D7578 to D5195 whilst D7526 was loaned to March for covering a roundtrip Colwich - Whitemoor working.
1966
Transfers during 1966 sent D5195 to the Nottingham Divison (D16) in January, later transferring to the Midland Lines (ML) in October.
Derby Works visits included D5195 during March.
1967
D5195 was noted under repair at Derby Works during March.
1968
On June 8th the roundtrip Nottingham - Llandudno Town summer dated service was worked by 5195.
After five years of allocation to Midland sheds D5195 moved to the Liverpool Division (D08) during July.
The Manchester - Filey Camp summer service provided Type 2's with a trip to this East Coast resort, D5281 & D5195 made the trip on July 20th.
1969
Noted in blue livery, with gangway doors, with D prefix and two numbers and emblems each side.
On April 1st the 10.50 Elswick (Newcastle) - Ellesmere Port special (7Z21) had 5195 & 5031
1970
The 17.30 Manchester - York was worked by 5195 on March 20th.
During May 5195 was transferred to the Preston Division (D10).
Throughout April the Friday's only 17.30 Manchester - York was almost always Class 25 haulage, the four occasions featured 7574, 5195, 7595 & lastly Type 4 No.255.
September 25th's Newton Abbot - Stirling Motorail was taken forward from Mossend by 5195 & 5284.
On October 20th the 07.00 Perth - Edinburgh was worked by 5195.
1973
5195 moved to Kingmoor, then Springs Branch during May.
5195 was on empty coaching stock duty at Liverpool Lime Street on August 7th & 8th.
The failure of the Windermere branch diesel multiple unit on December 7th found 5195 called upon to drag several services until a replacement diesel multiple unit was located.
1975
On July 22nd 25045 worked the 05.07 Leeds City - Manchester Victoria vans.
25045 was stored with accident damage during August, after evaluation at Derby it was withdrawn during October and presented a sorry sight for the visitors attending the annual Open Day. It was noted being towed on to Derby stabling point with 24045 (and possibly others) on November 21st 1975 (is this date correct maybe August??), showing headcode 9T46 at the damaged No.1 end. Quite where 25045 received its accident damage is not known to your scribe, but the damage sustained would certainly have been repaired in earlier times. However times were changing, major inroads had just been made to the Class 24 fleet. Thus any accident damaged Class 25 would also be a serious candidate for early retirement - 25045 would be the third Class 25 withdrawn, and the first to be withdrawn under the TOPS numbering system.
1978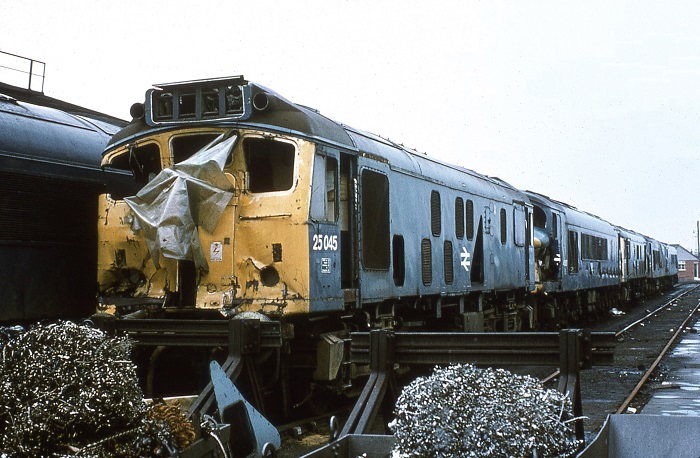 Photograph courtesy Adrian Healey
25045 & 45067 head a line up at Derby Works on April 26th 1978.
1979
After four years languishing at Derby Works, 25045 was scrapped there during August.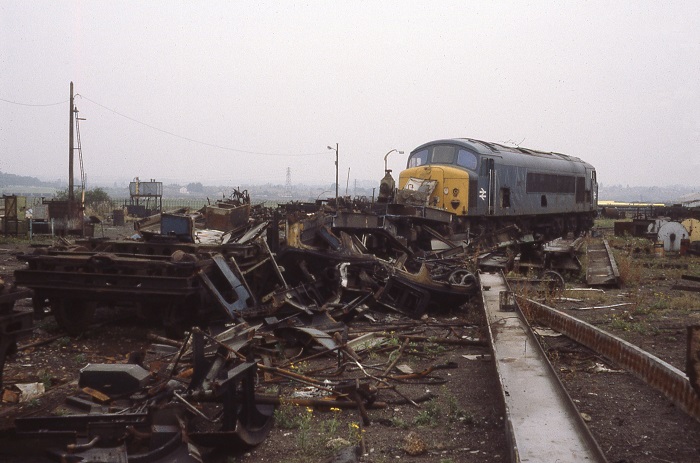 Its September 1st 1979 and 44002, 20062 & 25045 have been shunted onto the siding used for cutting up locomotives, only 44002 remains more or less intact.
9/692
flk 0915
Page added June 20th 2005.
Last updated January 28th 2020.