D5194, 5194, 25044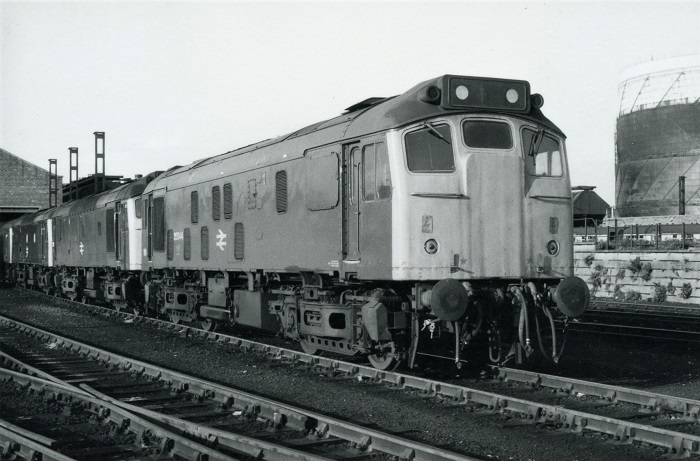 Photographer not known.
25044 at Birkenhead, date unknown.
The twenty two year two month career of D5194/25044 saw allocations to London Midland and Scottish Region depots. The allocation history was similar to the immediately preceding locomotives but included a four year stint on the Scottish Region.
Built: BR Derby Locomotive Works.
Boiler equipped.
Dual brake equipped.
Center lampbracket & other fittings removed.
Angled strip at bottom of cab doors (Glasgow modification).
Extra triangular panel modification (addition), BIS side only, No.1 end adjacent to radiator grill.
Time between last Classified repair and withdrawal: 93 months.
Time between withdrawal & scrapping: 12 months.
Allocations
D5194 was new to Toton (18A) on May 4th 1963. Further transfers were:
February 1964 to Leicester (15A).
January 1965 to London Midland (Midland) Lines (LMML).
January 1967 to London Division (Midland) (D14).
June 1968 London Division (Western) (D01).
November 1968 to Liverpool Division (D08).
May 1970 to Preston Division (D10).
May 1973 to Kingmoor (KM).
May 1973 to Springs Branch.
October 1976 to Eastfield.
January 1980 to Haymarket.
February 1981 to Cricklewood.
Occtober 1981 to Toton.
November 1981 to Kingmoor.
Withdrawn July 9th 1985.
Renumbered March 16th 1974.
25044 was the 252nd Class 25 to be withdrawn, one of two retired during July 1985.
After withdrawal 25044 was stored at Carlisle between July & October (or earlier?) 1985, then moved to Springs Branch. 25044 was moved to Warrington on April 15th 1986, here it was picked up on April 16th 1986 by the 9Z34 Crewe - Warrington - Doncaster withdrawn engine movement, 25044 joining 25119, 25226 & 25245 for their last journey. It ended its days at Doncaster Works during July 1986.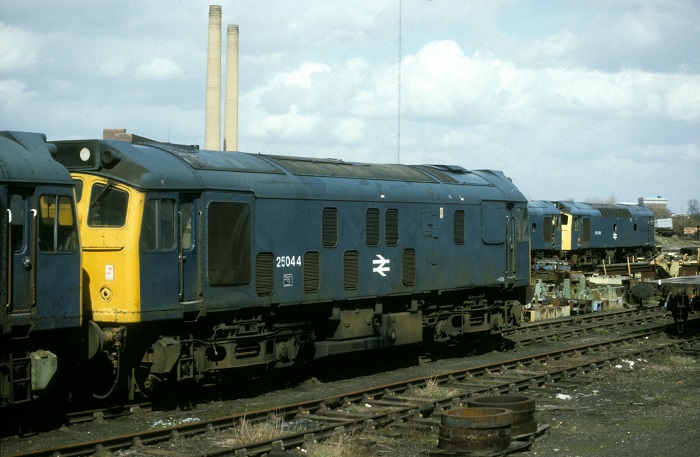 Photograph courtesy Tony Smith.
25044 at Doncaster Works on April 20th 1986.
Works Visits
Works visits (records incomplete).
Noted Derby Works January 1965.
Noted Derby Works October 1965.
Noted Derby Works December 1966.
Noted Derby Works January & February 1970.
Noted Derby Works October 1971.
Noted Glasgow Works June - August 1977 (Classified, gangway doors sheeted over).
Noted Glasgow Works November 1979 - January 1980 (N4 repairs).
Noted Derby Works August 1981 (N4 repairs).
Highlights
1963
This locomotive, part of a large batch intended for the dieselisation of the Midland mainline out of St Pancras was laid down at Derby Works during November 1962 and completed during late April 1963, initially being allocated to Toton (18A). Being boiler equipped it would frequently be utilised on the area's local passenger workings.
1964
Stabled at Cricklewood on Sunday November 15th were D5194, D5204, D5206, D5211, D5213, D5214, D5217, D5218 & D5219.
During November D5194 was noted on a Wemyss Bay - Glasgow Central working, presumably part of a daytime filling-in turn before heading south later that day.
1965
D5194 was noted at Derby Works during January & October.
During the middle of April D5194 was noted on several passenger workings, on April 17th working the 06.13 Nottingham - Sheffield and the 09.38 Sheffield (?) - York. Two days later (19th) it worked the 16.10 Manchester Central - Sheffield.
1967
On August 30th D5194 worked the 07.50 Luton – St Pancras.
1968
On January 15th D5194 worked the 07.54 Harpenden – Moorgate.
On March 20th D5194 worked the 17.59 St Pancras – Bedford.
On March 30th the Fazakerley permanent way depot was host to D5194 and four MkII coaches, which provided a viewing area to watch the Grand National being run this day at Aintree. At that time it was the practice of the BR Liverpool Division to allow free access to the depot for railway staff. Red Alligator won the Grand National this day.
1969
A routing change for the 17.34 Fridays only Manchester Exchange - York found it taken off the Hebden Bridge route and reverted back to the Standedge line. 7574 worked the last Hebden Bridge route on January 3rd whilst 5194 took it over the new route on January 10th, with ten coaches in tow.
5194 operated the 1F51 21.25 Preston - Liverpool Exchange on the evening of January 23rd. Incidentally, this service had been the final BR steam worked ordinary passenger service five months earlier.
The 17.30FO Manchester Victoria - York was worked by 5194 on September 12th as far as Huddersfield where it was declared a failure.
1970
The Preston Division staged a number of exhibitions in the north-west during June & July. On July 19th & 20th Blackpool North was host to a number of locomotives and rolling stock, including 248, 3369, 5194 & E3044. The latter had been noted at Lostock Hall on July 4th, pending movement to the next exhibition.
1971
On August 7th 5194 was noted in the Glasgow area hauling an unidentified football special.
5194 visited Derby Works during October.
1972
On September 28th 5194 worked the 19.10 Glasgow Queen Street - Dundee.
1973
At about 7am on March 23rd 5194 was noted passing Manchester Victoria with a down freight (7M46).
Loaded to nine coaches, 5194 worked an afternoon Barrow - Manchester service on July 28th.
1974
On the morning of April 26th 25044 was at Birmingham New Street with a parcels train.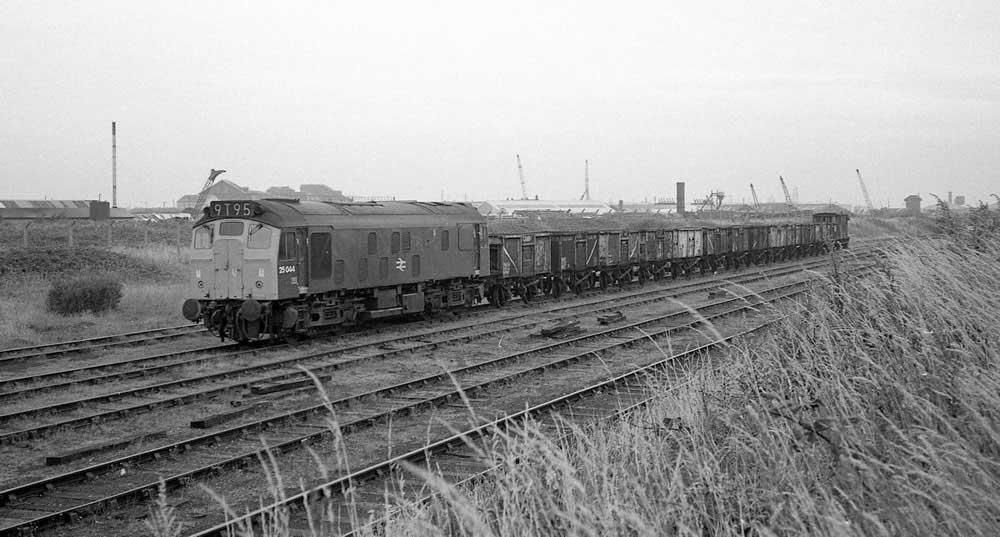 Photograph courtesy Tom Sutch.
25044 at Wyre Dock, Fleetwood on an overcast August 7th 1974. The 9T95 job is empties for Sutton Manor colliery, St Helens. 25044 must have been one of the last Class 25s to retain its gangway doors.
On September 19th 25044 was noted at Stockport with a down van train.
A Nottingham - Lincoln mail was worked by 25044 on November 29th.
1975
On the morning of January 17th 25044 was noted at Manchester Victoria with the 4J28. On January 18th 25044 was noted at Manchester Victoria with the 1M81.
On the evening of June 7th 25044 worked an empty three car diesel multiple unit from Carlisle to Glasgow. A pair of Type 2s worked a special Birmingham – Yarmouth on June 14th, 25081 & 25044 being in charge, just ahead of the scheduled service from Walsall, in the hands of 25040 & 25104. At about 5.30pm on June 18th 25044 & 25319 were noted at Ordsall Lane with a permanent way train (9X36). At about 5.30pm on June 19th 25044 & 25318 were noted at Earlestown with a permanent way train (9X56). On June 21st 25044 & 25064 worked the 09.20 Manchester Piccadilly - Yarmouth to Lincoln Central, returning with the 09.30 ex-Yarmouth.
On July 15th 25044 worked the 05.07 Leeds City - Manchester Victoria vans (4M03). Later this day (15th) at about 5pm 25044 was noted at Ordsall Lane with a down freight.
1976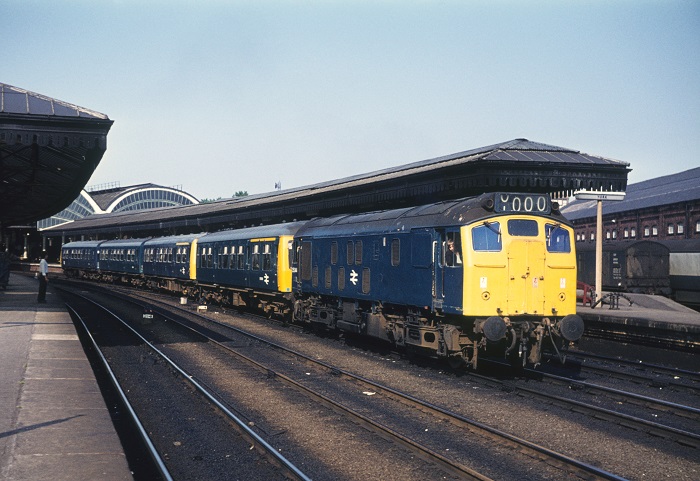 Photograph courtesy Tony Smith.
25044 at York on June 29th 1976.
25044 & 25037 worked the 08.00 Walsall - Yarmouth to Norwich and the return 14.15 Yarmouth - Derby from Norwich on August 14th.
25044 was noted on September 12th arriving at Great Rocks with an empty set of ICI limestone hoppers.
25044 and breakdown train were noted at Wigan station on the afternoon of October 2nd repairing the damage caused by 82005 bringing down the wires and loosing its pantograph, the flying debris narrowly missing waiting passengers. This caused heavy delays on the WCML, not helped by the many specials visiting the Blackpool Illuminations.
After twelve years allocated to London Midland depots 25044 was transferred to Eastfield during October and would spend almost four and a half years allocated to Scottish Region depots.
1977
On April 8th (Good Friday) the 1S51 07.18 York - Aberdeen began its journey behind 40059, being replaced at Edinburgh by 25044 & 25084. On April 19th 25044 with 25033 worked the 16.35 Inverness - Glasgow Queen Street. On April 30th 25044 & 25098 worked a roundtrip Carstairs - Edinbuurgh with an excursion from the south.
On May 17th 25044 worked the 17.10 Edinburgh - Berwick and the 21.40 Edinburgh - Carstairs.
Glasgow Works received 25044 for repair between June & August, during this repair the cab gangway doors were sheeted over.
On October 17th 25087 & 25044 worked the 2L35 10.44 Glasgow Queen Street - Dundee and the return 2T31 13.38 Dundee - Glasgow Queen Street.
Photograph courtesy Tony Sayer.
A familiar view at Eastfield with 25044 & 37004 outside the main building on October 29th 1977. 25044 is not too long out of a major repair at Glasgow Works, the paint still shines, ready for another Scottish winter.
1978
25044 was at Aberdeen Ferryhill on February 6th.
25044 was receiving attention at Dundee depot on August 23rd.
On September 17th the 16.30 Inverness - Glasgow Queen Street was noted being worked by 25044. The next day (18th) it worked the 23.20 Glasgow Queen Street - Inverness as far as Perth. On September 22nd 25044 worked the 11.03 Perth - Edinburgh.
1979
On April 11th 25044 worked the 22.45 Carstairs - Edinburgh.
Railtour duty occurred on April 21st with the Western Isles Express charter being worked out & back between Mossend Yard - Oban by 25044 & 27007. A similar working on April 30th saw a charter from Wakefield worked out & back between Mossend Yard & Oban by 25044 & 25064.
The 15.57 Dundee - Glasgow Queen Street was worked by 25044 on June 11th. 25055 was stabled at Dundee station on June 22nd. On June 27th 25044 worked the 2L35 10.44 Glasgow Queen Street - Dundee.
25044 was light engine at Carlisle station on July 11th.
On September 4th 25044 & 25066 worked the 16.54 Glasgow Queen Street - Dundee.
25044 visited Glasgow Works from November 1979 to January 1980 for N4 generator repairs.
1980
During January 25044 moved to Haymarket.
The 17.30 Edinburgh - Cardenden was hauled by 25044 on June 2nd.
25044 was noted southbound through Aviemore on June 27 with a single Mark III departmental coach.
On September 17th the 12.44 Glasgow Queen Street - Dundee was worked by 25044, whilst on September 25th it was noted through Invergowrie on an unidentified working. On September 27th 25044 was stabled at Haymarket.
1981
25044 moved south in February to its new home at Cricklewood, this would end its time allocated to Scottish Region depots.
On February 13th 25044 & 25060 hauled the Manchester Piccadilly - Kensington Olympia SAGA Crufts Show charter out and back for a total of 370 passenger miles.
An unidentified WCML was noted behind 25044 & 25310 on May 10th between Bletchley & Willesden due to the power being off for engineering work.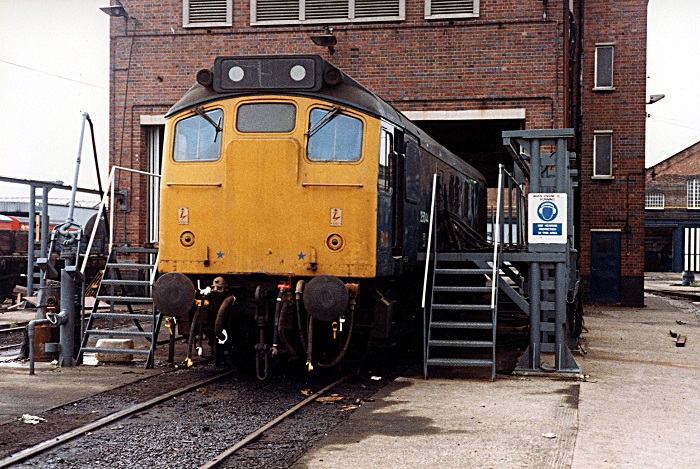 Photograph courtesy Steve Morris
25044 on the Derby Locomotive Works Test House during August 1981 with its main generator under test.
25044 & 25287 hauled August 29th's 08.35 Derby - Yarmouth & 14.20 return to/from Norwich.
25044 was stabled at Toton on September 5th.
During October 25044 transferred to Toton, the following month it moved to Kingmoor, its last transfer.
25044 was stabled at York on October 17th.
December 8th found the Aberystwyth - Wolverhampton (to Euston) Smithfield Market charter in the hands of 25044 & 25048 and return?
1982
On April 28th 25044 worked a Birmingham – Norwich as far as Peterborough.
On May 3rd 25044 & 25048 worked the eleven coach 07.15 Manchester Piccadilly - Aberystwyth day excursion via Crewe. By May 8th it was called to work an eleven coach Sutton Coldfield – York school special with 25133, the latter failing en route, 25044 successfully reaching York without further assistance. On May 15th 25044 was noted at Saltley. On May 20th 25221 & 25044 were noted passing Besford (Worcs) with a Speedlink working. May 22nd found 25044 & 25221 on a Dorridge (ex Paddington) - Bewdley excursion, on the return leg taking the charter to Saltley. On May 31st 25044 was one of many locomotive stabled at York due to the nearby presence of the Pope.
A trip to the coast occurred on June 19th with 25044 & 25036 in charge of the 07.38 Shrewsbury - Aberystwyth and 10.07 return as far as Wolverhampton.
On August 7th 25044 worked the 08.57 Leeds - Carlisle & 15.37 return. Four days later (11th) it was assisting 31303 forward from Whitacre Junction with the 09.03 Cambridge - Birmingham New Street, and returning with 16.17 to Norwich as far as March. On August 16th 25044 was a Birmingham New Street with coaching stock. On August 23rd 25044 was northbound through Cheltenham with a loaded coal train.
During August 25044 received an 'E' examination at Carlisle Kingmoor.
On September 11th 25057, 25044 & 25117 ran light engines through Shrewsbury station. On September 19th 25037 & 25044 piloted two electric services in & out of Manchester to Stafford. This pair then transitioned to Crewe to assist an overnight WCML service between Crewe & Preston. More assistance was provided on September 23rd, aiding an ailing 31176 on an afternoon Poole - Liverpool between Leamington Spa & Birmingham New Street.
On October 1st the Under-Secretary of State for Transport made a visit to the Birmingham Division and travelled in Saloon / Inspection Coach 45026 hauled/pushed by 25044, being noted at one point at Priestfield heading to Wednesbury.
Photograph courtesy John Turner (via RG).
25044 at Paddington on October 2nd 1982, having arrived with a service from Birmingham and would return north with a service to Manchester.
On October 2nd 25044 worked the 1V58 08.35 Birmingham New Street - Paddington and the return 1M16 17.41 Paddington - Manchester Piccadilly as far as Birmingham New Street. (It has been reported that 25044 worked this diagram on September 23rd, however it is noted that on September 23rd the 1V58 was observed in the Birmingham area with 47281 and the 1M16 north of Leamington Spa with 47129.)
25044 was stabled at Birkenhead on November 13th. On November 19th 25044 hauled the 08.04 Birmingham - Norwich between Leicester & March. A week later (25th) the Prince & Princess of Wales traveled from Euston to Central Wales by Royal Train. From Shrewsbury to Aberdovey/Towyn 25259 & 25278 were in charge, with 25044 on standby. Due to restrictions on Barmouth Bridge the train went no further north than Morfa Mawddach. An overnight stop was made at Rossett prior to the Royal party visiting Wrexham & Hawarden on 26th.
Tragedy struck the WCML early on the morning of December 9th when the 8th's 22.55 Euston - Glasgow hauled by 81016 derailed at speed at Old Linslade. The locomotive hit a bridge causing severe damge to the locomotive and regrettably fatally injuring the driver. Next morning under grey winter skies a variety of breakdown trains attended the scene, 25044 brought in the Bescot breakdown crane, 47135 with the Stratford breakdown train and 25245 with the Bletchley rerailing train. 08235 would also attend on December 10th to take 81016 to Bletchley. Other Class 25s involved were 25309 & 25319 on the Bletchley rerailing train and 25257/25137, 25075/25076 on ballast jobs a day later.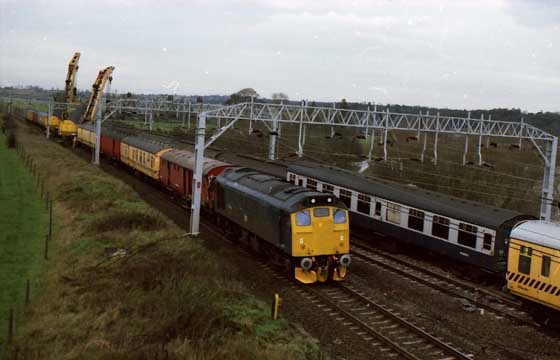 Photograph courtesy Nick Ross / Leighton Logs.
25044 at Old Linslade assisting in the clean-up following the derailment mentioned in the text above. 25044's condition reflects its recent use as a standy Royal Train locomotive.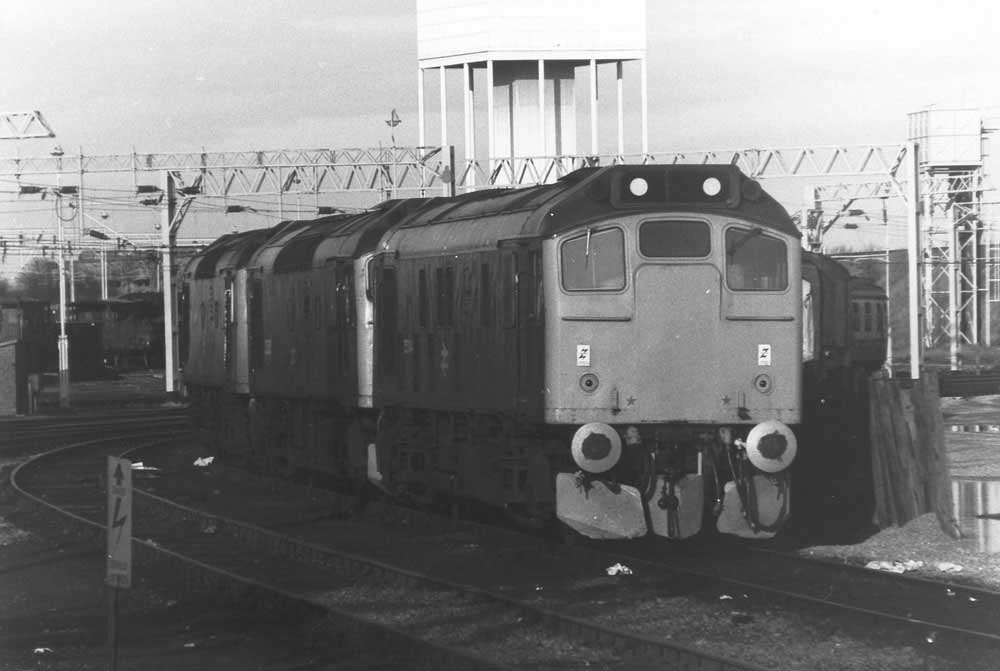 Photograph courtesy Mark Cook.
25044, 25083 & 25175 stand at Bletchley, December 17th 1982.
The Bletchley/Aylesbury area workings were operated and manned by crews and locomotives outstabled at Bletchley. Workings from here included cement tanks from Tring to Kings Cross Goods Yard, brickliners from Forder's Siding to Kings Cross goods, cement Presflos to Kew Yard, household coal, wine concentrate & parcels to Aylesbury, the latter also to Didcot. A Saturday's only working for a pair of 25s was the Bletchley to Akeman Street fertiliser. From Bletchley the Oxford line was taken to Claydon Junction, then onto the former Great Central route to Grendon Underwood, following the former main line to Ashendon Junction. Once the train was unloaded it reversed along the single line prior to reaching Aylesbury, running round here in order to return to Bletchley.
The Bletchley 25s were also equally at home on the district's many engineers/permanent way trains, especially those on the WCML. Despite their reputation for being somewhat uncomfortable to work on, the two Bletchley drivers who provided these notes, (Mr A Morris & Mr D Robinson) preferred the Class 25 to their sorry replacements, the Class 31s.
1983
January 8th found 25044 on the return leg of a Derby - Nottingham football special. By month end (31st) it was working a round trip on the Crewe – Cardiff run, although on the return working, the 11.50 ex Cardiff, 25044 failed causing a ninety minute delay, with 47134 coming to its rescue. This was a Monday's only turn due to the regular Class 33 being required for crew training, other Class 25's so noted were 25044 (Feb 21st), 25224 (Feb 28th), 25042 (Mar 14th) and 25060 (Mar 21st).
On February 24th 25044 was stabled at York depot.
25044 covered the Preston - Blackpool route a number of times, usually on the 22.47 Crewe - Blackpool, being noted on March 10th & 11th (on this date it also worked the 21.15 Manchester Victoria - Blackpool) and April 1st & 2nd - two trips on the latter date. On March 27th 25044 was at Carnforth with a short engineers train.
25044 was noted south through North Oxford with inspection saloon TDM 45026 on June 9th.
On June 10th 25044 was noted passing through Shrewsbury with an exhibition train.
On August 8th 25044 was noted northbound through Lancaster with a short train of plate wagons and later southbound with a short mixed freight. On August 19th 25044 was noted at Bristol Bath Road. On August 21st 25044 hauled the 04.00 Crewe - Chester. Two days later 25044 & 25059 assisted 45050 (or 45070) between Chester & Manchester Victoria on the 17.10 Bangor - York, 25262 took over at Manchester.
September 19th saw the Mountsorrel – Elstow Redland stone working used 25044 & 25185, now normally in the hands of pairs of Class 31s. On September 30th 25044 was again on the Preston - Blackpool route, bringing in an excursion from Dundee.
25044 was noted at Preston on October 1st, 8th & 9th.
A return football excursion on December 3rd was hauled from Carlisle to Leeds by 25044 & 25072. The 10.05 Liverpool – Newcastle on December 15th was noted at Huddersfield behind non-boilered 25262, not a great choice during the cold spell that had gripped the country. In the Liverpool area services from Preston continued to see Type 2 haulage, 25327 arrived from Preston on 18th, 25044 from Barrow (19th) and 25145 from Preston, ex Edinburgh (27th).
1984
The New Year opened with 25044 soon rostered for a passenger working, hauling January 3rd's 22.50 Shrewsbury - York between Stockport & Leeds. Class 25's on the Crewe – Cardiff line were now rare, but on January 17th the failure of 33011 led to 25044 taking over the 15.02 Manchester – Bristol parcels near Shrewsbury.
On February 18th 25044 was stabled at Toton.
25044 was busy during May starting with May 6th working the 15.58 Blackpool - Euston as far as Preston. On May 12th 25044 was stabled at Springs Branch. On May 18th & 19th a total of three runs were made over the GSW route, the 18th's 15.50 Glasgow - Carlisle and the 19th's 06.05 to Glasgow and the 15.50 return.
25044 was stabled at Workington station on June 21st.
On July 11th 25044 was stabled at Severn Tunnel Junction. 25044 was noted eastbound at Settle Junction with ballast empties from the Carnforth line on July 25th.
August 3rd found 25044 on the 19.35 Blackpool - Manchester Victoria throughout. On August 7th 25044 was noted eastbound through Guide Bridge on ballast hoppers. On August 10th 25044 was noted at Shrewsbury with the 6V93 Mossend - Severn Tunnel Junction freight. On August 16th 25044 was stabled at Cockshute. By August 18th it was on Cambrian metals with 25175 on the 07.35 Euston - Aberyswyth forward from Wolverhampton, returning with 14.00 to Birmingham New Street as far as Wolverhampton.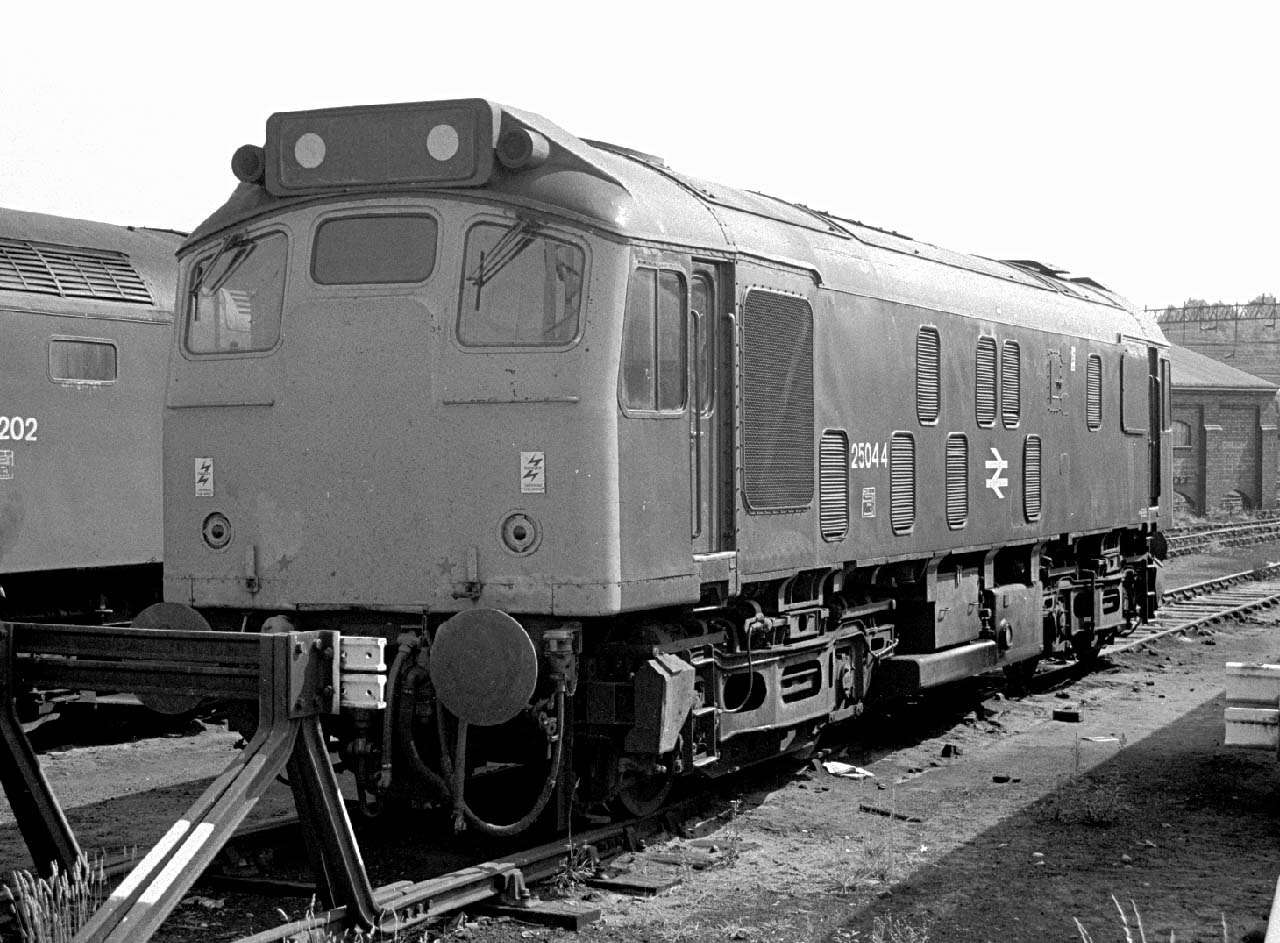 Photograph courtesy Tony Sayer.
25044 waits for its next turn of duty at Cockshute on August 12th 1984.
Condition August: blue/yellow livery, gangway doors sheeted over, blanking plates fitted, hand/footholds plated over, straight sided sandboxes, three-rung bogie mounted footsteps.
On September 10th 25044 was southbound at Dumfries with a short Speedlink freight. 25044 was westbound under Warrington Bank Quay with a loaded ballast train on September 24th. On September 27th 25044 brought Class 508 units 030 & 034 northwards from Cricklewood to Wellingborough.
On October 12th 25044 was on permanent way duties at Wembley.
25044 was stabled at Workington station on December 11th.
As the year closed out New Year's Eve found 25044 & 27023 working the 06.05 Carlisle - Glasgow Central. Unfortunately the steam heat pipe fell off the Class 25 just before departure, leading to an increasingly chilly journey.
1985
Whilst spending time north of the border it is reported that 25044 reached Inverness and worked January 5th's early morning Far North Wick/Thurso passenger service. It was a very cold and the Class 25 was challenged to heat the Mark I stock satisfactorily.
The Newcastle region continued to suffer periodic diesel multiple unit shortages, even those in service succumbed all to frequently, on January 12th 25044 filled in on three diesel multiple unit workings between Carlisle and Newcastle as were two more on 14th.
During the last week of January and into February 25044 was very active on the Carlisle - Glasgow route, being noted on January 26th, 28th, 29th, 31st & February 1st & 2nd. On February 1st 25044 & 25054 worked the 07.25 Glasgow Central - Carlisle, later that day the APT moved from Polmadie to Thornaby for wheel turning, being noted through Hexham behind 25044 & 25054, returning on 4th behind the same locomotives.
The Ellesmere Port – Severn Tunnel Junction bitumen tanks were noted with 25044 on February 8th, Class 47's were now diagrammed for this working. On February 14th operational difficulties saw 25044 assist four electric services between Liverpool Lime Street & Allerton. On February 21st 25044 worked the 11.41 Manchester Piccadilly - Hull as far as Sheffield, where 31459 took over.
RESL's 'The North Midlander' on February 23rd sent 25034 & 25044 over 408 miles of track that they would have been very familiar with, particularly from their early years. Starting from St Pancras they circumnavigated parts of north & west London to reach the WR main line at Acton Wells Jct. From here it was plain sailing until Bicester & Claydon LNE Junction where the line to Bletchley was taken. It was then a dash northwards, via the Trent Valley line to Stafford. Here 45048 took over, back-tracking to Litchfield where the curve was taken to join the NE/SW route to Derby for a visit to the Locomotive Works. Then it was on to Attenborough for a connecting visit to Toton, before 45048's last leg to Nottingham. Here 25034 & 25044 came back on for the run to Leicester, Water Orton, Walsall, Bescot, Aston, Stechford, Coventry, Leamington Spa, Oxford and then the reverse of the outward route back to St Pancras.
Three weeks later the Severnside Tours 'The Rylstone Rambler' ran from Swansea to Rylstone on March 16th. 25044 & 25060 were used over part of the route, the Toton - Shirebrook - Worksop - Tinsley - Crofton - Wakefield Kirkgate - Healey Mills as the outward leg. The return used the Class 25's from Healey Mills to Wakefield Kirkgate - Knottingley - Askern - Doncaster - Rotherham - Sheffield - Derby. The remainder of the journey was in the hands of pairs of Class 31/37's, though it is reported (and quite rightly so) that the best performance of the trip involved the Class 25's between Sheffield & Derby, with speeds in excess of 90mph recorded. This may have been 25044's last passenger working.
On April 22nd 25254 & 25044 were light engines at Carlisle station. On April 23rd 25044 was stabled at Carlisle station. 25044 was noted northbound through Preston on April 24th with a five vehicle empty coaching stock train for Carnforth, which included several vintage coaches. It was also noted at Carlisle on the same date. On April 26th & 28th 25044 was noted at Severn Tunnel Junction.
25044 was noted at Leicester on a northbound parcels working on May 17th.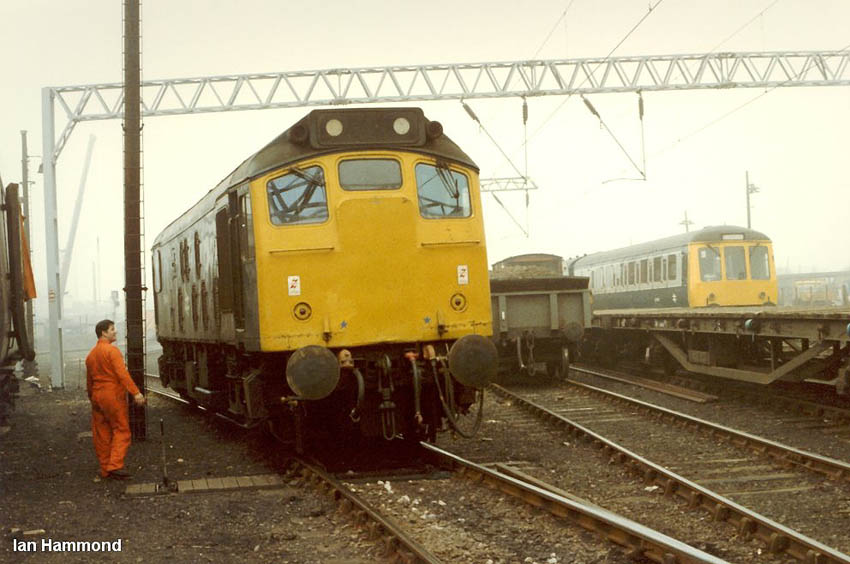 Photograph courtesy Ian Hammond.
An interesting assortment of vehicles surround 25044 at Watford Yard on a misty May 25th 1985. 25044 ended its days two months later, finally being broken up at Doncaster in July 1986.
25044 was withdrawn on July 9th 1985 and initially stored at Carlisle Kingmoor.
102/9290
flk 1221
Additional resources:
Nick Ross / Leighton Logs
Page added June 20th 2005.
last updated August 25th 2022.
Back to 25043
Forward to 25045