D5203, 5203, 25053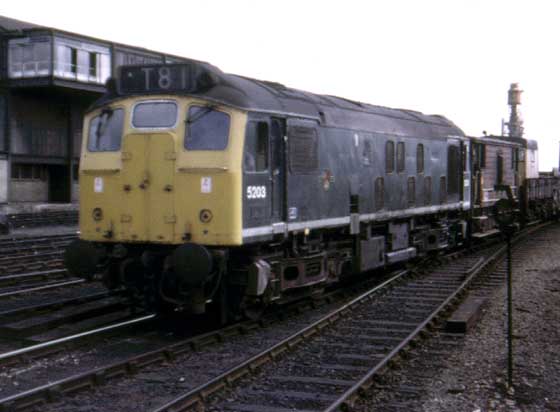 Photograph courtesy John Eato
Green liveried 5203 passes through Manchester Victoria, date unknown, but probably in the 1971/1972 period.
The seventeen year six month career of D5203/25053 was spent allocated only to a variety of London Midland Region depots.
Built: BR Derby Locomotive Works.
Boiler equipped.
Dual brake equipped.
Royal Train cabling modification (cab front access panel).
Time between last Classified repair and withdrawal: 72 months.
Time between withdrawal and scrapping: 11 months.
Allocations
D5203 was new to Toton (18A) on June 1st 1963. Further transfers were:
July 1963 to Cricklewood (14A).
August 1963 to Toton (18A).
September 1963 to Nottingham (16A).
March 1964 to Nottingham (16D).
January 1965 to London Midland Midland Lines (LMML).
November 1967 to Springs Branch (8F).
June 1968 to Liverpool Division (D08).
November 1970 to Manchester Division (D09).
May 1973 to Longsight.
May 1977 to Cricklewood.
August 1980 to Bescot.
November 3rd 1980 to store (unserviceable) at Swindon Works.
Withdrawn December 1st 1980.
Renumbered February 23rd 1974.
25053 was the 74th Class 25 withdrawn, one of seventeen retired during December 1980.
After withdrawal 25053 was already at Swindon Works, it was broken up during the third week of November 1981.
Works Visits
Works visits (records incomplete).
Noted Derby Works August 1964.
Noted Derby Works April 1966.
Noted Crewe Works October - December 1969.
Noted Derby Works January 1973.
Noted Derby Works February 1974.
Noted Derby Works October & November 1974 (dual brake equipment fitted).
Noted Derby Works December 1978 & January 1979.
Highlights
1966
On August 7th D5203 towed a Deltic from Holbeck to Doncaster Works for attention.
1967
D5203/25053 acquired a very modest list of passenger workings, despite its allocation to several London Midland depots that could produce many such workings.
On the night of July 22nd passengers on the 09.20 St Pancras - Glasgow received D5203 for the run north of Carlisle, presumably the Class 25 was deputising for a Type 4.
1969
On January 4th the Liverpool portion of the 17.25 Glasgow - Liverpool/Manchester was worked forward from Preston by 5203 with nine coaches.
5203 worked the retimed 1F51 21.30 Preston - Liverpool Exchange on the evening of May 27th.
On September 6th 5203 & 5177 worked the summer dated 07.35 Nottingham - Llandudno Town and 13.52 return.
1972
A roundtrip charter train from Manchester to Norwich on December 2nd was worked by 5203 & 5200, its not certain how far the Class 25s worked.
1973
During April 5203 was noted in green livery with frame level white band apart from on the No.2 cab, which had been recently replaced, the gangway doors were sheeted over on this cab and all brackets removed apart from the two at frame level inside of the buffers. The No.1 end cab still retained its gangway doors.
1974
Condition May: green livery with full yellow cab fronts and frame level stripe.
On May 24th the 15.30 Euston - Llandudno relief was worked forward from Crewe by 25053.
A late evening Trans-Pennine working on June 17th saw 25053 working the 21.50 York - Manchester Victoria.
On July 22nd the 23.40 Liverpool - York was worked by 5203.
1975
The Royal Train was in use on March 18th taking Princess Anne from St Pancras to Bolton, powered by 25053 & 25054.
On May 28th 25051 & 25053 transferred the Royal Train empty stock from Wolverton to Bristol.
On June 17th 25051 & 25053 brought the Royal Train empty stock back from Edinburgh to Wolverton, via the ECML.
1976
On February 20th four Royal Train coaches were brought into Edinburgh by 25048 & 25053.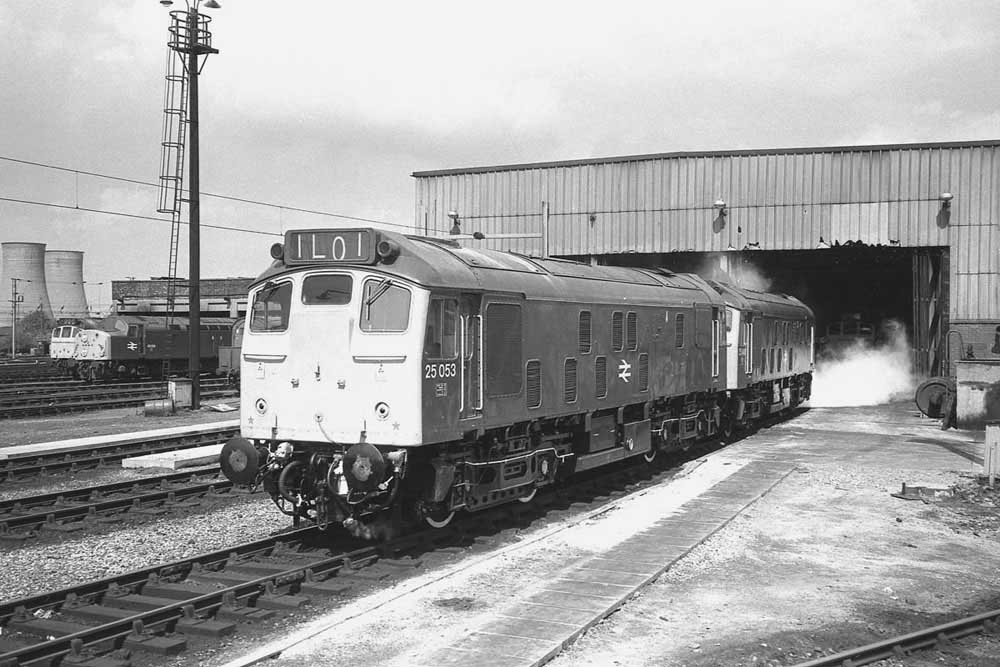 Photograph courtesy Tom Sutch
25053 & 25048 at Springs Branch on May 18th 1976, having just arrived back from Oxenholme, the condition of these two locomotives suggest they handled a Royal Train movement. This view clearly shows small circular plate in the middle of the cab front with a cable for two-way radio communication still in place.
On June 5th 25053 & 25257 worked the 09.20 Manchester Piccadilly - Yarmouth to Lincoln Central, returning from there with the 09.15 ex-Yarmouth.
25053 was noted at Huddersfield just after midnight on August 1st having arrived with three mail vans from Preston, two mail vans would later be added for their journey to Carlisle.
1977
A short working on August 6th saw 25053 & 25051 handle the 08.52 Leicester - Skegness as far as Nottingham, returning with the 12.35 ex-Skegness from Nottingham to Leicester.
1978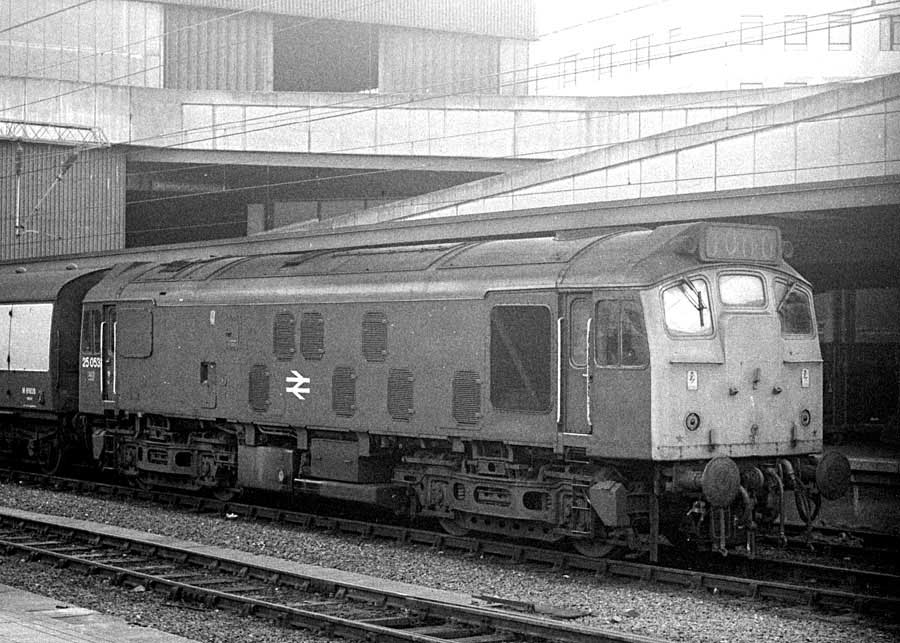 Photograph courtesy Tony Sayer
25053 at Euston March 3rd 1978, at this time it was allocated to Cricklewood. 25053 had been dual-braked at Derby during 1974, presumably at the time of its withdrawal it was due for a major shopping.
On October 12th 25053 was noted at St Albans shunting a solitary parcels van. During the late morning of October 28th 25053 was noted at Bedford with a southbound permanent way train.
1979
On March 21st 25053 was noted northbound at Helpston on the line to Oakham with a train of six Research Department vehicles.
On May 7th the 13.30 Paddington - Penzance required assistance between Exeter St. Davids & Plymouth (assumed), 25053 & 25057 doing the honours (see photograph below).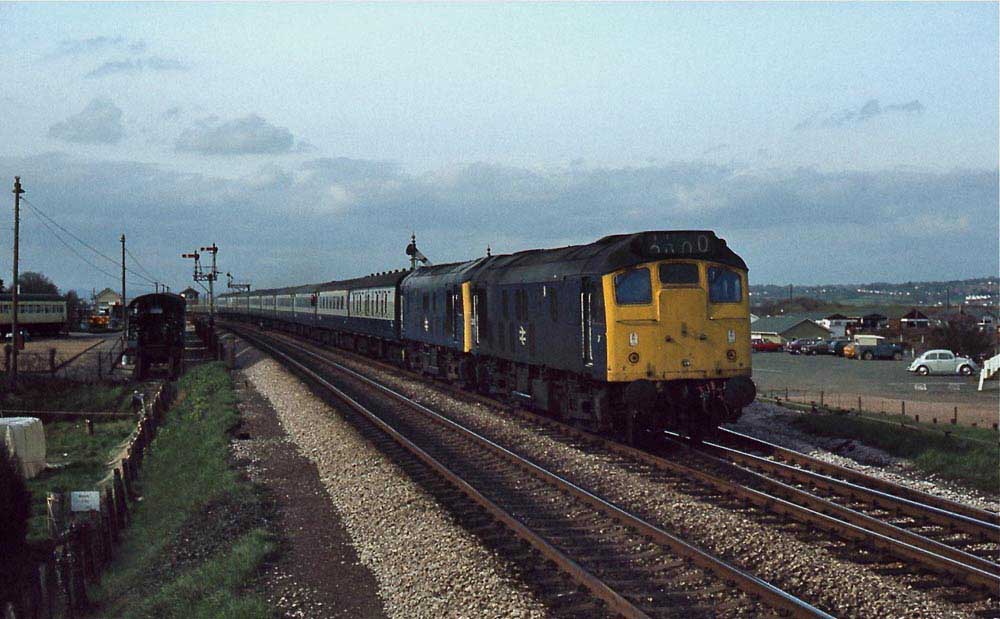 Photograph courtesy Peter Lovell
25053 & 25057 pass Dawlish Warren on May 7th 1979 in charge of the 13.30 Paddington - Penzance. 25053 was at this time allocated to Cricklewood, presumably it had reached the Exeter area on an inter-regional freight.
On July 28th 1979 25053 & 25179 worked the 08.52 Leicester - Skegness as far as Nottingham.
25053 & 25203 top and tailed an electrification train at West Hampstead on August 28th.
On September 29th 25053 worked the 'Anglian Explorer' railtour from Bletchley to Liverpool Street where 47170 took over, ultimately for Lenwade.
1980
25053 was noted running light at Harpenden on July 28th.
During 1980, 25053's last year in service, 25053 visited the Cambrian lines for one weekend. On August 9th 25053 & 25194 worked the 04.10 Shrewsbury - Aberystwyth returning with the 10.07 Aberystwyth - Euston to Wolverhampton. The next day (10th) the same pair worked the 08.45 Birmingham New Street - Aberystwyth returning with the 18.00 Aberystwyth - Euston to Birmingham New Street.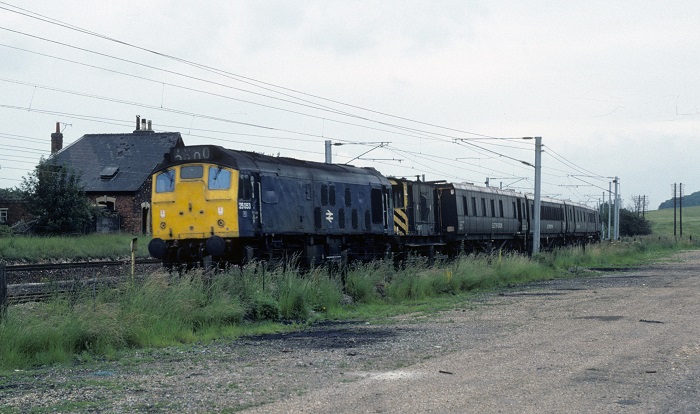 Photograph courtesy Roger Geach
25053 passes Chiltern Green with an electrification train during August 1980.
By November 25053 had reached Swindon Works, whilst here it was stored unserviceable, then withdrawn on December 1st 1980.
During June 2018 a builders plate from 25053 sold for GBP 265.00 on Ebay.
17/1362
flk 0217
Not all known passenger workings are recorded on this page.
Page added May 4th 2013.
Last updated August 5th 2019.