D5209, 5209, 25059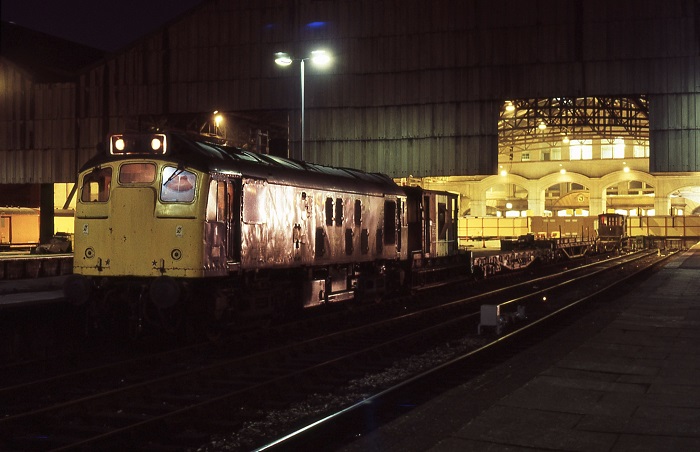 Photograph collection of webmaster.
25059 at Manchester Victoria, believed to be early in 1987.
The twenty three year nine month career of D5209/25059 saw allocations to London Midland, Western & Scottish region depots.
Built: Derby Locomotive Works
Boiler equipped
Dual brake equipped (Oct 1977)
Center lampbracket & other fittings removed
Time between last Classified repair and withdrawal: 113 months.
Preserved
During March 2011 25059 achieved the milestone of have spent more time in preservation than in BR service.
Allocations
The frames for D5209 were laid down at Derby Works during March 1963 with D5209 deilvered new to Toton (18A) on June 22nd 1963. Further transfers were:
July 1963 to Cricklewood (14A).
September 1963 to Cricklewood West (14B).
January 1965 to the London Midland, Midland Lines (LMML).
January 1968 to Longsight (9A).
March 1968 to Carlisle Kingmoor (12A).
June 1968 to Preston Division (D10).
November 1968 to Liverpool Division (D08).
November 1970 to Manchester Division (D09).
January 1972 to Newport (Ebbw Junction) (86B).
July 1972 to Bristol (82A).
May 1974 to Cardiff.
October 1974 to Bristol.
May 1976 to Haymarket.
May 1978 to Eastfield.
January 1980 to Haymarket.
September 1982 to Springs Branch.
October 1982 to Crewe.
March 20th 1987 withdrawn
Renumbered February 7th 1974.
25059 was the 319th Class 25 withdrawn.
25059 was stored at Crewe Basford Hall from March 27th 1987 until July 3rd 1987 when it moved to Leicester Humberstone Road. It moved into Vic Berry's Yard on July 6th 1987 and was sold two months later into preservation. It left for the Keighley & Worth Valley Railway on October 9th 1987.
Works Visits
Works visits (records incomplete).
Noted Derby Works October & November 1964.
Noted Derby Works March 1972.
Noted Glasgow August - October 1977 (dual brake equipment fitted, gangway doors removed).
Noted Glasgow April 1982 (N4 repairs).
Highlights
1963
D5209 was delivered from Derby Works during June, and allocated to Toton (18A) as one of the large fleet of Type 2s involved in the replacement of steam on the Midland Lines north of St Pancras. D5209 completed its test trip to Corby and back on June 18th 1963. During July it was transferred to Cricklewood (14A). Initially the new Type 2's delivered from Derby would remain only briefly at Toton, to allow any faults that might appear in their running-in to be easily fixed before they were allocated further afield.
1964
D5209 was noted at Derby Works during October & November.
1965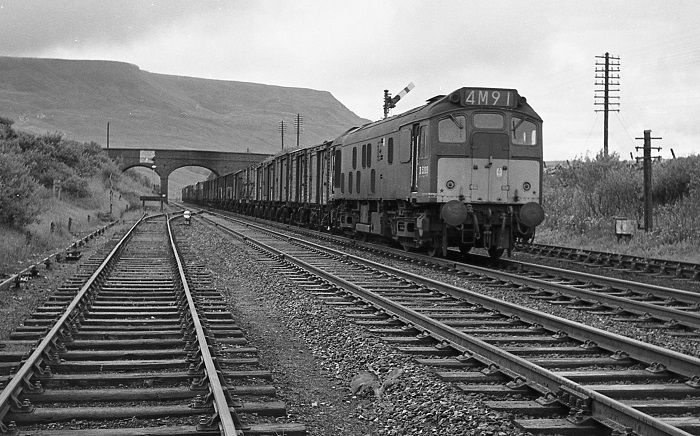 Photograph courtesy Tony Smith.
D5209 heads south at Ais Gill on July 31st 1965 with a lengthy fitted freight.
1967
D5209 & D5380 took a trip to the seaside on July 1st working a Loughborough - Portsmouth excursion.
1968
Further moves to the northwest included D5208 - D5211 transferring to Longsight (9A) in February, then D5208/09/10 quickly moved on to Carlisle in March.
5204 - 5209 moved to the Liverpool Division (D08) in November.
1969
5209 was noted at Guide Bridge on a down permanent way train on October 4th.
1970
On August 15th a derailment at Kirkconnel closed the GSW route with services being diverted via Beattock. A Kingmoor dmu and 5386 with three coaches maintained the local service between Kirkconnel and Carlisle. Diverted trains included 5209 & 5202 on the 1S28 Blackpool - Glasgow, the locomotives later returning light. 5209 was soon back in Scotland, on 24th it was noted on an Inverness - Edinburgh working coupled to 5336.
During November 5208 & 5209 were transferred to the Manchester Division (D09).
1971
On February 24th 5209 worked the 18.06 Manchester Exchange - Blackpool North vans (4P05).
At about 6pm on June 9th 5209 was noted passing Park (Manchester) with an up hopper train.
1972
5209 was transferred during January to Newport (86B) - it spent six months here before transfer to Bristol (82A) during July. These moves to the Western Region were to assist in the removal of the hydraulic fleet, particularly examples of the NBL products and the Hymeks based in South Wales.
Derby Works was visited by 5209 in March.
On July 26th 5202 & 5209 worked a Washwood Heath - Gloucester freight.
5209 worked the 20.10 Exeter St Davids - Newton Abbot on November 17th & 20th. On 20th 5209 then assisted 1066 from Newton Abbot with the 1B94 18.00 Penzance - Bristol Temple Meads.
On November 21st the 1B94 18.00 Penzance - Bristol Temple Meads was noted at Exeter with 5209 & 1030.
On December 8th the 4B10 15.55 Bristol - Plymouth parcels was noted at Exeter with 5209 (may have come off here).
On December 18th the 4B10 15.55 Bristol - Plymouth parcels was noted at Exeter with 5209 (may have come off here).
On December 22nd the 6O59 14.15 Plymouth Friary - Fawley empty tanks arrived at Exeter Riverside with 5209 & 6541, 5209 came off and retired to Exeter stabling point.
1973
On February 2nd 5209 worked the 4B10 15.58 Bristol - Plymouth parcels (one carflat & seven vans) at least as far as Exeter.
On March 7th 5209 worked the 11.25 Poole - Newcastle forward from Birmingham, how far north it worked is not recorded.
On May 19th 5209 worked the 15.55 Exeter St Davids - Barnstaple and the 17.55 return.
On May 21st 5209 worked the 20.15 Exeter St Davids - Newton Abbot.
On May 22nd 5209 ran light engine 0B70 16.57 Hemyock - Exeter. It later worked the 20.15 Exeter St Davids - Newton Abbot.
On May 23rd 5209 ran light engine 0B70 16.57 Hemyock - Exeter. It later worked the 20.15 Exeter St Davids - Newton Abbot.
On the evening of May 29th 5209 was noted at Exeter stabling point.
On June 2nd 5209 worked the 09.51 Exeter St Davids - Barnstaple, the 12.20 return, the 15.55 Exeter St Davids - Barnstaple and the 17.55 return.
At about 5.30pm on June 15th 5209 was at Bristol Bath Road.
At about 6pm on June 21st 5209 (Bristol allocated) was noted passing Manchester Exchange with a down van train (4P05).
On June 22nd & 23rd 5209 was noted at Exeter stabling point.
On July 3rd, 4th, 5th, 6th & 10th 5209 was noted at Exeter stabling point.
On July 4th 5209 worked the 2B84 20.15 Exeter St Davids - Newton Abbot.
On November 3rd & 24th 5209 was noted at Exeter stabling point.
On December 9th (a Sunday) eight additional freights ran from Margam to Knighton & Toton, three powered by Class 37s, the remainder by Western Region allocated Class 25s. All worked as far as Washwood Heath, returning to the west as light engines or with a freight train. The Class 25s involved were 5209, 7508, 7510, 7513 & 7521.
On December 15th 5209 was noted at Exeter stabling point and at some point would bring loaded milk tanks from Lapford.
On December 15th 5209 was noted at Exeter stabling point and would later work two loaded milk tanks from Lapford to Exeter.
On December 17th 5209 was noted at Exeter stabling point.
1974
On January 31st 5209 was noted at Exeter stabling point.
On February 2nd 5209 was noted at Exeter stabling point.
After almost two years at Bristol 25059 moved to Cardiff in May, but returned to Bristol in October.
On July 16th 25059 worked the 2B99 17.55 Barnstaple - Exeter. This locomotive had not been diagrammed for this working, but troubles at Newton Abbot had caused it to be substituted.
On July 23rd 25059 was noted at Exeter stabling point.
1975
On March 5th 25225 worked a roundtrip over the Taunton - Minehead branch to ensure the branch was 'operational'. The branch had last been used on January 4th 1971 and the imminent movement of 46229 'Duchess of Hamilton' from Butlins, Minehead to Swindon Works required the testing of the branch. The move of 46229 behind 25059 took place on March 13th. 46229 moved from Taunton to Swindon on March 17th behind Class 52 No.1010.
On May 21st the 09.00 Taunton - Barnstaple was worked by 25059 (from Exeter St. Davids?).
On July 5th 25059 worked the 11.15 Barnstaple - Exeter St. Davids milk/van train (6B70).
On August 22nd 25059 worked the 16.05 Bristol - Plymouth vans. On August 23rd 25059 worked the 14.40 Barnstaple - London Paddington to Exeter St. Davids.
On August 28th 25059 worked the 2B48 20.15 Exeter St. Davids - Newton Abbot (eight coaches).
On August 30th 25059 was noted on Exeter stabling point.
1976
25059 & 25152 were unusual visitors to Eastleigh on January 8th, arriving with a Westbury - Fareham stone train.
In May 25059 moved briefly to Crewe, then headed much further north to Haymarket.
1977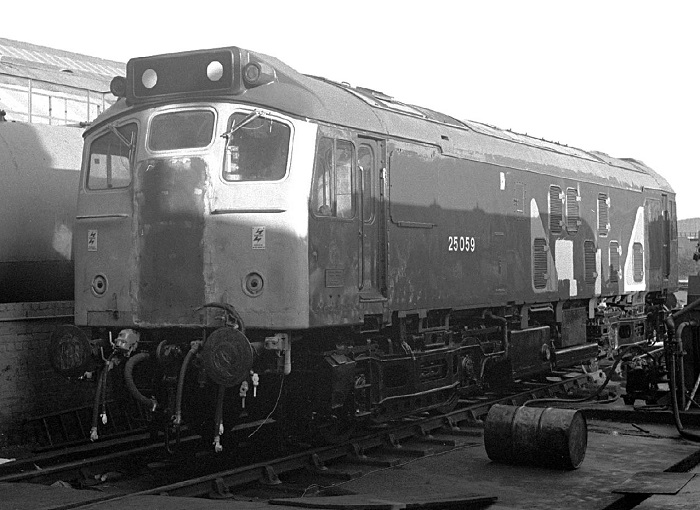 Photograph courtesy Tony Sayer
During its overhaul at Glasgow Works in the late summer of 1977 25059 was fitted with dual braking equipment and had its gangway doors sheeted over. Nearing the end of its overhaul 25059 is seen on October 29th 1977 awaiting a repaint.
25059 was present at Glasgow Works from August - October for repair which included the fitting of dual brake equipment (see photograph above).
1979
On August 31st 25059 worked the 13.40 Glasgow Central - Carlisle.
1981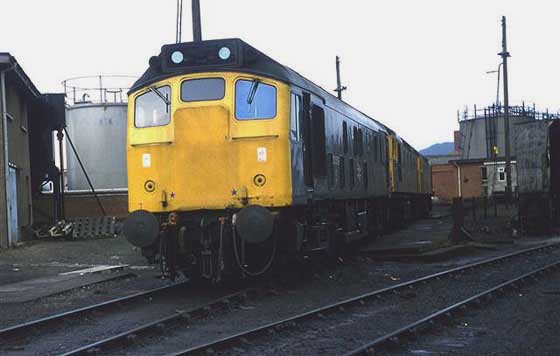 Photograph courtesy Andy Key
Its the last day of January 1981 and 25059 is stabled at Inverness depot with two Class 26s.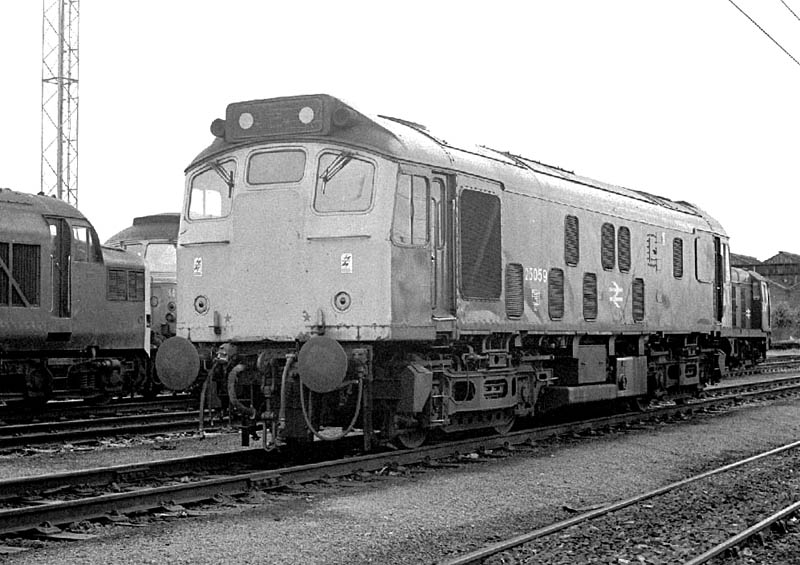 Photograph courtesy Tony Sayer
Revealing all the telltale signs of a Glasgow repair, number behind the cab door and blue star coupling symbols inside of the lamp brackets, 25059 waits for action at Polmadie on June 7th 1981.
On August 21st a relief Carlisle - Ayr and return was worked both ways by 25059.
Just before midnight on September 1st 25059 arrived at Holbeck of job Z42.
Scottish ramblings for 25059 continued during October, on 10th it was observed on an Edinburgh - Dundee working, by 28th it had migrated to a late morning Perth - Edinburgh service. And on Halloween it made three trips over the Edinburgh - Dundee route.
1982
Late April saw the brief return of Class 25s to Glasgow Works for minor repairs, so noted were 25059 & 25237 (N4) and 25247 (N1). However by late May operational Class 25s would be gone for good from Glasgow Works.
25059 was still out and about on the Scottish Region, on August 4th it worked the 07.00 Ayr - Glasgow Central followed by the 11.55 to Carlisle.
During October 25059 returned to the LMR, Longsight was now its new home.
Another gas pipe project in November brought pairs of Class 25's from Leith South to St Helens or Warrington, the trains of twenty six bolsters required banking between Garswood & Shaw Street. Noted on November 3rd were 25176 & 25078 banked by 25109 whilst the next day produced 25059 & 25180 banked by 40090.
1983
On New Year's Day 25059 was pressed into service to assist a Leeds - Manchester Victoria diesel multiple unit forward from Todmorden.
The last 'E' exam for 25059 took place at Toton during May 1983. It appears that the month of May 1983 was the final month that any 'E' exams were carried out on the Class 25s. On May 25th 25059 & 25245 worked the Cranmore - Ellesmere Port bitumen tanks.
On July 11th 25152 & 25059 were northbound at Lancaster with a lengthy train of spoil wagons.
25059 & 25044 were used to rescue August 23rd's 17.10 Bangor - York at Chester after 45050 failed, all three were replaced at Manchester Victoria by 25262.
1984
March 10th found 25059 & 25218 working the DAA Tours Northwest Rambler #3, over the Stoke - Leek Brook Jct - Stoke route.
The end of March saw much continued activity of Class 25's in the North East. 25181 worked a Tess – Scunthorpe freight (23rd), 25326 worked the Haverton Hill – Stevenston tanks (23rd), 25059 & 25064 the Stranraer – Tyne Speedlink (28th) working back with the Eastgate – Carlisle cement,
The Ditton – Broughton Lane BOC tanks continued with its familiar pair of Classes 25 & 40, so noted were 40196 & 25254 (April 28th), 40155 & 25059 (May 5th) & 40001 & 25209 (May 15th) whilst an extra working on April 29th produced 25249 & 25262. 25059 was noted at Tinsley on May 5th.
In the last week of May 25059 rescued the rolling wreck of 31159, which had failed at Leeds with the 26th's overnight Shrewsbury - York mails. Not content with this fine duty it spent the next day with 25258 on the WCML taking the 15.55 Carlisle - Euston from Preston to Crewe and later that day working the 18.27 Blackpool North - Euston as far as Preston. Wanting more passenger haulage it worked three trains on May 31st, taking out the 06.30 Preston - Barrow, coming back with the 08.20 Barrow - Liverpool and finally the Preston - Liverpool leg of the 16.20 ex Glasgow.
On the evening of July 3rd 25059 was noted at Shrewsbury in charge of the Mossend - Severn Tunnel Junction speedlink service.
On September 8th 25032 & 25059 hauled the 10.10 Euston - Aberystwyth from Wolverhampton and the return 17.05 Aberystwyth - Shrewsbury.
Stretching its legs in Scotland 25059 worked the 14.45 Glasgow Central - Carlisle on September 23rd.
December opened with 25059 working the last leg of the 4th's 11.00 Scarborough - Bangor which arrived at Llandudno Jct behind 45126 (failed) and 40181. 25059 returned with the next part of the diagram - the 17.32 Bangor - York, working as far as Manchester Victoria via Wigan.
1985
25059 was noted on February 19th working the cement empties from King's Cross Sidings to Tring cement works.
The failure of the late night Dumfries - Carlisle diesel multiple unit at Dumfries on April 22nd could have easily seen the service cancelled, however 25059 was on hand to take the train out.
25059 was noted stabled at Warrington on May 29th.
25059 worked the 15.10 Manchester Piccadilly - Bristol Temple Meads parcels on July 10th.
On August 23rd 25059 & 25206 worked a relief (from Exeter) between Carstairs & Edinburgh. On August 29th 25059 was noted at Crewe on an engineers train.
25059 & 25089 were noted at Hereford on the September 6th with the 6S75 Severn Tunnel Junction - Mossend Speedlink. 25059 was noted passing through Crewe on September 14th with a very shorts engineers train.
September 23rd saw 25059 having adventures in the north, covering the 10.43 Carlisle – Newcastle passenger after the diagrammed dmu failed.
Class 25's over the Central Wales line continued with October 5th's special from Kidderminster to Tenby hauled throughout by 25037 & 25059. Even on the day it was uncertain as to what this motive power would be, and it was made more interesting by the train receiving a relief driver & pilotman at Llanelli rather than a locomotive change as in prior years. As there was no way to refuel the locomotives at Tenby, the return trip was via Cardiff where surprisingly another pair of Type 2's 25296 & 25282 were waiting to take over. Some days were very, very good............
The year ended with the Shrewsbury - York mail again in trouble, 47538 requiring assistance on December 4th from 25059, which worked the train from Shrewsbury to Crewe. 25059 was noted at Bedford on December 11th.
1986
25059 provided assistance from Prestatyn on January 4th to an ailing 47531 on the 01.00 Holyhead - Crewe.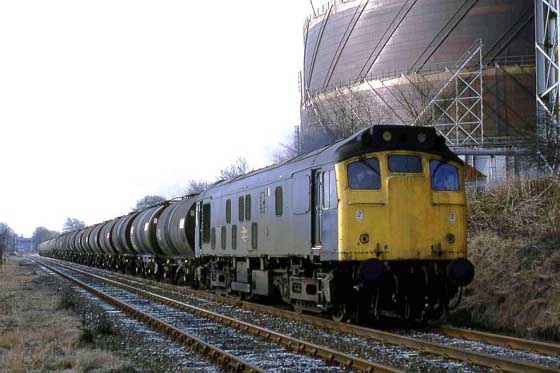 Photograph courtesy Ron Kosys.
Its February 25th 1986 and the lengthy 6M43 04.05 Ripple Lane - Charringtons oil train passes Foleshill Gas Works with 25059 in charge.
25205 & 25059 were noted at Northampton on March 12th. Working west on a very stormy and windy March 20th was 25059 on a Sellafield – Bridgwater nuclear flask train. Record wind gusts were recorded this day at Edinburgh (110mph) and Cairn Gorm (173mph), on the 24th the high winds for the first time closed the M4 Severn Road Bridge. On March 21st 25059 was noted in the Newport area on short wheelbase oil tanks. On March 31st 25059 was noted at Abergele eastbound with loaded ballast wagons.
25059 was noted passing through Hereford on April 1st with a short train of tanks (bitumen?).
On May 1st 25059 came to the rescue of a failed 31432 at Guide Bridge whilst in charge of a Manchester - Hull service, the Class 25 working as far a Sheffield.
Another broken Class 47 allowed 25059 to work the 09.24 Liverpool - Glasgow as far as Preston on June 8th.
Whitemoor still continued to use any Class 25's that strayed into their territory, putting them to good use on their local trip freights. In July the Bury St Edmunds job used 25035 (11th) and 25059 (22nd).
On Saturday August 2nd 25059 & 25266 were two of six locomotives at Rugby over the weekend. On August 22nd 25059 worked the Whitemoor - Bury St Edmunds trip.
31308 & 25059 worked the Bridgwater - Sellafield nuclear flasks on September 23rd 1986 (noted at Bristol).
On October 15th 25059 & 25199 were noted double headed at Stoke on Trent. On a wet October 25th 25058 & 25059 were noted stabled together at Manchester Victoria.
The southbound Gulf Oil tanks were still bringing Class 25s into Hereford, where they were changed for Class 37s, so noted on October 28th was 25059 and November 4th with 25278. On Armistice Day 25059 rescued a failed Carlisle - Sunderland diesel multiple unit, dragging back the unit about a mile between Broadwath & Wetheral where the passengers were transferred.
1987
25059 was at Crewe on Christmas Eve 1986 attached to 25191, on January 8th it was working the Croft Quarry to Gresty Lane, then to Nuneaton, leaving there with the 6Z36 to Severn Tunnel Jct. By January 10th it was at Willesden handling a local job to Bletchley (10th) and Bedford (13th). Having made it over to the Midland main line it was used to rescue a failed Class 45/1 at Wellingborough which had been in charge of the 14th's 07.00 St Pancras - Nottingham, assisting all the way to Nottingham.
About the above working John Elliott (from Australia) writes: I was on the St Pancras - Nottingham train on the 14th which I caught at Leicester. I do seem to recall however that 25059 came on at Bedford? That day was a terrible day - absolutely freezing. School was closed so I decided to go out and get some pictures at Loughborough station (I lived in the town at the time) but it was too cold to hang around so I caught a train to Leicester and went round the depot taking pictures. It was so cold that the new battery in my SLR froze and I had to warm it up in my coat after each photo! All the locomotivess on the shed were running to keep them going, many with huge icicles down their sides. After that I headed back to the station and there still hadn't been a train up from London until just after I arrived when 25059 came in dragging 45106 which was dead and the 1M10 set of 4 Mk1 SKs. The guard mentioned that the road from Bounds Green had frozen and no stock could get into St Pancras to work north so as the only stock available came off M10 that was used north with presumably the Peak that worked the overnight?
I got on the train as I knew that the days of the Class 25s were numbered plus it was far too cold to stay on Leicester station - but not as cold as being on the train! As this was so rateable I stayed on to Nottingham where we arrived after 1pm! There 25059 and 45106 disappeared to the depot and the train was worked back by 47475 which I did to Leicester (to warm up) and my notes show that I returned to Loughborough behind 31281 dragging the then new 150101?
Still on the Midland on January 20th 25059 was used between Leicester & St Pancras assisting failed 47449 on the 22.54 ex Nottingham. It is also reported that having been released from its train at St Pancras it proceeded to Cricklewood and was promptly used to assist a failed 31423 on the 21st's 00.05 St Pancras - Derby, which it worked through to Derby. It was at Saltley on January 23rd, handling Northampton & Rugby jobs on the 25th. It was stopped at Bescot on January 29th for an 'A' exam, then it was back to Northampton (30th) for the 3G20 to Curzon St & 4H05 to Manchester Piccadilly.
On a very, very wet February 2nd 25059 was on banking duty at Manchester Victoria. On February 10th Longsight sent it out on the 6K36 to Nuneaton, then north to the Manchester area taking up the local workings to Barrow. On February 11th 25059 was noted at Guide Bridge on a permanent way train from Shrewsbury. It visited Rugby on February 14th, Willesden by 17th staying in the London area until the evening of the 22nd, when it worked the 20.25 5P03 to St Pancras for the 1P32 to Derby. It was noted at Luton on February 24th with a Vauxhall car train. February 28th found it at Crewe for the 3K02 to Liverpool Lime Street.
Machynlleth was visited on March 3rd, then back to Crewe to pick up the 8G12 with 25109 to Bescot, March 6th - 8th were spent in the Crewe/Chester area, at lunchtime on March 12th 25059 was at Crewe depot, but by 14th 25059 was at Motherwell remaining here until 16th, working back south with the 6Z15 to Carlisle and on to Carnforth to work the 8X40 Carnforth - Crewe prefab train on March 17th. After dropping off the train 25059 retired to Crewe diesel depot for refuelling.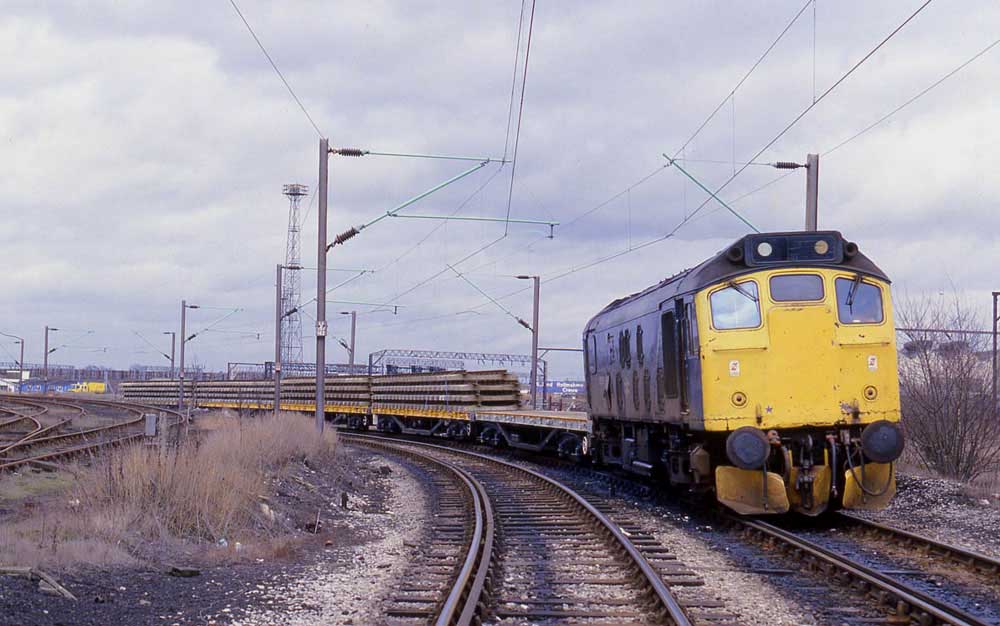 Photograph courtesy Tom Sutch
25059 at Crewe on March 17th 1987, having just arrived with the 8X40 Carnforth - Crewe prefab train. After dropping its train 25059 returned to Crewe depot to refuel.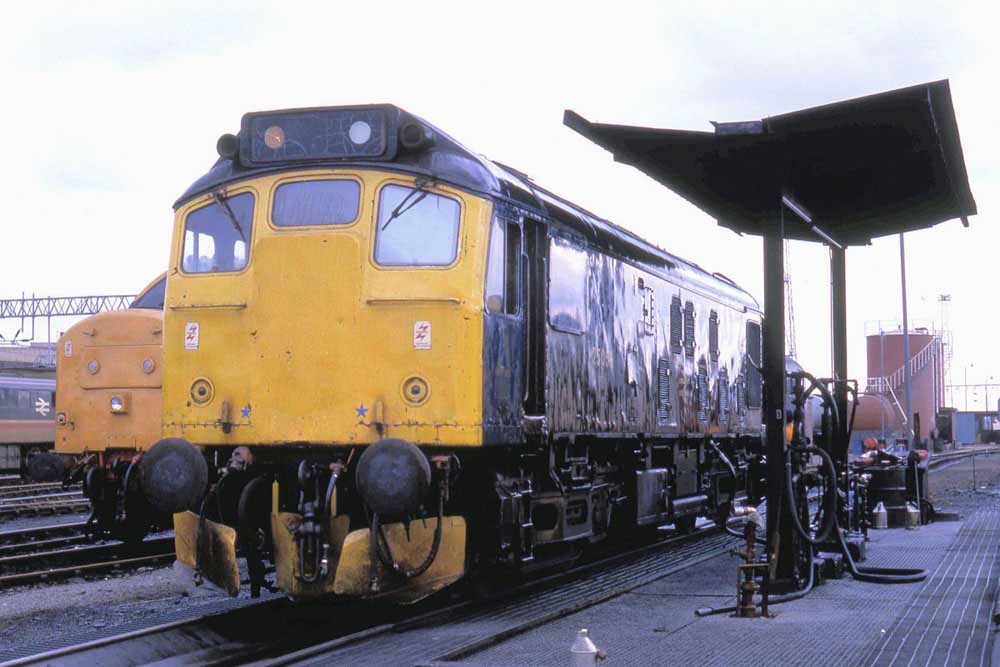 Photograph courtesy Tom Sutch
Having arrived at Crewe on March 17th with the 8X40 prefab train from Carnforth, 25059 retired to the depot for refuelling, possibly for the last time.
It was noted at Buxton by March 18th where it was withdrawn on 20th. Its last days in the Buxton area included acting as the Peak Forest banker. The morning of March 20th found 25059 banking the morning Northwich hopper departure from Tunstead to Peak Forest, headed by a Class 47. The same day shortly after midday 25059 drew the loaded tipplers for Bletchley off Taylor's bank into Long sidings 1. The locomotive then returned to Buxton to join 37689 & 47089 for movement to Crewe. Its not clear if 25059 was intended to drag the other two locomotives to Crewe or be part of the dead engine movement.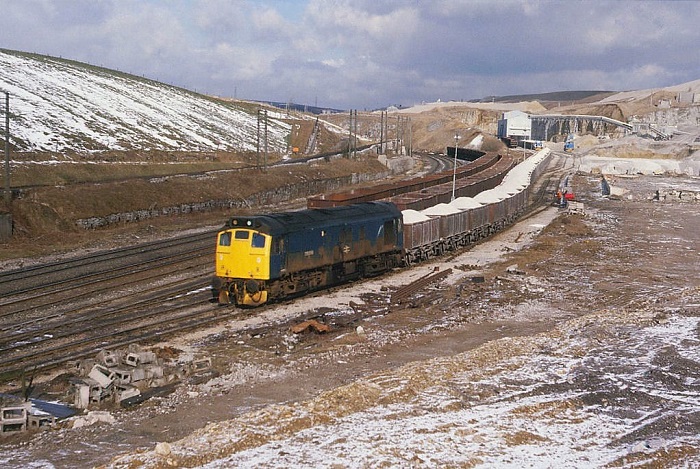 Photograph courtesy Mike Hollick
25059 at Peak Forest on March 20th 1987.
Four days later on the evening of March 24th 25059 was restarted to drag 37689 & accident damaged 47089 to Crewe, the next day it was at Basford Hall, out of service.
After withdrawal 25059 reached Basford Hall by March 20th and remained there until the middle of July when a clearout began. 25059 moved as the 9L37 Basford Hall - Leicester, Humberstone Road, on July 16th with 25059/323/902/904. It was then tripped with 25910 as the 9T16 Humberstone Road - Vic Berry's yard. It remained here until October 9th 1987 when it left for preservation as the 6X53 09.30 Vic Berry's - Keighley (KVWR).
25059 was the first mainline diesel locomotive to be based on the Keighley & Worth Valley Railway, beginning operations in October 1987.
(With thanks to Neil Cannon for making available the TOPS reports for 1987 & to Alan Baylis for his books on the 1984/85 Class 25 passenger workings and other resources).
00/00
flk 1015 (1)
Resources:
1970s Western Region information courtesy online notebooks of Sean Greenslade.
Page added October 25th 2004.
Last updated July 10th 2020.
Back to 25058
Forward to 25060