D5210, 5210, 25060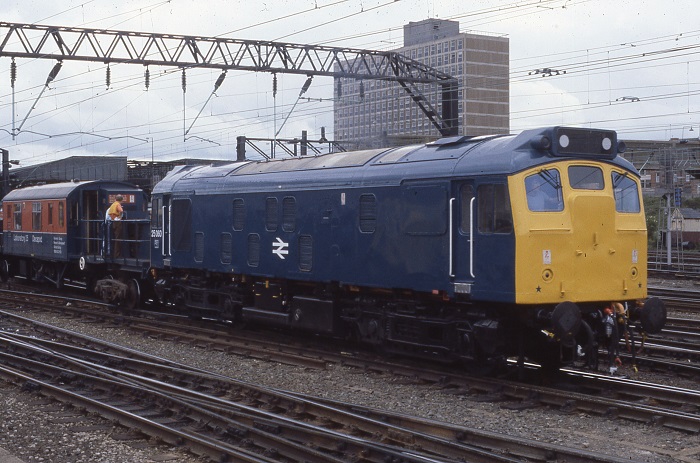 25060 passes through Crewe station with some Research Department vehicles on July 28th 1979. 25060 is not long out of Derby Works.
The twenty two year career of D5210/25060 was spent allocated to a multitude of London Midland Region depots.
Built BR Derby Locomotive Works.
Boiler equipped.
Dual braked (1974).
Time between last Classified repair and withdrawal: 77 months.
Time between withdrawal & scrapping: 16 months.
Allocations
D5210 was new to Toton (18A) on June 22nd 1963. Further transfers were:
July 1963 to Cricklewood (14A).
August 1963 to Toton (18A).
September 1963 to Toton (16A) (depot code change).
October 1963 to Cricklewood West (14B).
January 1965 to London Midland Midland Lines (LMML).
February 1968 to Longsight (9A).
March 1968 to Carlisle (12A).
June 1968 to Preston Division (D10).
November 1968 to Manchester Division (D09).
May 1973 to Longsight.
October 1975 to Springs Branch.
August 1980 to Crewe.
Withdrawn December 9th 1985 (due to power unit defects).
Renumbered February 9th 1974.
25060 was the 263rd Class 25 to be withdrawn, one of ten retired during December 1985.
After its withdrawal 25060 was stored at Crewe then moved with 25189, 37004 & 37203 as the 9Z34 10.30am Crewe Depot – Doncaster Works on January 21st. It remained intact at Doncaster Works until moved on August 14th 1986 with 25078, 25195, 25257 & 25287 to Goole Docks. The locomotives at Goole were later sold to Vic Berry, Leicester and moved as 25060/78, 25195, 25257 Goole – Tinsley - Vic Berry, Leicester on October 29th-30th, 1986. By the first week of April 1987 25060 had been broken up.
Works Visits
Works visits (records incomplete).
Noted Derby Works December 1966.
Noted Derby Works June - August 1974 (dual brake fitted - gangway doors removed?).
Noted Derby Works May - July 1979 (Intermediate).
Highlights
1965
The 16.57 Irlam - Liverpool Central was worked by D5210 on November 26th.
1966
D5210 & D5219 worked a Bedford - Margate/Ramsgate excursion throughout on July 3rd.
1968
Condition no month: green livery with small yellow warning panels, curved upper corners, warning panel covers frame level stripe, no blanking plates, hand/footholds present, straight sided sandboxes, three-rung bogie mounted footsteps, engine exhaust located above engine room.
1969
The 10.00 Sheffield - Llandudno Town and the return 14.28 Llandudno Town - Sheffield were worked by 5198 & 5210 on June 14th.
1970
5210 was the Manchester Victoria banker on January 17th.
5210 was the Manchester Victoria banker on March 11th.
1971
At about 6pm on June 24th 5210 was noted passing Manchester Exchange with a van train.
Condition July: blue/yellow livery, gangway doors present, straight sided sandboxes.
On the late afternoon of July 6th 5210 was noted passing Manchester Exchange with a down van train.
On the early evening of August 2nd 5210 was noted passing Manchester Exchange with a down van train.
1972
At about 7am on June 1st 5210 was noted passing Manchester Victoria with an up van train.
1973
5210 was on empty coaching stock duty at Liverpool Lime Street on April 26th & 27th.
At about 6pm on September 18th 5210 was noted passing Manchester Exchange with a down van train.
On September 29th (the last day of the summer timetable) 5210 worked the 12.50 Manchester Victoria - Llandudno and the 17.06 Llandudno - Manchester Victoria. This working normally utilised the locomotive & stock off the 09.31 Scarborough - Manchester Victoria, due at 12.20pm. The locomotive was normally a York or Healey Mills Class 40.
1974
5210 was the Manchester Victoria banker on January 16th.
On February 21st a Derby – West Thurrock limestone special was hauled throughout by 5282 & 5210, the more normal power being Classes 45/47.
25060 was ex-works on display at Derby Works Open Day on August 30th 1974.
Condition August (ex-works): blue/yellow livery, gangway doors sheeted over, blanking plates fitted, hand/footholds plated over.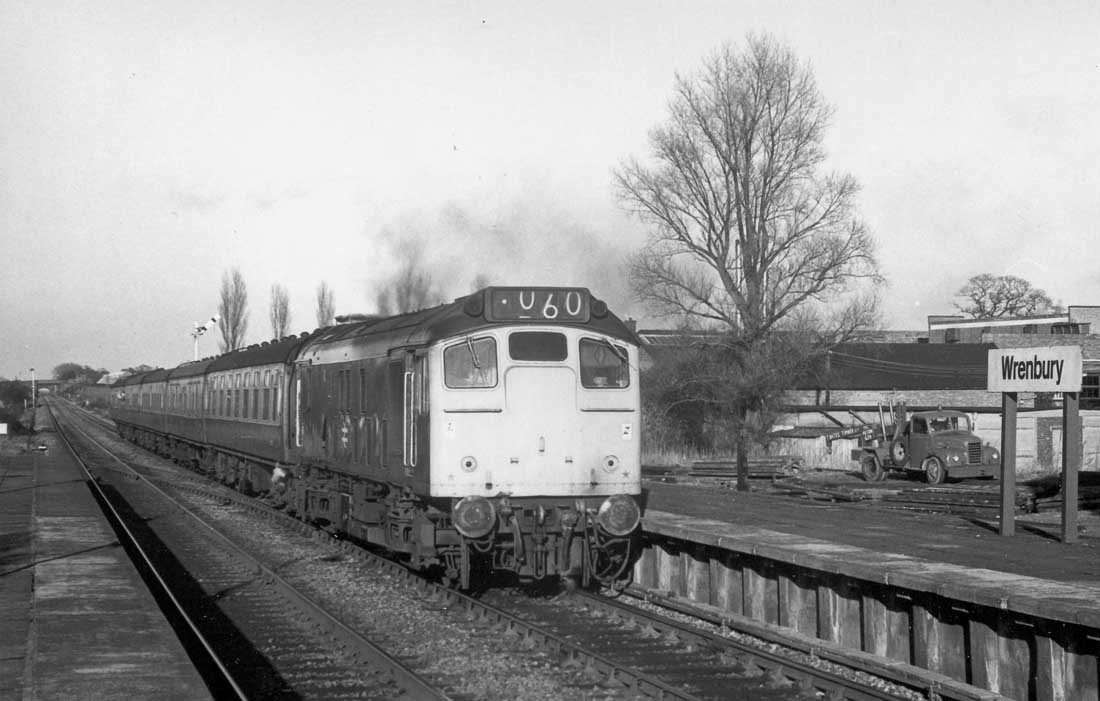 Photograph collection of webmaster (ADH).
25060 passes Wrenbury (between Nantwich & Whitchurch) presumably on a Crewe - Cardiff working. The locomotive is not yet dual braked so the date is presumably between February and June 1974.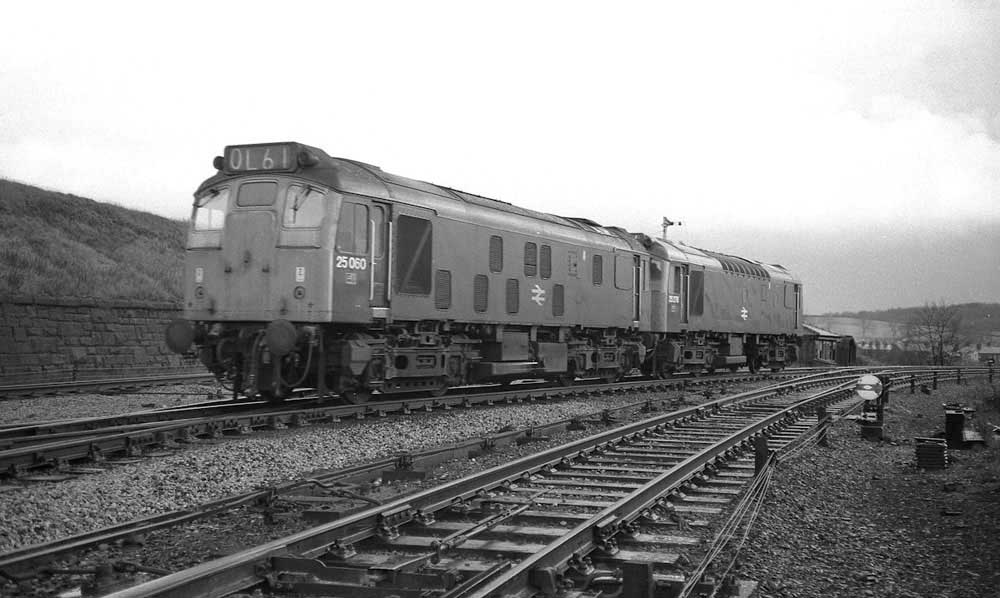 Photograph courtesy Tom Sutch.
On a dull and wet day in 1974 25060 & 25278 cross the diamond at the south end of Hellifield station coming off the Blackburn line.
1975
25060 was on empty coaching stock duty at Liverpool Lime Street on January 16th.
1976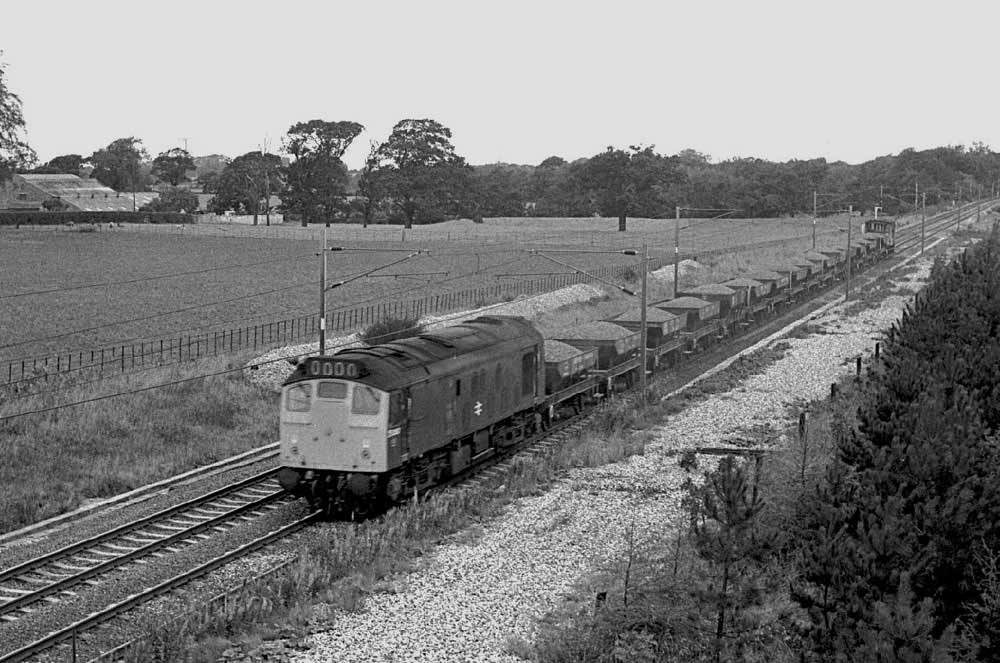 Photograph courtesy Tony Sayer.
Pictured here just about midway through its twenty two year career on BR 25060 approaches Larkhill with a permanent way train September 8th 1976.
1977
The Liverpool area was certainly no stranger to Class 25s on passenger workings, they were frequently to be found working the non-electrified portion of Liverpool - Glasgow/Edinburgh services, often loaded to eleven coaches. So noted was 25057 on the 09.41 to Glasgow and 25060 on the 18.05 ex-Edinburgh, both on April 8th.
A Southport - York day excursion on Easter Monday utilised 25060 & 40095.
1979
The late morning Banbury pick-up freight was noted at Oxford on November 9th with 25060.
1980
Passenger workings in early 1980 included the 07.37 Liverpool - Preston on February 2nd and the 18.45 Ayr - Glasgow Central on April 19th. 25060 was noted on May 28th passing through Broad Green hauling 7P 4-6-0 850 'Lord Nelson, Pullman car 'Audrey' and one brakevan en-route to the Rocket 150 celebrations.
On June 21st the 07.35 Nottingham - Llandudno Town & 13.00 return was worked by 25060 as was August 16th's 09.42 Llandudno Town - Manchester Victoria.
During August 1980 25060 was transferred to Crewe and being boiler equipped and dual braked was a most useful locomotive to have available, it was also barely a year out of Derby Works following an Intermediate repair so would have had superior reliability. Because of its working boiler it would be a regular on the 'local' passenger workings. The two views below are typical of this period with 25060 working Cardiff - Crewe passenger turns.
1981
On February 7th the 18.01 St Pancras - Leeds failed at Bedford behind 45121, 25060 took everything forward but it too became a total failure near Sileby. 45037 was semt out from Leicester and pushed everything to Nottingham, where 45140 took over after all three locomotives were removed.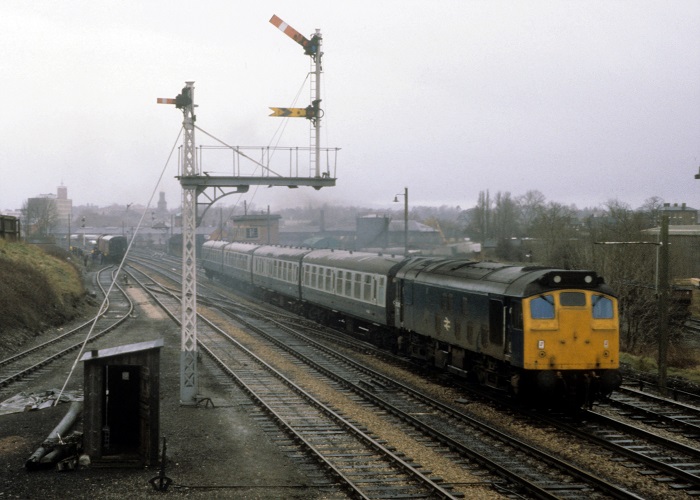 Photograph courtesy Bernard Mills.
25060 passes Crewe Bank, Shrewsbury with the 07.50 Cardiff - Crewe on a very overcast March 7th 1981. On this day 25060 would return south with the 12.25 Crewe - Cardiff.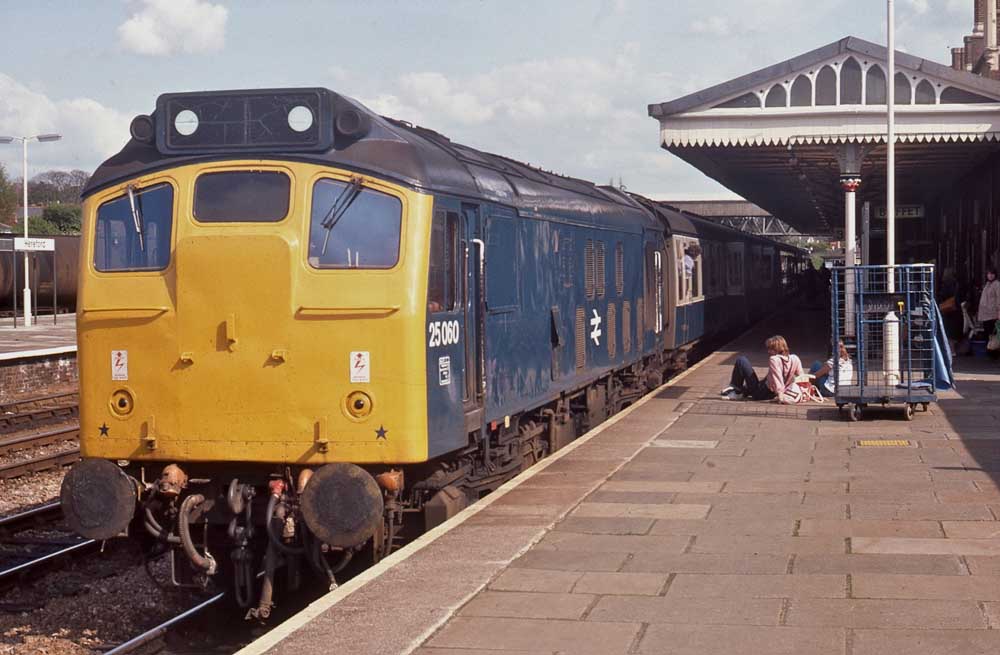 Photograph courtesy Peter Lovell.
Its May 8th 1981 with 25060 on the 15.10 Cardiff - Crewe, awaiting departure at Hereford.
The recorded passenger workings in the latter half of 1980 after transfer to Crewe were minimal, but once 1981 arrived 25060 racked up many miles, particularly on the Crewe - Cardiff route (one way mileage equalled 139 miles). If there were no problems with the locomotive it could work two round trips on any of the three weekday/Saturday diagrams.
05.35 Cardiff - Crewe, 10.00 Crewe - Cardiff, 15.10 Cardiff - Crewe & 19.30 Crewe - Cardiff. 25060 worked at least the last three legs of this diagram on April 22nd 1981.
01.45 Crewe - Cardiff, 07.50 Cardiff - Crewe, 12.27 Crewe - Cardiff & 17.10 Cardiff - Crewe. 25060 worked at least the last three legs of this diagram on April 25th 1981.
07.54 Crewe – Cardiff, 11.50 Cardiff – Crewe, 16.02 Crewe – Cardiff & 20.00 Cardiff – Crewe.
May 31st was officially the last day for the Class 25s on the Crewe – Cardiff workings. The Southern Region were intending to release Class 33s from discontinued van traffic workings to take over from the Class 25s, however a strike on the Southern Region and continued operation of the van traffic permitted some Class 25s to remain on these workings until June 4th. Throughout the last week 25042/60/66, 25219/220/245 handled the diagrams although by midweek 25220 was replaced by 47099. On June 1st 25060 was replaced by 33022 on the 16.02 Crewe – Cardiff with others gradually taking over. The final Class 25 workings were on June 4th, 25245 on the 17.10 Cardiff – Crewe and 25060 on 16.02 Crewe – Cardiff, the latter failing at Hereford, passengers being rescued by a diesel multiple unit off a terminating Birmingham service.
25060 was noted at Holyhead on June 21st.
Another unusual, but scheduled, double header was the 03.54 Ditton – Broughton Lane, Sheffield BOC tanks, frequently noted behind a Class 25 & 40, which on July 21st featured 25060 & 40197.
Once removed from the Crewe - Cardiff workings 25060's passenger turns became less frequent. On a very damp August 8th 1981, with 25245 it worked the 08.35 Derby - Yarmouth to Norwich and return. The next day the same pair worked the 08.21 Leicester - Skegness and return.
Its allocation to Crewe did not prevent its use on Scottish passenger workings. For a week in October 1981 it turned up on several Scottish passenger turns: on October 10th with 27032 it worked the return leg of a Coventry - Edinburgh day excursion from Edinburgh to Carstairs. On October 12th & 17th it was busy on Edinburgh - Dundee passenger turns.
1982
25060 was noted on March 18th at Birmingham Lawley Street working a gold bullion train.
June 24th found 25060 running through Westbury with 47901 in tow en route to Bristol.
25189 & 25060 worked the early morning Toton - Acton freight on August 12th. Further passenger turns in 1982 were mostly in the North West, however on August 13th 25060 worked the 08.29 Leeds - Weymouth to Sheffield. Three days later on August 16th 25202 & 25060 were noted at Crewe coming off the Stoke line with a lengthy train of hoppers (COV HOPS?).
On September 7th 25060 was noted at Moreton on Lugg with a Ravenscraig - Llanwern steel train. The morning Ellesmere Port - Drayton tanks were noted passing Didcot behind 25120 & 25060 on September 13th.
During November 25060 received an 'E' examination at Carlisle Kingmoor. 25060 & 25120 spent some time in the North East in early November, 8th found them in charge of the Haverton Hill – Stevenston tanks whilst the next day they crossed the Pennines towards Carlisle with a Parkeston – Mossend working. On November 22nd the failure of 47491 on the 14.54 Carlisle - Stranraer Harbour near Auldgirth saw 25060 assist the train to Ayr.
1983
The first week of 1983 proved to be hectic for 25060, coming to the rescue of at least two locomotives. On January 3rd the Class 47 failed at Llandudno Junction on the 22.40 Manchester Victoria - Holyhead. 25060 took the working forward and returned the next day with the 07.09 Bangor - Manchester Victoria. It later took over the 15.05 Liverpool - Scarborough at Manchester Victoria, replacing 40177 which had replaced the booked 47537 at Edge Hill, and worked the train to York. It is believed to have returned on the 19.25 Scarborough - Liverpool from York. At the very end of the day, with 40050 it took the 22.40 Manchester Victoria - Holyhead forward from Llandudno Junction.
25060 was noted at Stourton on January 21st hauling electric multiple unit No.317317.
On March 21st 25060 worked a round trip Crewe - Cardiff and on April 2nd managed a round trip Carlisle - Glasgow Central. By April 20th it had worked a round trip Manchester Victoria - Bangor turn.
On July 11th 25060 was noted shunting vans at Lawley Street. Five days later on July 16th 25060 was noted at Birmingham New Street on a nighttime parcels service.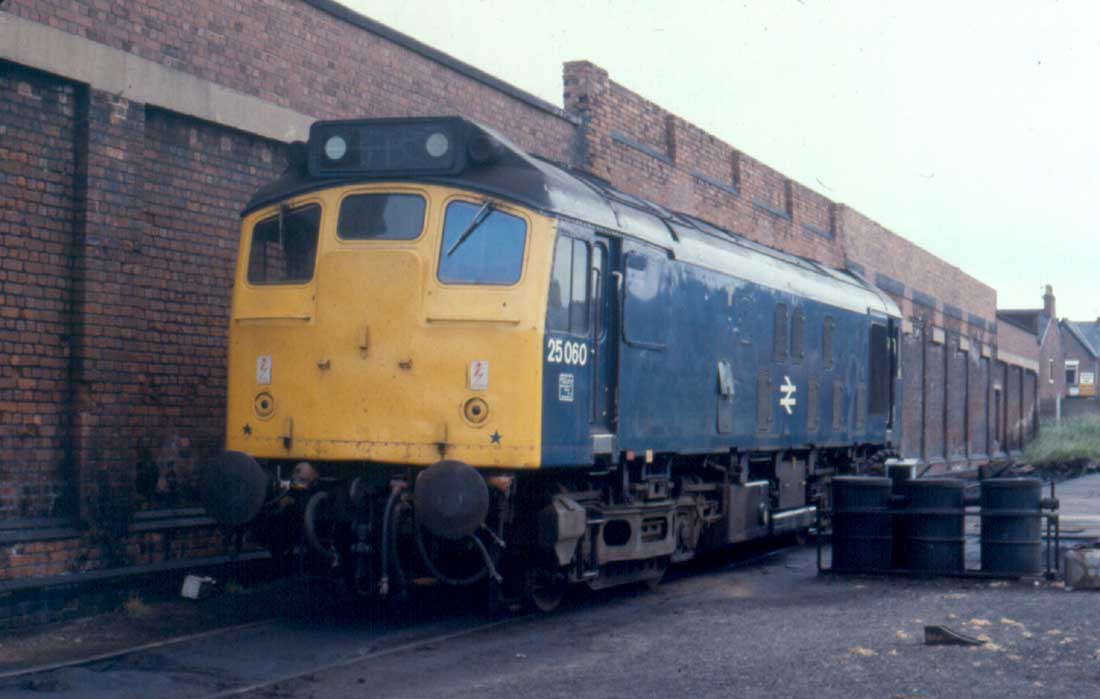 25060 stands alongside the old steam shed at Northwich on July 8th 1983. 25060 has just celebrated its 20th anniversary.
25060 was noted southbound through Lancaster on August 8th with an empty CWR rail train.
On October 29th & 31st 1983 25060 worked the 10.40 Carlisle - Leeds & 16.00 return.
On November 10th 25060 was stabled at Birkenhead Mollington Street. On November 17th 25060 worked a morning Tees - Healey Mills freight.
1984
On February 23rd 25060 worked the 7C05 11.50 Moreton On Lugg - Severn Tunnel Junction freight, approximately nine varied wagons and a brakevan. The Exeter - Ellesmere Port bitumen tanks were noted heavily delayed at Hereford on February 28th with 25202 & 25060, the deley being due to Trade Union half-day action.
On April 17th 25060 was noted on the Toton West yard to Derby Railfreight wagons (T12), possibly the Kirkby Summit Metal Box traffic. Two days later on April 19th 25060 was noted northbound through Derby with a short five vehicle freight including 08463 (no connecting rods) behind the Class 25.
25060 was station pilot/banker at Manchester Victoria on May 26th.
In the early hours of June 30th 25060 was noted on a short parcels working at Derby.
The first half of 1984 produced no recorded passenger workings for 25060. Late night passengers on September 21st were rewarded with 25060 on the 22.33 Sheffield - Manchester Piccadilly. Just over a week later, on September 29th 25060 & 25235 were part of the 'Worth Valley Wanderer' originating from Plymouth. The Class 25's worked the Wolverhampton, Derby, Manchester, Halifax, Carnforth, Skipton section.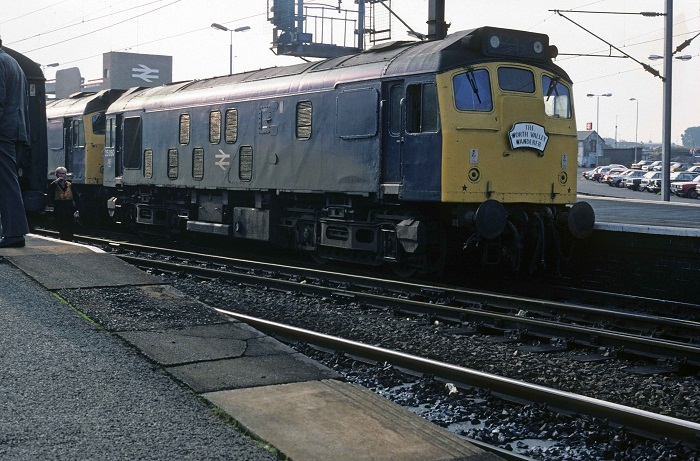 Photograph courtesy Roger Geach
25060 & 25235 at Wolverhampton on September 29th 1984, taking over the 'Worth Valley Wanderer' railtour.
25072 & 25060 were noted passing through Stafford with a lengthy train of BOC (?) bogie tankers on September 8th.
25060 was noted at Chester on a westbound parcels train during the evening of October 19th.
On October 25th 25060 worked a Carlisle - Glasgow round trip and continued to do so on October 26th, 29th, 30th, November 1st, 2nd & 3rd, on this last day on the return working 37144 was providing the power after 25060 could not, but remained to heat the train. Finally for 1984 25060 worked November 17th's 21.16 Preston - Barrow.
1985
On a snowy January 19th 25060 was noted passing through Derby with loaded ballast wagons.
On February 13th 25060 was noted passing Claydon L&NE Junction with a single tank car. 25060 was noted stabled at Bletchley on February 23rd.
25060 only hauled three passenger trains during 1985. The first was on March 16th working the 'Rhylstone Rambler' with 25044 forward from Toton - Shirebrook - Worksop - Tinsley - Crofton East - Wakefield Kirkgate - Healey Mills and returning Healey Mills - Wakefield Kirkgate - Knottingley - Askern - Doncaster - Rotherham - Sheffield - Derby. 1985: Three days later (19th) 25060 was noted passing through Market Harborough with an Officers special, the locomotive's steam heating boiler was working well.
Its 2nd passenger turn of 1985 occurred on April 1st with a Chester - Kirkcaldy day excursion utilised 25060 to Warrington. And the last passenger working for 25060 occurred on April 27th 1985 working the 12.30 Manchester Piccadilly - Cardiff from Crewe as far as Hereford where 25060 failed and was dragged to Cardiff by 47187.
On August 19th 25060 was noted at Derby. Three days later (22nd) 25060 was noted at West Hampstead with the Vauxhall company train from Luton headed towards the Southern Region via Cricklewood, Dudding Hill Junction and Acton Wells Junction.
25060 was undergoing maintenance at Crewe Diesel Depot on September 25th.
The final days for 25060 during November included a visit to March depot on 23rd and working the 6Z39 Stanlow - Neville Hill (Cross Green) bogie oil tanks on 29th with 25095. An Ellesmere Port crew had worked the train to Healey Mills, where a Healey Mills crew took over.
25060 was withdrawn on December 9th 1985.
1986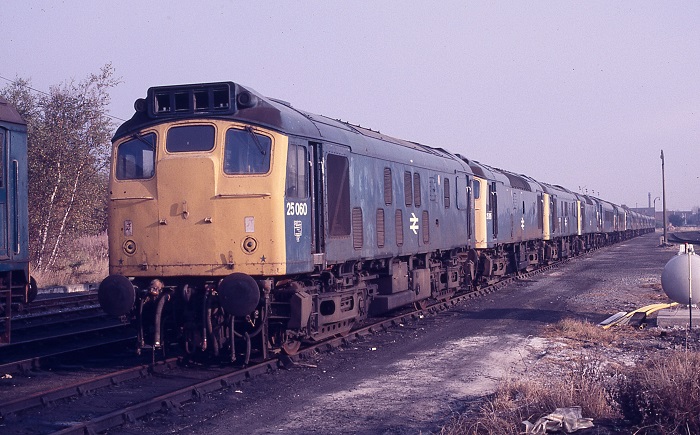 Photograph collection of webmaster (ADH).
25060 heads a long line of withdrawn locomotives at Goole Docks on October 18th 1986.
Condition Final: blue/yellow livery, gangway doors sheeted over, blanking plates fitted, hand/footholds plated over, straight sided sandboxes, three-rung bogie mounted footsteps.
125/13456
flk 1116 (2)
Page added October 5th 2012.
Last updated February 10th 2020.