D5224, 5224, 25074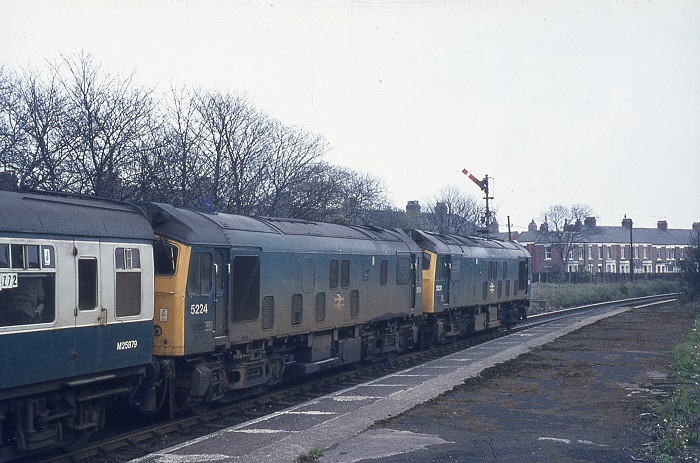 Photograph collection of webmaster.
A winter's day sometime in 1973 or 1974 finds 5224 & 5231 at Whitley Bay on an unknown working, possibly a football special from somewhere in the East Midlands. The station has been rebuilt since this view but the terrace houses in the background still remain.
The seventeen year two month career of D5224/25074 was spent allocated to London Midland depots associated with the Midland mainline or the London area.
Built: BR Darlington Locomotive Works.
Boiler equipped.
Time between last Classified repair and withdrawal: 57 months.
Time between withdrawal & scrapping: 20 months.
Allocations
D5224 was new to Toton (18A) on July 20th 1963. Further transfers were:
September 1963 to to Nottingham (16A).
February 1964 to Nottingham (16D).
January 1965 to London Midland (Midland) Lines.
February 1968 to London Division (D14).
June 1968 to London Division (D01).
November 1969 to Nottingham Division (D16).
May 1973 to Toton.
Withdrawn September 7th 1980.
Renumbered March 16th 1974.
25074 was the 40th Class 25 withdrawn, one of nine retired during September 1980.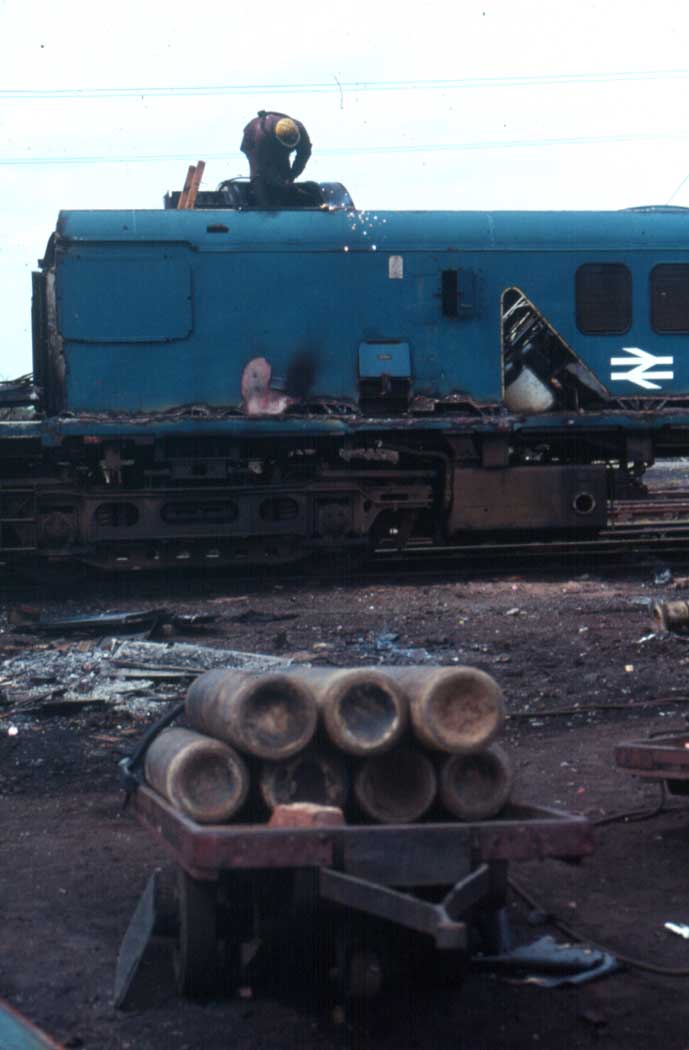 Photograph collection of webmaster
After withdrawal 25074 was stored at Springs Branch until November 21st 1980 when it moved with 25047/99 & 25116 to Swindon Works, being broken up there by the third week of May 1982. Although the locomotive is not positively identified, its Swindon Works on May 19th 1982, during this month 25074 was recorded as being cut up, the only one with the earlier bodystyle to be so treated around this time.
Works Visits
Works visits (records incomplete).
Noted Derby Works January 1965.
Noted Derby Works May 1967.
Noted Crewe Works May 1969.
Noted Derby Works August 1974.
Noted Derby Works October & November 1975 (Classified assumed, gangway doors sheeted over).
Noted Derby Works June 1977.
Highlights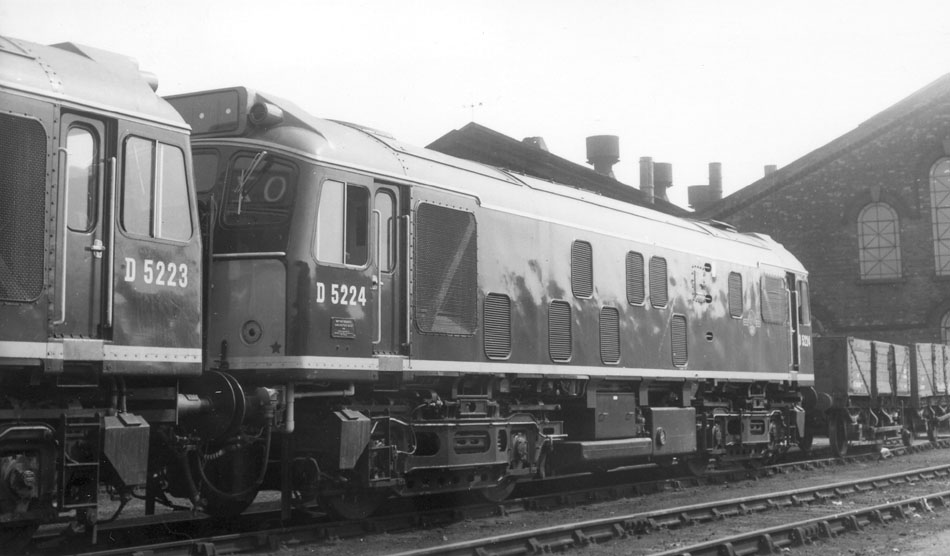 Photograph courtesy G W Sharpe.
Shiny paint reveals that D5224 is not long out of Darlington Works. Apart from fifteen months (6/68 - 11/69) when it was allocated to Willesden, 25047 was always allocated to a depot within site of the Midland mainline.
1965
With considerable time spent allocated to the Toton/Nottingham Division, boiler equipped D5224/25074 acquired a varied selection of passenger workings. The first recorded passenger working took place on April 19th 1965 working the 11.45 Manchester Central - Sheffield. On April 24th D5224 worked the 10.55am Morecambe - Leeds.
1967
On July 3rd D5224 worked a Manchester Piccadilly - Sheffield Midland service.
1971
On March 23rd 1971 the 08.01 Manchester Piccadilly - St. Pancras with Class 45 No. 46 had 5224 as pilot between Derby & Leicester (a running-in turn?).
A day excursion from Euston on October 23rd 1971 was worked by 5224 & 5235 from Wolverhampton to Aberystwyth and return.
1972
A Nottingham - Aberystwyth mystery excursion on July 23rd was worked out & back by 5224 & 7640 for a total of 382 miles. On September 16th the 14.30 Yarmouth - Walsall was worked from Norwich by 5224 & 7633.
1973
A late evening working took place on April 15th with 5224 working the 20.43 Birmingham New Street - Peterborough. At the end of the summer season on September 1st 5224 & 5279 worked the summer dated roundtrip Nottingham - Llandudno Town.
On October 20th 5224 (Toton allocated) was noted at Exeter stabling point with headcode 6V51 - a sugar beet working?
1974
A lengthy adventure was had by 25074 & 25057 on April 15th working a roundtrip Leamington Spa - Paignton day excursion for a total of 444 miles (reporting code 1Z78, return departure 19.10pm).
More seaside visits followed, on May 25th with the roundtrip Nottingham - Llandudno Town, returning as far as Derby. On May 26th 25046 & 25074 were noted at Yarmouth with an excursion from?
On June 15th 25074 & 25025 worked a roundtrip Leicester - Skegness, the next day (16th) the same pair worked a relief roundtrip Alfreton & Mansfield - Skegness.
On August 26th 25074 & 25134 worked a roundtrip relief Alfreton & Mansfield - Skegness.
On November 18th the 15.30 St. Pancras - Nottingham with 45131 was assisted forward from Leicester (?) by 25074.
1975
1975 brought more weekend adventures. On May 24th the 08.00 Walsall - Yarmouth was worked to Leicester by 25074 & 25280, being replaced by 25083 & 25102. On May 31st 25074 & 25118 worked the Derby - Norwich - Yarmouth - Norwich - Walsall diagram.
There was a change of scenery on August 9th when the 08.25 Leicester - Blackpool North was worked from/to Nottingham - Blackpool North by 25074 & 25129. On August 26th 25074 & 25138 worked the 09.20 Derby - Skegness and the return 19.25 Skegness - Derby.
The Derby - Norwich - Yarmouth - Norwich - Walsall diagram was worked by 25074 & 25132 on September 13th.
1976
The summer dated Nottingham - Llandudno Town roundtrip was worked by 25074 & 25205 on July 7th. Two weeks later on July 23rd a Banbury - Aberystwyth day excursion was worked out and back by 25074 & 25188. The next day (24th) the same pair were in use on a Cambridge - Aberystwyth day excursion, working from/to Wolverhampton, for a two day total of 558 passenger miles.
The final recorded passenger working for 1976 took place on August 21st with 25074 & 25065 on the full Derby - Norwich - Yarmouth - Norwich - Walsall diagram.
1977
1977 produced a little variety, starting on January 13th 25074 worked a morning Crewe - Lincoln Central with hauled stock in the absence of a diesel multiple unit.
A Burton on Trent - Skegness day excursion was worked out & back by 25074 & 25076 on April 11th.
25074 was north of the border on May 17th working the 09.40 Edinburgh - Inverness to Perth.
On July 23rd 25073 & 25074 were noted coupled together at Nottingham Midland.
A three coach shoppers special was worked by 25074 on August 29th from Holyhead - Llandudno Junction, 24081 took the train forward to Llandudno Town.
Permanent way work between Warwick and Hatton on September saw 25074 + 25132 and 25136 + 25282 in use.
The 16.00 Crewe - Cardiff was worked by 25074 on October 8th.
On October 11th 25074 was noted at Exeter with the 4B10 15.56 Bristol - Plymouth parcels (eight vans).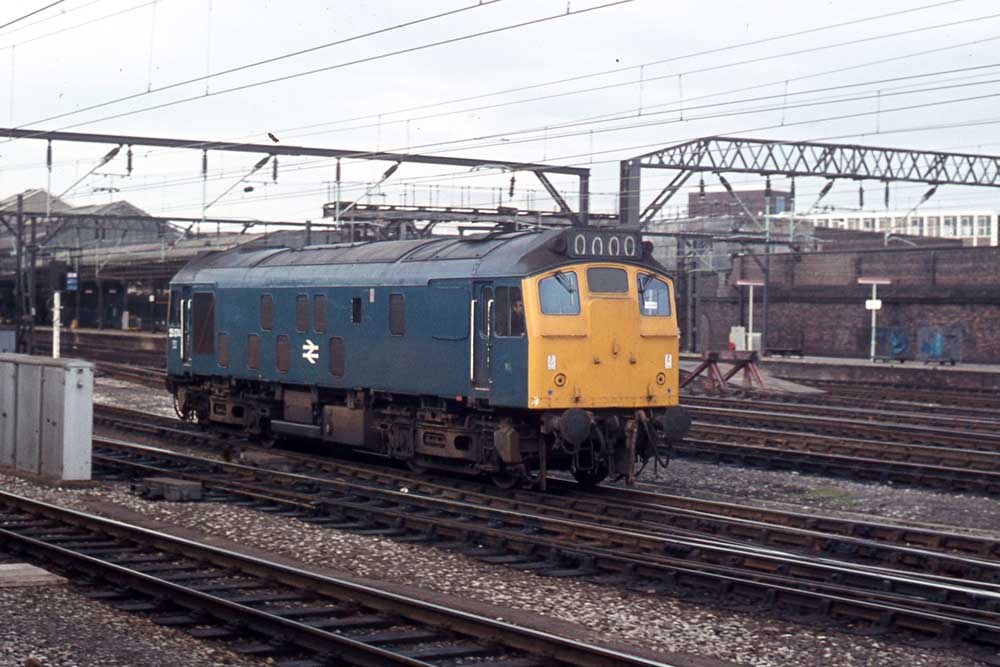 Photograph courtesy Peter Lovell
25074 at Crewe sometime during 1977.
1978
25074 was noted on a departmental working southbound at Washwood Heath on April 21st.
The workings for 1978 started out with the run of the mill seaside visits but ended with a mammoth trip. On May 1st 25074 & 25036 wored a roundtrip relief Leicester - Skegness. A Swansea - Spalding flower excursion on May 6th was worked forward from Nottingham to Spalding by 25074 & 25073, replacing a locomotive failure on the outward leg, the return to Nottingham is assumed.
On July 2nd & 6th 25074 & 25043 were noted on unidentified workings at Skegness, on the latter date the locomotives were failed at Skegness and replaced by 20107 & 20155.
25074 was noted southbound through Preston with tankers (chlorine?) on August 23rd.
September produced two Cardiff - Crewe line workings; on September 15th working the 06.04 Crewe - Cardiff and on September 28th working the 17.10 Cardiff - Crewe. The next day proved to be a monster for 25074 & 25073. They were diagrammed for the 'Wadebridge Wanderer' railtour departing Derby at 20.30 on September 29th for Plymouth working via West Ruislip, Greenford, Drayton Green Junction, Hanwell, Bath, Bristol Temple Meads, Taunton, Exeter St Davids, Newton Abbot and Plymouth. The return was equally as torturous, at Exeter St Davids the ex-LSWR route was taken to Salisbury & Basingstoke, then turning off to Reading and reaching Leicester by which route? for a total of at least 780 miles for each locomotive.
On October 27th 25074 worked three coal wagons and brakevan for the coal concentration depot at Pensnett.
1979
Although 1980 was the last year in service for 25074, the last recorded passenger workings for 25074 occurred during 1979. On January 9th 25074 & 31408 worked the 07.08 Peterborough - Kings Cross. A month later it was railtour duty for 25074 & 25071 on February 10th working the DDA 'Nottingham Collier'. 25074 replaced 25302 at Nottingham to join 25071 for the trip to Annesley Colliery and the return to Marylebone.
It was a lengthy day out on February 23rd when a diesel multiple unit failure saw 25074 and hauled stock work the 09.10 Liverpool - Hull, the return 13.47 Hull - Manchester Victoria and the 17.12 Manchester Victoria - Liverpool. On February 25th the 09.45 Manchester Piccadilly - St. Pancras was hauled from Manchester Piccadilly to Derby via the Woodhead route, with 45130 on the reverse move between Woodburn Junction & Sheffield.
The final passenger working for 25074 was also a lengthy day out, with 25137 working a roundtrip Maryport - Stratford-on-Avon day excursion on May 19th 1979, for a total of 427 miles.
On the evening of June 22nd 25074 was noted at Crewe with an up freight.
25074 was noted at York station on September 29th.
The Mondays Only 05.49 Toton - Eastleigh freight was worked by 25127 & 25074 on October 25th, the next day the same pair of locomotives were noted westbound light engines at Water Orton.
1980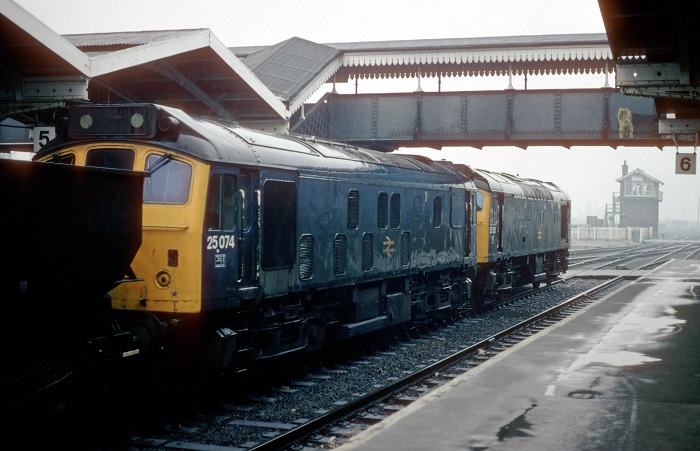 Photograph courtesy Roger Geach.
25123 & 25074 at March station on a damp & misty January 28th 1980 with the 09.48 Mountsorrel - Kennet sand train.
25074 was noted at Oxford depot on February 1st.
On March 6th 25074 worked the 11.30 Bangor - Manchester Victoria.
25074 was stabled at Springs Branch on September 1st.
25074 was withdrawn on September 7th 1980.
A cabside number panel with TOPS decal survived the scrapping of 25074.
Not all known passenger workings are recorded on this page.
62/7925
flk 1219 (2)
Page added June 22nd 2013.
Last updated August 21st 2020.
Back to 25073
Forward to 25075