D5223, 5223, 25073
One of Cricklewood's Finest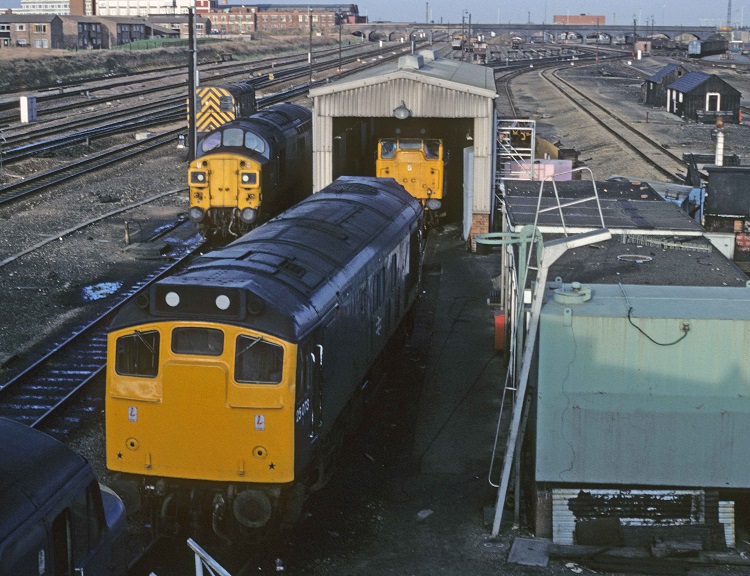 Photograph courtesy Roger Geach
25073 at Peterborough shed on December 17th 1979. Also visible are 08416, 37017 & 46051.
The eighteen year career of D5223/25073 was spent allocated to London Midland depots, especially those in the Midlands and the London area.
Built: BR Darlington Locomotive Works.
This locomotive was part of Derby Lot 4600 (D5223 - D5232), which was transferred to Darlington Works.
Boiler equipped.
Royal Train cabling modification (cab front access panel).
An early example of a Class 25 to receive blue livery.
Center lampbracket & other fittings removed.
Time between last Classified repair and withdrawal: 56 months.
Time between withdrawal and scrapping: 11 months.
Allocations
D5223 was new to Toton (18A) on July 6th 1963. Further transfers were:
September 1963 to Nottingham (16A).
October 1963 to Cricklewood West (14B).
January 1965 to London Midland Midland Lines LMML.
February 1965 to Nottingham Division (D16).
June 1965 to Saltley (2E).
April 1966 to Birmingham Division (D02).
April 1966 to London Midland Midland Lines LMML.
February 1968 to London (Midland) Division (D14).
June 1968 to London (Western) Division (D01).
July 1972 to Nottingham Division (D16).
May 1973 to Toton.
Withdrawn September 8th 1981.
Renumbered March 7th 1974.
25073 was the 111th Class 25 withdrawn, one of three retired during September 1981.
After withdrawal 25073 was stored at Bescot until moved with 25169 & 08585 to Swindon Works on December 24th 1981 and broken up by the third week of August 1982.
Works Visits
Works visits (records incomplete).
Noted Derby Works June 1966.
Noted Derby Works March 1967 (Received blue livery, two numbers & emblems per side).
Noted Derby Works April 1970.
Noted Derby Works September 1971 (noted ex-works).
Noted Derby Works November 1976 & January 1977.
Highlights
1964
Pre-Christmas traffic on the Midland main line out of St Pancras was heavy, despite the influx of new Type 2s, it was still neccessary to provide steam for some workings. Pre-Christmas frosts affected the reliability of the diesel multiple units, with some diesel substitutions, including D5223 on December 24th with compartment stock on a morning St Pancras - Bedford local.
1965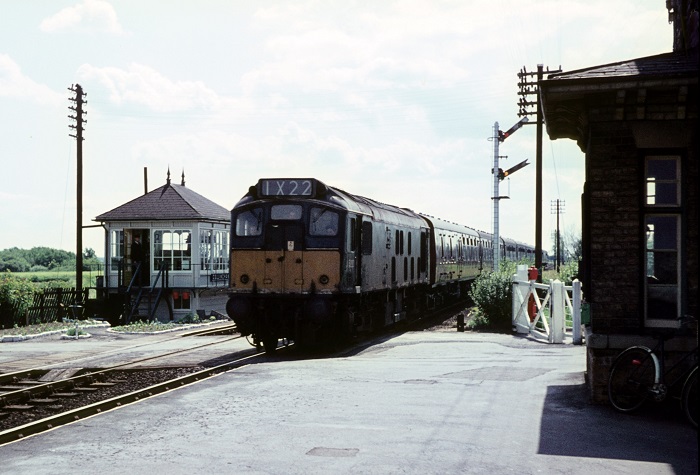 Photograph courtesy Tony Smith.
A Chippenham - Lincoln military special passes Collingham on June 19th 1965 behind D5223.
1967
Condition October: blue/yellow livery, gangway doors in place, blanking plates fitted, two numbers on each bodyside, BR emblems on each cabside.
1968
With lengthy periods allocated to the London area, 5223/25073 acquired several unusual passenger workings including several Royal Train workings due to the close proximity of Wolverton Works, home of the Royal Train stock. On May 9th (or 11th?) St Pancras was host to the Royal Train which was booked to leave at 22.30 to Nottingham via Manton, hauled by D5223 & D5226. The next day (10th) D5223 & D5226 hauled the same train from Worksop to Matlock via Chesterfield. Later the same day Royal train headed south being noted passing through Banbury.
A Bedford - Southend day excursion took place on June 3rd hauled by 5223 (alone?).
1969
The Duke of Edinburgh's visit to the Yorkshire area on June 26th utilised a four coach train hauled by 'Royal Regulars' 5226 & 5223 from Moston.
On July 12th an Open Day held at Cricklewood Diesel Depot featured three preserved steam locomotives: 45428, 5593 & 7029, two LMR electrics E3044 & E3156, Peak 36, HS4000 and two diesels frequently found on Royal Train Workings, 216 & 5223.
On August 16th the 08.23 Derby - Yarmouth and the return 13.43 were worked by 5223 & 7620 (throughout?)
A Bedford - Southend day excursion occurred on September 1st hauled by 5223 & 5228, out & back assumed.
1970
A roundtrip (?) Leicester - Liverpool football special on February 7th was worked by 5223 & 5216, for a total of 270 miles, this was one of four specials worked for this match.
The Royal Train again received Class 25 haulage on May 9th when 5206 & 5223 worked the Queen Mother from Selly Oak to Bedale (for Catterick) where the train stabled overnight before returning to Wolverton as empty coaching stock the next day.
Condition July: blue/yellow livery, gangway doors in place, blanking plates fitted, hand/footholds plated over, two numbers with 'D' prefix on each bodyside, BR emblems on each cabside, bogies and underfame equipment recently painted, yellow axleboxes covers (for recent Royal working?), cabling access cover on cab front for Royal train duty.
1971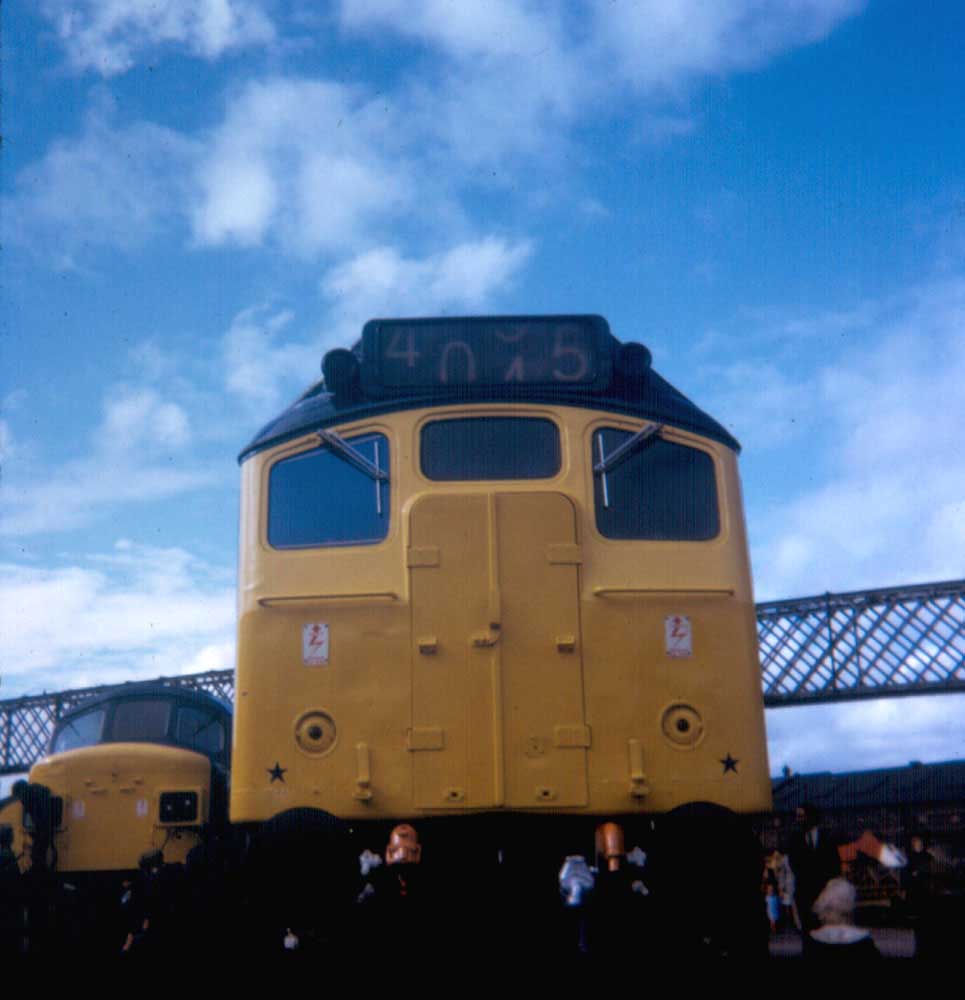 The August 1971 Works Open Day was visited by your webmaster shortly after my return from the family's annual holidays on the south coast. It appears that this may have been my first visit to Derby Works with a camera, possibly a small Afga pocket camera. It appears the only slides that survived from this day featured the locomotives in the display area. Seen here front and center is recently repainted 5223, one of Cricklwood's finest. Just visible on the lower half of the right gangway door is the access panel used for the cabling required when this locomotive went out on Royal Train duty. Visible to the left is Class 45 No.23.
1972
In July 5223/25073 began a nine year allocation to the Nottingham Division/Toton providing the opportunity for the working of the summer dated seaside resort turns. On August 5th 5223 & 5270 worked the Walsall - Norwich (for Yarmouth) - Derby turn, followed the next day (6th) by a roundtrip Derby - Skegness. The only other recorded passenger working for 1972 occurred on November 18th with 5223 & 7568 working a roundtrip (?) Nottingham - Altrincham football special.
1973
On June 2nd 5223 (Toton allocated) arrived at Exeter with the 4B10 15.15 Bristol - Plymouth parcels (14 vans), 5223 came off at Exeter and was replaced by 33.
At about 5.30pm on June 28th 5223 was noted at St Helens Junction with an up freight (9T61).
More seaside resort trips took place in 1973 along with a couple of classic workings. On July 21st 5223 & 5245 worked the 07.35 Nottingham - Llandudno Town and return. A week later on July 28th 5223 & 5250 worked a round trip Leicester - Skegness.
The working on August 10th was no mundane job, 5223 & 5297 took over the 1S35 Euston - Glasgow Central relief from Preston to Glasgow Central for 192 miles including Shap & Beattock, must have been quite a ride. A month later on September 8th 5223 & 5225 worked a roundtrip Leicester - Kings Cross football special. 5223 was back at Leicester on October 21st to work the 21.30 Leicester - Birmingham New Street.
1974
The workings for 1974 started out with more mainline action, on May 6th the 19.30 St. Pancras - Derby was worked throughout by 25073 & 25124. July 6th found 25073 in charge of the round trip Nottingham - Llandudno Town.
On August 10th 25073 & 25129 handled the Walsall - Norwich (for Yarmouth) - Derby diagram. On August 23rd a Birmingham New Street - Norwich service was worked at least between Leicester & Peterborough by 25073.
At about noon on November 6th 25073 (Toton allocated) & 25193 were noted coupled together at Exeter stabling point.
The continuing shortage of power on the Western Region allowed many strangers to reach deep into its territory, the 18.00 Riverside – East Usk frequently featuring pairs of Class 25s, November 14th had 25193 & 25073
1975
25073 was noted at Peterborough on March 15th (along with 25245 & 25130).
The first recorded passenger working for 1975 took place on April 10th with 25073 working the three coach 10.54 Cambridge - Ipswich. This train had arrived as empty coaching stock at Cambridge and departed 20 minutes late. May 24th found 25073 & 25065 on the Derby - Norwich - Yarmouth - Norwich - Walsall diagram. Two days later (26th) the same pair were on a Nuneaton - Whitley Bay excursion.
1976
On April 10th 25049 & 25073 worked an Oxford - Nottingham football special.
On September 4th a track testing special with 25073 was noted between Spondon & Derby.
1977
The increasing unreliability of the diesel multiple units on the Crewe - Derby - Lincoln service provided multiple opportunities for diesel locomotive substituitions. On January 10th 25073 with hauled stock worked a Crewe - Lincoln Central, believed throughout.
On May 14th 25073 worked the 06.00 Crewe - Cardiff.
The return leg of an excursion from Alfreton & Mansfield Parkway was worked by 25073 & 25096 on July 17th from Barmouth, a total of 204 miles. On July 23rd 25073 & 25074 were noted at Nottingham Midland.
On August 20th 25073 & 25268 worked a roundtrip Leicester - Skegness - Leicester.
25073 was noted light engine at Leicester on December 24th.
1978
On March 23rd 25073 was noted at Saltley depot.
On May 6th a Swansea - Spalding excursion was taken over by 25073 & 25074 at Nottingham following a locomotive failure. It is presumed the Class 25s returned the train to Nottingham? Three roundtrip Nottingham - Skegness relief workings, jointly with 25133 took place on August 2nd, 3rd & 9th. Three days later (11th) 25073 worked the 21.34 Nottingham - Newquay to Derby, replaced here by 45033.
During September 25073 was all over the place, on September 20th 25073 worked the 11.38 Dundee - Glasgow Queen Street. The next weekend proved to be a monster for 25073 & 25074. They were diagrammed for the 'Wadebridge Wanderer' railtour departing Derby at 20.30 on September 29th for Plymouth working via West Ruislip, Greenford, Drayton Green Junction, Hanwell, Bath, Bristol Temple Meads, Taunton, Exeter St Davids, Newton Abbot and Plymouth. The return was equally as torturous, at Exeter St Davids the ex-LSWR route was taken to Salisbury & Basingstoke, then turning off to Reading and reaching Leicester by which route? for a total of at least 780 miles for each locomotive.
Finally for 1978 another railtour saw 25073 & 25040 out and about on November 4th working 360 miles roundtrip Bewdley (ex-Bridgenorth) - Pwllheli with a GWR Society charter.
1979
1979 was a busy year for 25073 but it was not until April that the passenger workings started, on April 1st 25073 was noted arriving at Newcastle on the 18.00 ex-Manchester Victoria, how far the locomotive worked is uncertain. On April 9th 25073 worked the 17.10 Cardiff - Crewe, whilst on April 14th 25073 & 25248 survived the Nottingham - Derby roundtrip football special. Two trips to Skegness followed, on April 16th with a relief from Alfreton & Mansfield Parkway with 25145 and the next day (17th) from Burton on Trent, still with 25145. On April 19th 25073 & 25123 worked a Warrington - Shotwick ore train. On April 21st 25073 & 25043 went out on a roundtrip Stoke-on-Trent - Wrexham football special.
Seaside workings followed in June, on June 16th working the roundtrip Nottingham - Llandudno Town, and on June 30th with 25101 on the Derby - Norwich - Yarmouth - Norwich - Walsall diagram.
On July 10th 25073 worked the 15.15 Plymouth - Manchester Piccadilly between Gloucester & Birmingham New Street, taking the assistance of 37020 & 37151 up Lickey. The early morning Toton - Eastleigh freight was noted at Oxford with 25073 on July 13th. At midday on July 18th 25073 & 25119 were noted southbound at Ely with a stone train.
25073 was stabled at Gloucester on the afternoon of August 18th and on the 19th.
At 7am on September 12th 25073 was stabled at Peterborough.
On September 11th 25073 worked the 17.10 Cardiff - Crewe. At 7am on September 12th 25073 was stabled at Peterborough. On September 29th 25073 & 25135 worked the 09.55 Derby - Newquay to Birmingham New Street where 45026 took over.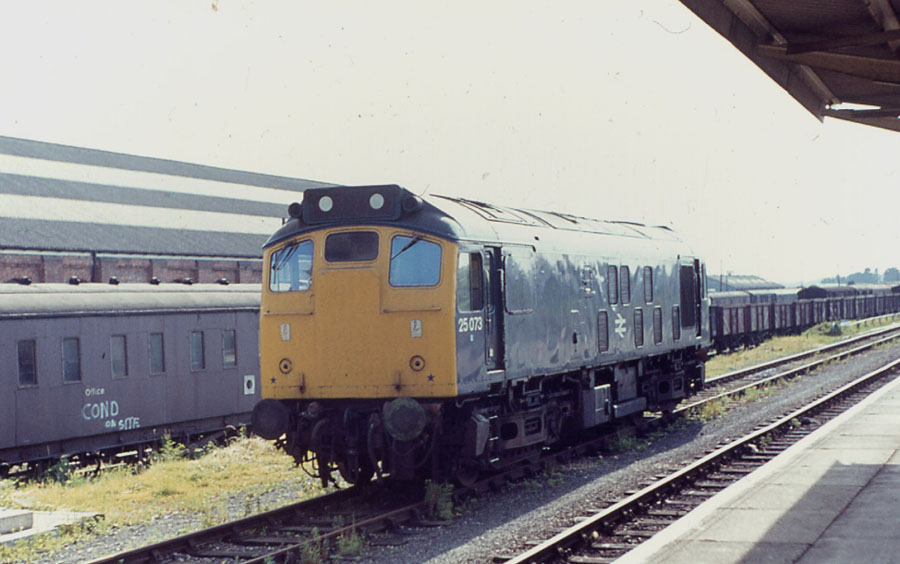 Photograph courtesy Andy Key.
Class 25s were occasional visitors to Basingstoke over the years, in this view 25073 is parked alongside the station on August 19th 1979 presumably waiting for a northbound working.
The Mondays Only 05.49 Toton - Eastleigh freight was worked by 25073 on October 24th.
1980
1980 brought another varied selection of workings for 25073. On March 22nd 25073 worked the 10.15 Birmingham New Street - Norwich and the 15.18 return. On the morning of March 28th 25073 was stabled at Saltley. March 29th was not a good day, 25073 & 25038 took over an RPPR 'Spotters Special' at Birmingham New Street (with a destination of Manchester) but failed at Water Orton and were rescued by 45022. The same pair of Class 25's were obviously in good health on April 5th when they worked the 06.15 Euston - Pwllheli forward from Wolverhampton to Tywyn and back, this was a railtour.
On May 7th 25073 worked the 12.36 Birmingham New Street - Norwich throughout. On May 17th 25073 was stabled at Buxton. On May 26th 25073 was stabled at Buxton.
25073 was at Springs Branch depot on July 11th. 25073 was noted at Warrington Central on July 12th and later noted light engine at Earlestown on July 13th. 25073 was noted light engine at Darfield on July 30th.
25073 returned to the Cambrian line on August 31st with 25280 working the 08.45 Birmingham New Street - Aberystwyth from Wolverhampton and the return 18.10 Aberystwyth - Euston to Wolverhampton.
On September 3rd 25073 was noted westbound at Lenton South Junction with a lengthy freight.
And finally for 1980 25073 & 25038 were back together again on October 5th to work a Marylebone - Doncaster NREA 'Doncaster Double' railtour throughout, a total of 413 miles.
1981
Although 1981 was the last year in service for 25073 it continued to rack up the passenger miles. On New Years Day 1981 25073 worked the 13.16 Norwich - Birmingham New Street. It was back on this route on January 13th working the 08.05 Birmingham New Street - Norwich (diverted via Coventry) and the 13.16 ex-Norwich. On January 21st 25073 was noted at Leicester with a loaded mineral train.
On February 22nd 25073 assisted the 20.45 Barrow - Euston forward from Stonebridge Park to Euston due to the power being off for engineering work.
On May 16th 25073 & 25134 worked a roundtrip Old Hill - York excursion.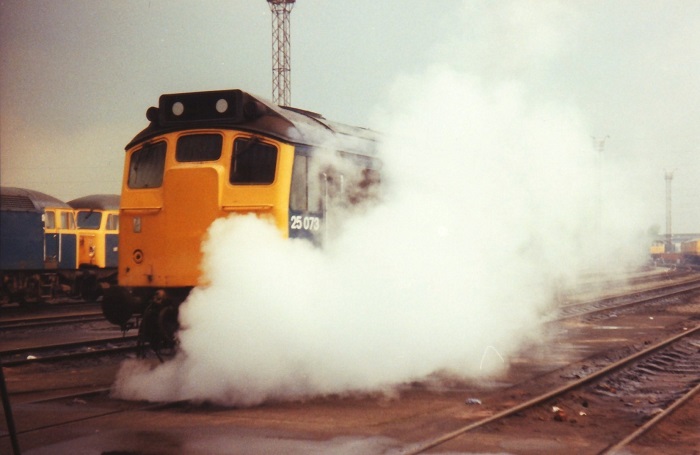 Photograph courtesy Malcolm Lowe.
The steam heating boiler of 25073 is working well at Toton on May 20th 1981.
The final passenger workings for 25073 involved the Cambrian line. On June 25th 25073 & 25219 worked a roundtrip Birmingham New Street - Aberystwyth day excursion throughout. On August 1st 25073 & 25199 worked the 07.40 Euston - Aberystwyth from Wolverhampton returning with the 16.05 Aberystwyth - Birmingham New Street. 25199 failed at somepoint and was removed before leaving Shrewsbury. Finally on August 15th 25073 & 25056 worked the 07.40 Euston - Aberystwyth from Wolverhampton, returning with the 16.05 Aberystwyth - Wolverhampton.
25073 was withdrawn on September 8th 1981.
82/9966
flk 0122
Not all known passenger workings are recorded on this page.
Page added April 6th 2013.
Last updated January 25th 2022.
Back to 25072
Forward to 25074