D5227, 5227, 25077
First dual braked fitted Class 25 to be retired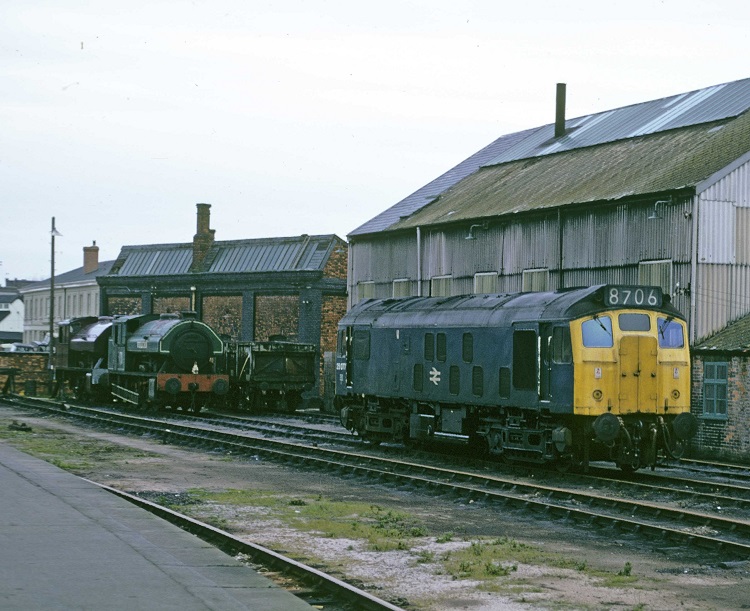 Photograph courtesy Roger Geach
25077 at Taunton on April 11th 1975. On the same road as 25077 are two industrial shunters headed for preservation on the West Somerset Railway.
The fourteen year eight month career of D5227/25077 saw allocations to London Midland, Western & Scottish Region depots.
Built: BR Darlington Locomotive Works.
Boiler equipped.
Dual brake equipped.
Time between last Classified repair and withdrawal: 11 months.
Time between withdrawal & scrapping: 3 months.
Allocations
D5227 was new to Toton (18A) on September 7th 1963. Further transfers were:
October 1963 to Cricklewood West (14B).
January 1965 to London Midland (Midland) Lines.
February 1966 to Nottingham Division (D16).
October 1968 to London Division (D01).
December 1968 to Nottingham Division (D16).
January 1972 to Ebbw Junction, Newport (86B).
July 1972 to Bristol (82A).
October 1972 to Haymarket on loan, made permanent November 1972.
May 1974 to Bristol.
November 1975 to Cardiff.
October 1976 to Eastfield.
Withdrawn May 6th 1978 (fire damage).
Renumbered April 1974.
25077 was the 21st Class 25 to be withdrawn, and the first dual brake fitted example to be retired.
After withdrawal 25077 was stored at Polmadie during May & June 1978, then moved to Glasgow Works on July 3rd 1978 and scrapped there by the middle of August 1978, the 15th Class 25 to be broken up.
Works Visits
Works visits (records incomplete).
Noted Derby Works August 1967.
Noted Crewe Works January 1969.
Noted Derby Works April 1972 (arrived in green livery with full yellow ends).
Noted Glasgow Works April 1977 (dual braking equipment fitted, gangway doors sheeted over).
Highlights
1963
When Derby undertook redesign of the Class 25 bodywork, the batch of locomotives that would become D5223 - D5232 were transferred from Derby to Darlington. This allowed Derby to retool it's production line without causing major interruption to the Class 25 delivery schedule. This included D5227 featured on this page which was initially destined for service on the Midland lines north from St Pancras.
The frames for D5227 were were laid down at Darlington during April, being delivered in August to Toton (18A).
1964
Condition September: green livery with small yellow warning panels, curved upper corners, exhaust located above engine room.
1967
The New Year began with the continued removal of withdrawn steam locomotives from various locations. Dispatches from Colwick depot to Draperís at Hull during February included D5227 dragging 48083/143/662 (27th) and 48388/672 (28th).
D5227 was noted at Derby Works during August.
1968
5227 moved to Willesden (D01) in October, by December 5227 returned to the Nottingham Division (D16).
On August 10th the 09.35 Sheffield - Llandudno Town and 14.28 return were worked by 5227 & 5275.
1969
5227 visited Crewe Works during January.
Condition November: green livery with full yellow ends, no frame level stripe, gangway doors still fitted. No blanking plates, hand/footholds still present, number has 'D' prefix.
1970
On August 22nd the Nottingham - Llandudno Town was worked to Derby by 5227.
1971
A number of Midland Line passengers had adventures on May 17th when 138 hauling the 17.05 St Pancras - Sheffield became a failure near Bedford. 5227 was used to push the train into Bedford, 5214 then took over for the run to Kettering, here 6812 continued for the remainder of the journey to Sheffield.
1972
Eight years allocated to London Midland depots ended early in January 1972 when a major reshuffle of locomotives occurred to accomodate the gaps left by the withdrawal of the Western Region diesel hydraulic locomotives and the less than successful Scottish Region Claytons & North British products. For 5227 this meant a move to Newport (86B), then to Bristol (82A) in July and finally Haymarket (64B) in October.
Derby Works was host to 5227 during April.
September 1972 - carrying blue livery with gangway doors (cabside numbers, central BR emblem, three electrification flashes, blue star coupling codes over buffers, no blanking plate).
1973
On May 26th 5227 & 5338 hauled the previous day's 1S82 20.20 London Euston -Inverness between Perth & Inverness.
June 29th found 5401 failed prior to the departure of a Queen St - Edinburgh service. Queen Stís pilot 5227 was attached to the front to assist the rear unit, 5395 upto to Cowlairs box. Here 5227 was removed and the service continued with just the rear locomotive operating.
During August 5227 was active on local services in the Edinburgh, Arbroath, Dundee area.
1974
On March 21st & 22nd the 18.55 Edinburgh - Carstairs parcels was hauled by 5308 & 5227 and 5319 & 5227 respectively, the locomotives return to Edinburgh on the 23.40 Bristol - Glasgow.
After eighteen months at Haymarket 25077 headed south to Bristol during May.
1975
An unusual working for 25077 was the 12.40 Cardiff Ė Weston Super Mare and 14.30 return on January 8th, normally a Type 4 working.
Other Bristol area working included the 17.55 Bristol Temple Meads - Weston-super-Mare on February 27th and the 17.45 Cardiff - Bristol Temple Meads on March 6th.
On October 7th 25077 worked the 20.15 Exeter St Davids - Newton Abbot.
25077 moved to Cardiff in November.
1976
On February 7th 25077 was noted at Cardiff with with an inspection saloon.
On September 17th 25077 worked the 13.33 Taunton - Cardiff.
25076's last transfer took place during October, moving to Eastfield.
1977
25077 was received at Glasgow Works during April for a Classified repair, including the fitting of dual braking equipment.
On the afternoon of September 10th 25077 was stabled at Motherwell.
1978
25077 was noted at Glasgow Works during April having sustained fire damage, after review 25077 was withdrawn on May 6th 1978. Considering it was just over one year out of Glasgow Works following a Classified repair, it must be assumed the fire damage was of a serious nature.
Not all known passenger workings are recorded on this page.
13/531
flk 0817
Page added December 17th 2004.
Last update November 11th 2019.