D5228, 5228, 25078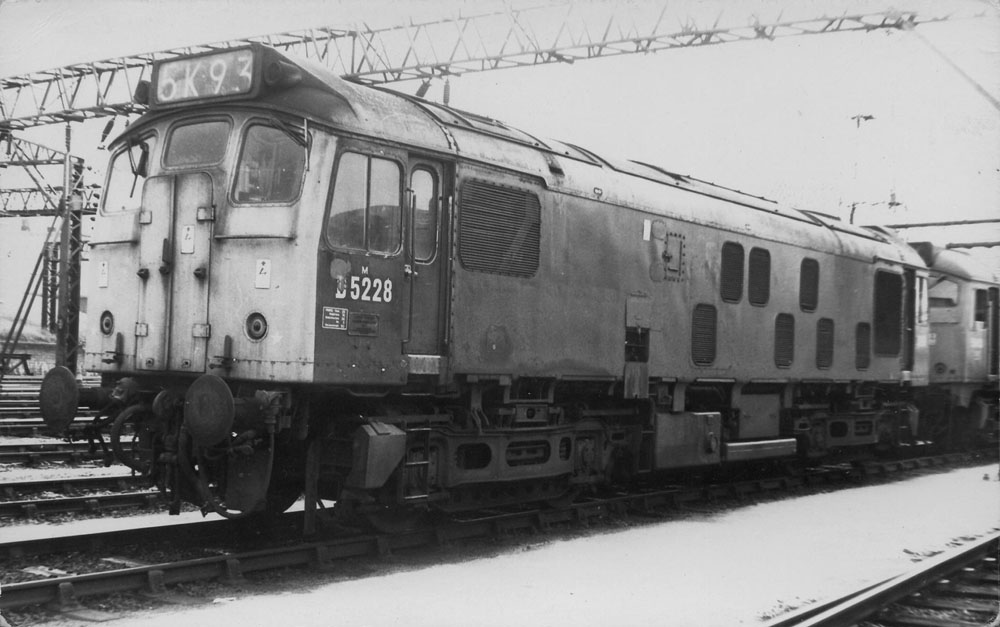 Photographer unknown
D5228 stands at Crewe, date unknown.
The twenty two year career of D5228/25078 was similar to others from this build with allocations to London Midland, Eastern & Scottish Region depots.
Built: BR Darlington Locomotive Works.
Boiler equipped.
Dual brake equipped.
Center lampbracket & other fittings removed.
Time between last Classified repair and withdrawal: 89 months.
Allocations
D5228 was new to Toton (16A) on September 14th 1963. Further transfers were:
October 1963 to Cricklewood West (14B).
January 1965 to London Midland (Midland) Lines.
September 1967 to Nottingham Division (D16).
April 1972 to Leeds Holbeck (55A).
October 1972 to Tinsley (41A).
March 1975 to Springs Branch.
May 1976 to Haymarket.
May 1976 to Toton.
October 1976 to Eastfield.
February 1981 to Haymarket.
March 1982 to Eastfield.
October 1982 to Crewe.
Withdrawn September 22nd 1985.
Renumbered February 1974.
25078 was the 257 Class 25 withdrawn, one of three retired during September 1985.
After withdrawal 25078 was stored at Bescot until October 1985 when it moved to Toton. It was moved to Doncaster Works on March 3rd 1986, then to Goole Docks on August 15th 1986. During October 1986 the locomotives stored at Goole were sold to Vic Berry, Leicester, 25078 moved to Leicester Humberstone Road on October 29th 1986, then into Vic Berry's yard the next day. By the first week of April 1987 25078 had been scrapped.
Works Visits
Works visits (records incomplete).
Noted Derby Works September 1968.
Noted Glasgow Works May 1973 (plain green, full yellow ends).
Noted Derby Works August 1974.
Noted Glasgow Works April 1978 (Classified & full repaint).
Noted Glasgow Works June 1979 (N4 repairs).
Noted Derby Works December 1983 / January 1984 (N4 repairs).
Highlights
1963
When Derby undertook redesign of the Class 25 bodywork, the batch of locomotives that would become D5223 - D5232 were transferred from Derby to Darlington. This allowed Derby to retool it's production line without causing major interruption to the Class 25 delivery schedule. These ten machines, including D5228 featured on this page were destined for service on the Midland lines north from St Pancras.
The frame for D5228 was laid down during April with D5228 completed and delivered in September to Cricklewood (14A) although initiaaly D5228 spent a brief time at Toton (at least on paper anyway). These were boiler equipped machines.
1965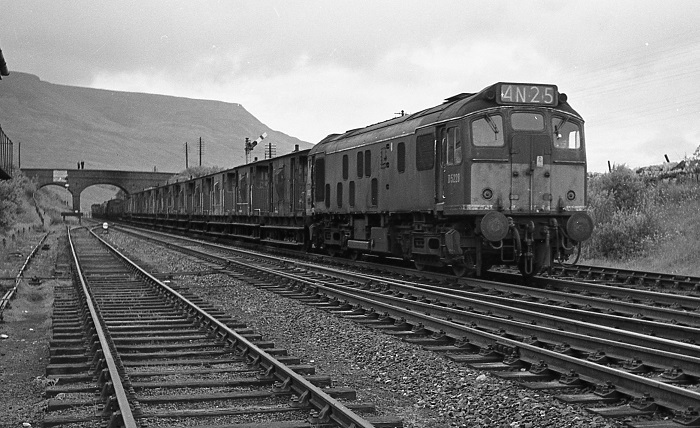 Photograph collection of webmaster.
A work-worn D5228 heads south at Ais Gill on July 31st 1965 with a goods train that includes at least fourteen brakevans.
1967
On July 22nd 5228 & 7574 worked the roundtrip summer dated Nottingham - Llandudno Town service.
In September D5228 moved to the Nottingham Division (D16).
1969
A Yarmouth - Birmingham service was worked forward from Leicester by 5228 on March 7th.
A late summer excursion from Bedford to Southend on September 1st arrived with eight coaches behind 5223 & 5228.
1971
On April 1st 5228 deputised for the regular Class 31 on the 09.10 Birmingham New Street - Cambridge, returning with the 13.00 working.
On June 12th 5228 was noted passing Sleaford with the 08.12? Derby - Yarmouth 1E83.
Condition August: green livery with full yellow cabfronts (no frame level stripe), no blanking plates, hand/footholds plated over, straight sided sandboxes, three rung bogie mounted footsteps, 'D' prefix still present.
On September 9th 5228 hauled withdrawn shunter 12069 from Crewe to Long Marston for scrapping.
On November 30th 5228 worked a special Whitemoor - Hitchin freight, then taking a brakevan to Cambridge to work a special coal train to Letchworth. The locomotive then returned light engine to March.
On December 1st the 21.10 Birmingham New Street - Sheffield was worked by 5228.
1972
Four and a half years spent on the Nottingham Division 5228 ended early in 1972 when a major reshuffle of locomotives occurred to accomodate the gaps left by the withdrawal of the Western Region diesel hydraulic locomotives and the less than successful Scottish Region Claytons & North British products. 5228 moved to Leeds Holbeck (55A) in April and then on to Tinsley in October.
On August 16th 5228 worked the 21.10 Leeds - Doncaster, a week later (22nd) 5228 worked the 20.28 Leeds - Derby.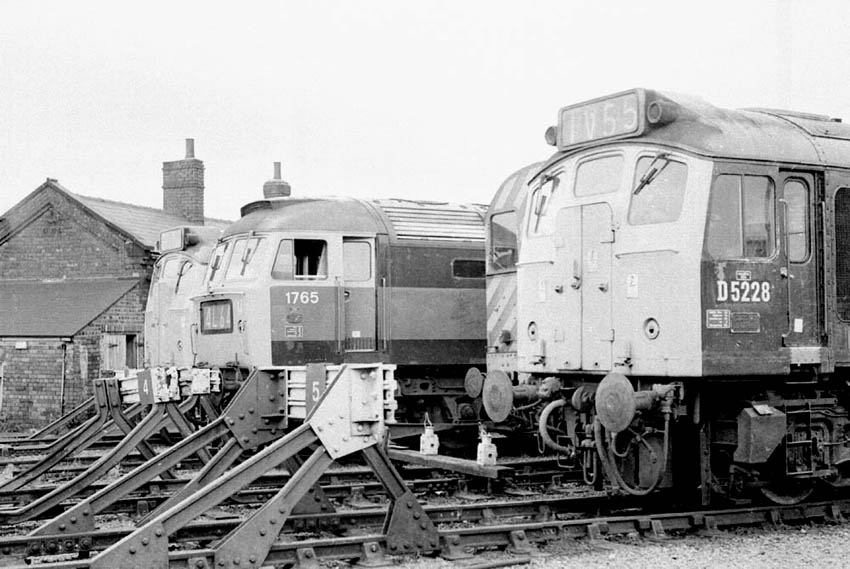 Photograph courtesy David Rogers.
July 1st 1972 with an interesting line up at Leeds Holbeck.
On September 17th Barmouth received 5214 & 5228 working a mystery tour from the Huddersfield area.
1973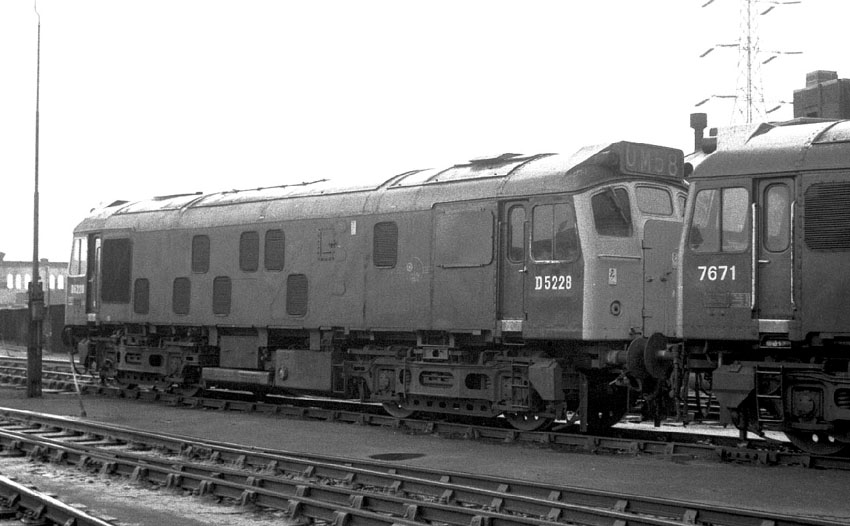 Photograph courtesy Tony Sayer.
5228 stands at a very damp Saltley on April 23rd 1973, the faded 'Lion & Wheel' emblem barely visible.
On December 9th 5228 worked the 20.43 Birmingham New Street - Peterborough.
1975
25078/79 moved from Tinsley to Springs Branch during March.
On April 9th a roundtrip Wigan N.W. - Liverpool working was handled by 25078. On April 23rd the 00.15 Glasgow Central - Manchester Victoria vans (4M10) were hauled by 25078 from Preston(?). Shortly after midnight on April 30th 25078 was noted at Huddersfield with the previous day's TPO from Whitehaven, after a short stay at Huddersfield it took the train on to Preston.
On June 4th 25078 worked the 05.07 Leeds City - Manchester Victoria vans (4M03). 25078 was on empty coaching stock duty at Liverpool Lime Street on June 23rd.
1976
25078/79 moved to Haymarket in May. 25078 did not stay long on the Scottish Region, by the end of May it gone south to Toton (was the move to Haymarket a paper transfer only?). After spending the summer at Toton 25078 did transfer to Eastfield during October.
1977
The summer of 1977 saw 25078 active on a variety of Scottish services. On June 20th 25078 & 27002 worked the 06.00 Glasgow Queen Street - Mallaig to Fort William, returning from there with the 16.20 Mallaig - Glasgow Queen Street, a total of 328 passenger miles for the day. The middle of August produced much activity; on 17th 25078 & 25033 worked an Inverness - Euston service from Perth (?) to Mossend Yard. The same pair were still together at least until the 20th, working at least one Glasgow Queen Street - Dundee roundtrip on 18th, followed on 20th with the 06.50 Dundee - Glasgow Queen Street, the 10.05 Glasgow Queen Street - Inverness and the return 16.40 Inverness - Glasgow Queen Street, for a daily total of 445 passenger miles.
On September 3rd the 08.15 Inverness - Glasgow Queen Street was worked by 25078 & 25233. On October 28th 25078 worked the 09.40 Edinburgh - Inverness as far as Perth.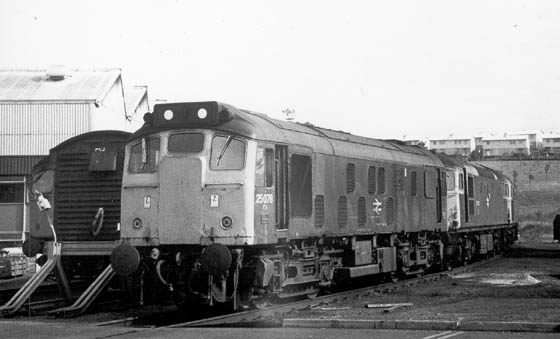 Photograph collection of webmaster (IH)
A workstained 25078 heads a lineup at Eastfield, date unknown.
1978
25078 was noted at Glasgow Works during April, this was its last Classified repair.
The 21.40 Edinburgh - Carstairs was worked by 25078 on May 1st & July 24th.
The 16.30 Inverness - Glasgow Queen Street was worked by 25078 & 25079 on October 24th
For eleven weeks towards the end of 1978 the direct Edinburgh - Glasgow route was closed due to the laying of a concrete trackbed in Falkirk High tunnel in advance of the introduction of the Class 47/7 powered push/pull trains. Services were diverted via Falkirk Grahamston, including the weekdays 17.10 Glasgow Queen Street - Edinburgh with vacuum braked stock. The majority of the 17.10 service were worked by Classes 27 or 40, but 25078 & 25162 were utilised (dates unknown).
1979
Travelers on February 16th's 22.15 Euston – Glasgow were already running over two hours late when 47185 failed at Dumfries. 25034 was on hand and 25078 was added at Kilmarnock but as neither could provide heat the four and a half hour late arrival at Glasgow must have been some sort of blessing.
During June 25078 visited Glasgow Works for N4 repairs.
On June 15th the 17.15 Dundee - Perth was worked by 25078. On June 26th 25079 was noted departing Edinburgh with a passenger service (1C96).
The 18.05 Birmingham New Street - Edinburgh was worked forward from Carstairs by 25078 on July 30th. One more 08.44 Glasgow Queen Street - Dundee service was worked by 25078 on September 4th. The LCGB West Highlander No.4 railtour on September 29th was worked roundtrip Fort William - Mallaig by 25078 & 25241.
1980
Late July produced several passenger workings for 25078. On July 22nd the 11.35 Glasgow Queen Street - Aberdeen was worked by 25078, later the same evening it was noted at Perth on an unidentified passenger working. Between July 23rd - 25th 25078 was quite active, on 23rd the 20.45 Carlisle - Perth worked forward from Mossend Yard with 25078, followed by the 24th's 01.05 Perth - Aberdeen. The next day (25th) the 10.39 Inverness - Aberdeen with 27005 hit a herd of cows shortly after leaving Inverness, at Elgin 25078 took over.
On August 23rd the 08.30 Glasgow Central - Blackpool North was worked to Carlisle by 25078, returning from there with the 15.05 Blackpool North - Glasgow Central. An SRPS railtour on October 11th from Falkirk Grahamston to Keighley was out and back Falkirk Grahamston - Carlisle (?) by 25078.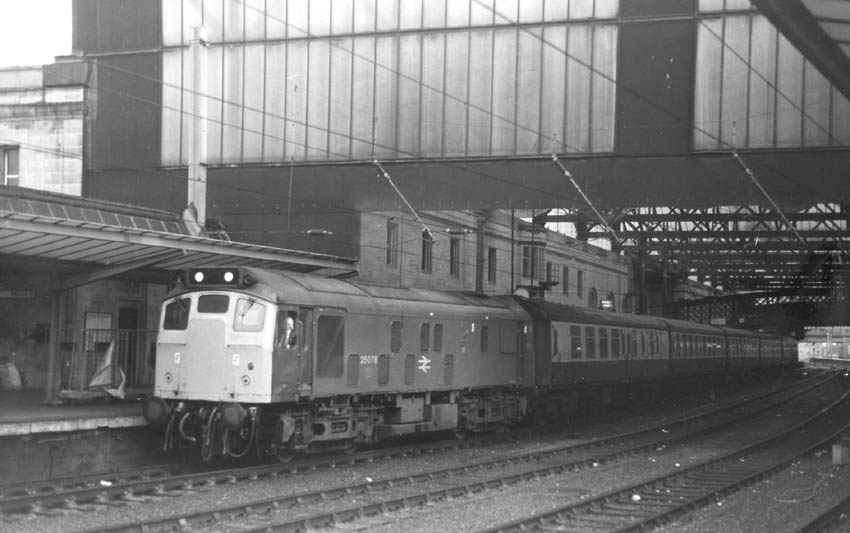 Photograph courtesy J Davenport.
The 14.00 Glasgow - Carlisle stands at its destination on September 11th 1980 behind 25078.
1981
During February 25078/79 returned to Haymarket.
A short passenger turn for 25078 was May 9th's working of the Mossend - Glasgow Queen Street portion of an overnight Euston - Inverness service. On May 19th 25078 worked the 1C89 Aberdeen - Carstairs 'Travelling Post Office' service. In addition to 4 TPO vehicles this service also conveyed three passenger coaches on the rear to convey passengers between Dundee and Perth only.
25078 was stabled at Dundee shed on June 23rd and was noted at Eastfield on 24th.
An E exam was completed at Haymarket during August.
On November 7th 25078 worked the 14.20 Dundee - Edinburgh and the 16.25 return.
The year ended for 25078 with some passenger workings between Edinburgh and Dundee on December 5th & 10th. On the December 5th working, the 2L28 08.25 Edinburgh - Dundee, 25078 failed at Markinch and was rescued by 20226 running bonnet first. The diagram for the rest of the day was continued with 40081.
1982
After a year at Haymarket 25078/79 moved over to Eastfield during March.
On April 21st there were twenty one locomotives on shed at Inverness, the only Class 25 was 25078.
25078 handled few passenger workings in 1982, on June 25th it worked the 17.10 Perth - Arbroath and the 19.00 Arbroath - Dundee, whilst on July 30th it was noted in charge of the 12.50 Carlisle - Glasgow Central.
At the start of the winter timetable and after six years on the Scottish Region 25078 moved south to Crewe, this would be its last transfer.
Another gas pipe project in November brought pairs of Class 25's from Leith South to St Helens or Warrington, the trains of twenty six bolsters required banking between Garswood & Shaw Street. Noted on November 3rd were 25176 & 25078 banked by 25109 whilst the next day produced 25059 & 25180 banked by 40090.
1983
Early morning duties called for 25078 to work the 02.35 Euston - Bletchley on February 6th.
On April 24th 25078 was receiving attention at Reddish. April 30th saw the closure of Reddish depot, with 25078 being the final locomotive repaired there, having received attention for loss of power problems.
On May 28th 25078 & 25242 worked the 07.35 Euston - Aberystwyth forward from Wolverhampton returning with the 14.00 to Shrewsbury. On May 31st 25078 was noted at Newport with a lengthy parcels train.
The annual Open Day at Coalville was held on June 5th with a considerable quantity of attractions, several in support of the 150th anniversary of the Leicester & Swannington line. Over fifteen different steam & diesel classes were present including 25078 and freshly out-shopped (from Derby) 27014.
25078 & 25106 worked the 6G30 03:44 MWFO Ditton - Wolverhampton BOC tanks on August 15th.
1984
On February 23rd 25078 was noted passing Barnetby with a motorail working.
On April 1st 25078 was noted with an electrification train passing Springs Branch. A continued shortage of diesel multiple units in the Newcastle area created a number of locomotive hauled workings, 25078 being noted on a Carlisle – Newcastle service on April 6th. The next day (7th) 25078 was noted at Millerhill. On April 24th 25078 was noted eastbound at Manchester Victoria with cement tankers. 25078 was stabled at Cockshute on April 28th.
25078 & 25154 were noted southbound at Leighton Buzzard on June 18th with loaded oil tanks from Stanlow.
On August 8th 25078 & 25218 were noted eastbound at Chester with a train of oil tanks. The next day (9th) 25218 & 25078 came to the rescue of 47354 which had failed south of Hereford on a Severn Tunnel Junction – Walton freight. August 24th found 25078 on passenger duties between Preston & Barrow. On September 3rd the failure at Edge Hill of 47609 on a Liverpool - Glasgow Central service found 25078 deputising as far as Preston.
The 11.41 Manchester Piccadilly - Hull was worked to Sheffield by 25078 on December 3rd & December 31st.
25078 was noted at Severn Tunnel Junction on December 26th.
1985
25078 was stabled at Severn Tunnel Junction on February 16th. 25057 & 25078 worked the 6S15 12.55 Severn Tunnel Junction - Mossend on a wintry February 18th, being noted passing Cwmbran.
25078 was stabled at Bescot on March 9th.
The third week of April (23rd - 26th) found 25078 on a variety of secondary passenger services in the Preston area, including workings to Carnforth, Crewe & Manchester Victoria.
On May 3rd 25078 covered the Wolverhampton - Shrewsbury leg of the 17.40 ex Euston. Three days later (6th) one of the last diagrammed Class 25 workings over the Cambrian occurred when 25058 & 25078 worked the 'Cambrian Coast Express' railtour, the 06.59 Euston – Aberystwyth from Wolverhampton. The return working proved eventful for 25058 when it suffered a crankshaft failure, leaving 25078 to climb Talerddig unassisted.
May 29th's 16.35 Carlisle - Hull was worked by 25078 & 31441 with the Class 25 coming off at Leeds. Possibly the last passenger working for 25078 occurred late on August 8th when it assisted a diesel multiple unit between Stourbridge Junction and Birmingham New Street.
25078 was stabled at Severn Tunnel Junction on July 9th. 25078 was noted at Norton Bridge with a short mixed freight for Stoke on Trent on July 11th and later returned with a northbound freight. 25078 was noted light engine at Rhyl on July 27th.
On September 15th 25078 was stabled at Manchester Victoria holding sidings.
25078 was withdrawn during on September 22nd, being noted dumped at Toton in November.
1986/1987
25078, 25195, 25257/287 were moved as the 9Z34 Toton – Doncaster Works on March 3rd. Shortly after this move cutting up ceased at Doncaster and the locomotives were eventually moved to Goole for storage pending sale to a scrap merchant.
These locomotives were eventually purchased by Vic Berry's, Leicester, with 25078 endings its days there during April 1987.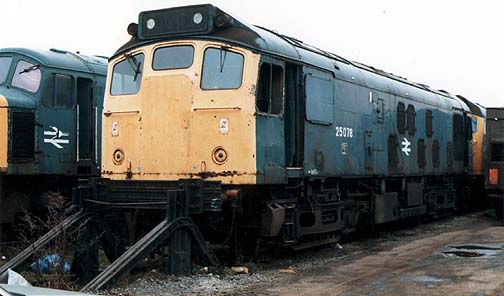 Photographs courtesy Nick Wheat
The end of the road for 25078 at Vic Berry's, 1987.
Distinguishing Features
No.1 cabfront driver's side: two large dents/rust patches, to left of and above the marker light: September 1980 (at least one dent) - July 1985.
No.1 & 2 cabfronts: much bubbling/blistering of paint about the valencing: April 1984
Non BIS side: flaking paint around hand/footstep covers and around some of the filter, showing rust or undercoat: 1980 - July 1985.
Not all known passenger workings are recorded on this page.
66/4818
flk 0317
Page added December 17th 2004.
Last update October 15th 2020.
Back to 25077
Forward to 25079