D5229, 5229, 25079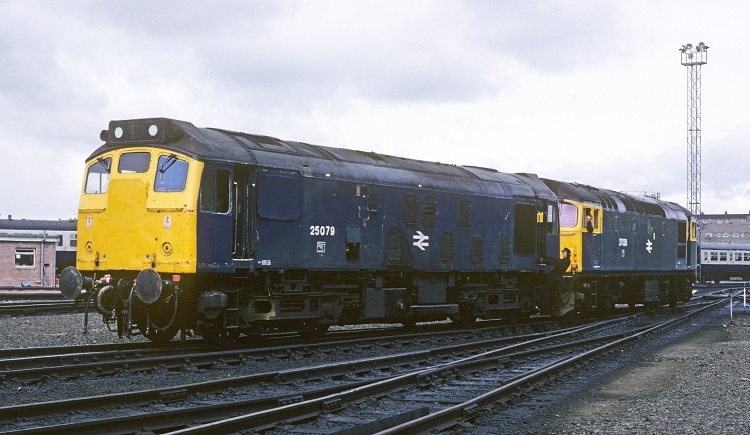 Photograph courtesy Roger Geach
27030 manoeuvres 25079 around Eastfield depot on May 4th 1982.
The nineteen year eleven month career of D5229/25079 was split between allocations to London Midland, Eastern & Scottish Region depots.
Built: BR Darlington Locomotive Works.
Boiler equipped.
Dual brake equipped.
Center lampbracket & other fittings removed.
Time between last Classified repair and withdrawal: 76 months.
Time between withdrawal & scrapping: 4 months.
Allocations
D5229 was new to Cricklewood West (14B) on October 5th 1963. Further transfers were:
January 1965 to London Midland (Midland) Lines.
February 1968 to Nottingham Division (D16).
April 1972 to Leeds Holbeck (55A).
October 1972 to Tinsley (41A).
March 1975 to Springs Branch.
May 1976 to Haymarket.
May 1978 to Eastfield.
February 1981 to Haymarket.
March 1982 to Eastfield.
September 1982 to Longsight.
Withdrawn August 28th 1983.
Renumbered February 1974.
25079 was the 190th Class 25 withdrawn, one of six retired during August 1983.
After withdrawal 25079 was moved to Swindon Works on September 29th 1983 and scrapped by Christmas 1983.
Works Visits
Works visits (records incomplete).
Noted Crewe Works April 1966.
Noted Glasgow Works April 1977 (full repaint, gangway doors removed?).
Noted Derby Works August 1978.
Highlights
1963
When Derby undertook redesign of the Class 25 bodywork, the batch of locomotives that would become D5223 - D5232 were transferred from Derby to Darlington. This allowed Derby to retool it's production line without causing major interruption to the Class 25 delivery schedule. These ten machines, including D5229 featured on this page were destined for service on the Midland lines north from St Pancras.
The frame for D5229 was laid down during April, being completed and delivered in September to Cricklewood (14A).
1965
On February 13th D5229 worked a Morecambe - Leeds (2N73) passenger service.
1966
On the afternoon of February 12th D5229 was at Derby with an up local.
On March 19th D5229 worked the seven coach 13.55 Darley Dale - Derby (2P59).
Although Derby, Darlington & Glasgow bore the brunt of the early Class 25 repairs, by the end of April Crewe Works had also started to accept Type 2's for heavy repair, included in those received by the last week of April was D5229.
Noted at Leicester on the morning of October 28th were:
D5227: pilot
D5229: empty coaching stock
D5226: on shed
D5411: down freight.
On December 5th the 16.55 Sheffield - Bristol Temple Meads required the assistance of D5229 from ? to Worcester due to problems with Class 47 No. 1736, both were replaced at Worcester by 1926.
1967
Condition August & October: green livery, small yellow warning panels (August) with curved upper corners, blanking plates in place; by October the locomotive had received full yellow cab fronts.
On the afternoon of November 12th D5229 was near Kings Norton with a ballast train.
1968
During February D5229 was transferred to the Nottingham Division (D16).
1969
On the morning of March 22nd 5229 was noted at Rugby with parcels vans.
Condition August: green livery (very work stained) with full yellow ends with frame level stripe on bodysides, gangway doors in place, no blanking plates, hand/footholds still present.
1970
A little off the beaten track on January 16th was 5229 working an evening Norwich - Cambridge service, deputising for the more normal diesel multiple unit. At this time some March crews were passed on driving the Class 25's allowing them to venture across much of East Anglia if more suitable power was not available!
The 16.25 York - Newcastle parcels was noted with a variety of power throughout May including 5229 on 14th.
1971
On Saturday July 24th sixteen empty stock workings were carried out at Oxley between the hours of 05.30am & 09.00am in support of the extra passenger workings typical of a summer Saturday, the carriage side pilots this day were 5229, 7517, 7640 & 7642.
On the morning of October 1st 5229 was shunting at Nuneaton.
By December 1971 (most likely earlier) 5229 was in blue livery with full yellow ends.
1972
A major reshuffle of locomotives occurred to accomodate the gaps left by the withdrawal of the Western Region diesel hydraulic locomotives and the less than successful Scottish Region Claytons & North British products. After three years on the Nottingham Division and as part of the reorganisation 5229 moved to Leeds Holbeck (55A) in April and then on to Tinsley in October.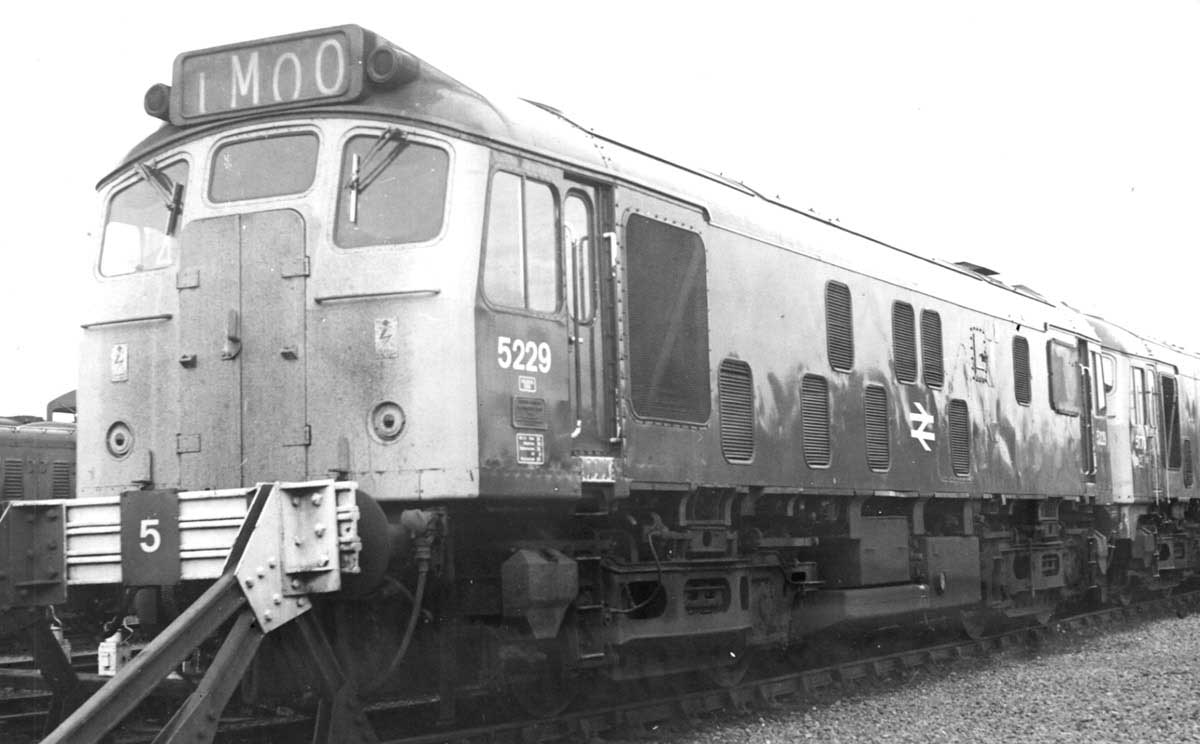 Photograph collection of webmaster
July 1st 1972 with 5229 at Holbeck, in blue livery, but still with the gangway doors intact.
1973
On the afternoon of June 11th 5229 was stabled at York.
On the morning of June 12th 5219 was northbound at York with an inspection saloon, later returning to York and stabling at the depot.
On the afternoon of July 2nd 5171 & 5229 were southbound at Skelton (York) with a freight.
On the afternoon of July 5th 5171, 5214 & 5229 were stabled at York.
On July 7th 5229 made an unexpected trip to the seaside when it took over from a failed 394 at Sheffield on a Manchester - Skegness service, it is presumed that the Class 25 worked the return leg throughout?
The 21.30 Leicester - Birmingham New Street on October 28th was worked by 5229.
1974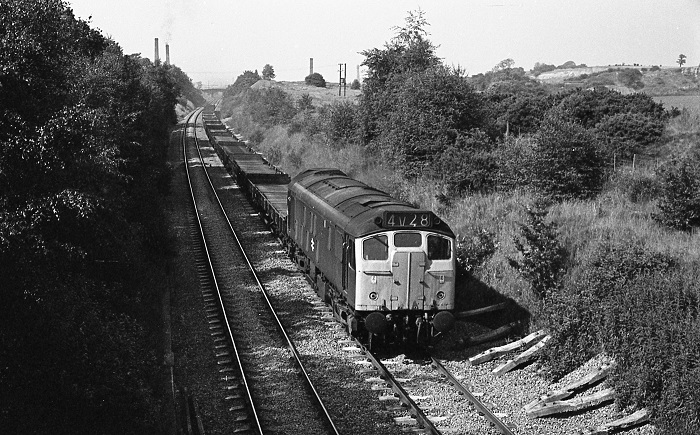 Photograph collection of webmaster.
25079 passing Tamworth with the 4V28 TThO 11.00 Tyneside CFO - Morris Cowley (booked passing time at Tamworth 16.06), believed to be sometime in 1974.
On June 29th 25025 & 25079 worked a Cliffe Hill - Ipswich stone train.
On September 13th 25079 (Tinsley allocated) was noted at Exeter with the 4B10 16.05 Bristol - Plymouth parcels (12 vans).
On September 16th 25079 was noted at Exeter stabling point.
On the afternoon of September 19th 25079 was stabled at York.
On October 26th 25079 was stabled at Tinsley (gangway doors present, No.2 cab front center lamp bracket missing).
On November 1st 25276 & 25079 worked the 15.05 Whimple - Exeter and the 17.00 Chard Junction - Exeter.
On the afternoon of November 26th 25079 was stabled at York.
1975
On the morning of February 6th 25111 & 25079 were stabled at York.
25078/79 moved from Tinsley to Springs Branch during March.
On April 18th 25079 was stabled at York.
At about 6pm on June 9th 25079 was noted at Manchester Victoria on an up freight. On June 25th 25079 was noted at Manchester Victoria with the 4M03 05.07 Leeds City - Manchester Victoria vans. 25079 was on empty coaching stock duty at Liverpool Lime Street on June 27th.
On August 19th 25079 worked the 05.07 Leeds City - Manchester Victoria vans.
25079 worked the 08.00 Llandudno - Huddersfield (or York?) on September 13th. A week later on September 20th 25079 & 25130 worked the Derby - Norwich - Yarmouth - Norwich - Walsall diagram, a total of 370 passenger miles.
1976
During May 25079 transferred to the Scottish Region and would spend almost five years at either Haymarket or Eastfield depots.
Not long after transfer to Haymarket, on May 19th 25079 worked the 15.10 Aberdeen - Glasgow Queen Street.
Almost an hour's delay was incurred on August 10th when 25079 failed at Gleneagles whilst working the 09.52 Dundee - Glasgow Queen Street. 37149 took the train forward.
Two Scottish locomotives 25079 & 25083 worked a Derby - Norwich football special on September 18th.
1977
25079 was noted at Glasgow Works during April.
On July 29th 25079 was noted at Blackford with a lengthy mixed freight.
On August 10th 24112 came to the assistance of 40123 at Dalwhinnie working the 09.35 Glasgow/Edinburgh – Inverness service, whilst a little further south 25079 became a failure at Gleneagles on the 09.52 Dundee – Glasgow Queen St, rescued by 37149.
1978
On April 22nd 25239 & 25079 worked the return leg of a Nuneaton - Edinburgh day excursion, presumably as far as Carstairs.
An Open Day at Coalville on August 20th featured a selection of locomotives including 25079 & 40076 brought over specially from Derby Works (see image below).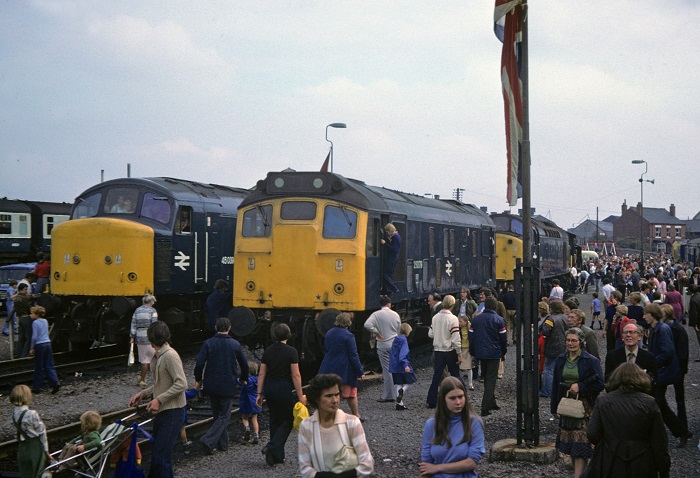 Photograph courtesy Pete Leigh.
25079, 45039 & 40076 at Coalville Open Day on August 20th 1978.
1979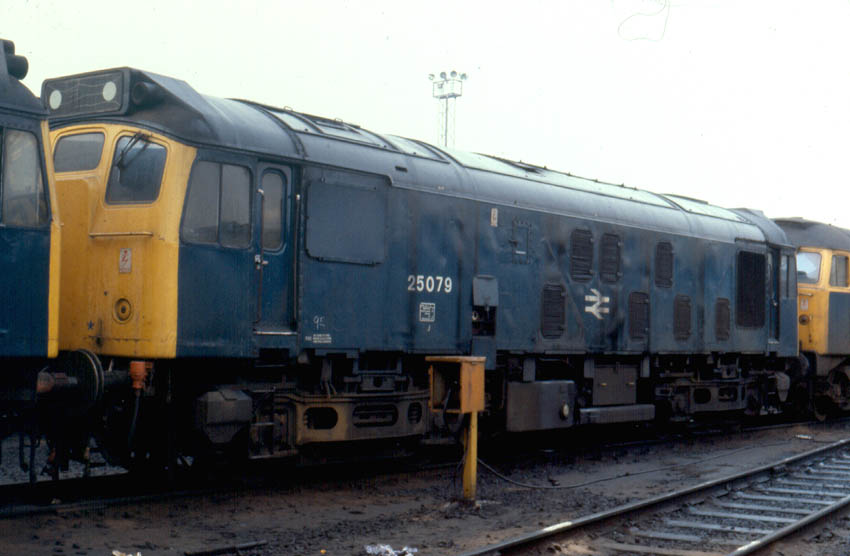 25079 at Aberdeen on February 24th 1979.
The use of 25079 on March 2nd's 13.38 Dundee - Glasgow Queen Street was shortlived with 40070 taking over at Perth because the Class 25 could not heat the train.
An adventurous weekend trip from Ealing Broadway to Aberdeen/Inverness March 16th – 18th proved a little too adventurous as it was curtailed at Aberdeen running over seven hours late, mostly caused by bad weather. The outward leg was taken over at Mossend by 27016 & 25079 to Aberdeen, the premature return from here featured 25026 & 25068.
On July 14th 25079 was northbound at Carlisle with a parcels train.
On July 22nd 25079 was stabled at Ayr.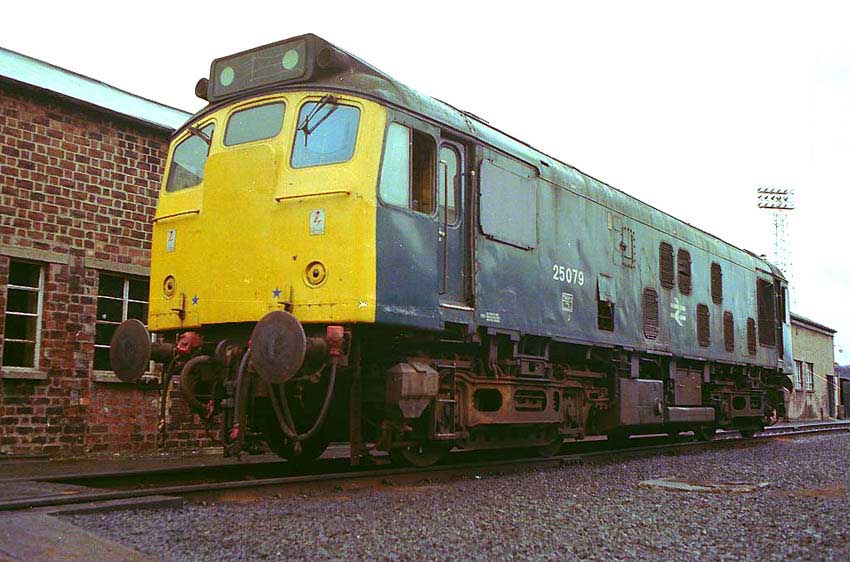 Photograph courtesy Martin Bray
25079 at Ayr on July 30th 1979.
On August 24th the 08.44 Glasgow Queen Street - Dundee was worked by 25079.
1980
On May 6th the 21.40 Edinburgh - Carstairs was worked by 25079.
On June 28th 25079 was stabled at Inverness.
The 14.44 Glasgow Queen Street - Dundee on July 1st was worked by 25079 & 27106.
Double headed Type 2s featured frequently on the (Fridays) 17.25 Glasgow Central – Stranraer, followed by the next day's 01.20 Stranraer Harbour - Blackpool to Carlisle and returning with the 09.43 (SO) Blackpool – Stranraer Harbour, so noted were 25235 & 25079 on July 25/26th. The next day (27th) the same pair worked two motorail services between Stirling & Mossend Yard.
On September 8th 25079 worked the 14.44 Glasgow Queen Street - Dundee.
Towards the end of October for several days 25079 was acting as carriage pilot at Craigentinny and working between there and Edinburgh Waverley with empty stock.
1981
During February 25079 returned to Haymarket.
On April 2nd, 19th & 26th 25079 was stabled at Haymarket.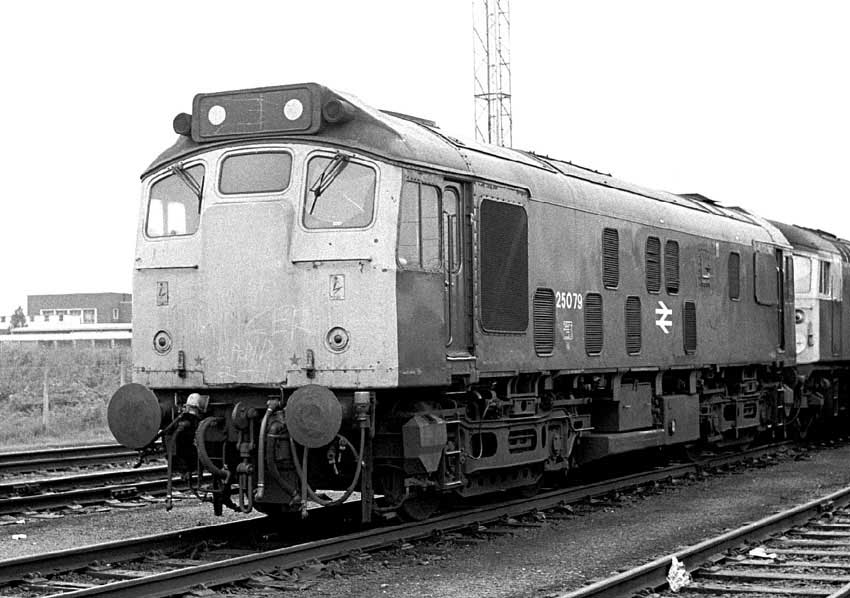 Photograph courtesy Tony Sayer
A fine study of 25079 at Polmadie on June 13th 1981.
On June 23rd 25079 was stabled at Motherwell shed.
During July 25079 was active on a variety of Scottish passenger workings. It started on 6th (?) with the 01.05 Perth - Aberdeen, then noted at Ayr on July 10th with parcels stock, followed on the 15th & 16th with a Carlisle - Glasgow working. On 27th it was back to the early morning Perth - Aberdeen trip before closing out the month on the 30th's 05.55 Stirling - Edinburgh service. After July's busy workings August only produced 25079 on August 13th's 12.40 Glasgow Central - Carlisle and the 21st's 06.40 Glasgow Queen Street - Dundee.
On the evening of October 5th 25079 was at Edinburgh Waverley with the Edinburgh portion of the Up Postal. On October 7th 25079 was at Millerhill with a train load of large diameter pipes. On October 9th 25079 was noted at Dundee station.
October and November brought more Scottish passenger workings for 25079, principally noted on the Edinburgh - Dundee route, with the third week of November being particularly hectic.
25079 worked the 12.20 Dundee - Edinburgh on November 7th.
On November 30th 25079 was at Wakefield Kirkgate with cement tanks.
25079 escaped from the Scottish Region during the first week of December and was used on 7th & 8th to work the 07.45 Manchester Victoria - Bangor & 11.12 return.
On December 28th 25079 was on the Edinburgh - Dundee circuit for most of the day, working three trips.
1982
After a year at Haymarket 25078/79 moved over to Eastfield during March.
Considerable passenger mileage was run up by 25079 on March 8th, starting off with the early morning Mossend Yard - Glasgow Queen Street working off the 1S07 Euston - Inverness, two round trips then followed on the Queen Street - Dundee circuit. The next day was quiet for 25079, but on the 10th the day started with the 11.05 Perth - Edinburgh, three more similar trips ensued before ending with the 18.33 Arbroath - Dundee. The next day at least one roundtrip Edinburgh - Dundee service was worked. March 27th was likewise busy, covering at least six workings between Edinburgh, Perth, Dundee & Arbroath.
For much of April 25079 continued criss crossing Scotland on passenger workings, highlights included 1st's 20.50 Carlisle - Perth, the 11th saw two roundtrip Lancaster - Carlisle trips, the 13.39 Dundee - Glasgow on April 13th, the 14.44 Glasgow Queen Street - Dundee on April 15th, the 12.44 Glasgow - Dundee and 15.39 Dundee - Glasgow on April 17th and the 12.40 Glasgow Central - Carlisle on 24th & 26th. Passenger activities decreased in May being noted only on 17th, 25th & 28th.
Although 25079 was transferred to Longsight during September the summer passenger workings suggest it was already south of the border by early summer.
It was off to the seaside on June 19th when 25079 & 25186 worked the 10.10 Euston - Aberystwyth forward from Birmingham New Street, returning with the 16.05 to Shrewsbury.
On June 25th 25079 was stabled at Northampton.
The surplus of Type 4s and the recently arrived Class 31s on the Midland did not prevent the use of the Class 25s on some odd workings during August. On 11th 25079 rescued an ailing 45145 on an afternoon St Pancras - Nottingham passenger whilst on 17th the 12.35 Northfleet – Toton merry-go-round featured 25034 & 25079, other pairs also handled the Toton – Acton workings. On August 19th 25079 & 25034 were noted at Thirsk with a train of merry-go-round wagons.
On the morning of October 5th 25079 & 25240 were stabled at York.
1983
On March 26th 25079 & 25153 were stabled at Willesden.
On April 2nd 25079 was stabled at Bescot.
On the early afternoon of April 8th (or 7th?) 25079 & 37169 were noted passing Ditton No.2 signalbox with 6Z53 Garston - Mansfield.
25079 & 25158 were noted doubleheading a Northwich - Tunstead empty rake of ICI PHV hoppers on May 10th, 25079 was leading. Three days later (13th) 25079 passed through Stockport with a ballast machine and some oil tankers.
On June 10th 25079 worked the 10.16 Barrow - Nottingham as far as Preston, here it was replaced by 25277!
During week of July 4th - 8th (exact date uncertain) 25079 was stabled at Bletchley. By July 12th 25079 was noted near Syston North Junction with three loaded bogie ballast wagons.
The last Sunday in July and the first Sunday in August found 25079 assisting the electric services between Bletchley & Rugby whilst engineering works caused the power to be turned off. On July 31st 25079 & 25276 (or 25176?) assisted one northbound service, whilst on August 7th three southbound services were assisted with 25201. This day is believed to be the last time 25079 hauled any passenger workings.
25079 was withdrawn on August 28th 1983.
87/6366
flk 0123
Not all known passenger workings are recorded on this page.
Page added December 17th 2004.
Last update January 16th 2023.
Back to 25078
Forward to 25080