D5236, 5236, 25086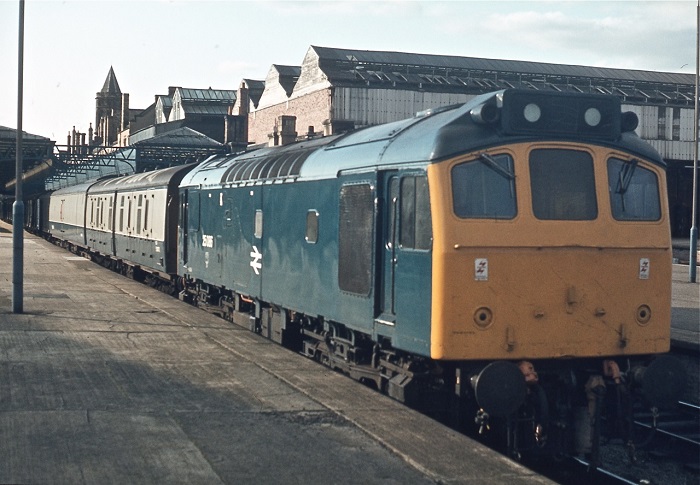 Photograph courtesy Peter Lovell.
A fine view of reasonably ex-works 25086 at Perth on July 9th 1980. 25086 had received an Intermediate repair at Glasgow Works during February - April 1980. The 'Paint Date' of the locomotive is just visible above the buffer on the secondman's side of the cabfront.
The nineteen year ten month career of D5236/25086 was split between allocations to London Midland Region & Scottish Region depots.
Built: BR Derby Locomotive Works.
Boiler equipped.
Angled strip at bottom of cab doors.
Time between last Classified repair and withdrawal: 41 months.
Time between withdrawal & scrapping: 30 months.
Allocations
D5236 was new to Toton (16A) on December 21st 1963. Further transfers were:
January 1964 to Derby (16C).
April 1964 to Saltley (2E).
April 1966 to Birmingham Division (D02).
April 1966 to London Midland Midland Lines (LMML).
June 1968 to Nottingham Division (D16).
May 1973 to Toton.
August 1973 to Eastfield.
November 1973 to Kingmoor.
March 1974 to Longsight.
July 1975 to Eastfield.
February 1978 to Haymarket.
December 1980 to Springs Branch.
May 1982 to Kingmoor.
November 1982 to Bescot.
March 1983 to Crewe.
Withdrawn October 9th 1983.
Renumbered February 27th 1974.
25086 was the 197th Class 25 withdrawn, one of five retired during October 1983.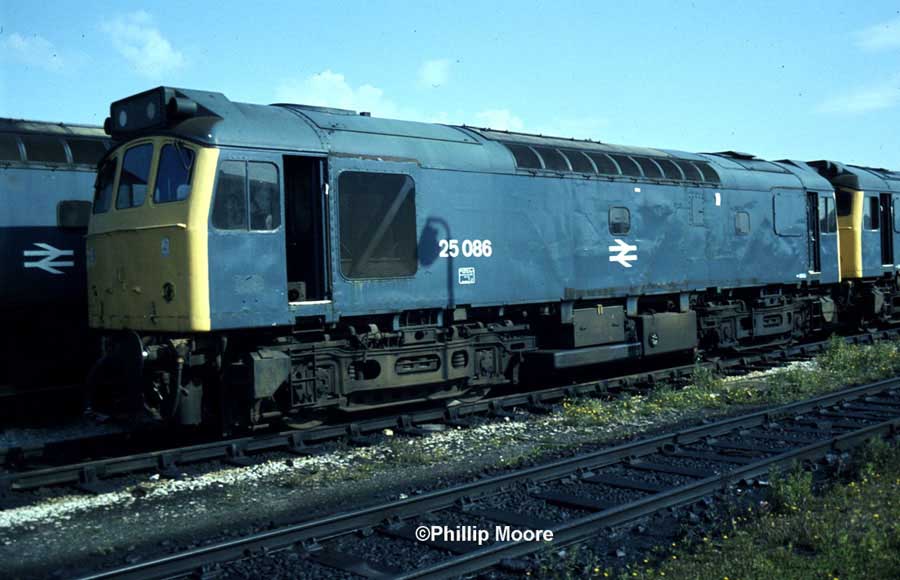 Photograph courtesy Phillip Moore.
25086 stands withdrawn at Newton Heath on August 12th 1984.
After withdrawal 25086 was stored at Crewe until June 1984 when it moved to Newton Heath. On February 19th 1985 25084, 25086 & 25270 moved to Swindon Works, where 25086 was broken up by the end of March 1986. At least one cab was taken on June 4th 1986 to Vic Berry's Leicester yard by lorry for final disposal (with cabs from 25084 & 46017).
Works Visits
Works visits (records incomplete).
Noted Derby Works July 1965.
Noted Derby Works June 1967.
Noted Derby Works September 1971.
Noted Glasgow Works February - April 1980 (Intermediate repair).
Highlights
1963
D5234 - D5237 were constructed at Derby during the last quarter of 1963, all being released to traffic during December to Toton (16A). This batch of locomotives were the first to be delivered featuring the re-styled body work and two tone green livery similar to that carried by the Brush Type 4s (class 47s). The redesign principally affected two areas; the cab and the location of the air intakes. The gangway doors fitted to the earlier examples were rarely used, their presence certainly added to the complaints of noise and draughts in the cabs. The removal of the air filters to the cantrail was the result of a comparison carried out at Inverness between a batch of Derby built Type 2s and a batch of BRCW Type 2s, the tests targetting the air quality within the engine room.
The tests revealed the location of the grilles on the Derby designed build allowed for much more debris to reach the filters (especially the lower ones), clogging them quicker, leading to decreased air quality within the engine compartment, and so potentially affecting performance and engine wear. With over two hundred Class 25s still on the order books the redesign of these areas would result in a cost savings in the long run, in addition to a better working environment within the cabs, and providing less cluttered look to the locomotive's exterior.
One unique feature of these machines was their being equipped with steam heating equipment, all the following Class 25s would be without boilers.
D5236 & D5238 went on their Corby test run on December 10th.
1964
After a short time at Toton, D5236 moved to Derby (16C) during January and then to Saltley (2E) during April, remaining there for two years. At this time much of the freight on the Derby - Birmingham line was still steam hauled, these transfers would allow for further driver training on the new diesels over this route and also the Birmingham - Leicester line. Whilst at Saltley these Type 2's were well travelled, on May 2nd D5236 was being used by Carlisle to handle an afternoon local round trip to Langholm.
A late morning Leeds - Carlisle service was worked by D5236 on September 5th.
1965
On August 14th D5286 was stabled at Holbeck.
1966
On July 16th the summer dated 08.36 Nottingham - Llandudno Town and return working were hauled by 5236 & 5235.
1968
On August 17th 5236 & 7528 worked the roundtrip summer dated Nottingham - Llandudno Town service.
1969
On May 24th 5236 & 7531 were noted on a Derby - Yarmouth service.
The 07.35 Nottingham - Llandudno and 13.52 return featured 5236 & 5246 on June 21st.
1971
On May 29th the summer dated Nottingham - Llandudno Town and return service were worked by 5236 & 5225.
The morning Carlton Sidings - Manvers Main freight could produce a wide variety of power, it was worked by 5236 & 7503 on June 24th and 5242 & 7512 on June 26th.
5236 was noted in Derby Works during September, the locomotive was in two-tone green livery with full yellow ends, did it leave Derby Works with a fresh coat of blue & yellow paint?
1972
On April 16th 5236 was noted at Nottingham, carrying two-tone green livery with full yellow cabfronts.
On June 10th 5236 & 5244 worked the Derby - Norwich - Yarmouth - Norwich - Walsall diagram.
5236 & 5250 worked south from Birmingham on July 22nd with the 08.35 Birmingham - Portsmouth Harbour, presumably as far as Reading.
On September 1st 5236 handled a York – Manchester passenger service. On September 23rd the 14.30 Yarmouth - Walsall was worked from Norwich by 5236 & 7647.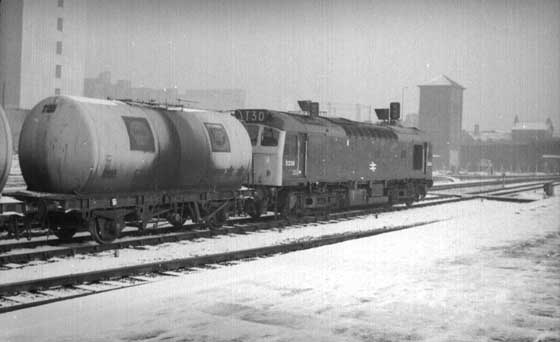 Photograph collection of webmaster.

On an unknown snowy day 5236 waits at Nottingham with a oil tank train.

1973
At about 7.30am on February 23rd 5236 was noted at Liverpool Lime Street on a down van train (3M20).

The 20.43 Birmingham New Street - Peterborough on March 25th was worked by 5236. A month later on April 23rd 5236 was noted on an unidentified passenger working at Skegness.

Towards the end of the summer season 5236 was transfered to Eastfield in August. During November 5236 moved to Kingmoor.

A step back in time occurred early in October when a motive power shortage in Scotland saw a number of the Edinburgh - Aberdeen services reverting to pairs of Type 2's. So noted on October 8th was 5116 & 5236 on the 10.30 to Aberdeen.

1974
During March 5236 transferred to Longsight. Although these Type 2s were oddities in terms of their bodystyling & being boiler equipped, this technical difference did not affect the issuing of TOPS numbers for them, they were numbered in order with the remainder of the Class.

On March 20th 25086 worked the Whitehaven - Preston - Huddersfield mails and returned with a mail train to Carlisle.

1975
25086 was on empty coaching stock duty at Liverpool Lime Street on January 23rd.

25086 was on empty coaching stock duty at Liverpool Lime Street on February 5th.

On June 14th & 28th 25086 worked the 09.20 Manchester Piccadilly - Yarmouth to Lincoln Central and the return 09.30 ex-Yarmouth with 25244 (14th) and 25082 (28th).

25086 was on empty coaching stock duty at Liverpool Lime Street on July 21st.

During the summer 25084 - 25087 were all transfered to Eastfield, 25086/87 in July & 25084/85 in August. 25086 would spend the next five years on the Scottish Region.

On December 19th 25086 worked the 17.10 Edinburgh - Berwick upon Tweed.

1976
An unusual duty for 25062 on July 9th was to inspect the line between Inverness and Carr Bridge for effects from a major forest fire in the Daviot Moor area. Having reached Carr Bridge it was used to pilot 40072 on a northbound passenger service, at Tomatin the pilot rejoined 25086 on a southbound working. Damage to the railway property was minimal, mostly burnt grass and shrubbery.

On August 3rd 25086 worked the 21.40 Edinburgh - Carstairs. An early morning Mallaig - Glasgow Queen Street service on September 13th was worked by 25086 (from Fort William?)

1977
On May 26th the 06.50 Dundee - Glasgow Queen Street was worked by 25086 & 25033. Two days later (28th) a Glasgow Queen Street - Inverness service was worked by sisters 25086 & 25087.

The 23.20 Glasgow Queen Street - Inverness on August 21st was worked to Perth by 25086 & 25076.

1978
25086 & 25087 were transferred to Haymarket during February.

On March 23rd the 21.40 Edinburgh - Carstairs was worked by 25086. A week later (31st) 25086 replaced a failed 27009 at Dundee whilst working the 19.35 Glasgow Queen Street - Aberdeen, unfortunately the Class 25 proved to be as equally unreliable by expiring at Arbroath, the train terminated with passengers transferring to an ex-Kings Cross service.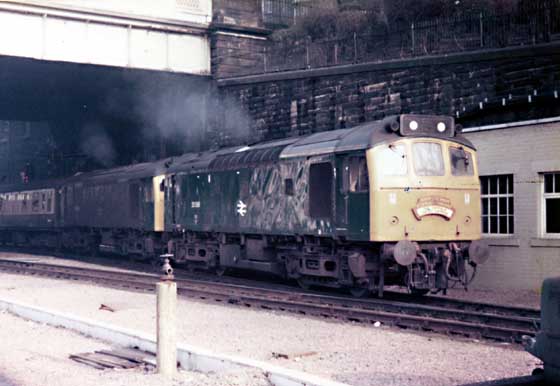 Photograph courtesy Steve Morris.
25086 & 25091 get to grips with the 'Capitals United' M&GN Society charter train departing Edinburgh Waverley for Euston on April 8th 1978. The exhausts suggest they are making a smart & raucous exit from Waverley.
The 21.40 Edinburgh - Carstairs was worked by 25086 on April 14th.
On June 8th the 17.33 Dundee - Glasgow Queen Street was worked by 25086.
1979
The 08.15 Inverness - Glasgow Queen Street was worked throughout on July 21st by 25065 & 25086.
On August 15th 25086 was noted southbound at Aviemore with a passenger service.
1980
25086 was recorded as being very active on internal Scottish service during 1980, being first noted on February 15th with the 17.24 Edinburgh – Dundee which from February 11th had converted to hauled stock. On February 16th it worked the 18.44 (or 17.44?) Glasgow Queen Street - Dundee.
During February - April 25086 was at Glasgow Works for its last classified repair.
May 22nd produced 25086 & 27044 on the 10.44 Glasgow Queen Street - Dundee and the 13.39 Dundee - Glasgow Queen Street.
July was a particular hectic month for 25086 being noted on a multitude of Glasgow - Dundee services. On July 23rd 25086 worked the 17.10 Glasgow Queen Street - Edinburgh, whilst on July 26th it worked the 05.55 Stirling - Edinburgh, being the portion off the 23.52 Inverness - Glasgow.
Further Glasgow Queen Street - Dundee services were worked during August, including 5th.
On October 28th & 29th 25086 worked the 07.40 Edinburgh - Glasgow Queen Street, whilst on November 1st a Shrewsbury - Edinburgh day excursion was worked roundtrip Carstairs - Edinburgh by 25086 & 25050.
Transfers in 1980 took 25086 in December to Springs Branch.
1981
The 10.00 & 19.308 Crewe - Cardiff and 15.10 Cardiff - Crewe were worked by 25086 on February 17th.
Dead engine moves featured a number of Class 25's - on April 1st 25086 brought 25172, 40017/137/161 from Carlisle to the Birmingham area, eventually destined for Swindon Works.
On April 18th 25086 was noted westbound at Chinley with loaded ICI hoppers.
On the last weekend of May (30th/31st) 25086 & 25075 worked a roundtrip each day over the Cambrian route to Aberystwyth, interestingly on the 'English' side the start/end was different each time, the 30th's day started at Shrewsbury, coming back to Wolverhampton, the 31st started at Birmingham and came back to Nuneaton.
On a snowy December 20th was stabled at Crewe Diesel depot, with the train heating boiler fully functioning.
1982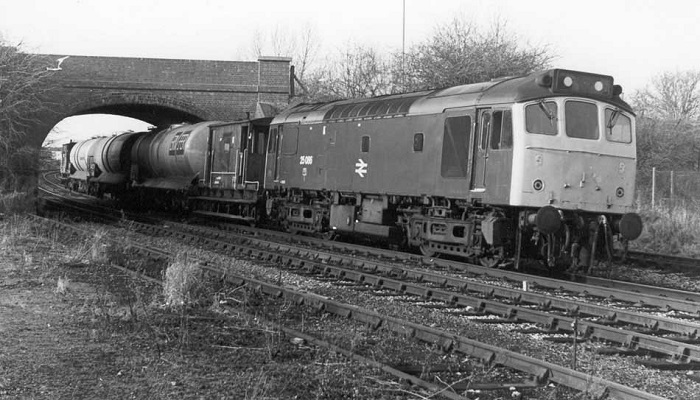 Photograph courtesy Mark Cook.
25086 on a short freight at Aylesbury, date unknown.
The last day of February produced some considerable mileage for 25086 & 31216 when they worked a Derby - Newcastle football special out & back.
On March 6th the return leg of the Peak Forest Peak railtour from Liverpool - St. Pancras was worked from Liverpool to Dee Marsh Junction by 25086 & 25056. On March 28th 25086 was stabled at Springs Branch.
Cleethorpes was host to two unusual machines on April 8th. Firstly 50030 filled in for a failure on the 06.20 service to Kings Cross whilst the 08.26 to Doncaster was hauled by 25086, normally a Class 40 working. On April 24th the 19.25 Bangor - Manchester Victoria was worked by 25086 from Llandudno Junction.
25086 moved to Kingmoor in May. On May 27th 25086 was noted at Crewe with an engineers train, whilst on May 29th 25086 was stabled at Cockshute.
Some varied passenger mileage was racked up by 25086 during June. It worked the 16.05 Leeds - Carlisle service on 10th, a late afternoon Manchester - Blackpool service beyond Preston, coming back with a Manchester Victoria service throughout (15th). On June 23rd 25134 & 25086 were noted passing Lawrence Hill with a Down freight. On June 26th it was joined by 25213 to work a round trip Shrewsbury - Aberystwyth, the return trip being worked to Wolverhampton.
25086 came to the rescue at Nuneaton of an ailing Norwich - Birmingham service on August 6th. A similiar event occurred on 16th, but in the other direction assisting 31108 between Nuneaton and Leicester, where 25326 was waiting to take over.
On October 2nd 25086 was in charge of the 10.20 Manchester Victoria – Newcastle service (see image below). After arrival at Newcastle it quickly headed south light engine.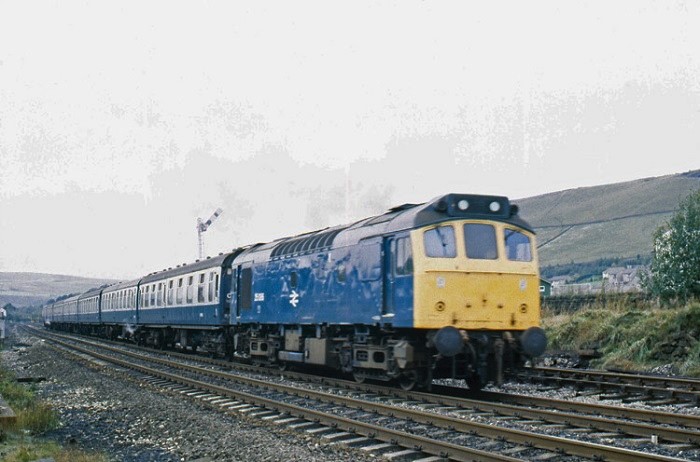 Photograph courtesy John Green.
25086 passes Diggle on October 2nd with the 10.20 Manchester Victoria - Newcastle service.
25086 transferred to Bescot in November.
On a wet November 16th 25086 & 25027 were noted light engines at Derby.
1983
The first day of February saw 25086 assising 31413 on a Birmingham - Norwich service between Croft Sidings & March.
25086 was transferred to Crewe in March, this would its last transfer. 25086 was stabled at Springs Branch on March 3rd and was the Wallside pilot at Manchester Victoria on March 12th. On March 24th 25049 & 25086 worked the 8M20 Acton - Toton.
On May 2nd 25083 & 25086 were in charge of a Manchester Piccadilly - Aberystwyth day excursion. Three days later (5th) 25086 worked the 17.35 Leeds - Sheffield. On May 8th 25086 was stabled at Severn Tunnel Junction. 25086 (with 25220) was busy again on May 14th bringing back a Euston - Amwlch charter between Rock Ferry & Wolverhampton.
On July 7th 25086 was noted passing Cwmbran with the 4V20 15.10 Manchester Red Star - Bristol Temple Meads parcels, comprised of at least twelve vehicles.
On August 16th 25086 was noted on the ECML at Newark hauling 46011 northwards, later returning south with 47295 & 47430. On August 25th 25086 was stabled at Crewe Diesel depot. On the last day of August the 23.59 Sheffield - St Pancras was worked to Derby by 25086.
25086 was stabled at Speke Junction on September 1st. 25086 was noted at Manchester Victoria on September 29th.
25086 was noted at Manchester Victoria on October 1st & 2nd. 25086 worked the 17.15 Manchester - Blackpool and 19.14 return on October 3rd, were these the last passenger workings for 25086?
25086 was withdrawn on October 9th 1983.
A builders plate from 25086 sold at Great Central Railwayana Auctions for £380 during September 2016.
Not all known passenger workings are recorded on this page.
82/7601
flk 0817
Page added September 20th 2001.
Page updated October 15th 2020.
Back to 25085
Forward to 25087