D5237, 5237, 25087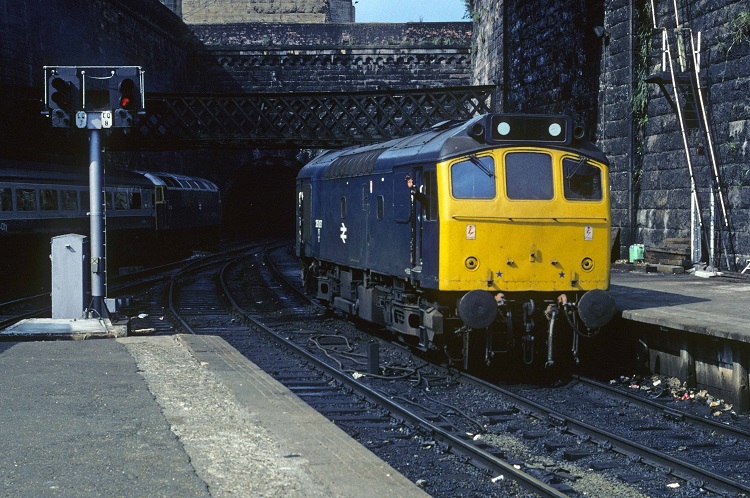 Photograph courtesy Roger Geach
25087 at Glasgow Queen Street on June 24th 1980. The driver's assistant gives a friendly wave to the photographer.
The sixteen year nine month career of D5237/25087 was split between allocations to London Midland Region & Scottish Region depots. It was the first of the small batch of 25083 - 25087 to be retired.
Built: BR Derby Locomotive Works.
Boiler equipped.
Non-standard Battery Isolating Switch Cover - three circular hinged discs.
Angled strip at bottom of cab doors.
Time between last Classified repair and withdrawal: 41 months.
Time between withdrawal and scrapping: 6 months.
Allocations
D5237 was new to Toton (16A) on December 21st 1963. Further transfers were:
December 1964 to Nottingham (16D).
January 1965 to Nottingham Division (D16).
March 1965 to London Midland (Midland) Lines LMML.
June 1968 to Nottingham Division (D16).
May 1973 to Toton.
July 1975 to Eastfield.
February 1978 to Haymarket.
Withdrawn September 28th 1980.
Renumbered February 23rd 1974.
25087 was the 45th Class 25 withdrawn, one of nine retired during September 1980.
After withdrawal 25087 was stored at Millerhill. Between February 9th & 11th 25087 was towed from Millerhill to Swindon Works with 25010, 25011 & 25023. Part of the journey was undertaken using 25010 to haul the consist. 25087 was broken up by the first week of April 1981.
Works Visits
Works visits (records incomplete).
Noted Derby Works August 1967.
Noted Derby Works September 1967.
Noted Derby Works June 1969 (General repair).
Noted Derby Works October 1970.
Noted Derby Works September 1971.
Noted Derby Works August 1973.
Noted Glasgow Works March & April 1977 (Classified repair & full repaint).
Highlights
1963
D5234 - D5237 were constructed at Derby during the last quarter of 1963, all being released to traffic during December to Toton (16A). This batch of locomotives were the first to be delivered featuring the re-styled body work and two tone green livery similar to that carried by the Brush Type 4's (Class 47's). The redesign principally affected two areas; the cab and the location of the air intakes. The gangway doors fitted to the earlier examples were rarely used, their presence certainly added to the complaints of noise and draughts in the cabs. The removal of the air filters to the cantrail was the result of a comparison carried out at Inverness between a batch of Derby built Type 2's and a batch of BRCW Type 2's, the tests targetting the air quality within the engine room.
The tests revealed the location of the grilles on the Derby designed build allowed for much more debris to reach the filters (especially the lower ones), clogging them quicker, leading to decreased air quality within the engine compartment, and so potentially affecting performance and engine wear. With over two hundred Class 25's still on the order books the redesign of these areas would result in a cost savings in the long run, in addition to a better working environment within the cabs, and providing less cluttered look to the locomotive's exterior.
One unique feature of these five machines was their being equipped with steam heating equipment, all the following Class 25s would be without boilers.
D5237 accompanied D5239 with its test train run on December 12th.
1970
5237 was noted at Kings Cross on February 16th having arrived assisting 1578 on a service from Grimsby / Cleethorpes, where the Class 25 provided assistance from is not recorded.
On May 16th 5237 hauled LMS 2-8-0 No.8233, GWR 0-6-0 No.3205 & Pannier Tank 5786, all in light steam, from the Severn Valley Railway to Tyseley for the next day's 'Festival of Steam' event.
1971
On February 23rd 5237 worked a late afternoon / early evening Leicester - Peterborough - Leicester service.
On an overcast June 19th 5237, in two-tone green livery was noted at Boston with the 1E85.
5237 was noted at Derby Works during September.
1972
On April 30th 5237 & 7596 were noted on a special from the LMR to Newcastle.
On October 21st a Euston - Aberystwyth day excursion was worked out/back Wolverhampton - Aberystwyth by 5237 & 5226.
1973
On January 13th 5186 & 5237 and 5641 & 5234 were noted working Leicester - Finsbury Park (for Highbury) F A cup tie specials.
The 20.43 Birmingham New Street - Peterborough on February 25th was worked by 5237.
A Leicester - Yarmouth day excursion on May 27th was worked out & back (?) by 5237 & 5266. A month later on June 27th a Wrexham - Bottesford school special was worked out & back by 5237 & 5162.
1974
On February 17th the 20.43 Birmingham New Street - Peterborough was worked by 25087.
On May 31st 25087 & 25249 were noted on the Midland mainline on a mid afternoon southbound service and early evening northbound service, both presumed as Sheffield services with the Class 25s working roundtrip between Nottingham & St. Pancras. Two weeks later on June 14th the 19.30 Bristol Temple Meads - Newcastle was worked between Birmingham New Street & Derby with 25087 piloting 47249.
On September 21st 25087 & 25070 worked the 08.12 Derby - Yarmouth to Norwich returning from there with the 14.30 Yarmouth - Walsall.
1975
After eleven and a half years allocated to depots along the Midland mainline 25087 was transfered to Eastfield during July.
On December 6th Type 2s were in charge of a number of football & rugby specials in the Edinburgh area including 25087 & 25235
1976
The 10.10 Glasgow Queen Street - Aberdeen on May 24th was worked by 25087.
25087 was noted at Stranraer on June 22nd.
1977
Glasgow Works outshopped 25087 during April - on April 7th it was noted at Mossend and on May 16th it was noted on the 08.01 Oban - Glasgow Queen Street. Three days later (19th) 25087 worked the 21.40 Edinburgh - Carstairs. On May 28th a Glasgow Queen Street - Inverness (?) service was worked by 25087 & 25086. Three days late (31st) 25087 worked the 21.40 Edinburgh - Carstairs.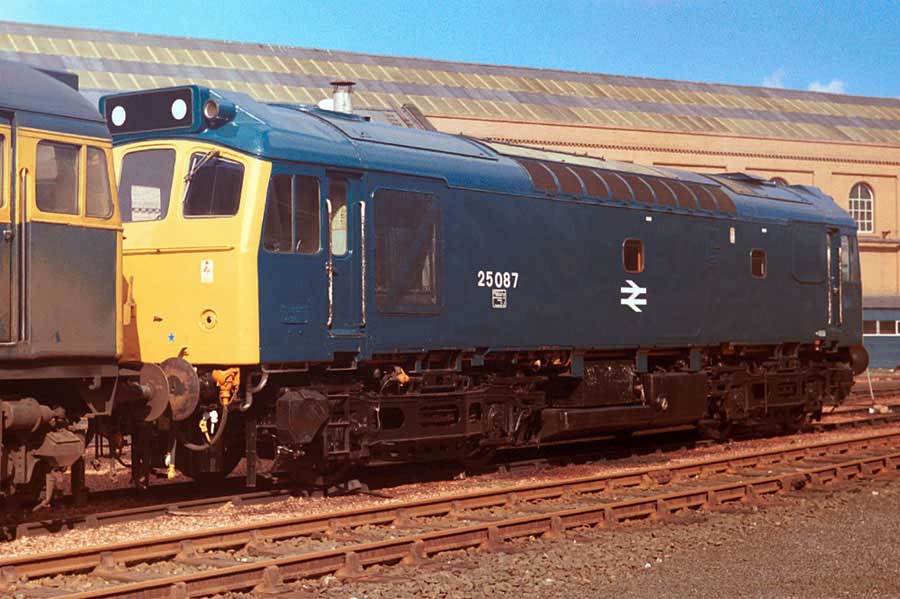 Photograph courtesy Ron Halestrap
The paint fairly glistens as 25087 awaits release back into traffic from Glasgow Works, seen here on April 2nd 1977. BR's blue and yellow at its finest!
25087 hauled the 17.10 Edinburgh - West Calder on July 18th.
On August 23rd & 24th 25087 was was busy on the Glasgow Queen Street - Dundee services.
The 21.40 Edinburgh - Carstairs was worked by 25087 on October 11th.
Passengers on November 18th's 9.40 Edinburgh/10.05 Glasgow - Inverness had a variety of power north of Perth. The heavy train started out with 40166 & 25087, at Dalwhinnie 26045 replaced the Class 25, on reaching Carr Bridge 40166 failed leaving the Class 26 to continue on alone, arriving in Inverness almost four hours late!
On December 30th 25087 was on hand to assist the 09.30 Glasgow - Euston via Dumfries, 47454 became a failure at ?, 25087 assisted to Carlisle.
1978
The last transfer for 25087 took place during February - to Haymarket.
On May 6th, the day of the Scottish Cup Final between Glasgow Rangers & Aberdeen at Hampden Park, with five specials scheduled. The 09.30am left behind 25072 & 25087, the 10.00 had 25227 & 25033 whilst the other three featured 40167, 40063 & 40159.
25087 was noted on several workings over the Edinburgh - Perth route on June 4th & 6th.
1979
On November 30th 25087 worked the 17.07 Edinburgh - Newcastle. A week later on December 7th 25087 worked the 21.30 Bristol Temple Meads - Edinburgh forward from Carstairs.
1980
January appeared to be a rough month for 25087, it was recorded at Haymarket for various repairs - battery repair (9th), traction motor repair (11th), it was noted across town at Millerhill on 13th & 14th - the latter for battery recharging, then being noted on Haymarket for generator flashover repair (21st). By 26th it was observed at Inverness.
On January 17th & 18th 25087 was noted stabled at Haymarket depot.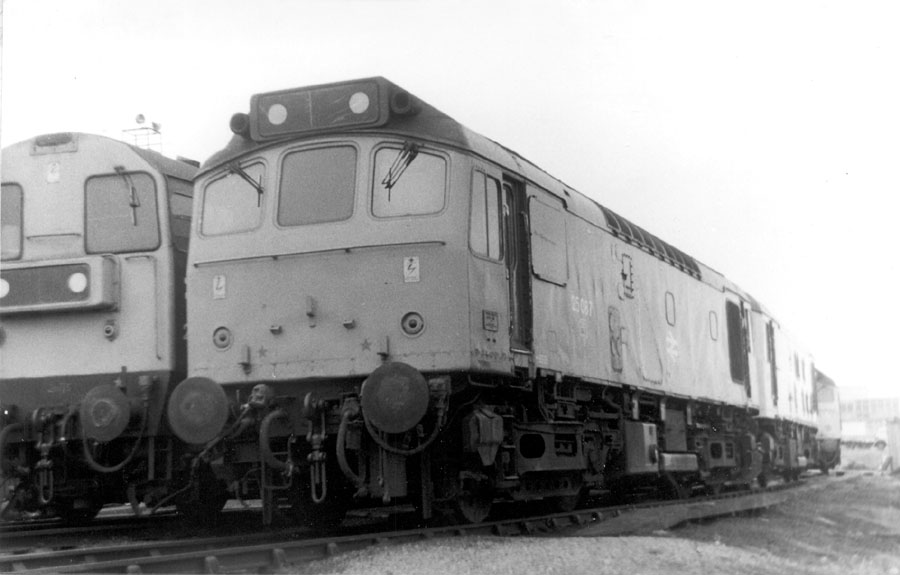 Photograph courtesy A Forster
25087 at Millerhill on May 22nd 1980. Just visible is the modified battery isolating switch cover, unique to certain Scottish Region Class 24 & 25s. The cover featured three circular plates, each hinged at the top, which would move side to side. 25087 was noted being scrapped at Swindon Works still retaining this feature.
25087 was noted at Glasgow Queen Street at 4.30pm on June 24th.
Between July 9th & July 11th 25087 was busy working over the Glasgow Queen Street - Dundee route. On July 22nd the 11.03 Birmingham New Street - Aberdeen was noted running about two and a half hours late at Dundee, behind 25087 which had worked at least from Perth.
On September 22nd 25087 was placed to store due to wear & tear, the following week (29th) it was withdrawn at Millerhill, the first of this group to be taken out of service.
Not all known passenger workings are recorded on this page.
45/3670
flk 1015
Page added September 20th 2001.
Page updated October 16th 2020.
Back to 25086
Forward to 25088