D5240, 5240, 25090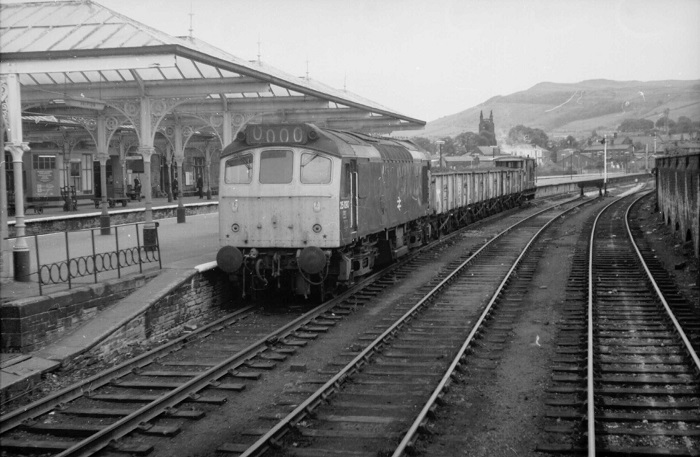 Photograph collection of webmaster.
A fine view of 25090 in Platform 4 at Skipton with a short freight on July 29th 1977. Although the working is not identified it may be one of the following: the 8M92 06.30 Healey Mills to Barrow, the 8M18 07.10 Tinsley to Carlisle or the 8M64 12.03 Healey Mills to Carlisle, the latter two have a crew change at Skipton, so they may be the train in question.
The nineteen year four month career of D5240/25090 saw allocations to London Midland, Eastern & Scottish depots.
Many of the Class 25s between 25083 - 25099 had extensive transfer histories due to the number of allocations they received. In particular 25090 - 25096 were remarkably well travelled, with at least one of this group being allocated to depots on all five BR Regions. What is remarkable is that these were not long lived machines, only two survived in service into 1986.
Built: BR Derby Locomotive Works.
Angled strip at bottom of cab doors (Glasgow modification).
Time between last Classified repair and withdrawal: 52 months.
Time between withdrawal & scrapping: 21 months.
Allocations
D5240 was new to Toton (16A) on January 4th 1964. Further transfers were:
April 1964 to Cricklewood West (14B).
June 1964 to Leicester (15A).
July 1964 to Wellingborough (15B).
September 1964 to Toton (16A).
September 1964 to Southern Region.
December 1964 to Toton (16A).
January 1965 to Nottingham Division (D16).
February 1965 to London Midland Midland Lines LMML.
November 1965 to London Divison (Midland) (D14).
February 1968 to London Midland Midland Lines LMML.
June 1968 to Nottingham Division (D16).
October 1968 to Preston Division (D10).
May 1969 to Nottingham Division (D16).
May 1973 to Toton.
September 1973 to Tinsley.
July 1975 to Eastfield.
July 1975 to Longsight.
October 1977 to Eastfield.
October 1980 to Springs Branch.
October 1982 to Crewe.
November 1982 to Bescot.
Withdrawn May 22nd 1983.
Renumbered February 1974.
25090 was the 179th Class 25 to be withdrawn, one of six retired during May 1983.
After withdrawal 25090 was stored at Toton until July 10th 1984 25056, 25090, 25115 & 25139 moved to Gloucester, then to Cocklebury Yard on July 13th 1984 and into Swindon Works by July 25th 1984. By the last week of February 1985 25090 had been scrapped.
Works Visits
Works visits (records incomplete).
Noted Derby Works October 1965.
Noted Derby Works July 1967.
Noted Derby Works October 1972.
Noted Derby Works February 1975 (with full repaint noted July 1975).
Noted Derby Works February & May 1976.
Noted Glasgow Works January 1979 (Intermediate repair).
Highlights
1964
D5240 was completed at Derby Works during the last quarter of 1963, no doubt the Christmas holidays delayed its entry into service until the first week of 1964.
The Southern Region experienced a number of problems with some of their electric locomotives, with many temporarily sidelined awaiting attention. This created a shortage of locomotives leading to D5240 - D5245 & D5247 moving to Hither Green (73C) during September. Despite this somewhat unusual transfer there are no reports of how the locomotives were used or any photographs of them during their brief stay south of the Thames.
1966
On August 27th the summer dated roundtrip Nottingham - Llandudno Town service was worked by 5240 & 7568.
1971
On June 11th the Nottingham - Llandudno Town service was worked by 5240 & 7615 (roundtrip?)
On June 29th 5242 & 7598 worked the 02.29 Toton - Eastleigh throughout, the normal exchange of power at Banbury did not occur as there were no replacements available. The Type 2's returned on the 14.30 Eastleigh - Washwood Heath freight.
1973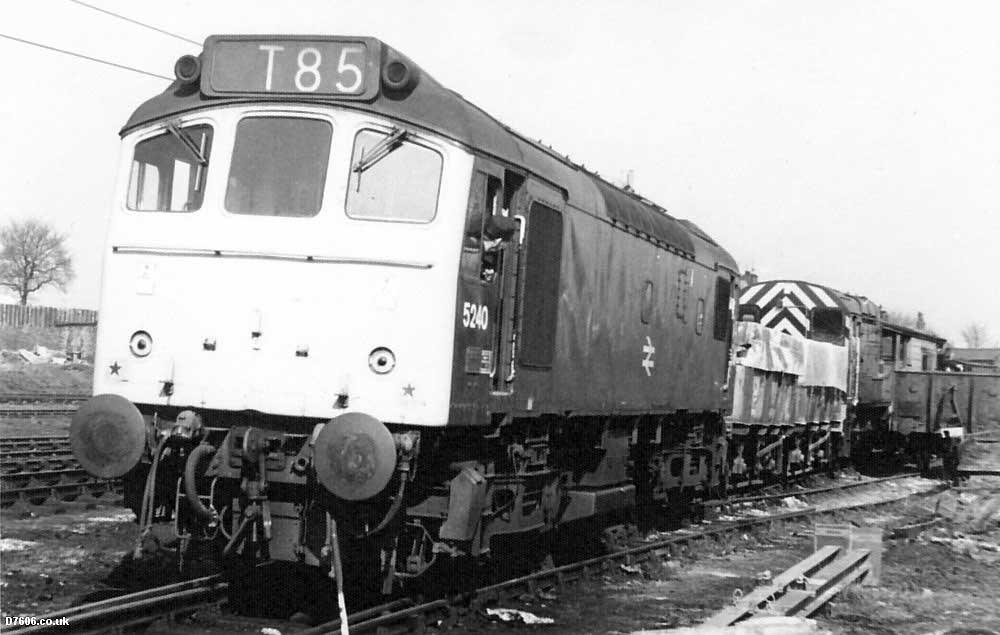 Photograph collection of Ian Hammond
5240 at Springs Branch during March 1973.
The 13.49 Peterborough - Ely on July 19th was worked by 5240 and coaching stock due to a diesel multiple unit failure.
On August 16th 5240 worked the 6Z40 special Earles – Exeter Central cement and the 1820 return.
1974
On June 15th the 07.52 Sheffield - Bridlington was worked by 5240.
1975
The transfer situation for this group of locomotives including 25090 became somewhat complex during 1975.
February - 25093 & 25094 moved to Toton, by month end both are at Longsight.
March - 25094 moves to Springs Branch.
May - 25093 & 25094 move to Bristol.
July - 25090 - 25092 to Eastfield.
August - 25090 - 25092 do not stay long at Eastfield, 25090 moves to Longsight, 25091 to Bescot and 25092 to Toton. After all these individual moves 25091 - 25094 move to Laira.
October - 25091 - 25094 to Haymarket.
November - 25092 & 25093 go even further north - to Inverness - presumably their lack of boilers kept them only on freight workings.
June 21st proved to be a banner day for Class 25 haulage on the North Wales main line, the 09.00 Llandudno – York had 25056, 09.23 Manchester – Llandudno with 25082, the following 10.33 service had 25278 whilst 25095 & 25090 hauled a Blythe Bridge – Llandudno relief. The 07.35 Nottingham – Llandudno arrived behind 25102, it had been double headed on June 7th with 25129 & 25131! Although all the Type 2's performed well this day problems with other locomotives and a suicide near Colwyn Bay, involving 40150 required quick thinking by operating authorities to keep the traffic flowing on this busy Saturday. The next day Rhyl was graced with 24032 & 24140 on a special from Tamworth.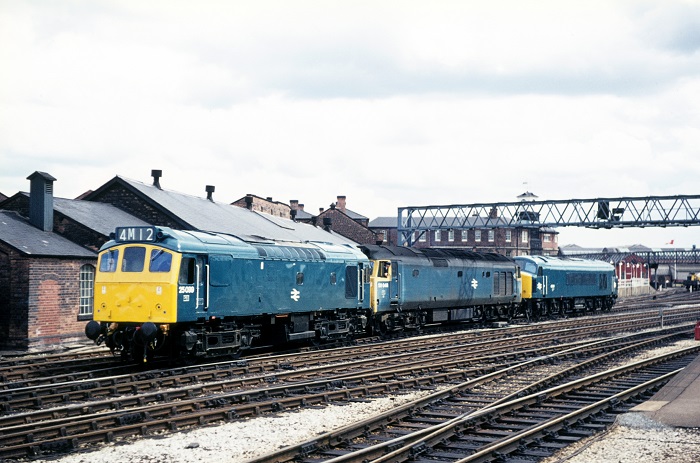 Photograph courtesy Tony Smith.
An unusual combination of 25090, 50048 & 45031 at the north end of Derby on July 15th 1975.
1976
On July 17th the 09.20 Manchester Piccadilly - Yarmouth to Lincoln Central and the 09.15 from Yarmouth were worked by 25090 & 25146. On August 7th the 10.07 Aberystwyth - Euston was noted at least between Shrewsbury & Wolverhampton with 25090 & 25127. Three weeks later on August 28th 25090 & 25194 worked the Manchester Piccadilly - Yarmouth to Lincoln Central and the diagrammed return working.
1977
On August 6th 25090 & 25267 worked the 08.52 Leicester - Skegness forward from Nottingham, returning with the 12.35 Skegness - Leicester as far as Nottingham.
1978
The 21.40 Edinburgh - Carstairs was worked by 25090 on June 8th & 28th.
Shortly after midnight on August 15th 25090 was noted at Carlisle station.
1979
A Dundee - Glasgow Queen Street service was worked by 25090 on July 5th whilst the next day (6th) it worked the 11.35 Glasgow Queen Street - Aberdeen after 40148 failed at??
On July 28th 25090 spent a day along the North Wales coast, working the 07.47 Manchester Victoria – Bangor, the 11.30 Bangor - Manchester Victoria, the 15.42 Manchester Victoria - Bangor and the 19.30 Bangor - Manchester Victoria, a total of 400 passenger miles.
25094 & 25056 worked to Hither Green with October 16th's 11.45 ex Brent returning with the 10.57 Shepherdswell – Cricklewood.
1980
During the summer months 25090 was noted working several Scottish services. On June 27th it worked the 07.40 Edinburgh - Glasgow Queen Street. A short working on July 22nd was the 17.12 Aberdeen - Stonehaven. On August 11th 25090 worked the 12.48 Edinburgh - Perth whilst on August 22nd it worked the 17.25 Glasgow Central - Stranraer Harbour as far as Ayr, where 26041 took over. A lengthy run on December 1st saw 25090 & 25109 work the 11.00 Stranraer Harbour - Euston to Carlisle, hopefully the day was mild, neither locomotive could heat the train.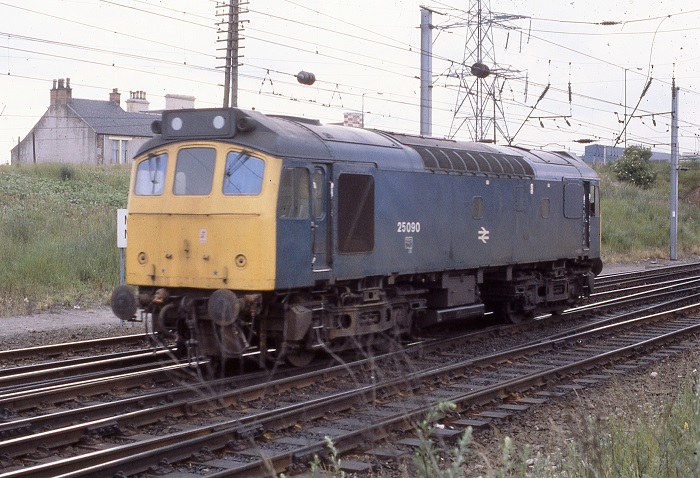 25090 at the south end of Mossend yard on July 7th 1980
On December 20th evening travellers on a Liverpool Lime Street – Manchester Victoria service required rescuing by the following Wigan service. The late hour, heavy rain and continued malfunctioning equipment eventually saw 25090 summonsed from Spring Branch to get the diesel multiple unit to its destination, reached almost two hours late, long after the last buses had run and taxis were scarce! At one point the staff used their own cars to ferry passengers around the closed Sutton Oak signalbox.
1981
On January 24th 25090 was noted at Nottingham carriage sidings.
25090 was quite active on passenger workings during the summer season. On May 30th & June 13th the 07.40 Euston - Aberystwyth from Wolverhampton and the 16.05 Aberystwyth - Wolverhampton were worked by 25090 & 25088 (May 30th) and 25090 & 25187 (June 13th). The next day, June 14th, 25090 & 25187 worked a roundtrip Birmingham New Street - Blackpool North day excursion.
On August 8th & 29th the 07.40 Euston - Aberystwyth from Wolverhampton and the 16.05 Aberystwyth - Wolverhampton were worked by 25090 & 25032 (8th) and 25090 & 25152 (29th). August 9th's 08.45 Birmingham New Street - Aberystwyth was worked to Shrewsbury by 25090 & 25032. The first weekend in September saw 25090 & 25145 work September 5th's 04.10 Shrewsbury - Aberystwyth and the 10.07 Aberystwyth - Euston to Wolverhampton and the next day's (6th) 08.45 Birmingham New Street - Aberystwyth, returning with the 18.00 Aberystwyth - Euston to Nuneaton.
1982
On June 2nd the 07.16 Manchester Victoria - York was worked as far as Dewsbury, where 25090 failed and was dragged by 46039.
At the beginning of August 25090 & 25130 made a couple of round trips to Skegness, on 1st from Derby and 2nd from Burton on Trent.
1983
A short working on February 4th saw 25090 assist the 09.00 Birmingham New Street - Walsall from Bescot to Walsall, the power was off due to overhead line damage. Was this 25090's last passenger working?
25090 was noted passing through Crewe with a freight train on February 19th.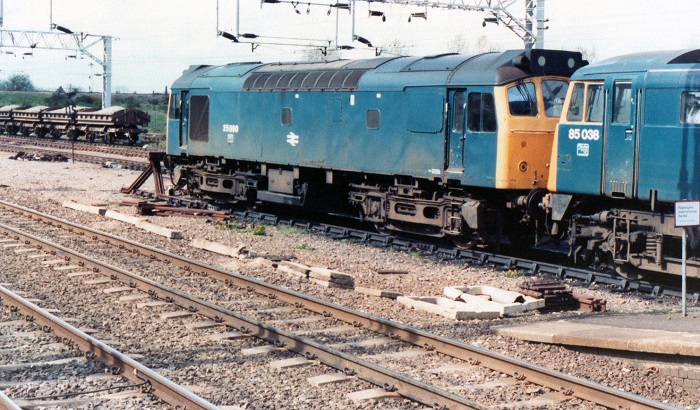 Photograph courtesy Roger Geach.
25090 & 85038 at Nuneaton on May 7th 1983. 25090 has about two weeks left in service.
25090 was withdrawn on May 23rd 1983.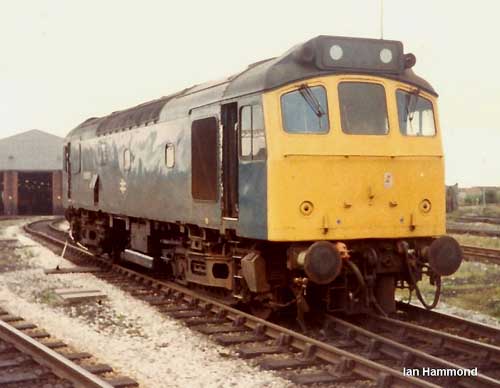 Photograph courtesy Ian Hammond.
25090 derailed at Springs Branch, date unknown.
47/4252
flk 1015
Not all known passenger workings are recorded on this page.
Page added September 1st 2004.
Last updated October 13th 2019.